Wedding Photography by Lee Webb
Bank House Hotel weddings
Steph and Rich got marring at St George Catholic Church in Worcester, before moving onto the Bank House Hotel in Bransford for their wedding reception.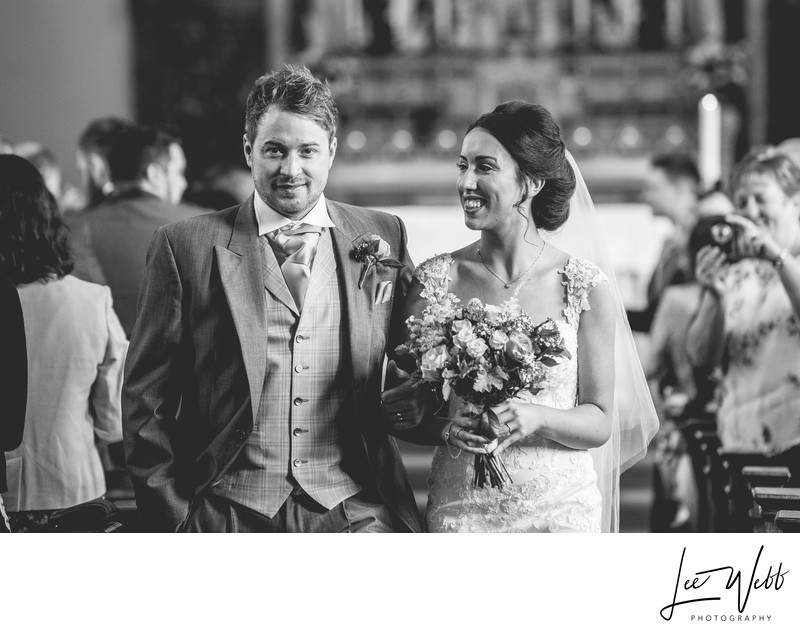 The story behind the main photo for this article is a simple one.

I really wanted to focus in on Steph and my aim was to get a nice image of her smiling - She had told me earlier that day that she doesn't really smile, which I just see as a challenge!

This is a classic pose, but I wanted to give the image that extra little kick. In order to render the background as out of focus as possible, I used a long lens with a very wide aperture - (a 200mm f/2 lens for the photographers out there) which totally smoothed out the background.

I had in my mind what I wanted to do with the image. As Steph and Rich got married in Autumn, the colours in the trees was beautiful, a vibrant mix of greens, reds, yellows and oranges. With the sun starting to go down. the colour of the light was starting to warm, and everything really came together to form this photo. The warm sunlight on the autumnal trees really brought the colours out more, and I even got Steph to crack a sly smile!

One of the nice things with this pose is that it shows off details that the bride will want to remember but it's not always easy to photograph, such as Steph nails and wedding band.

Location: Bank House Hotel, Bransford, Worcestershire.

Keywords: Photographer-directed image (139).