Wedding Photography by Lee Webb
Birtsmorton Court White Garden weddings
Kevan and Deborah got married at Birtsmorton Court in Worcestershire.
Their wedding took place at Birtsmorton Church, a delightful little church that's in the grounds of the Court itself.
After the wedding, the couple had a drinks and canapés on the terrace before all of the guests moved to the secret White Garden for a more secluded reception. The White Garden at Birtsmorton Court is a hidden gem, a small square garden with a central water fountain and a maze entrance. It's the entrance to the garden that you can see in the main image for this article, where I used the two rows of bushes to create leading lines into the middle of this image, where you see the bride and groom. This visual effect really brings the bride and groom into focus in the centre of the image. The dark colour of the bushes also means that the bride and groom stand out, as they rightly should!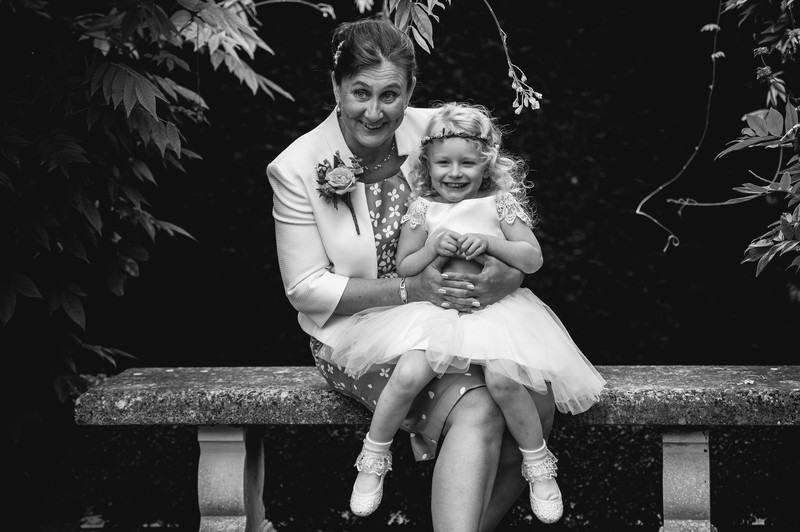 Inside the White Garden are plenty of little hideaways that make the perfect setting for some stunning wedding photos. I took the candid photo you can see above, of the mother of the groom and his niece, as they were sitting and enjoying themselves in one of the hidden side passages of the White Garden. The effect here, is the same as the effect for the main image at the top of the page, where I have used the dark surrounding hedges of the landscaped garden to help frame the subject in the image.

Location: Birtsmorton Court, Worcestershire.

Keywords: Photographer-directed image (140).

1/320; f/2.8; ISO 100; 95.0 mm.