Wedding Photography by Lee Webb
Bredenbury Court Barns rainy wedding
So this was epic...
I used to swear that it never rained at my weddings. And that was largely true, until it wasn't. For Adam and Carla's wedding, it had rained in the weeks leading up to their big day and had drizzled on the morning of the wedding too, but I was fairly hopeful that the forecast of a dry afternoon would hold true. Then I remembered that British meteorologists just make it up as they go along, so of course, it started raining at just the right time that we got soaked whilst doing the couple's photos! I'd changed the order of the day around a little in order to try and make the most of the brief dry spell we were having just after the ceremony, but the sky was getting darker and darker. Usually, I'd allow the newlyweds 25 minutes with their guests, enjoying their drinks reception. As I was pretty sure it was about to rain cats and dogs, I took the wedding party and immediate families and got through the group images with haste.
We popped some smoke bombs, took some awesome photos, and then the heavens opened. It would seem the weather gods were against me however because the second the guests were called through to the wedding breakfast, it dried up again!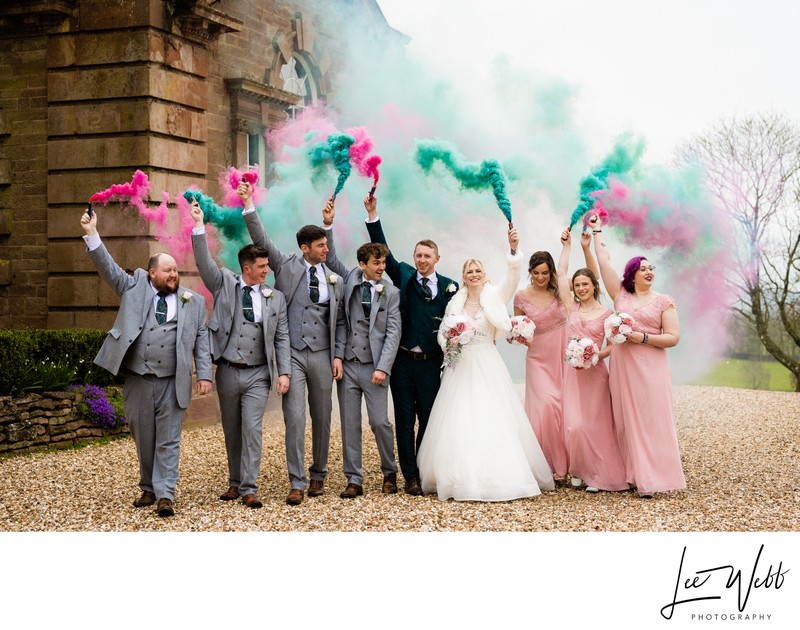 I knew the bride and groom had seen some of my images that I've taken in the rain and I was keen to produce something special for them, given the opportunity. Towards the end of the meal, it was beginning to rain. By the end of the meal, it was torrential, but I got the impression it wouldn't last long. I grabbed the groom as he was on the way to the bathroom and we ran outside for a couple of photos. The images took all of 30 seconds to absolutely nail. One of my best results yet.

The best thing is, when the groom looks back on these photos in however long, he'll think 'wow, that was an awesome moment' and 'wow... I really needed to pee'

Location: Bredenbury Court Barns.

Keywords: Bredenbury Court Barn Weddings (40).