Wedding Photography by Lee Webb
St Pauls Wilden Bury Weddings
Candid wedding photography means to capture wedding photos without your presence having a visible effect on the outcome of the photograph. This largely means staying back, out of the way and letting the day play out on it's own accord.
When Emily and Kyle contacted me and asked if I were available to photograph their wedding, we arranged a meeting at their wedding venue to have a look at what we could do to ensure my photography complimented the venue and the wedding day as a whole.
I drove to meet the couple at their wedding venue, and over the course of the next hour we walked through the grounds and made several important decisions about how the wedding was going to work.
There was a choice of two outdoor temples for the wedding, one near a lake and one at the top of a small hill with a tree lined natural alleyway leading all the way there. This is the one that we settled on as I suggested it would be the best option for photography, not only of the ceremony itself, but photos of the bride and her father, and the bridal party walking through the countryside to the ceremony too.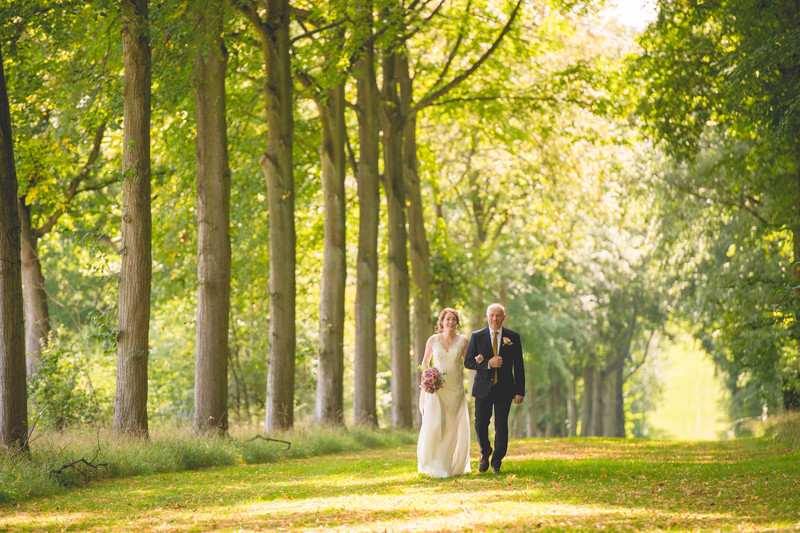 The way I had planned for the bridal party to make their entrance to the ceremony worked perfectly, as you can see in the photos in this article. The weather was gorgeous, there wasn't a cloud in the sky and it was a balmy 32 degrees centigrade. The last hundred metres or so of the walk to where the ceremony was taking place was thankfully through an area of open shade. The sun hitting the tree tops and grass behind the bridesmaids in the top photo casts this gorgeous golden green colour, which really sets off the colour of the bridesmaids dresses.

In the second photo, the out of focus trees that are growing almost perfectly vertical provide a beautiful frame for the photo.

Keywords: Documentary wedding photography (129).