Laura & Scott's Curradine Barns Wedding
Curradine Barns Wedding Photography
Laura and Scott
Laura and Scott got married at one of my favourite wedding venues - Curradine Barns in Worcestershire. Curradine Barns is a rustic, romantic wedding venue set deep within the Worcestershire countryside in the village of Shrawley. The venue features it's own private bridal dressing room as well as a renovated farmhouse where grooms can get dressed (which can also house wedding guest for an over-night stay too) as well as stunning honeymoon suite. The red-brick barns originally date back to the 19th Century are were used initially as a grain store. Continuous improvements over the years have seen this venue transform into a contemporary and atmospheric place, which makes for stunning weddings all year round. The venue is licensed to hold civil ceremonies but can also be hired solely as a reception venue should you prefer a church wedding.
The first time I met Laura and Scott was New Year's Eve 2014 when Scott had phoned me to ask if I could candidly photograph the proposal he'd been planning for some time. Their beautiful August wedding was a far cry from the freezing Malvern Hills where the proposal took place, but I am so happy to have been a part of their story for so long.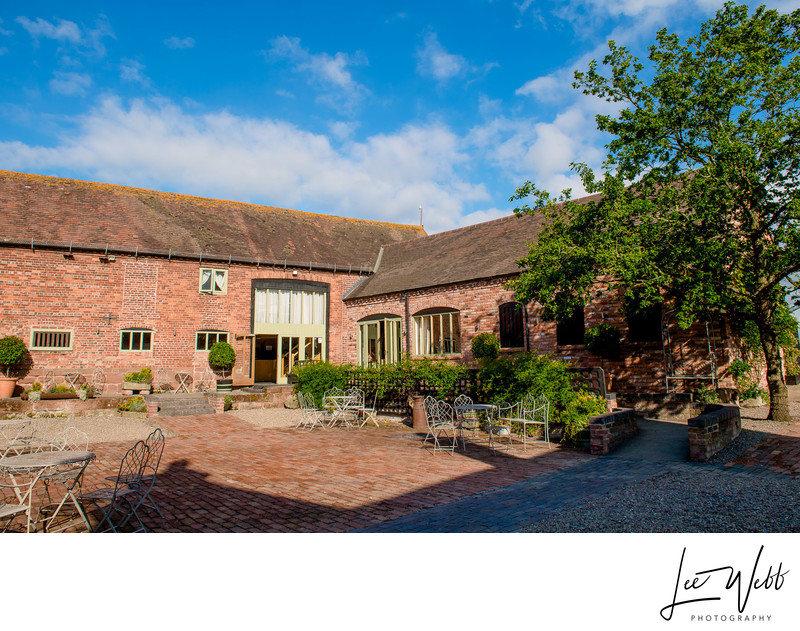 Laura and her bridesmaids all got ready in the on-site bridal dressing suite, with Scott, his best man and ushers all getting ready in the farmhouse a little later in the day.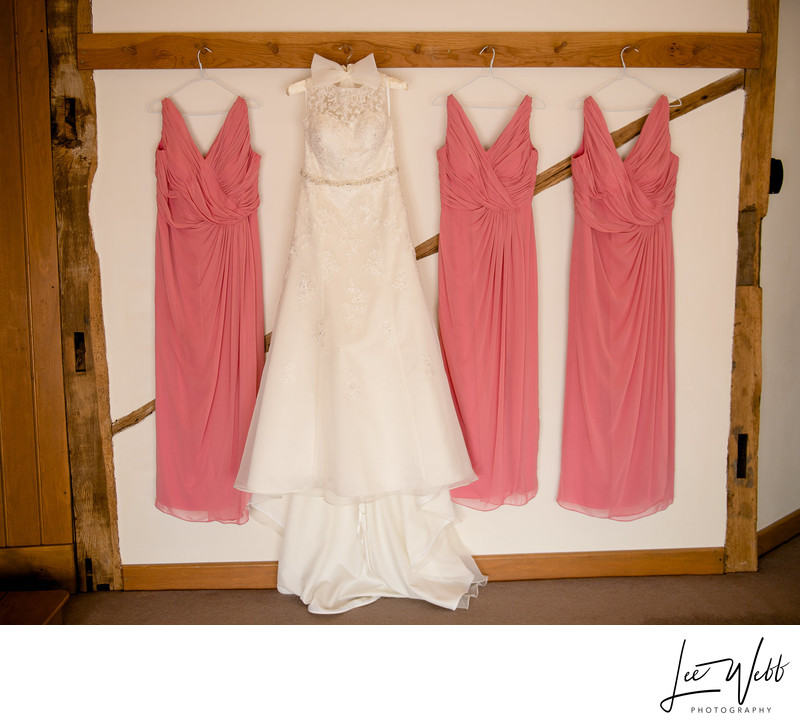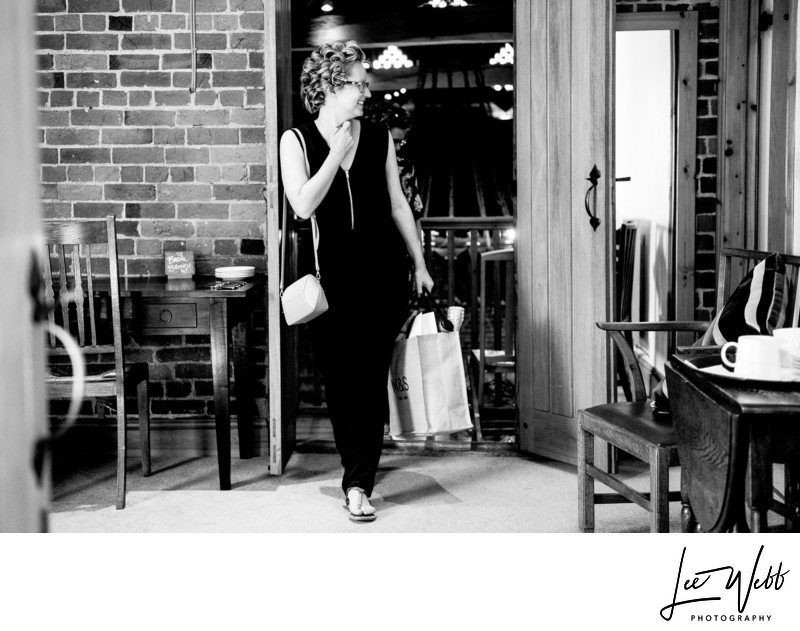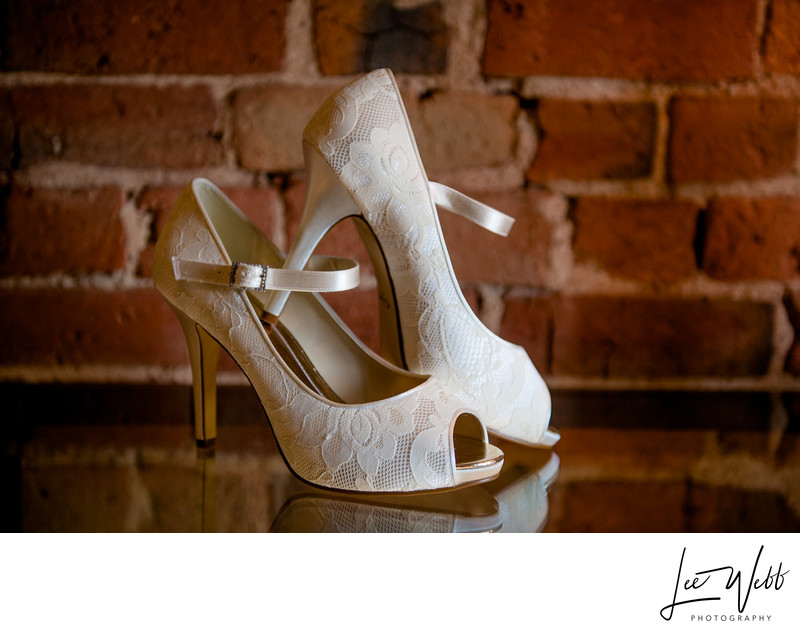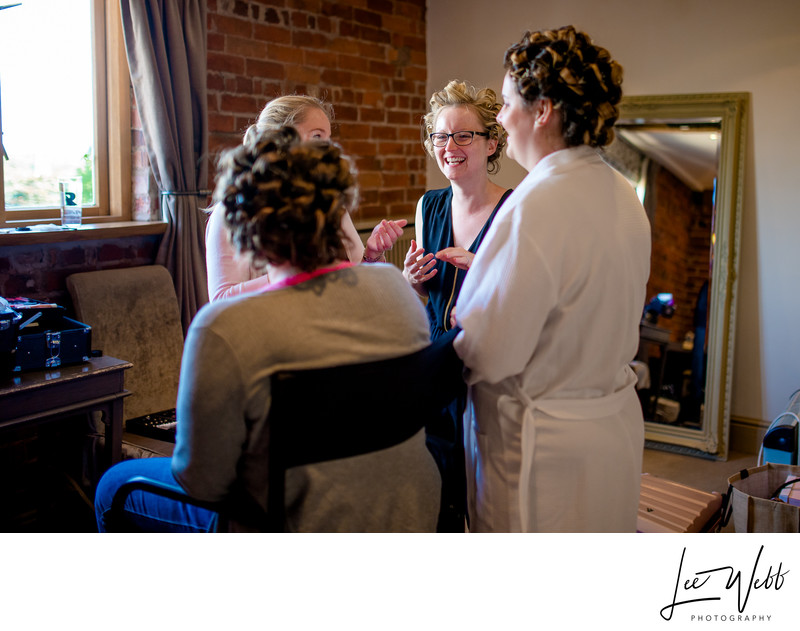 Scott had arranged to send Laura a card on the morning of their wedding and I made sure I was ideally located to capture her reactions. As you can see in the second image below, Scott had so much to say that he actually had to attach a second piece of paper to the card!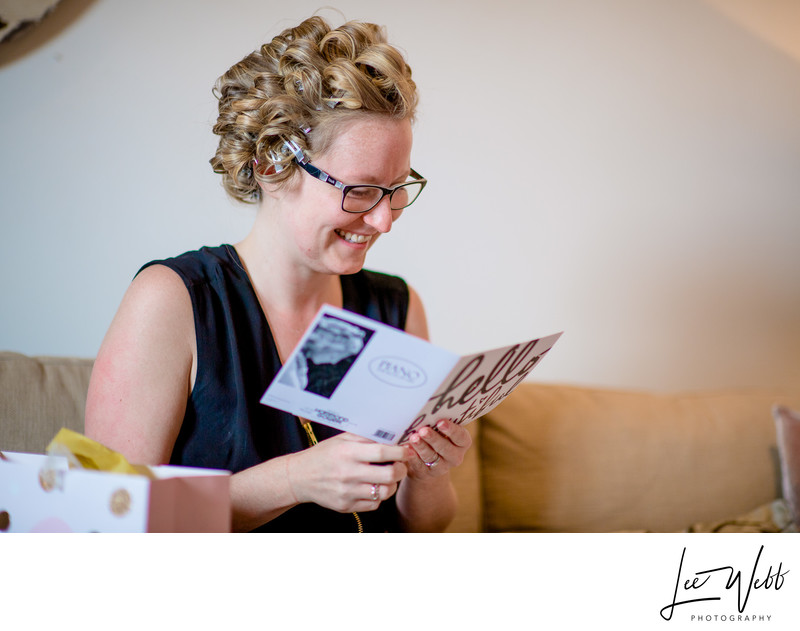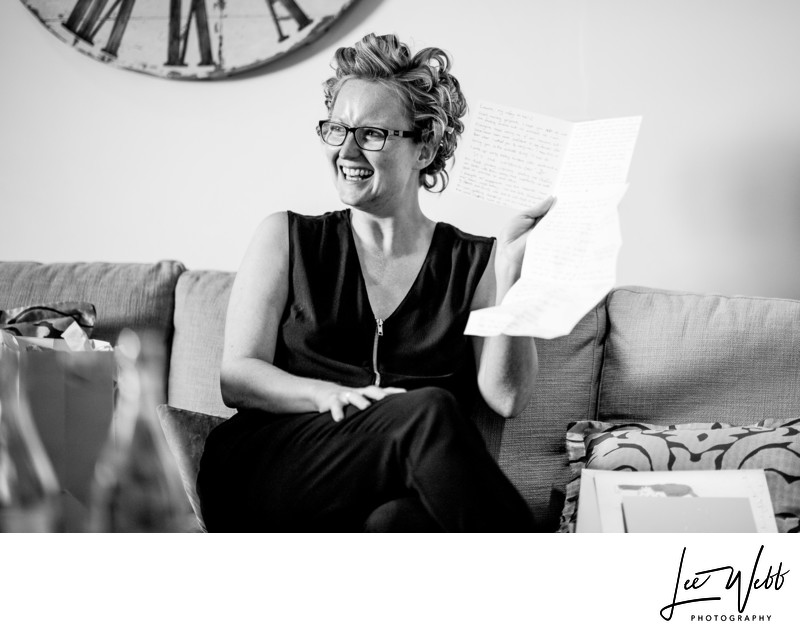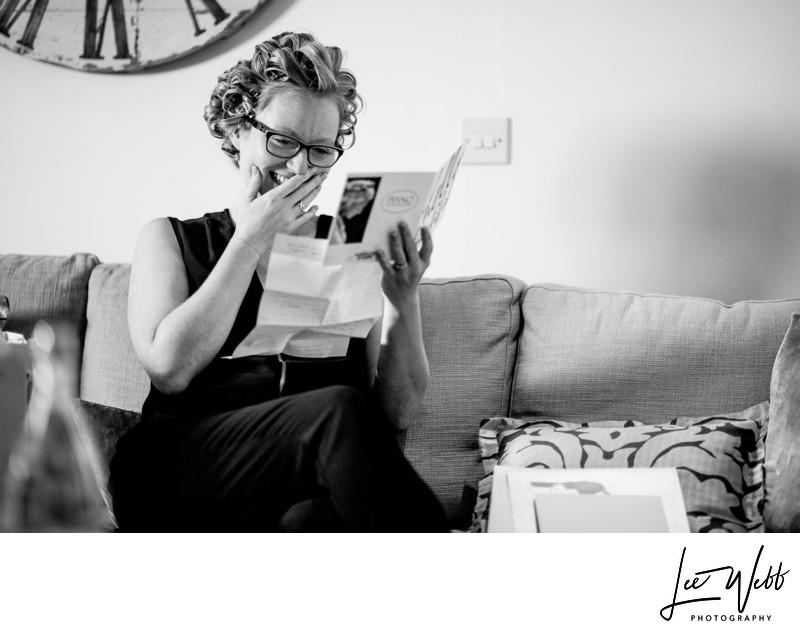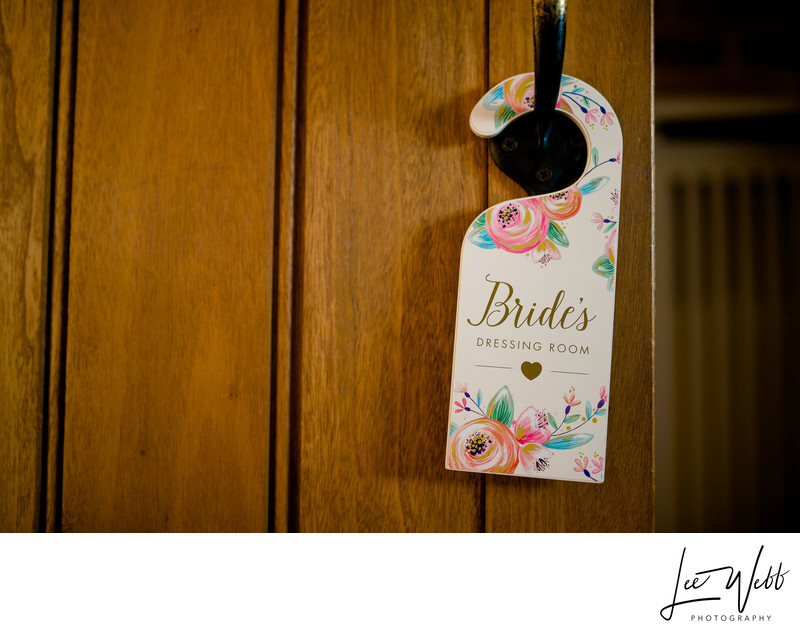 Breakfast was brought to the bride's dressing room but the bridal party were either too busy or too nervous to eat anything.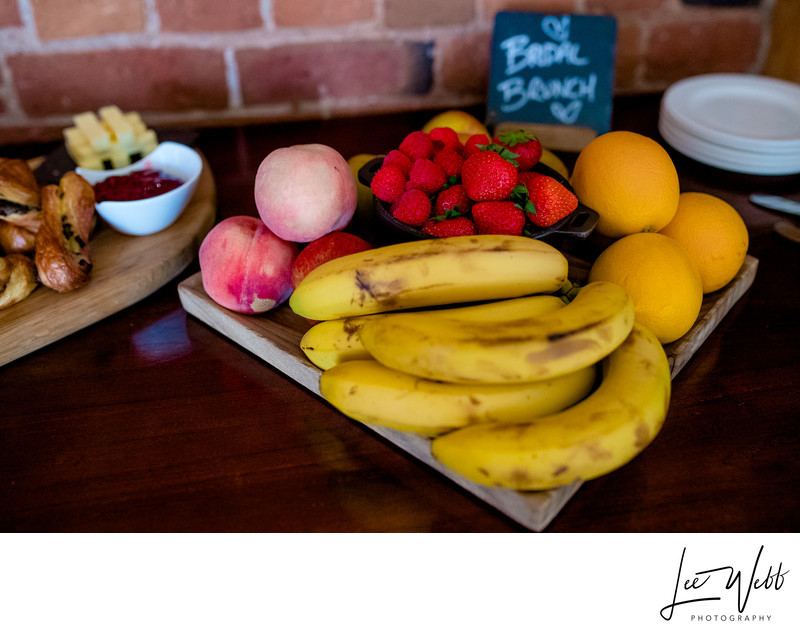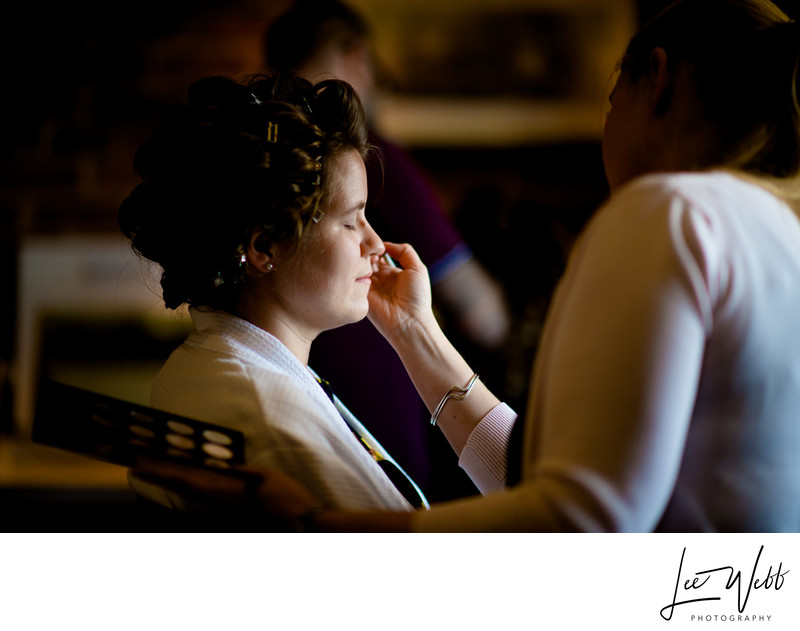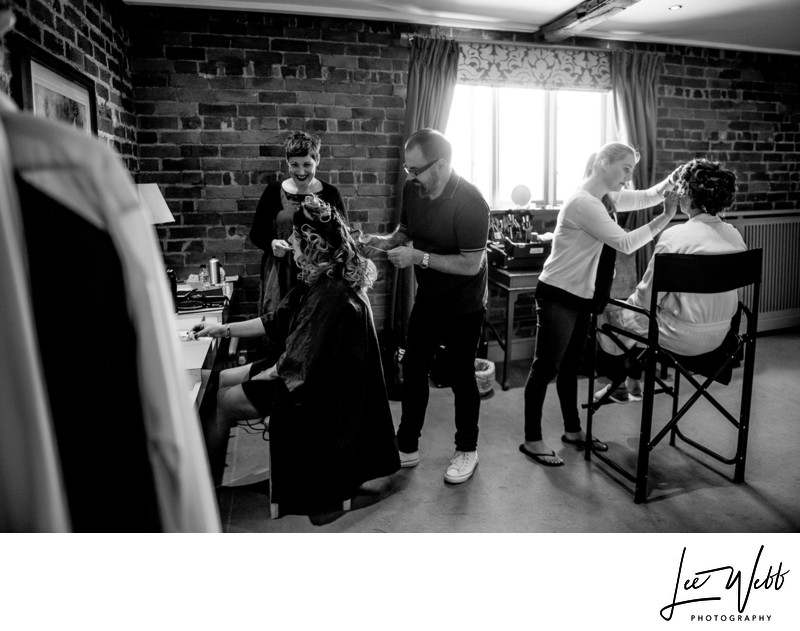 One of the best qualities of the bridal dressing room at Curradine Barns is the single window - this sounds like a bad thing, only having one window, but it gives a wonderful directional quality of light (the kind that you'd try to produce in a studio) which is very flattering.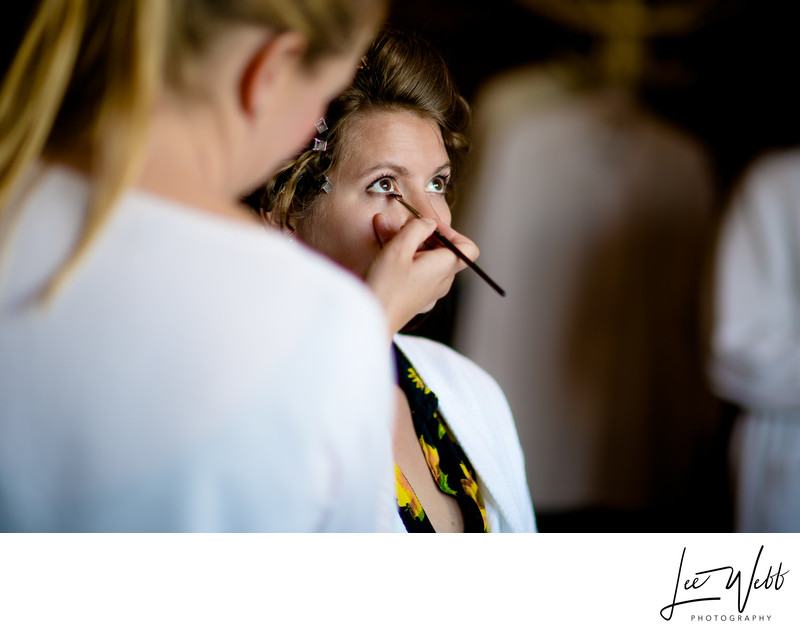 That same single light source can also be used to dramatic effect when it comes to back-lit images.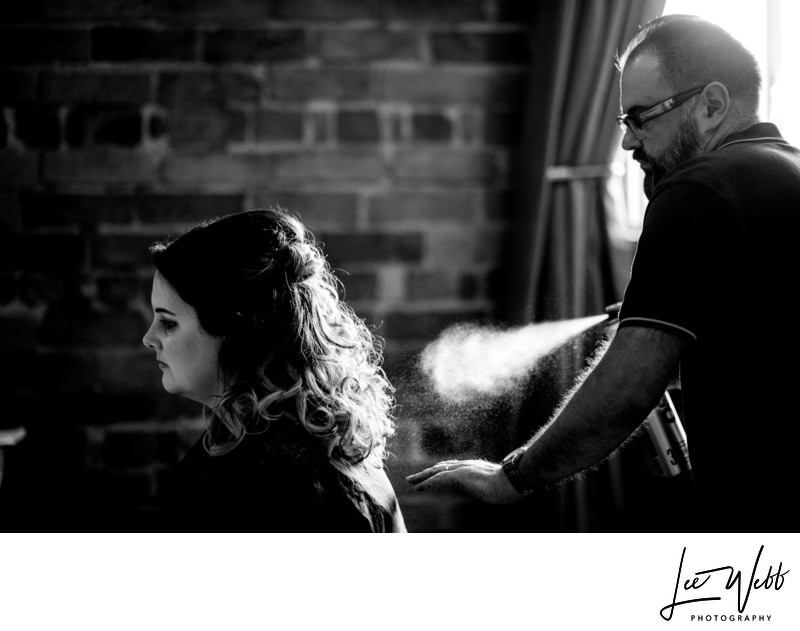 Laura and Scott had an English Country themed wedding with delicate flowers used to dress both the tables and the wedding cake. At the time I arrived in the morning which was just after 9am, the final details weren't quite in place, but I was on hand to capture some great wedding photos of Scott making some finishing touches which included dressing the tables and the wider venue, with the help of his best man.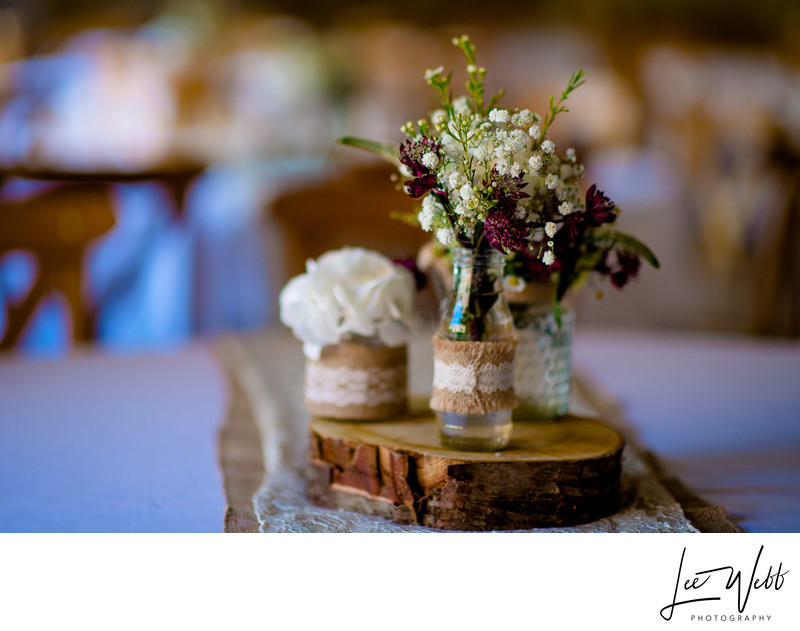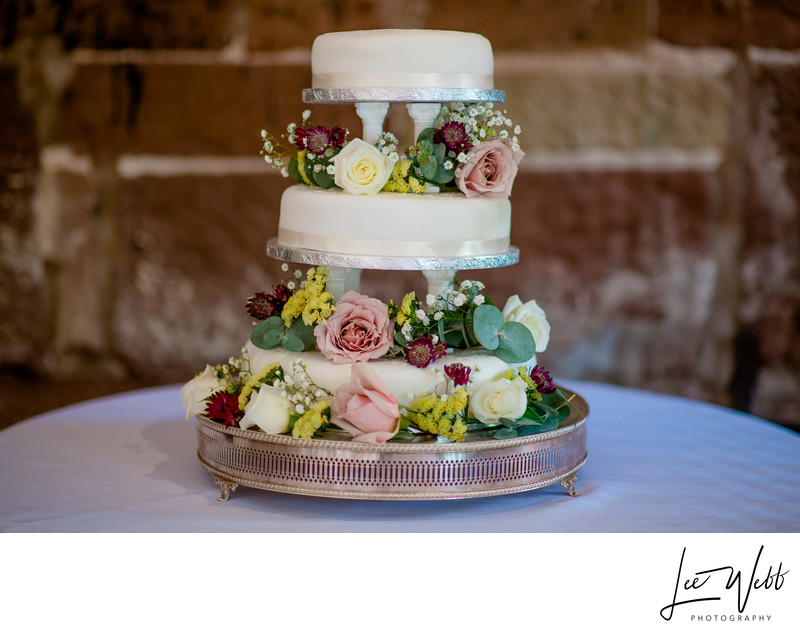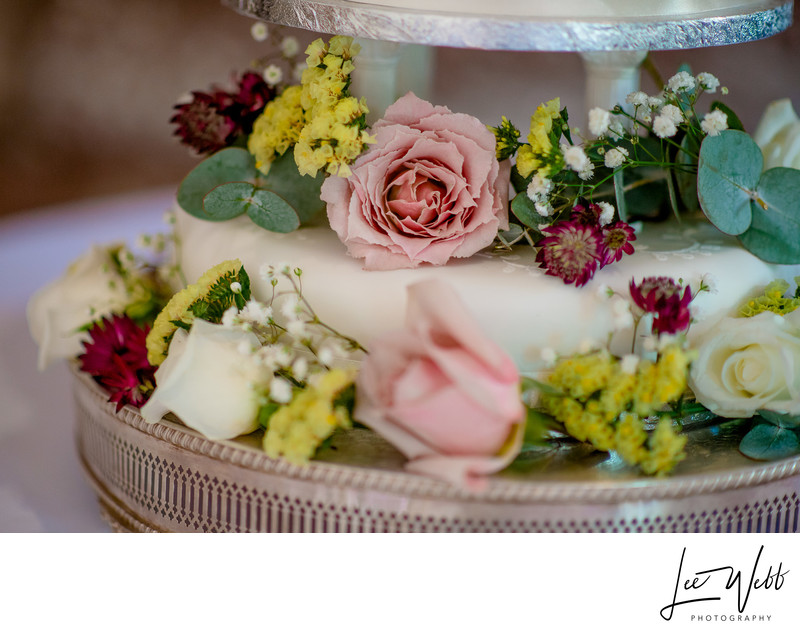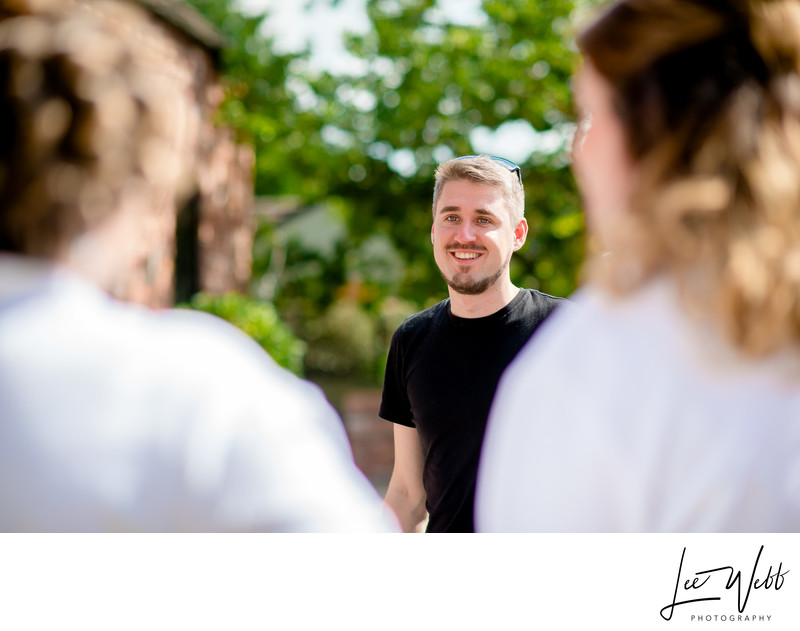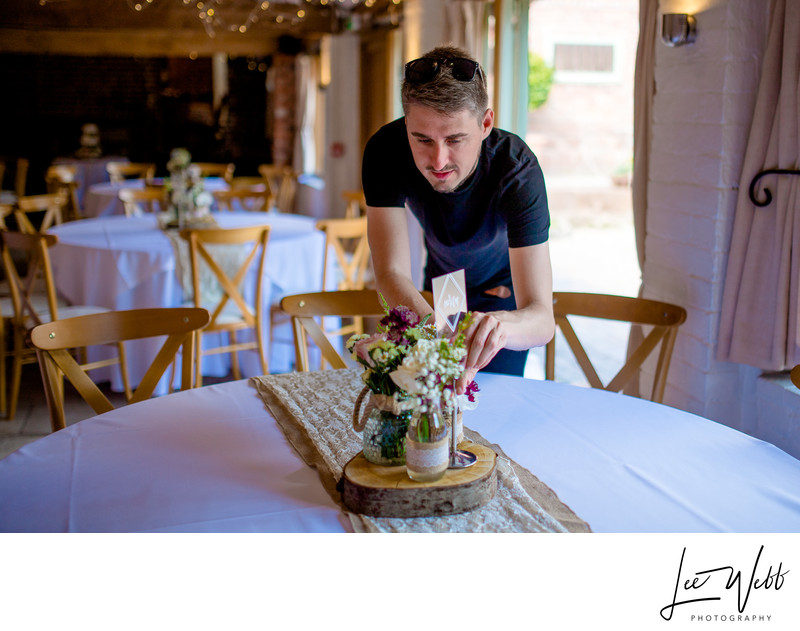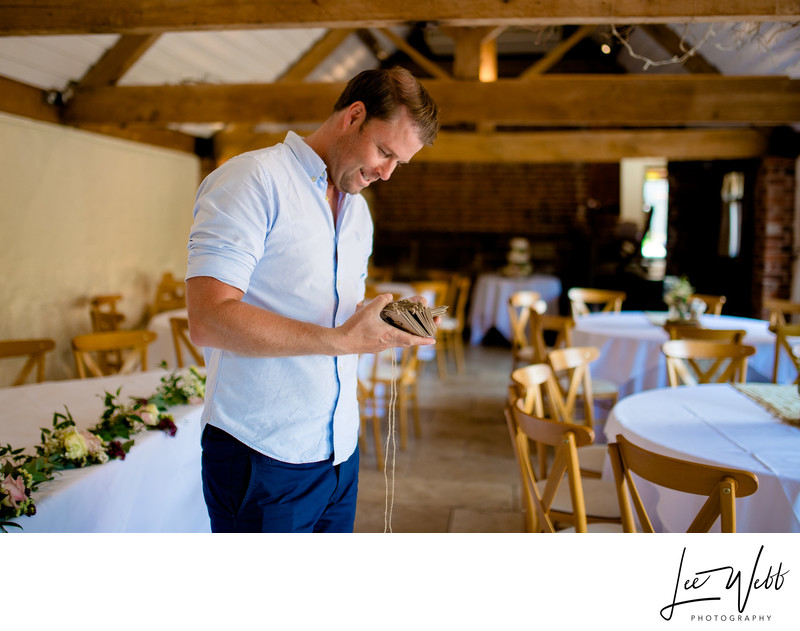 Parts of the wedding venue were to be dressed with old family photos that had been printed and mounted with a long piece of twine. This is a fantastic bit of wedding inspiration, and I personally think that having old family photos, (especially wedding photos) is a fantastic talking point amongst guests as well as serving to pay tribute to absent friends and family.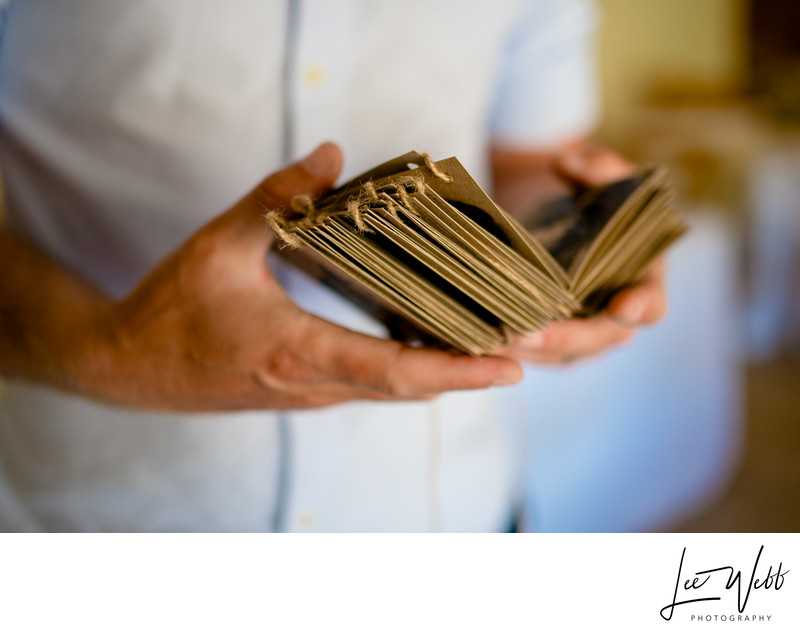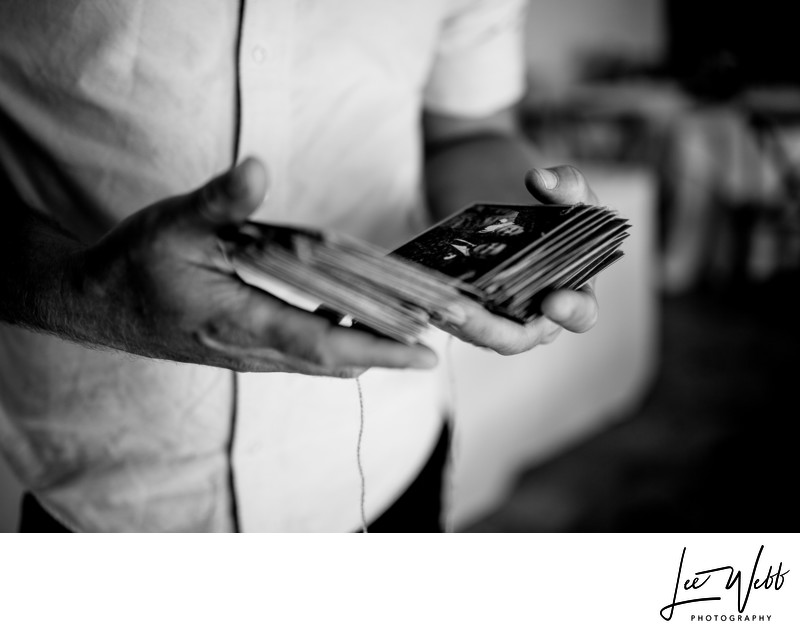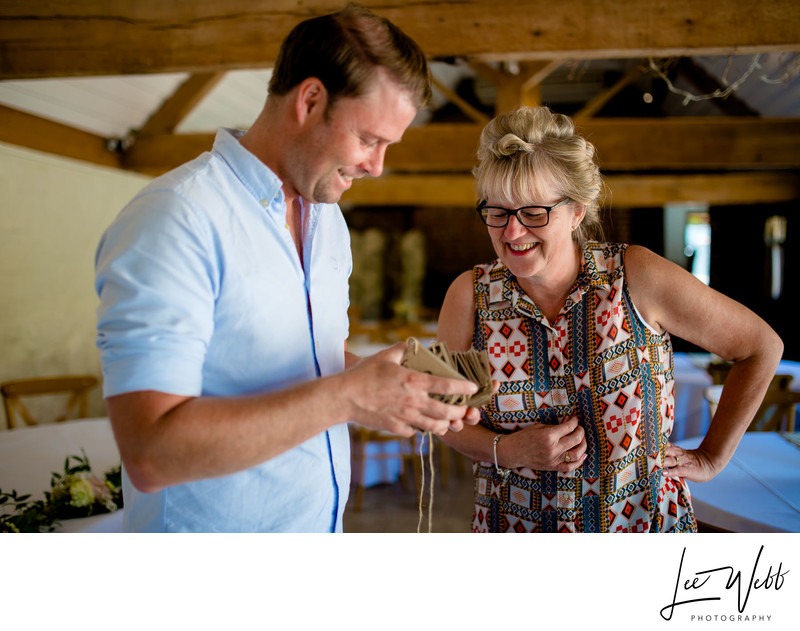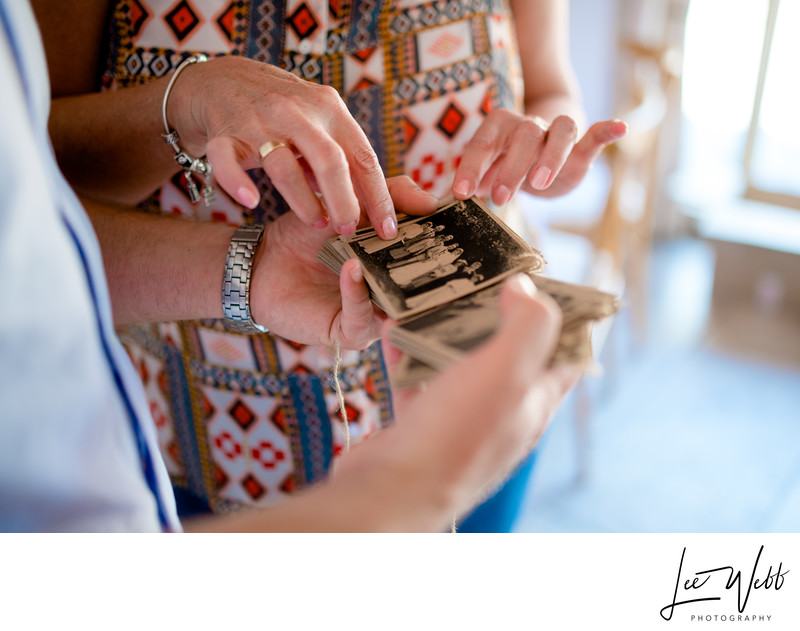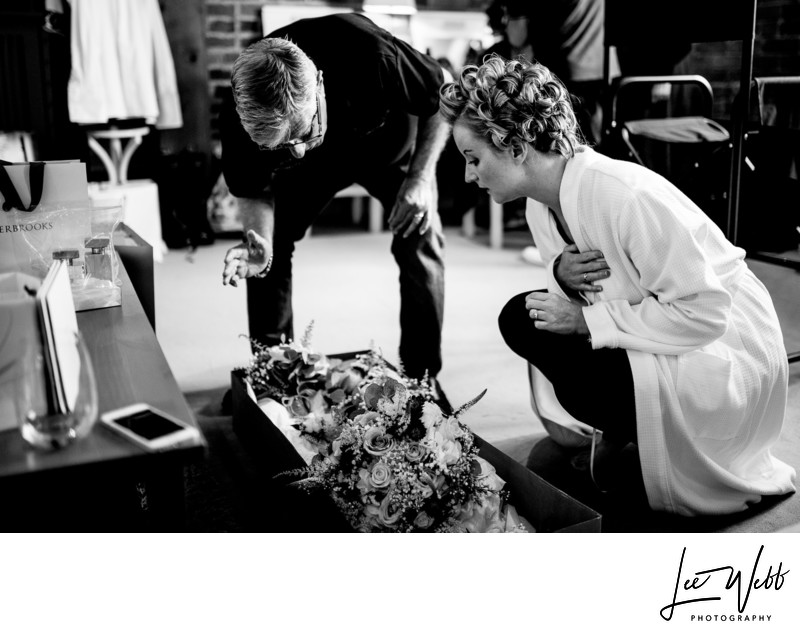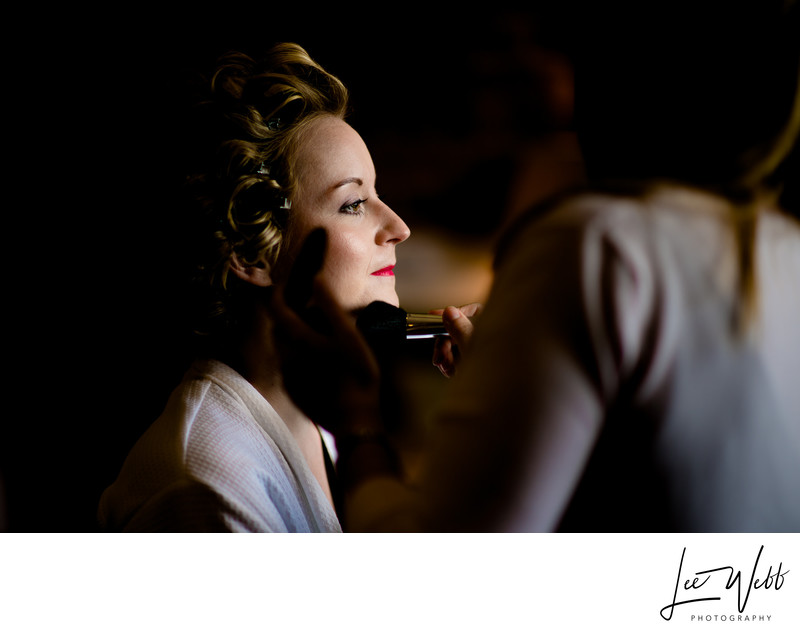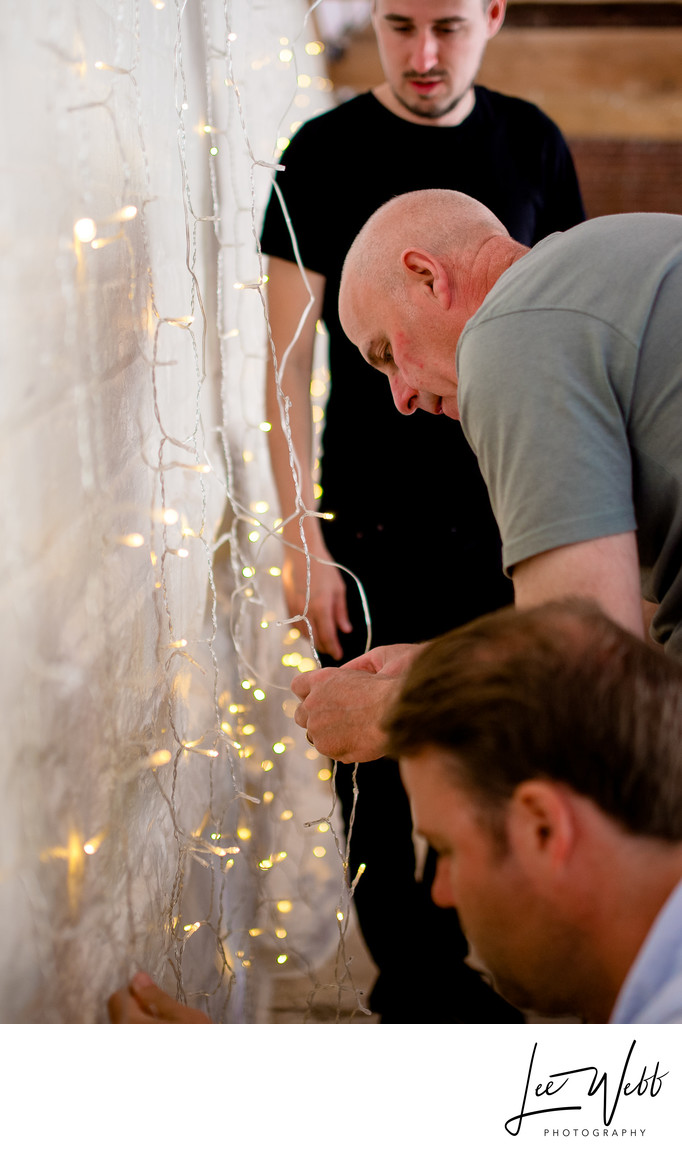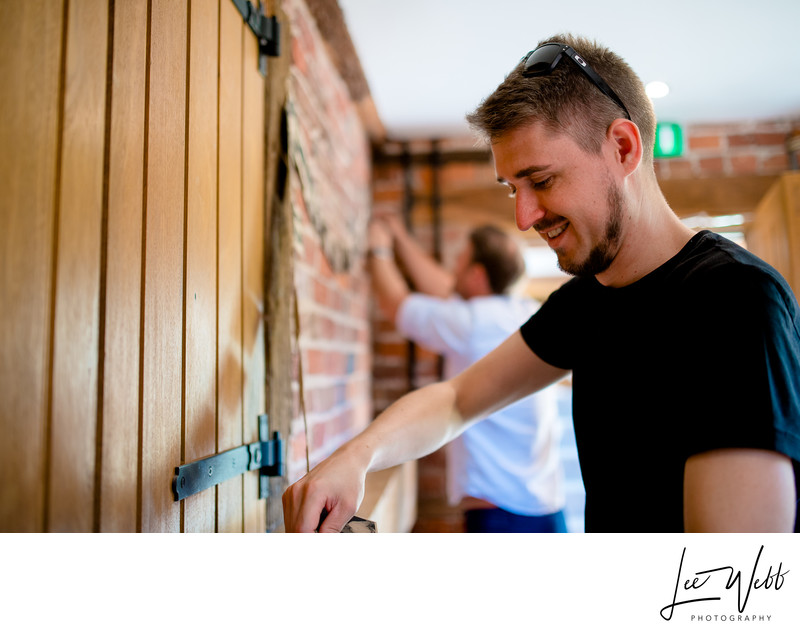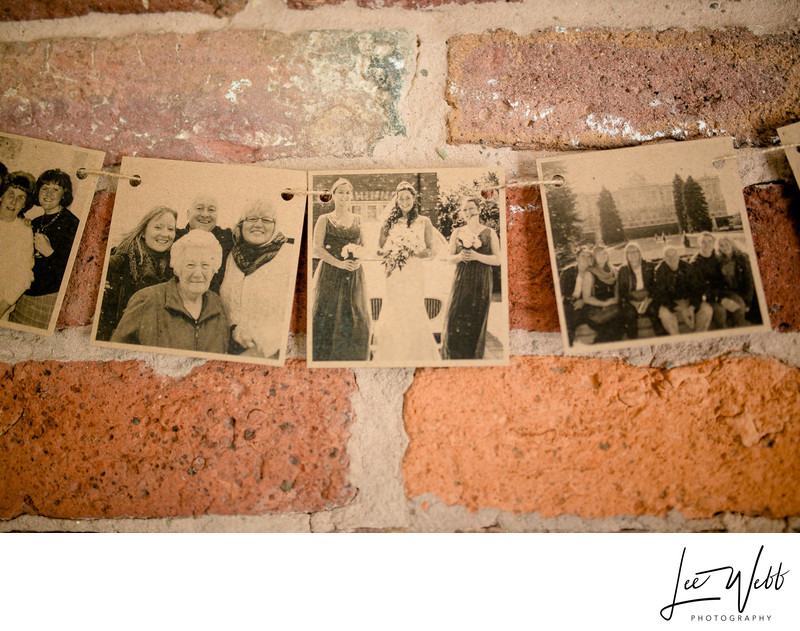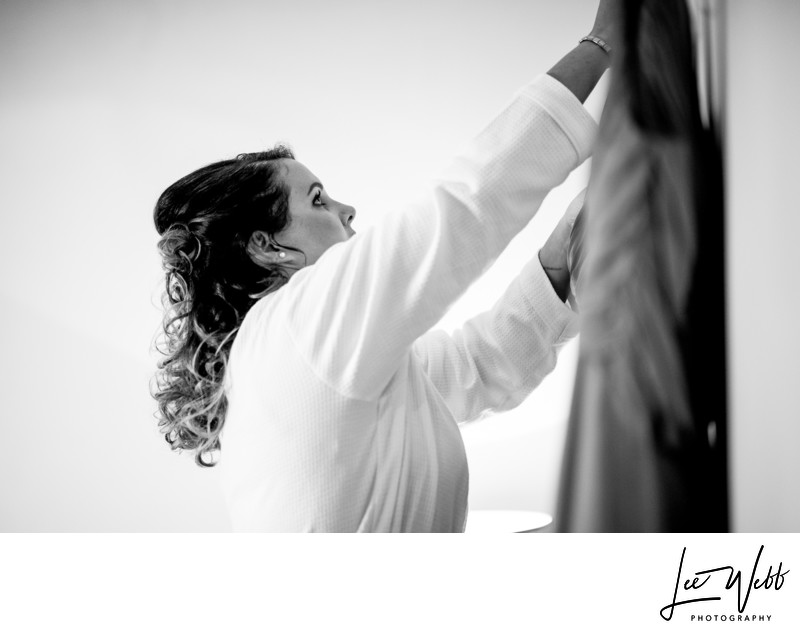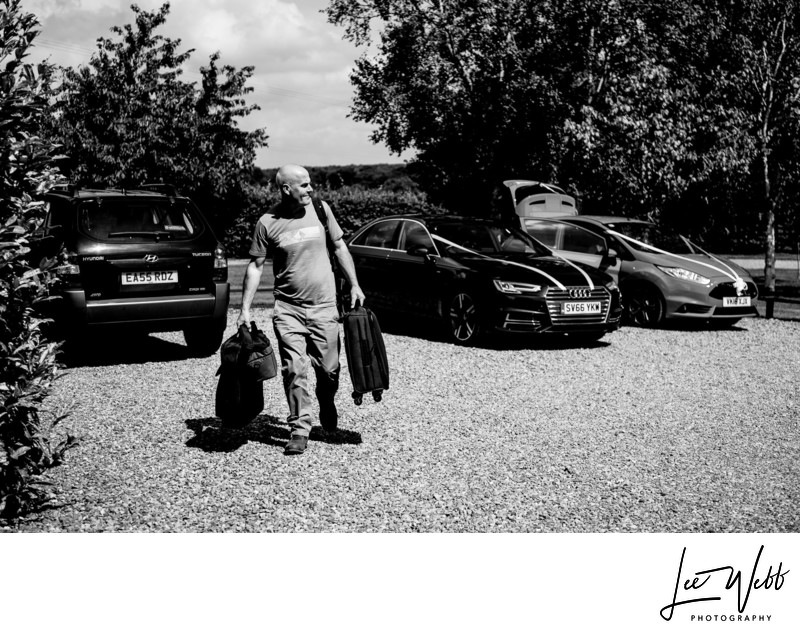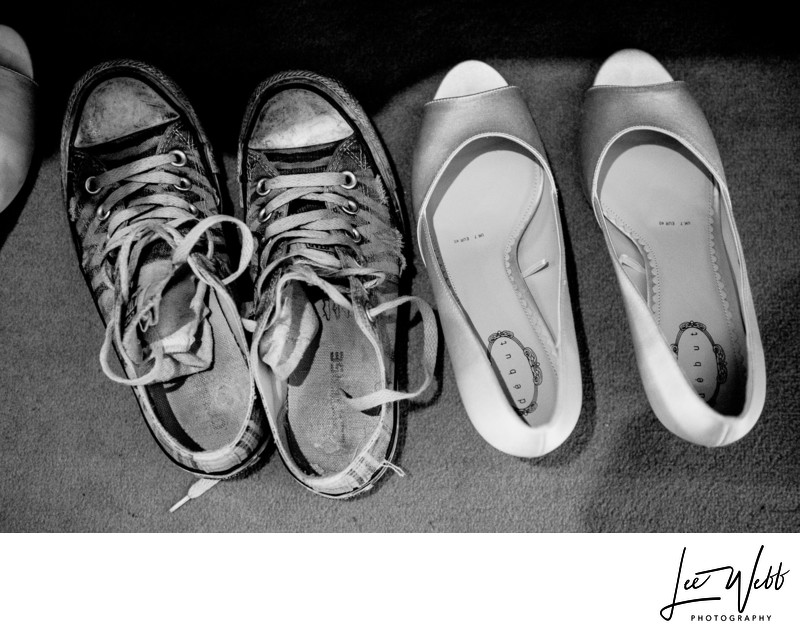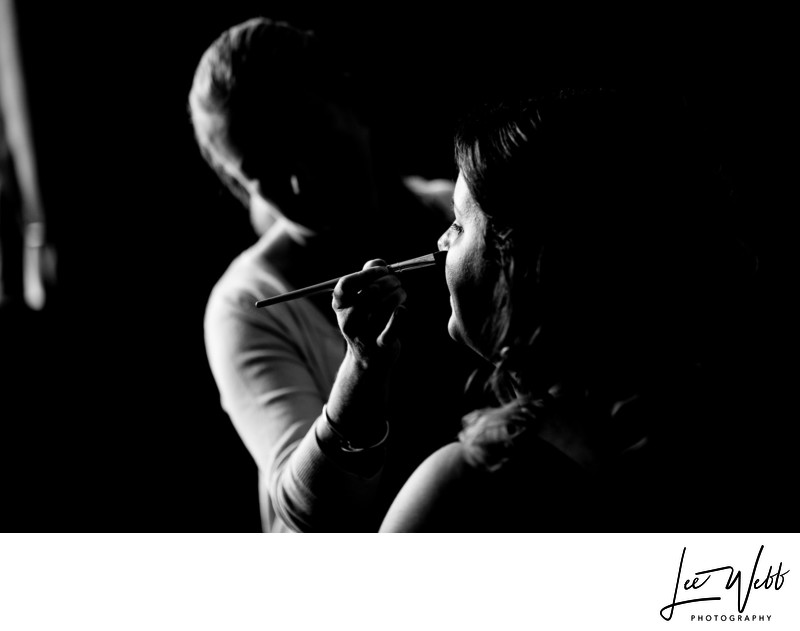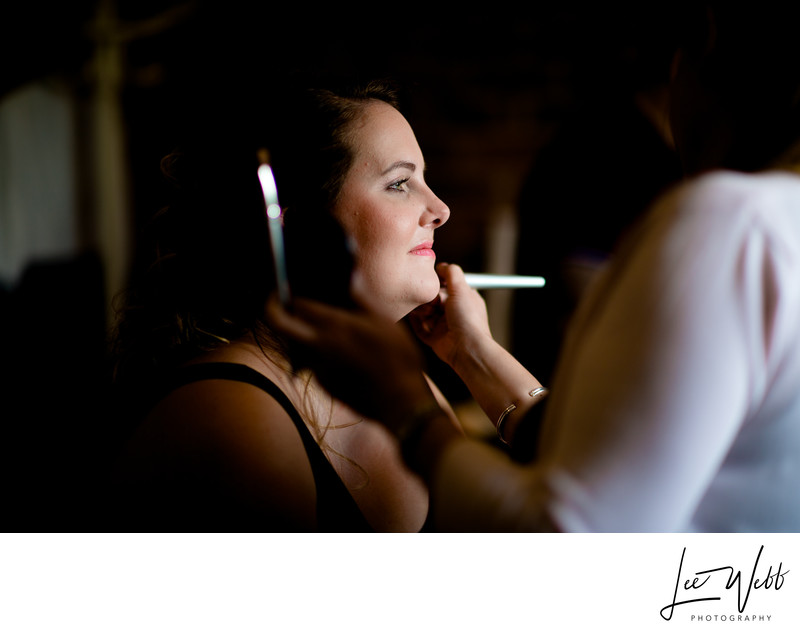 As Scott was getting ready on-site I was easily able to photograph him getting ready as well as the bride. I had discussed this with them at length before their wedding, and together we worked out where I'd have to be and at what time in order best cover both events. The farmhouse is a very short 30 second walk across the courtyard from the bride's dressing room so it was no hassle shooting at both locations on my own.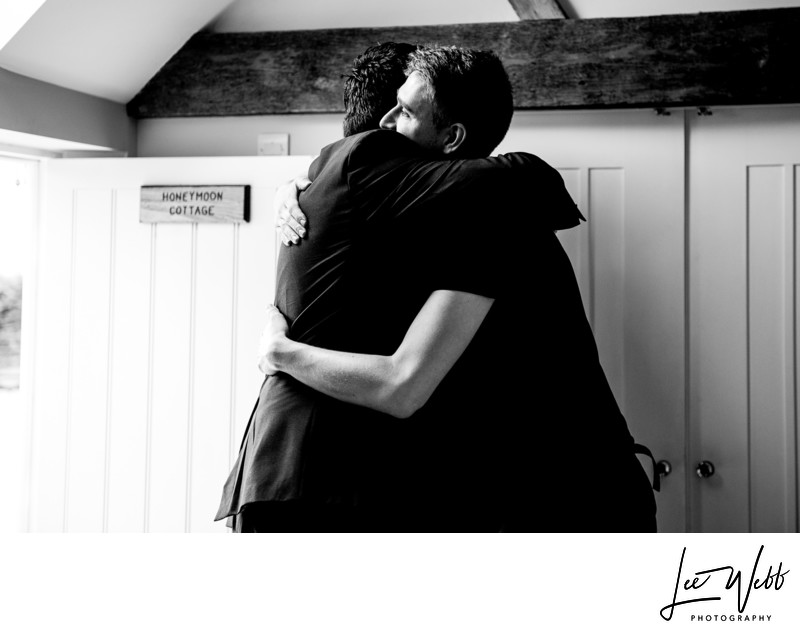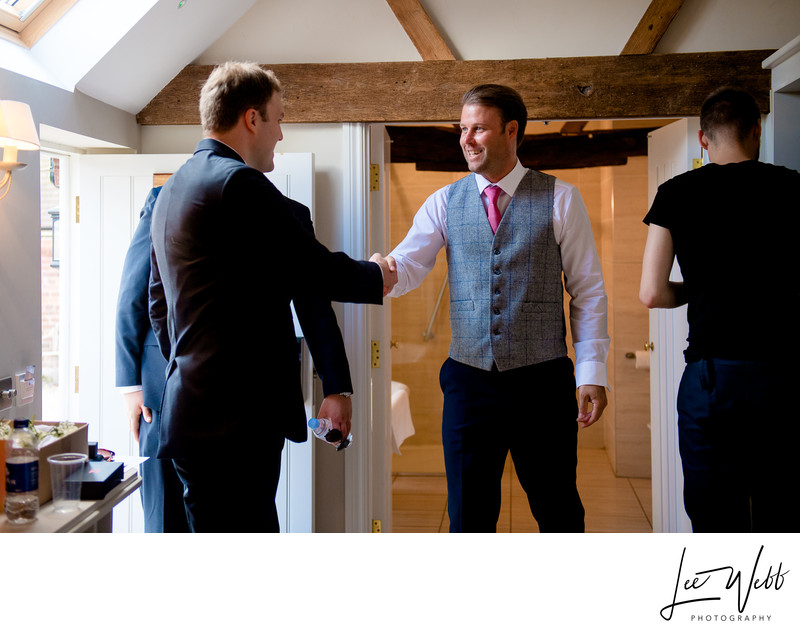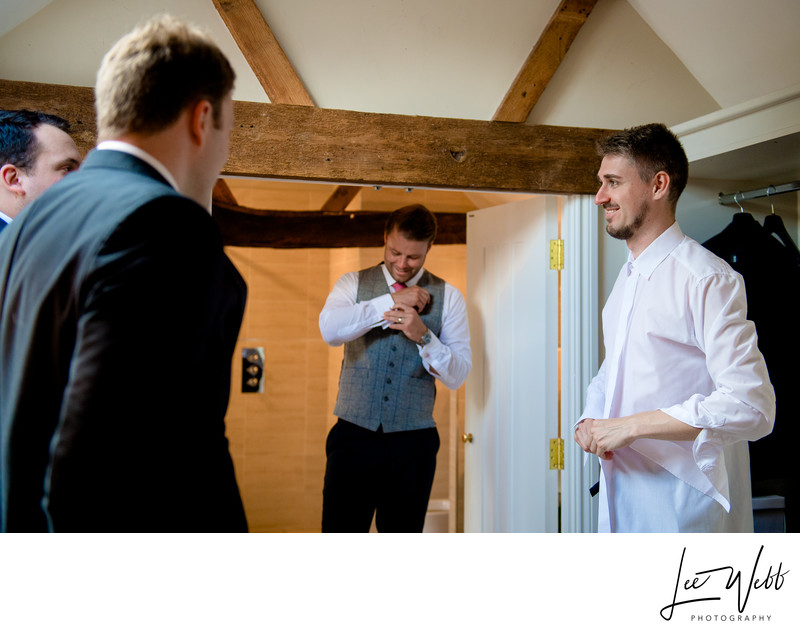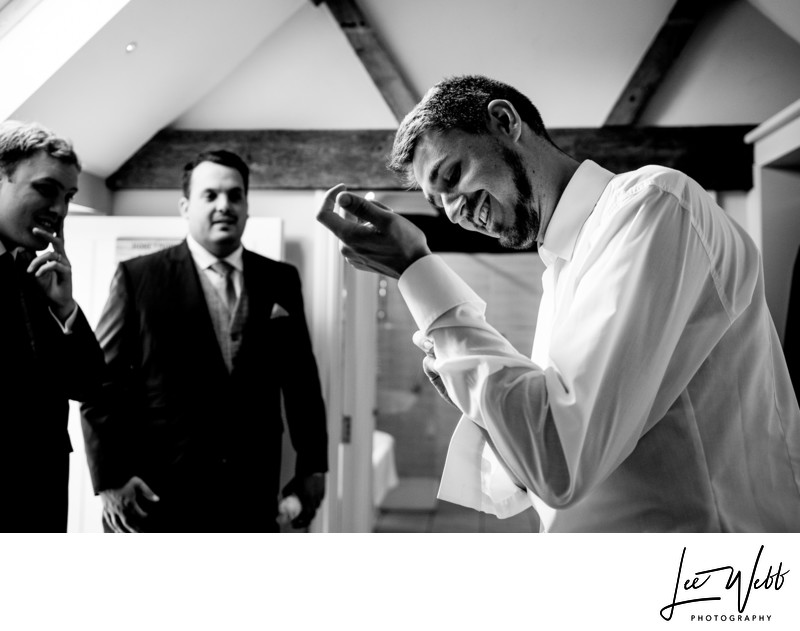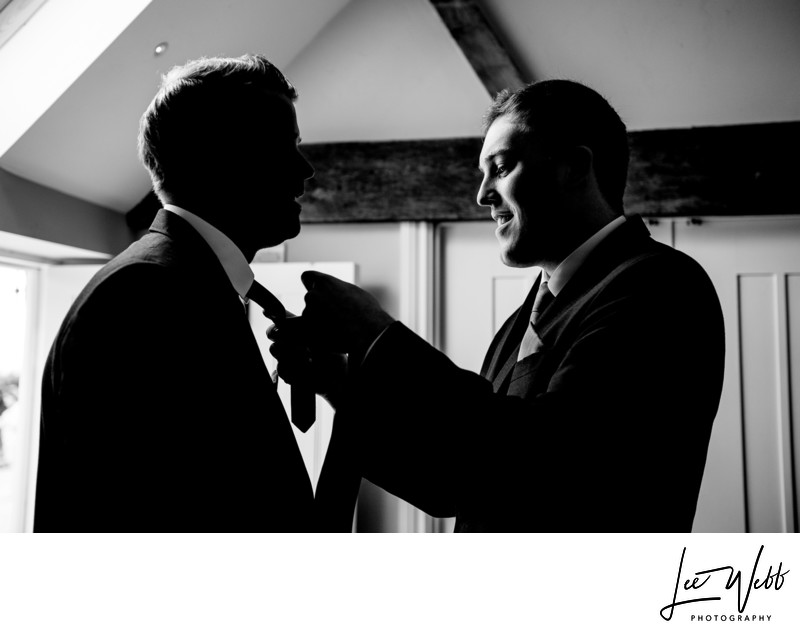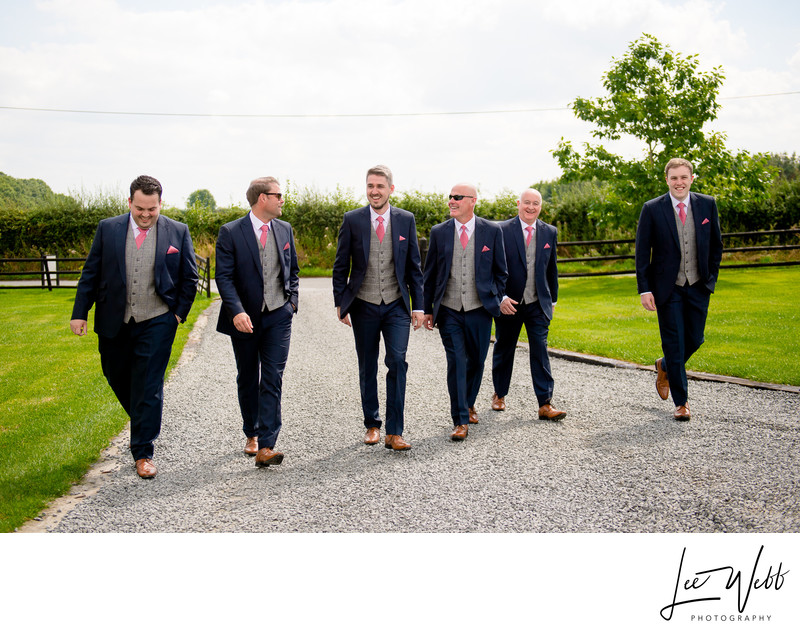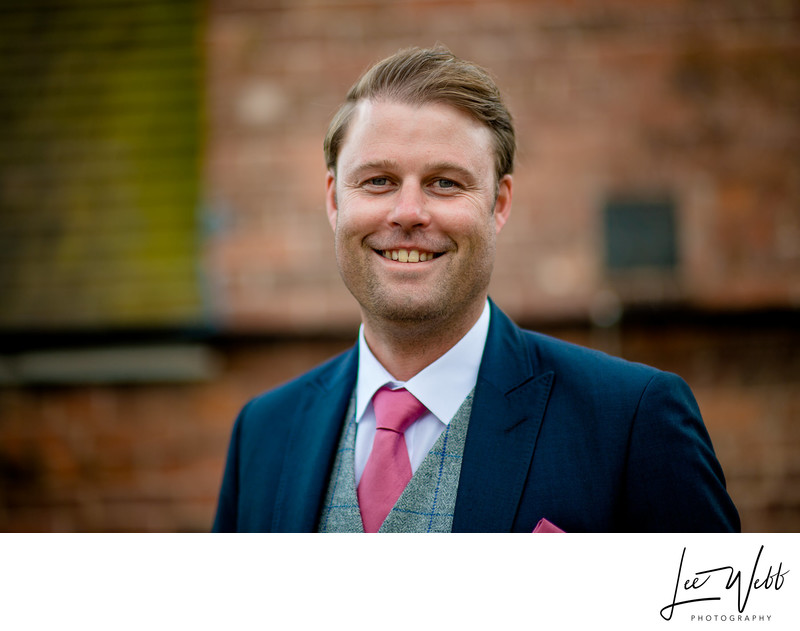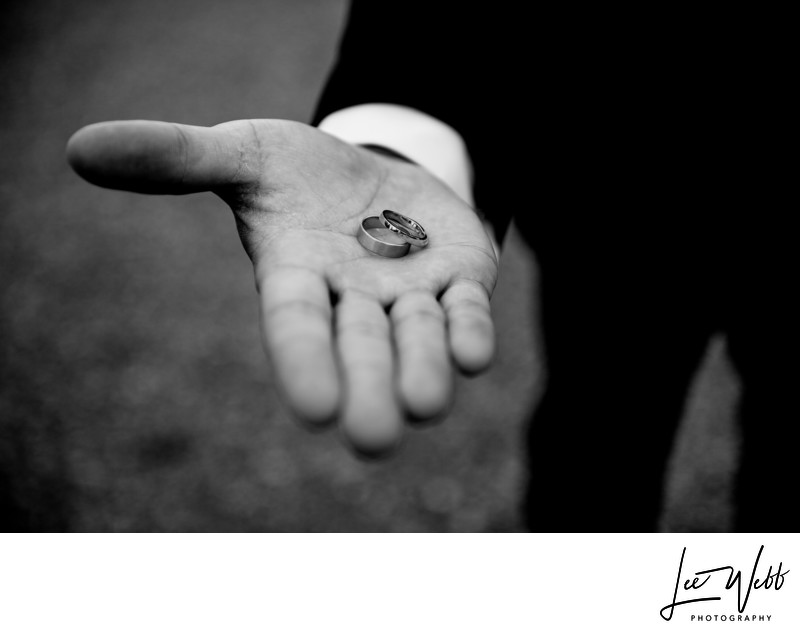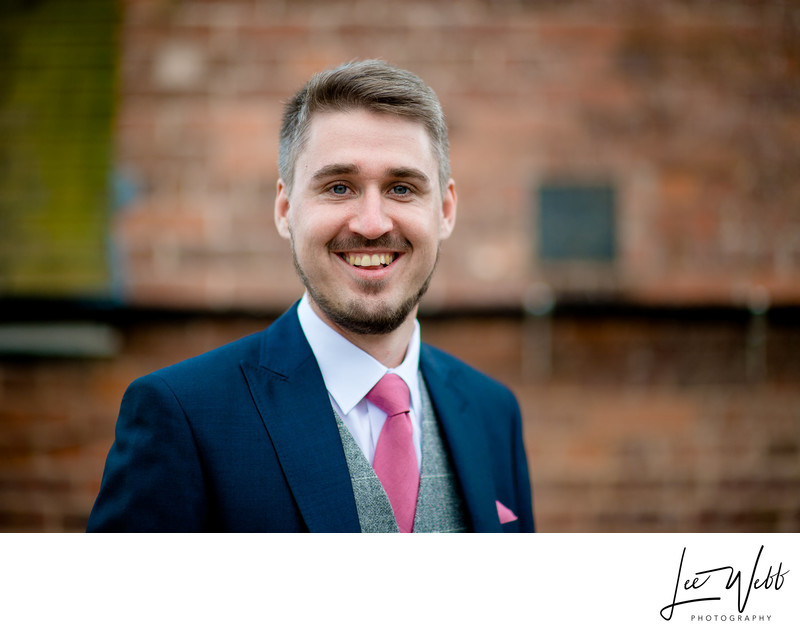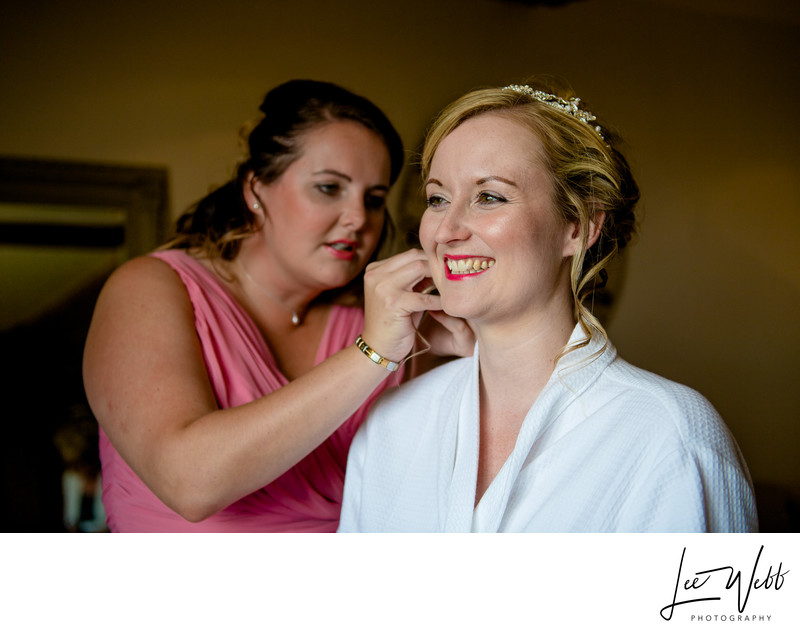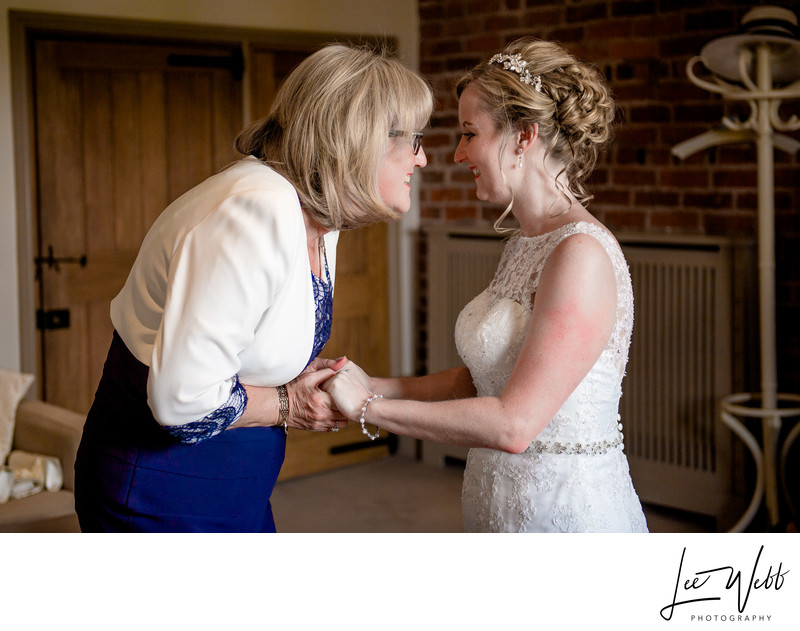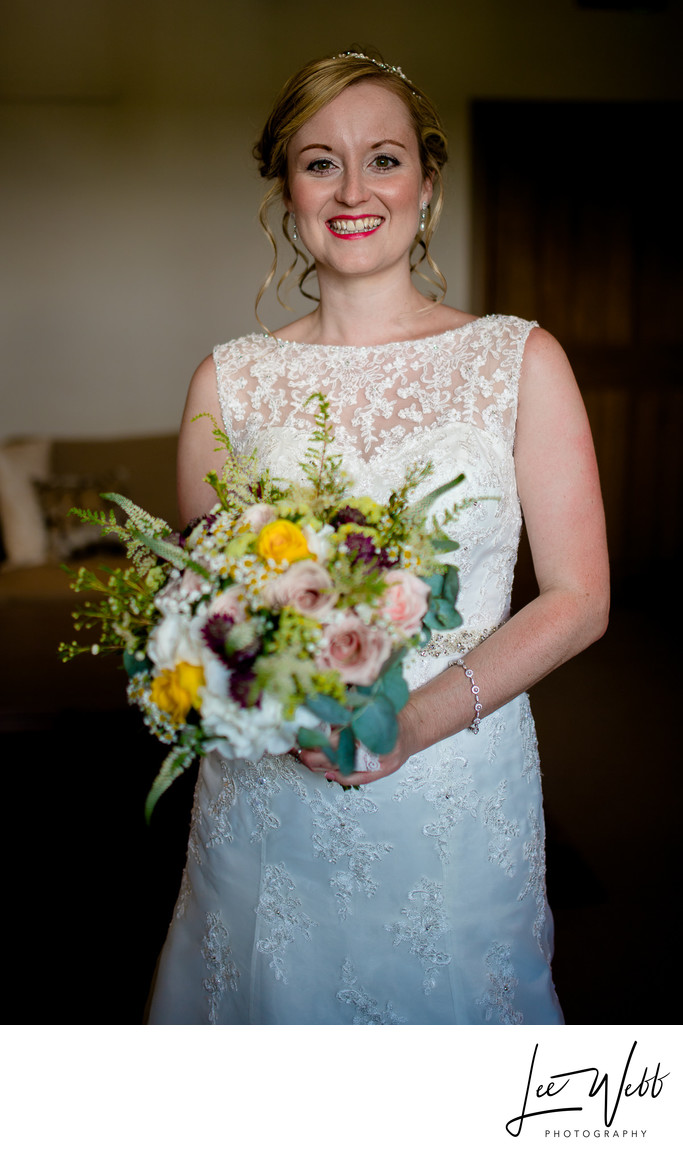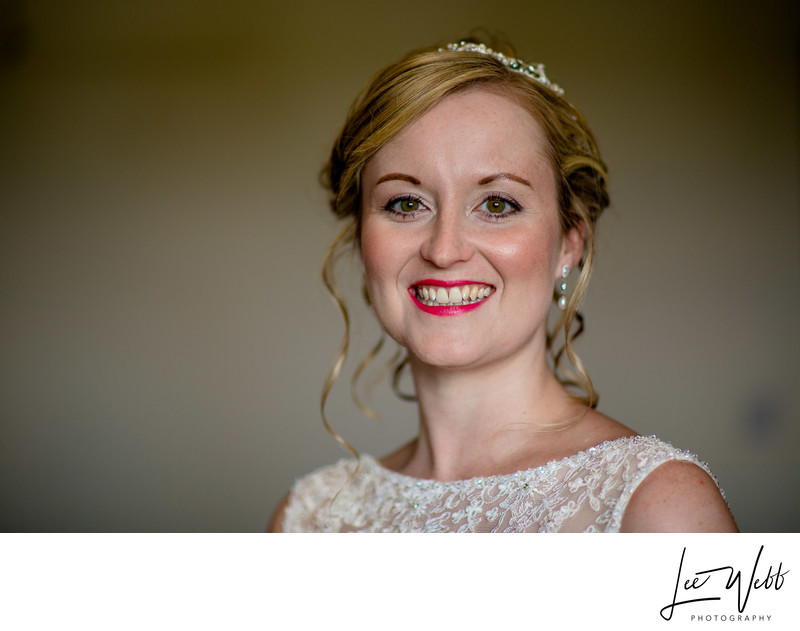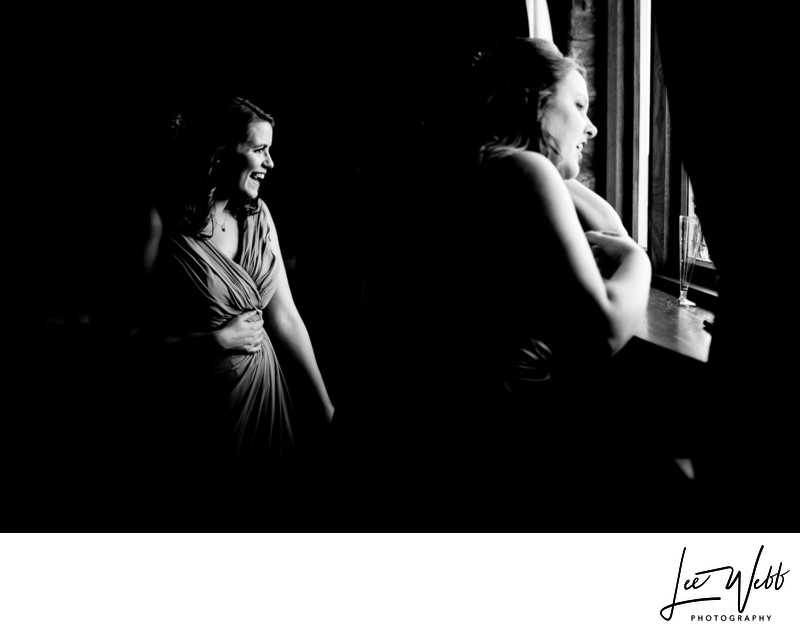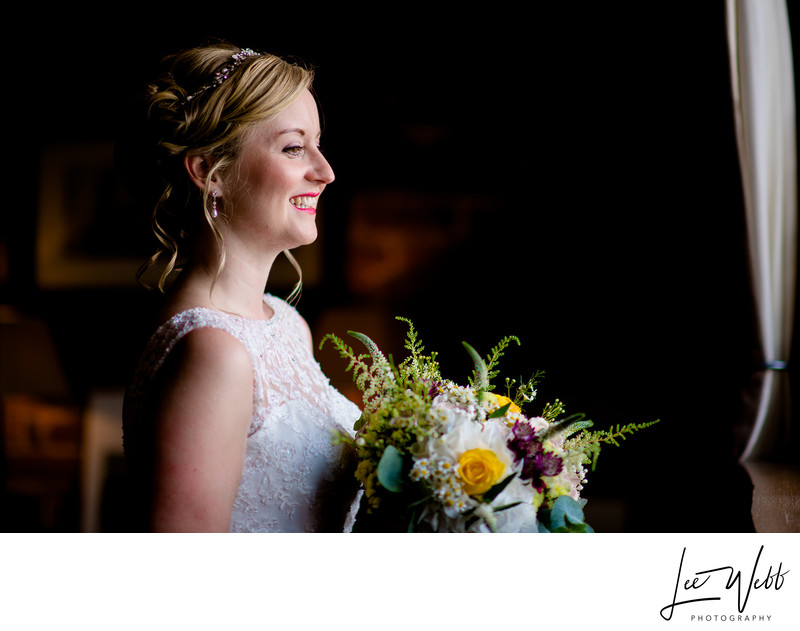 When the bride was completely ready, she sent for her father who was going to walk her down the aisle and give her away too. This is always one of my favourite images to try and get, as you never know exactly how things are going to go. Some fathers laugh and joke, whilst others get really emotional and whatever their reaction, out-of-character or not, I love being there to watch it unfold. Laura's father looked very proud and happy when he saw his daughter in there wedding dress for the first time. I find that the emotional nature of these images make for great black and white wedding photos.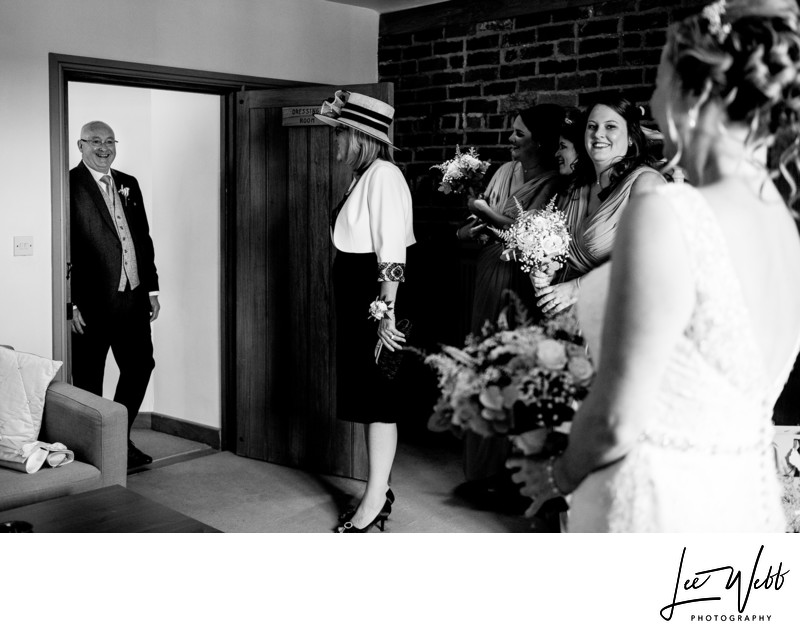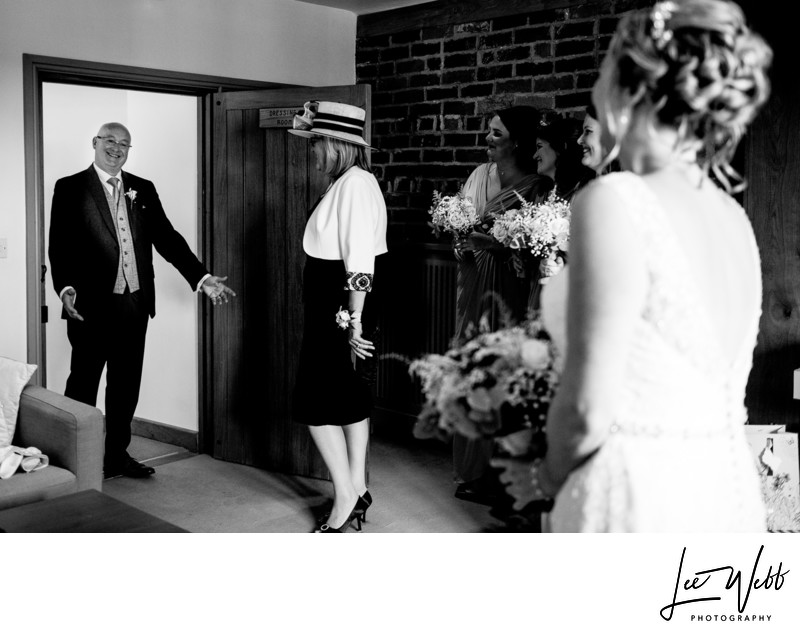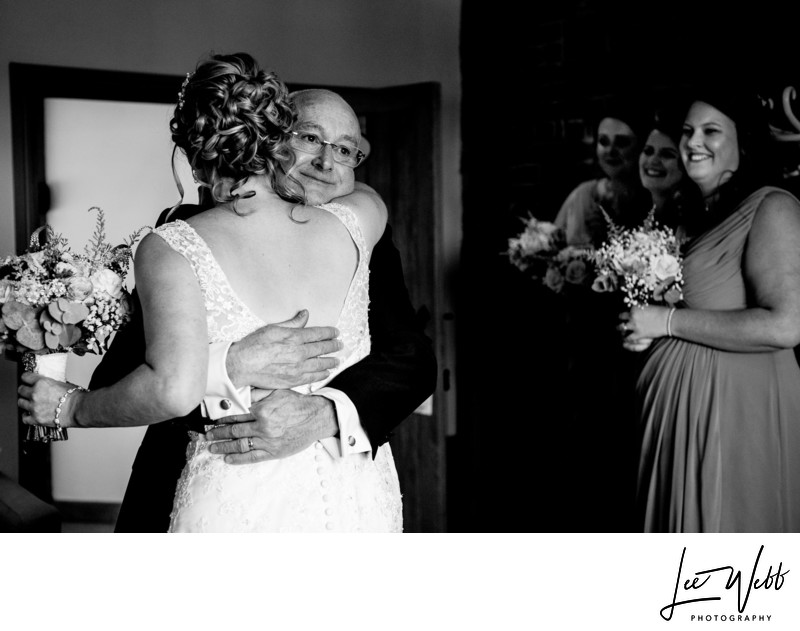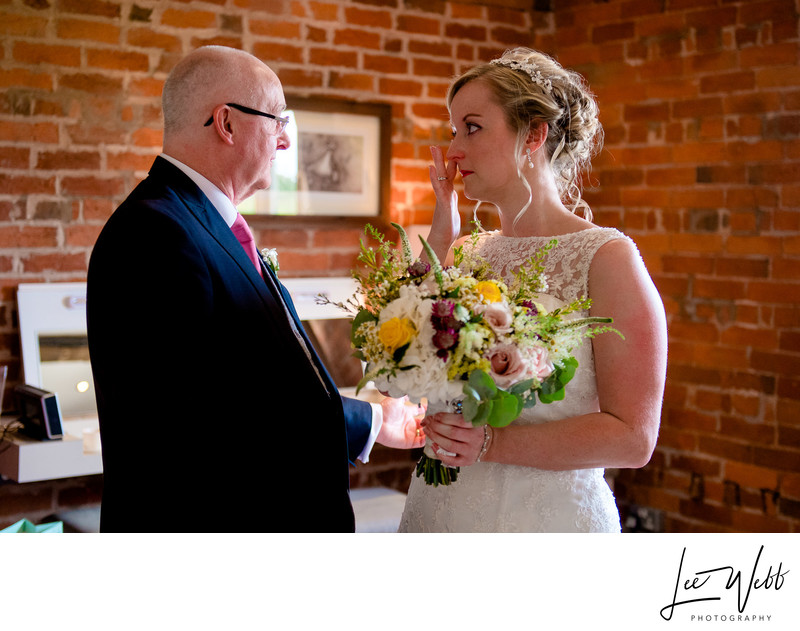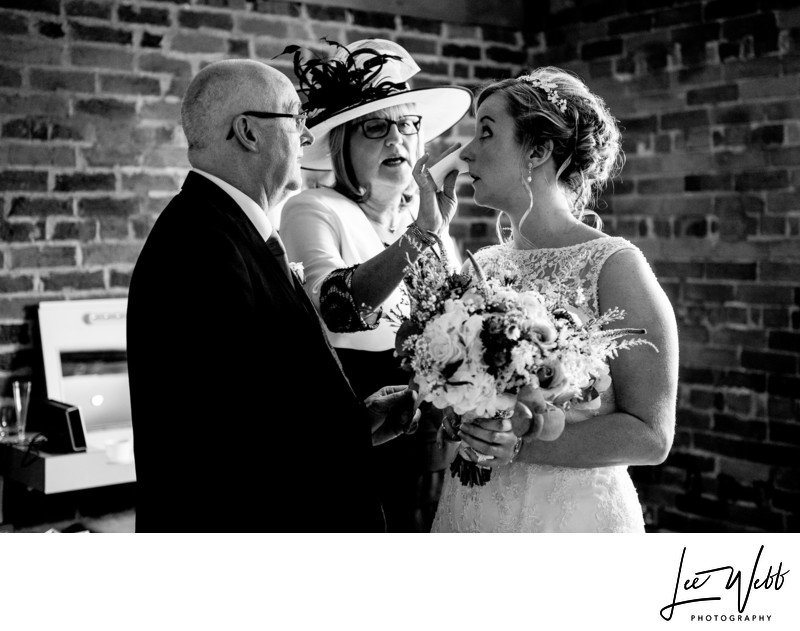 Once I had photographed the father of the bride's reaction to seeing his daughter in her wedding dress for the first time, the bride and groom were both interviewed separately by the registrars before the wedding. I took some time to photograph the wedding guests who were anxiously awaiting the start of the proceedings. Luckily Curradine Barns has a huge amount of outdoor space as well as indoor seating areas meaning the guests were well looked after, and were able to get out of the hot midday sun should they wish.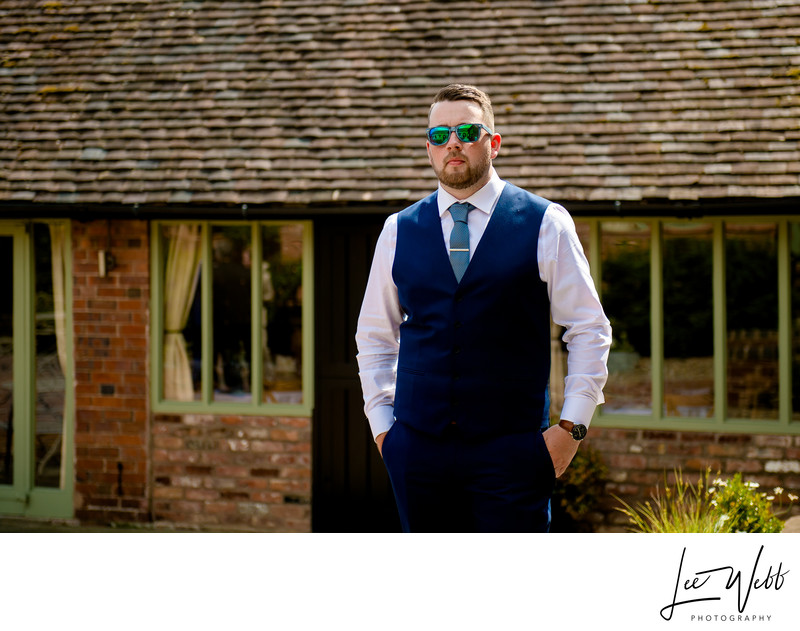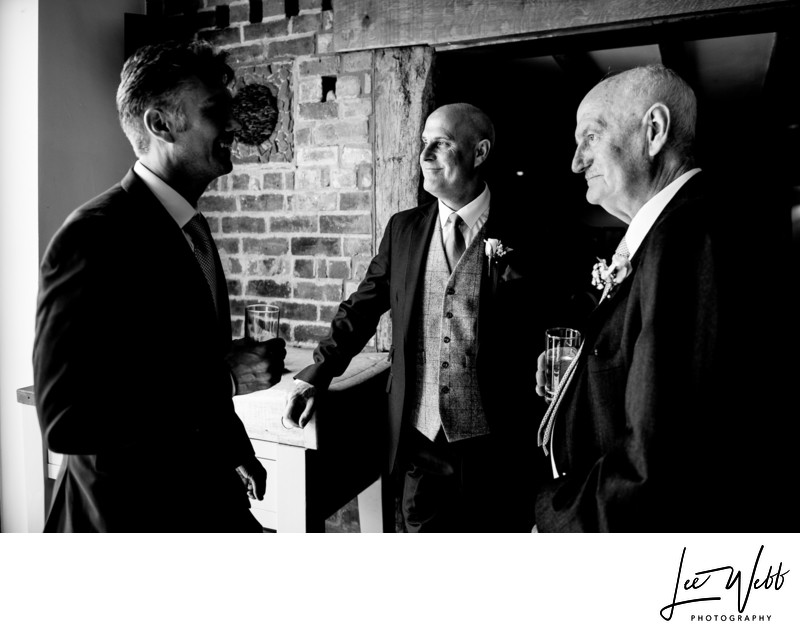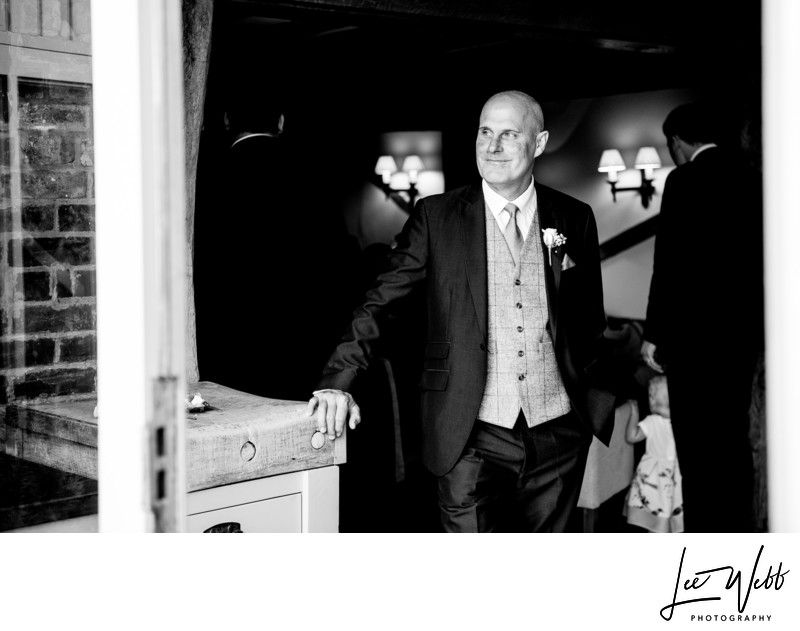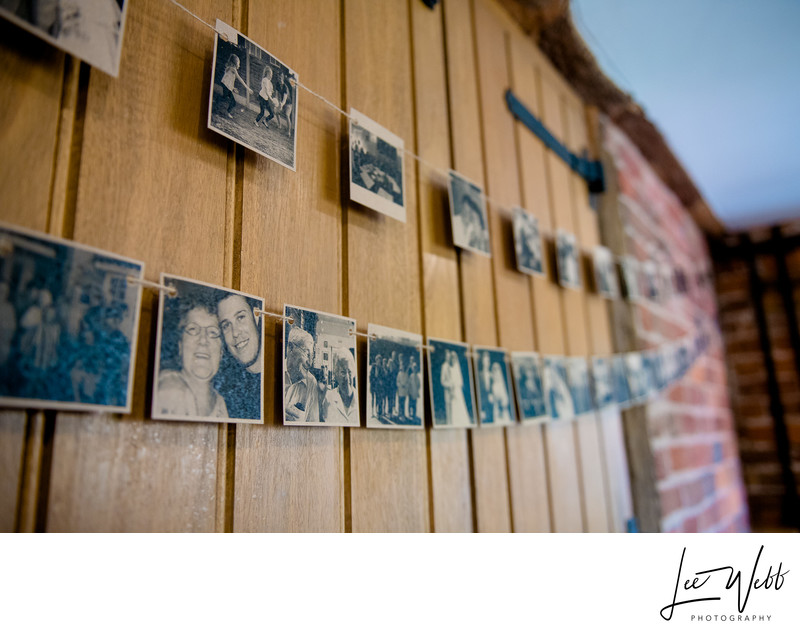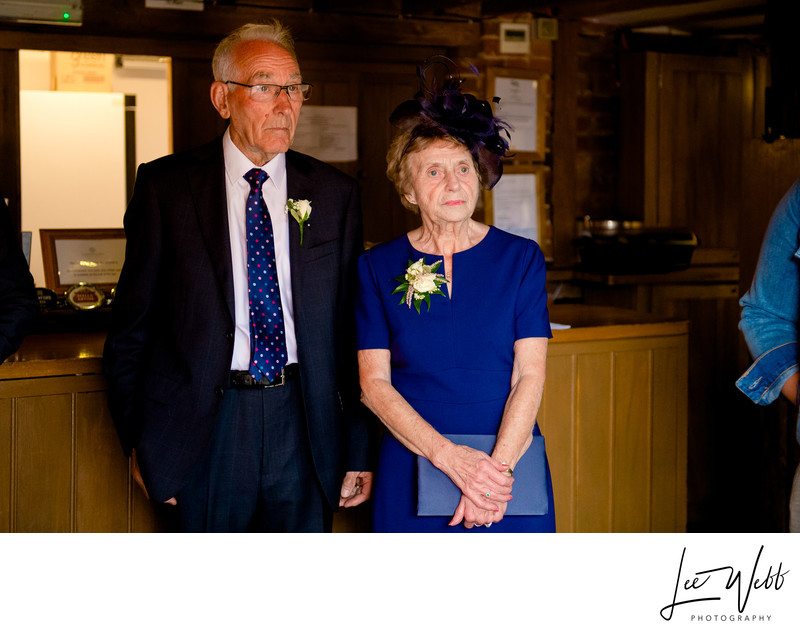 When the groom had finished being interviewed by the registrars I shadowed him and the best man for the next 10 minutes or so. One of my favourite images of the morning came as the best man checked that he still had the wedding rings on him!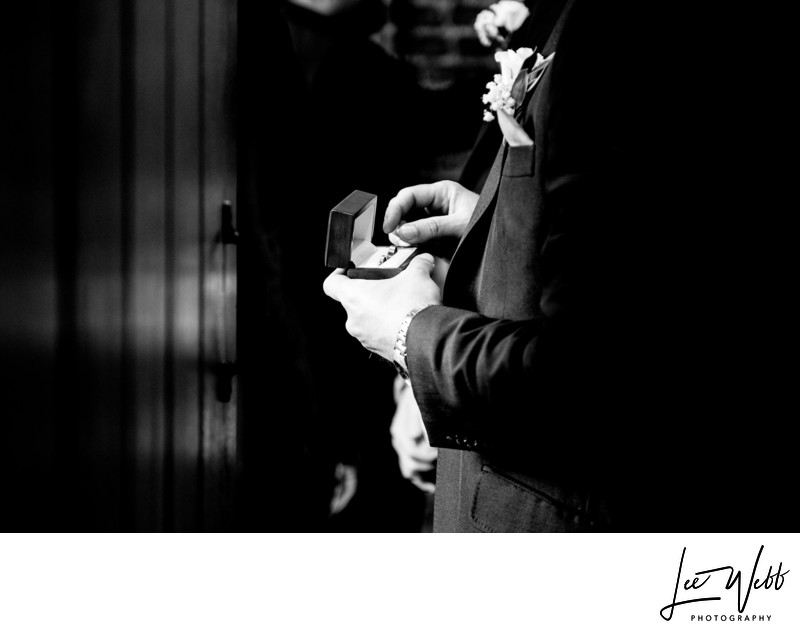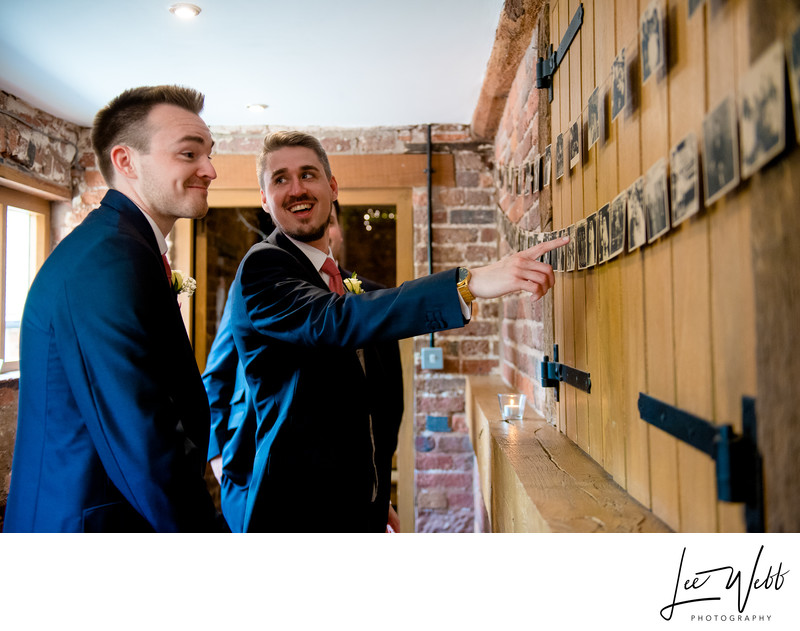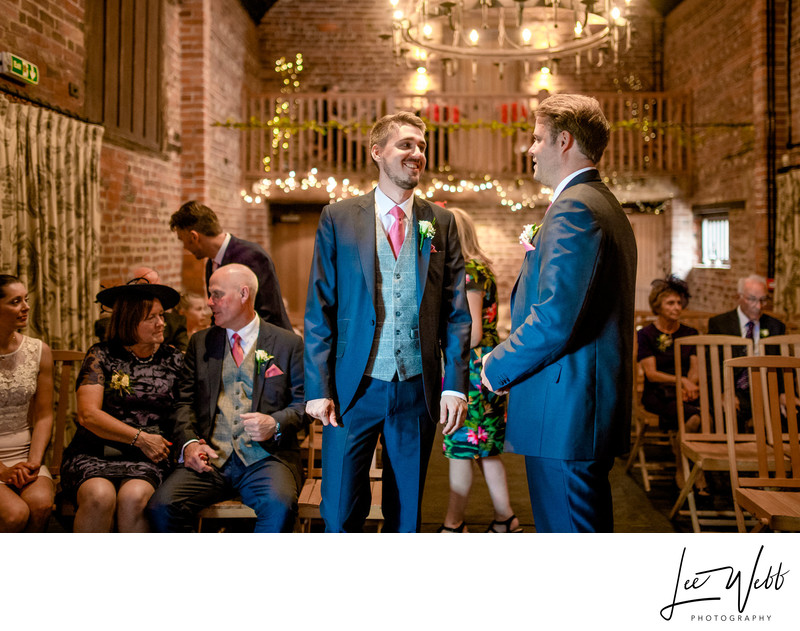 Laura had bought Scott a new watch as a wedding present and he made sure it was set to the right time before the wedding started.
The ceremony room at Curradine Barns is one of the original red brick structures, and as such the tones in these wedding photos is lovely and warm, with a stunning richness to them. The fairy lights on the mezzanine in the background get rendered into these lovely round blobs of light and the candelabra bathes the wedding guests in gentle, romantic light.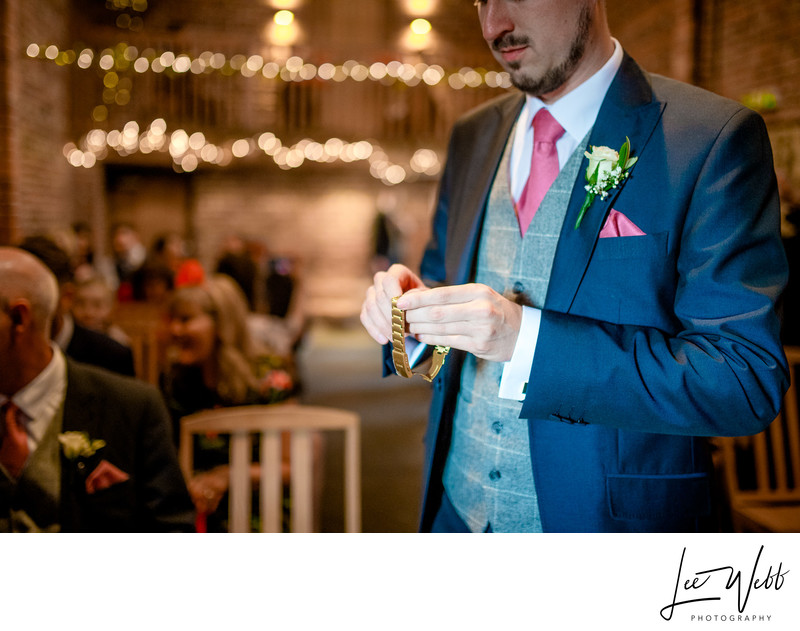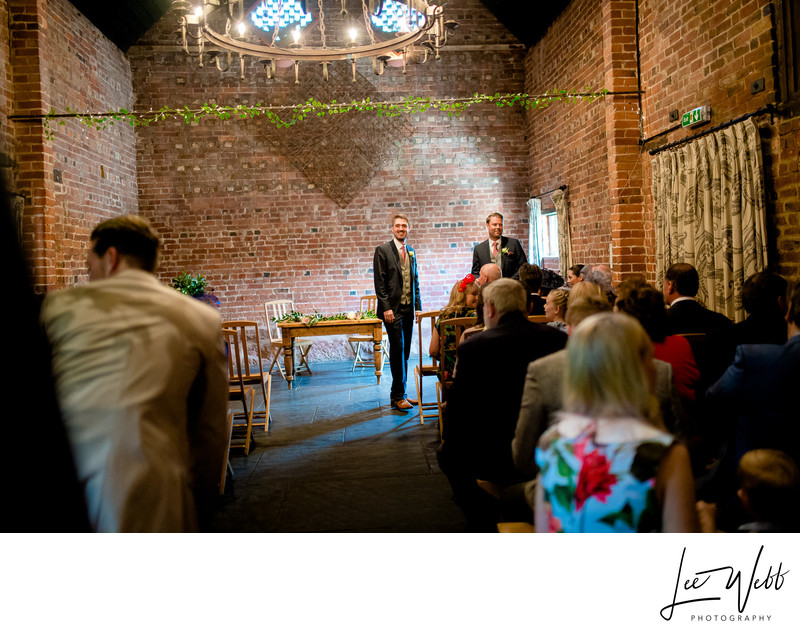 When I met with Laura in the weeks before the wedding she made it known to me that she was keen for her brother to see her before the wedding ceremony started and that she'd like me to be present if possible to capture his reaction.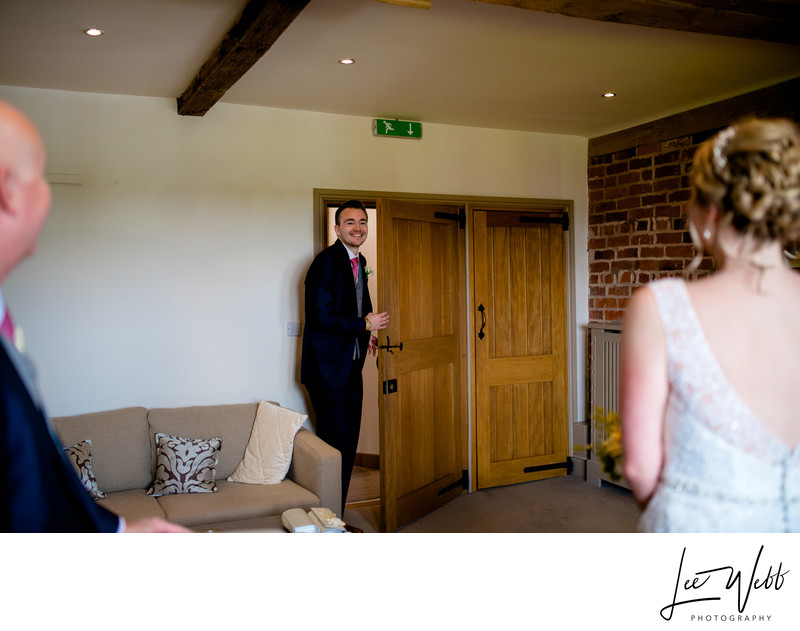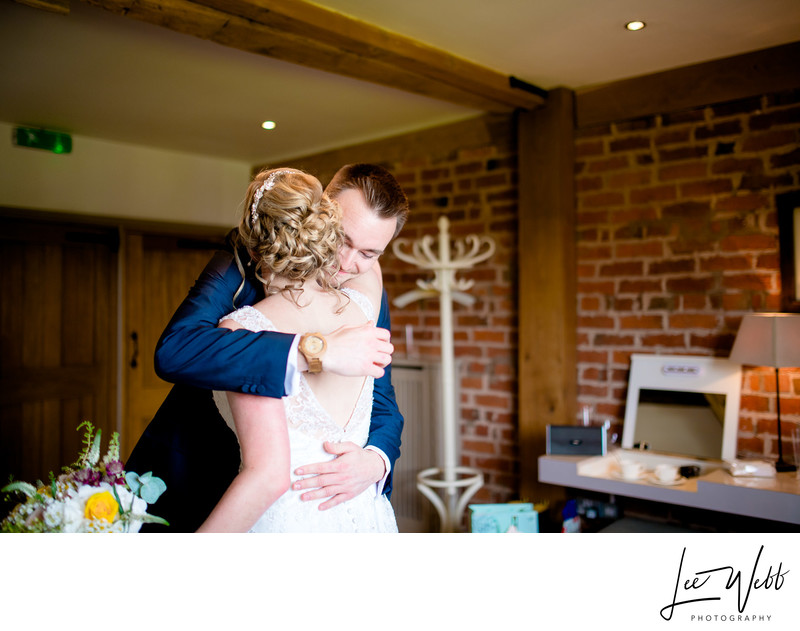 Before the ceremony started, Scott looked nervous, but as soon as string-quartet started playing and he knew he was about to see his soon to-be wife, his look changed to that of pure excitement.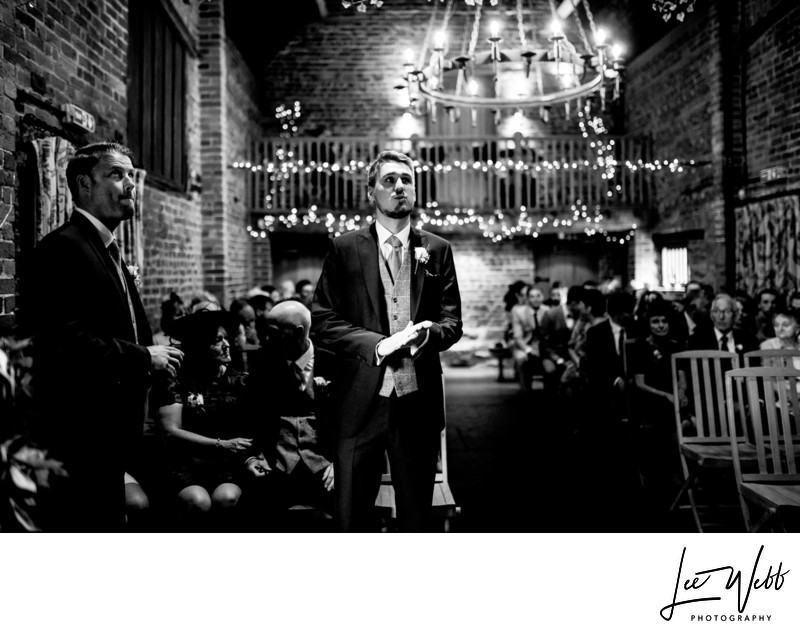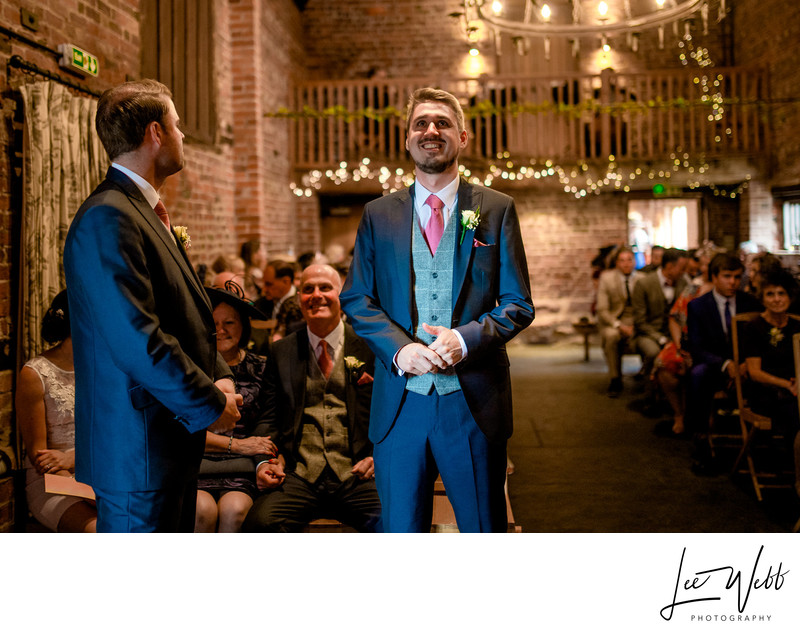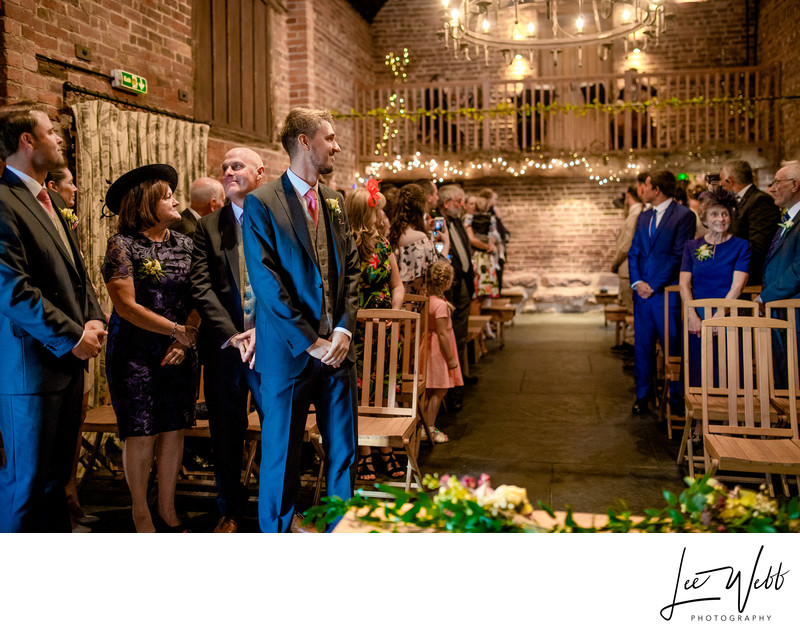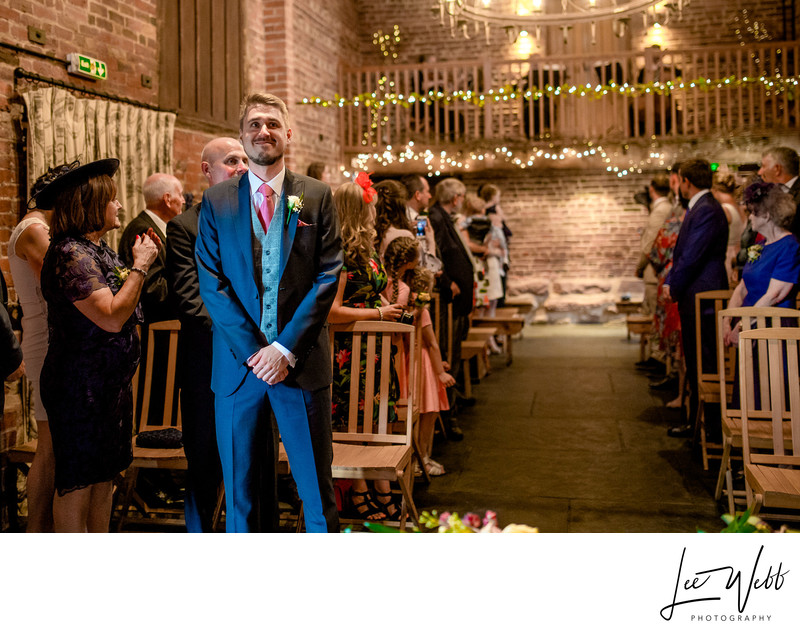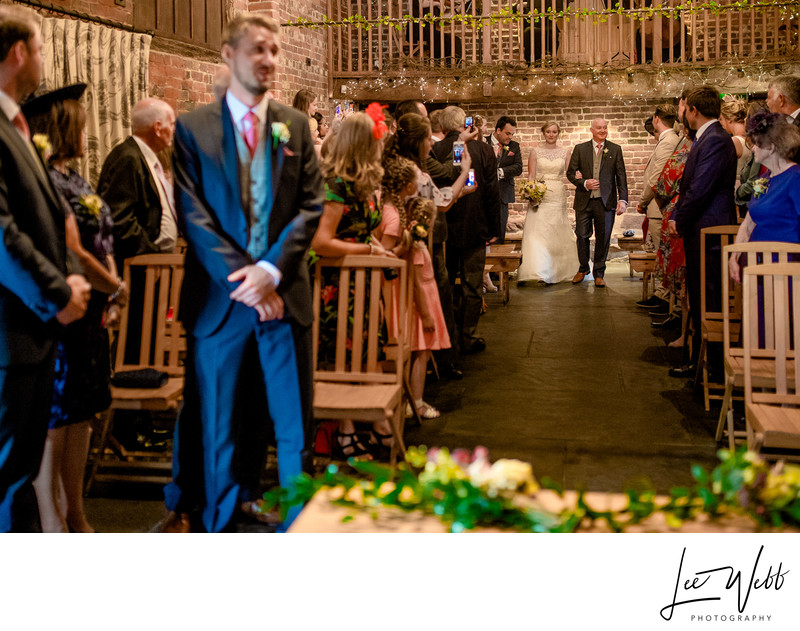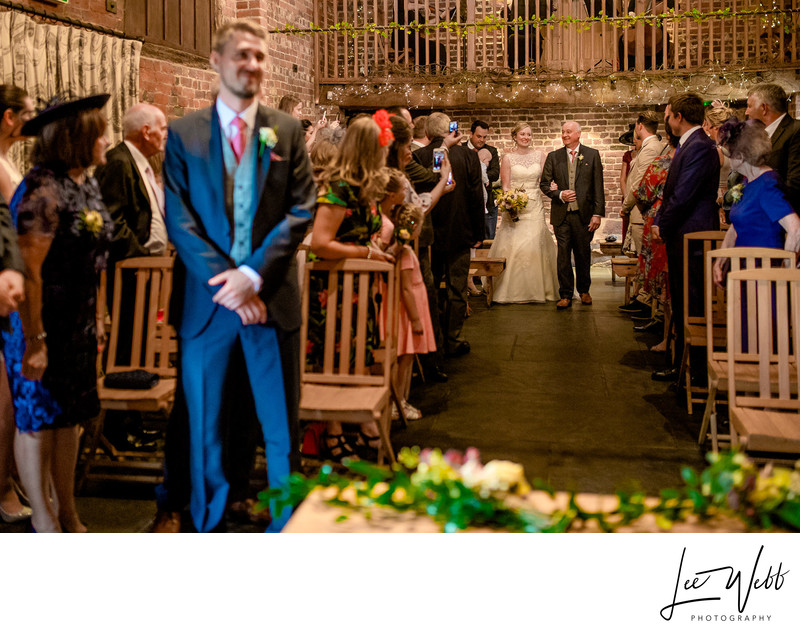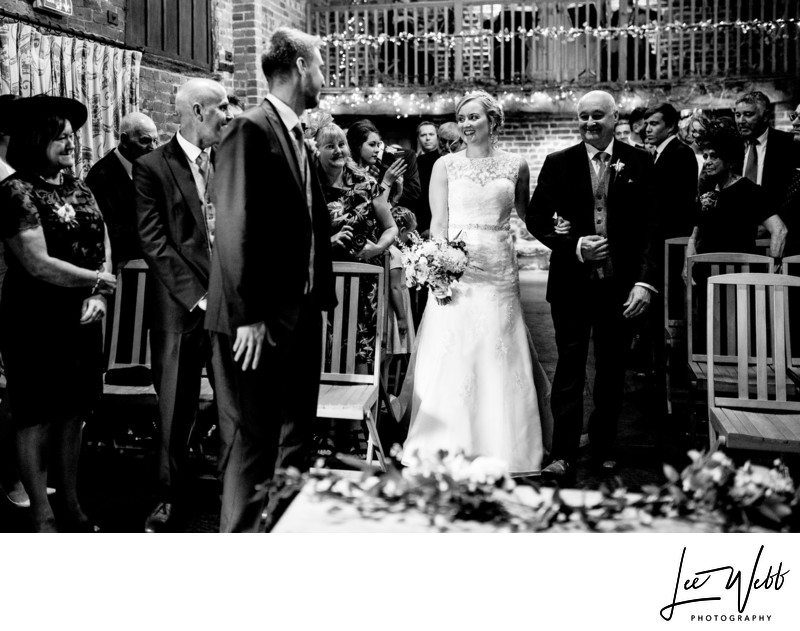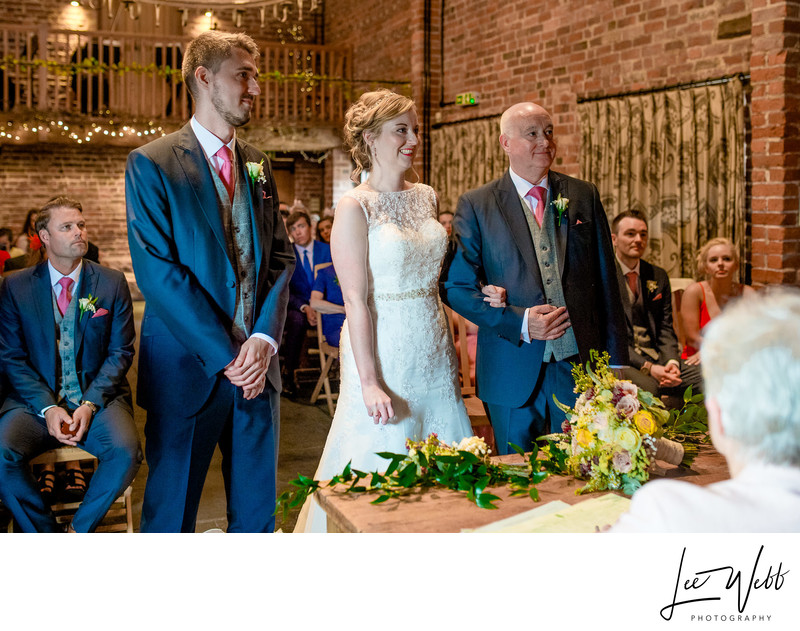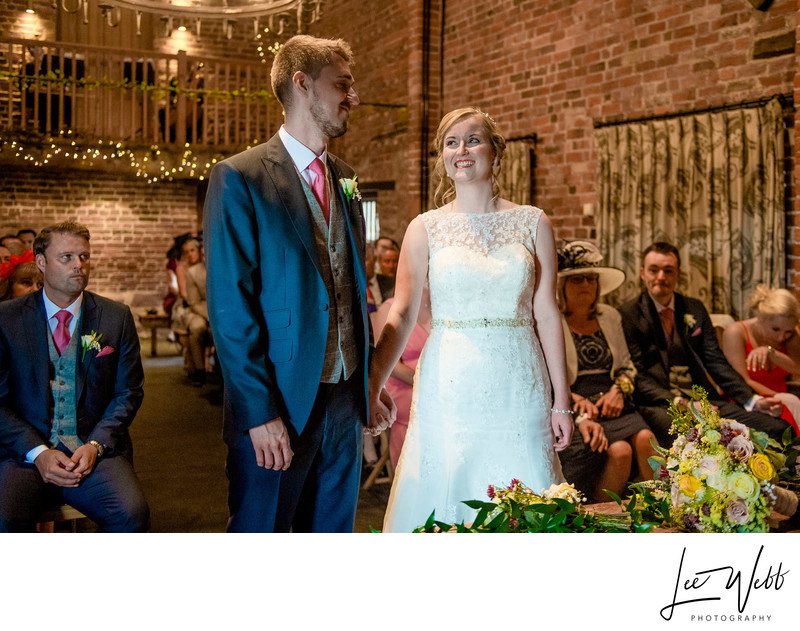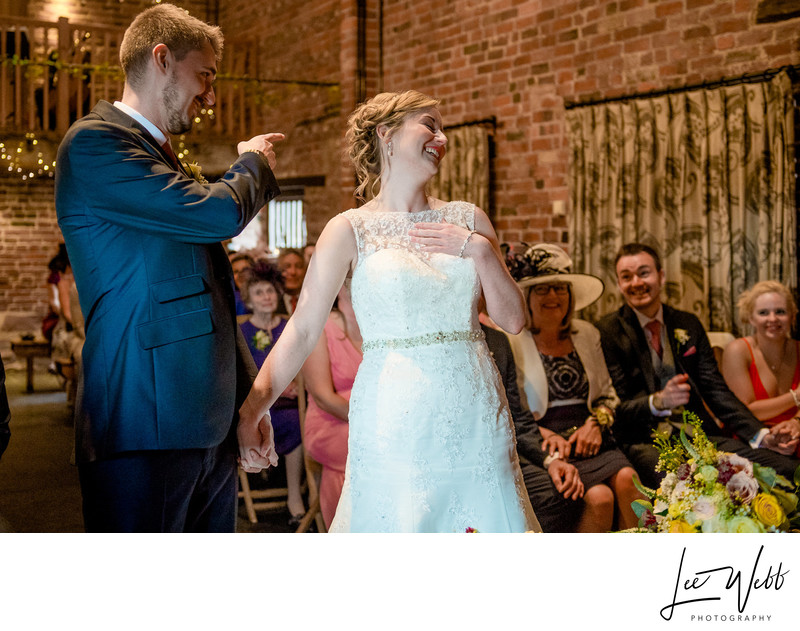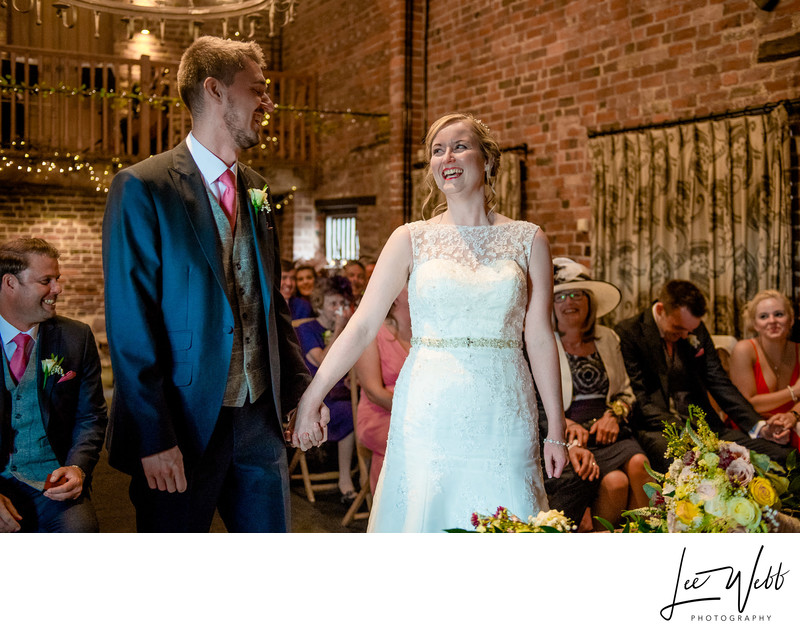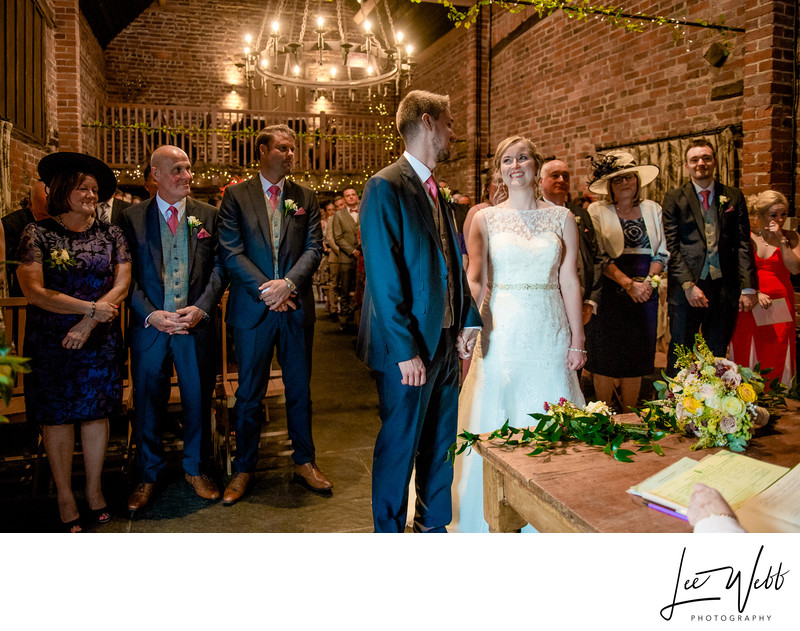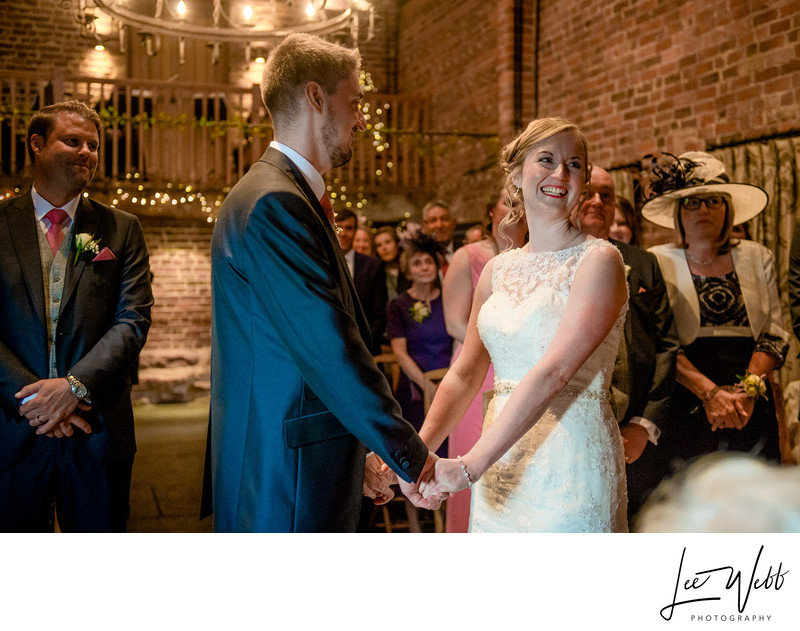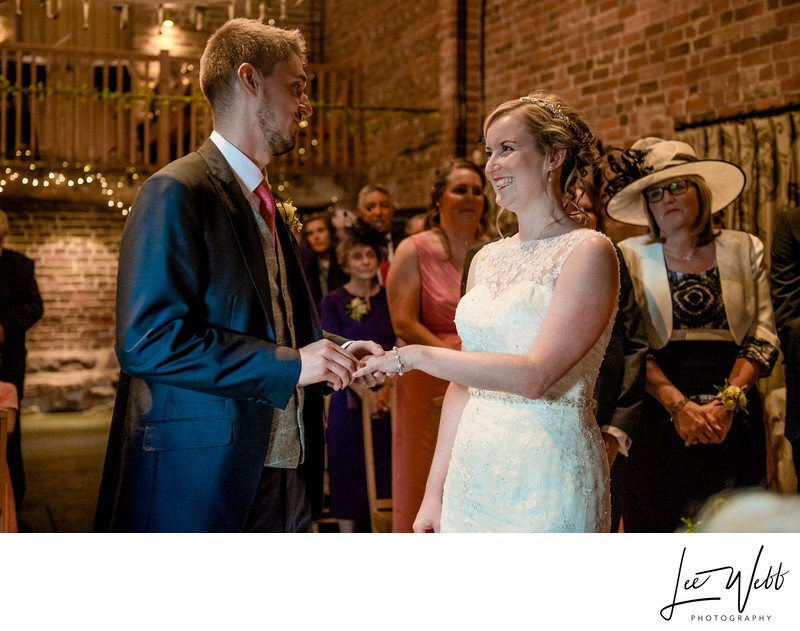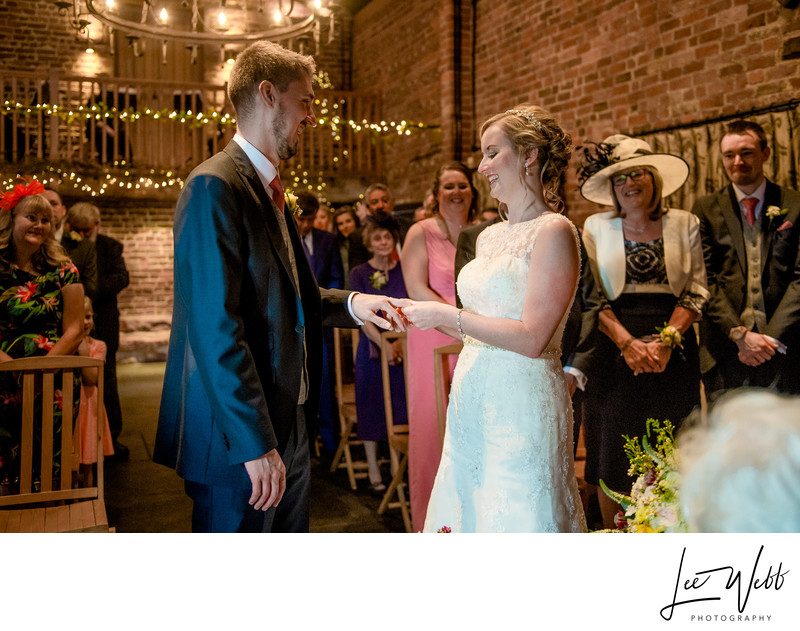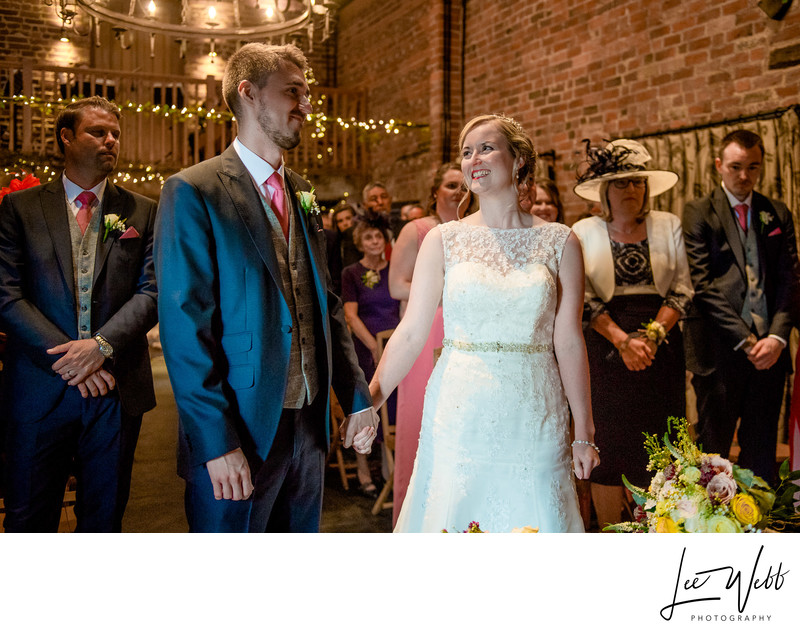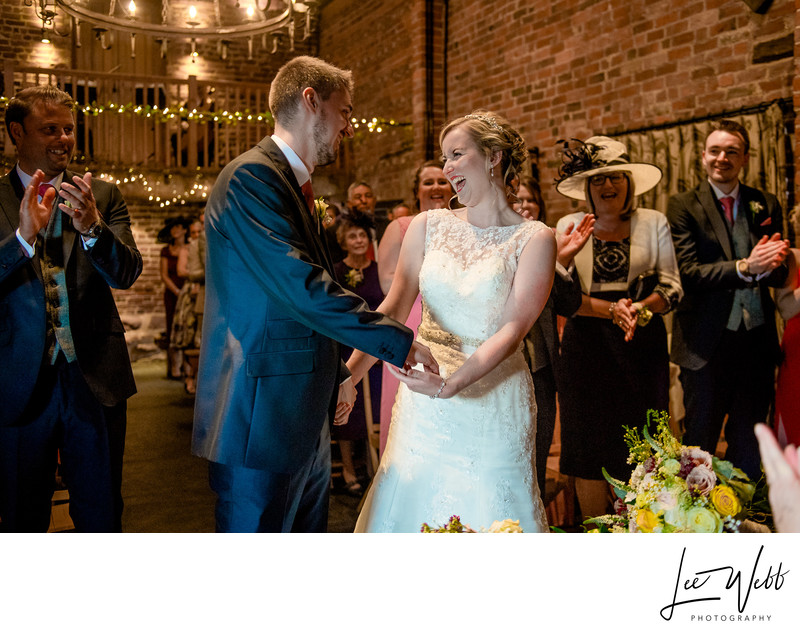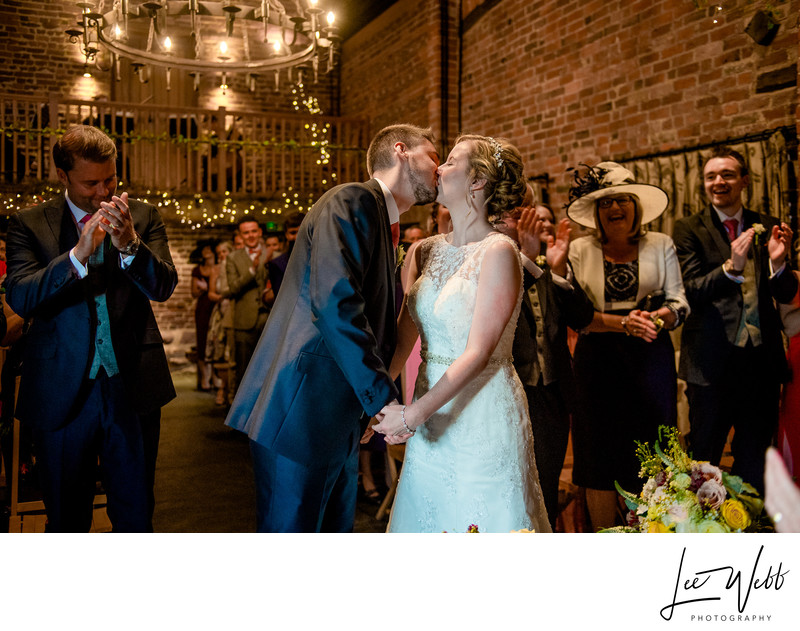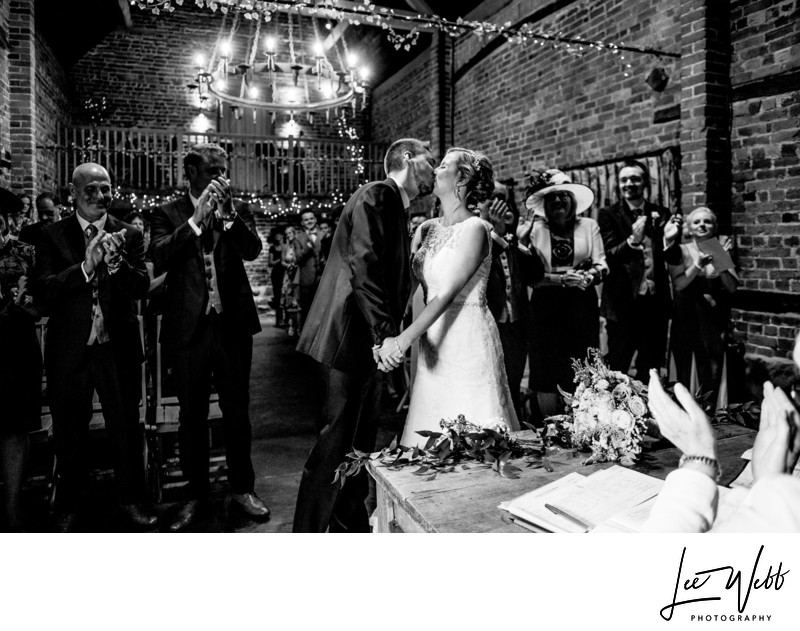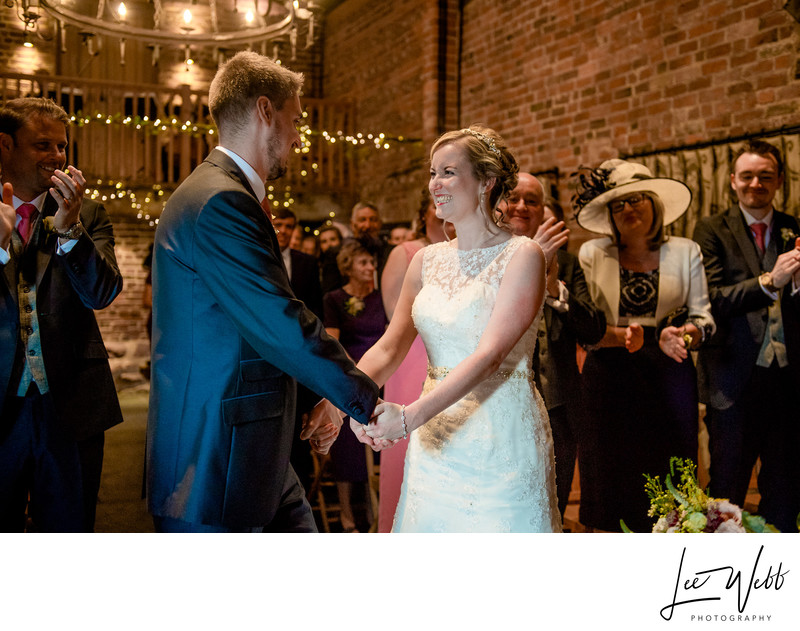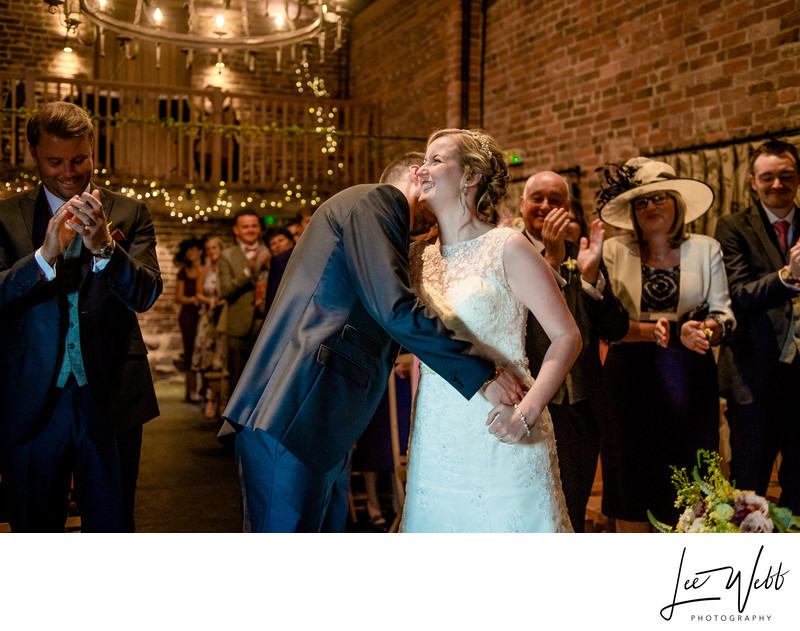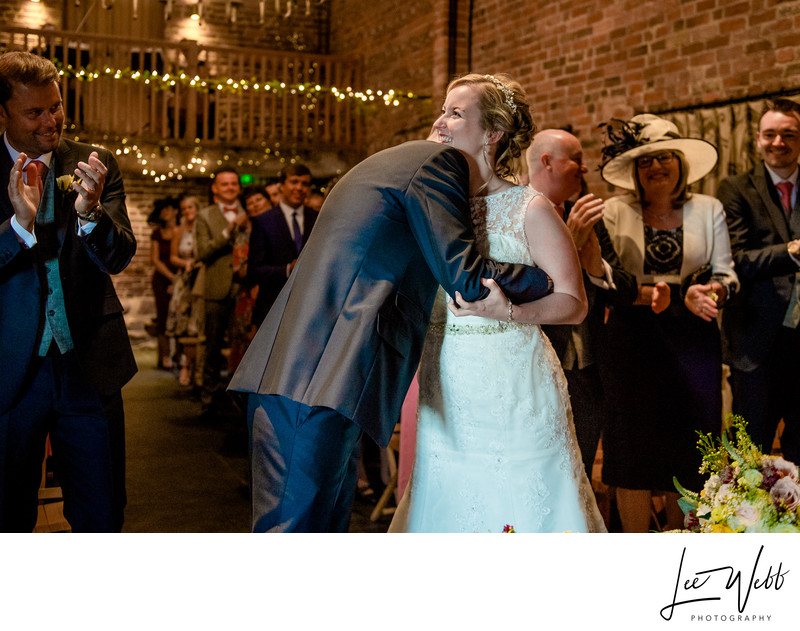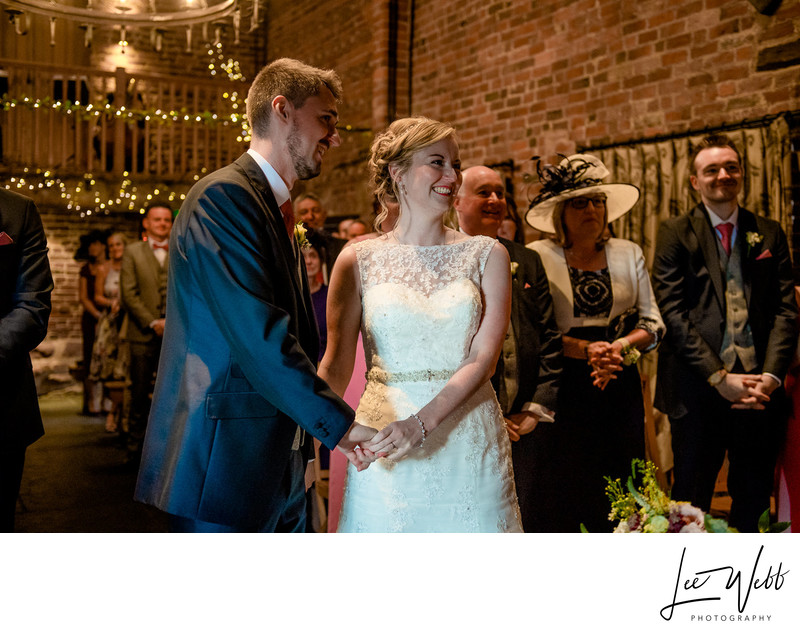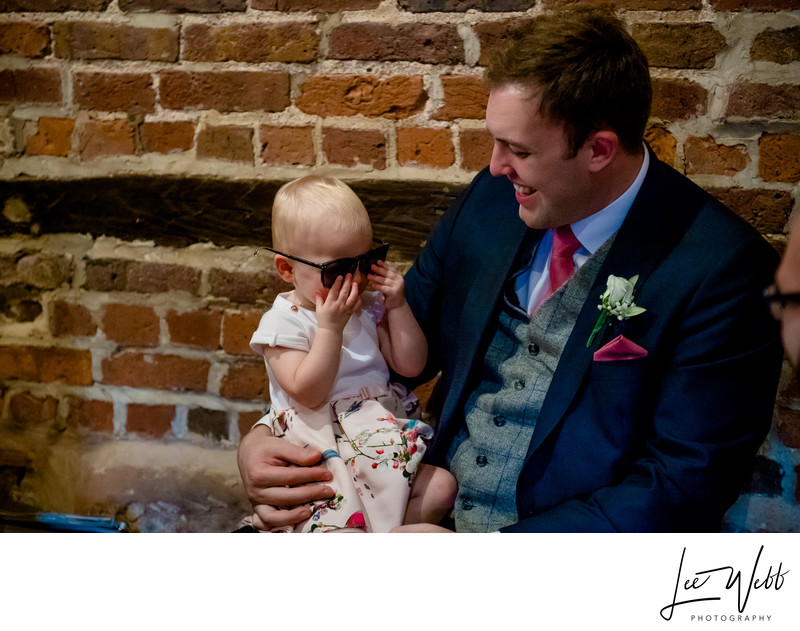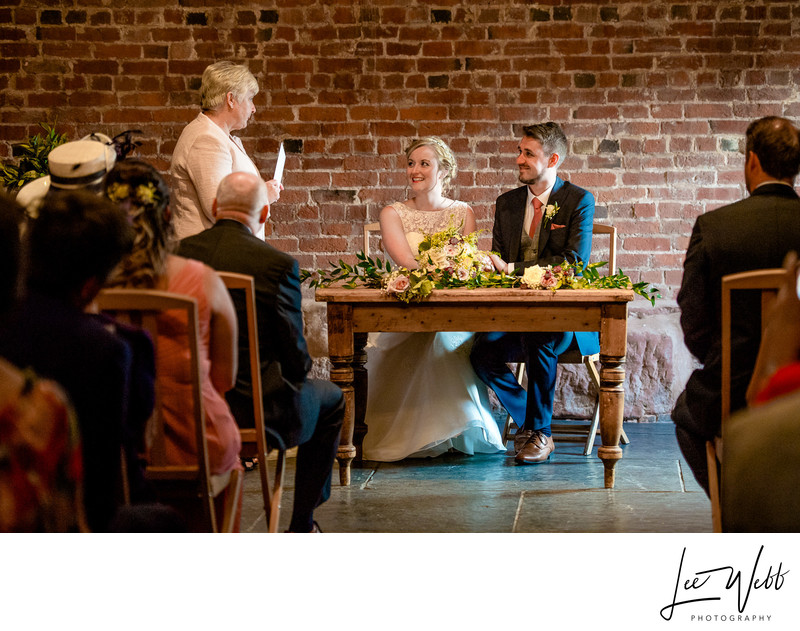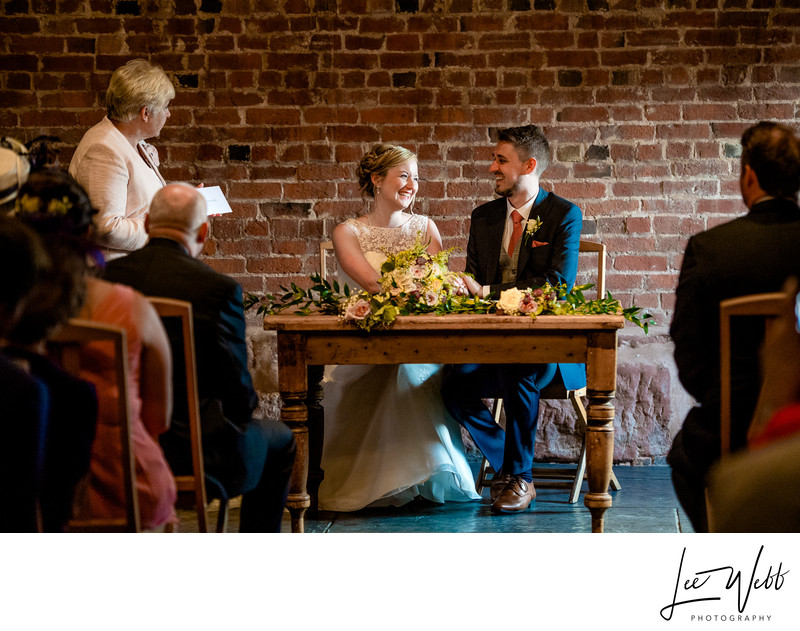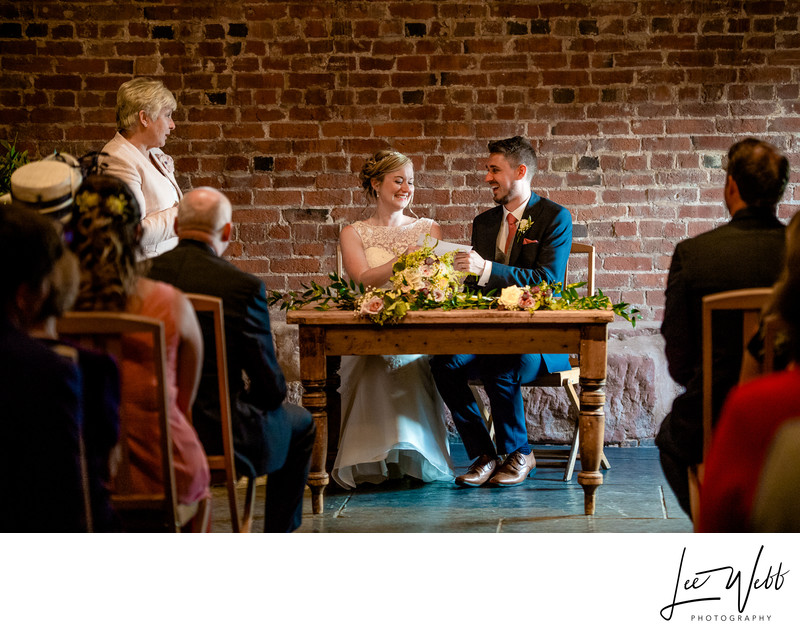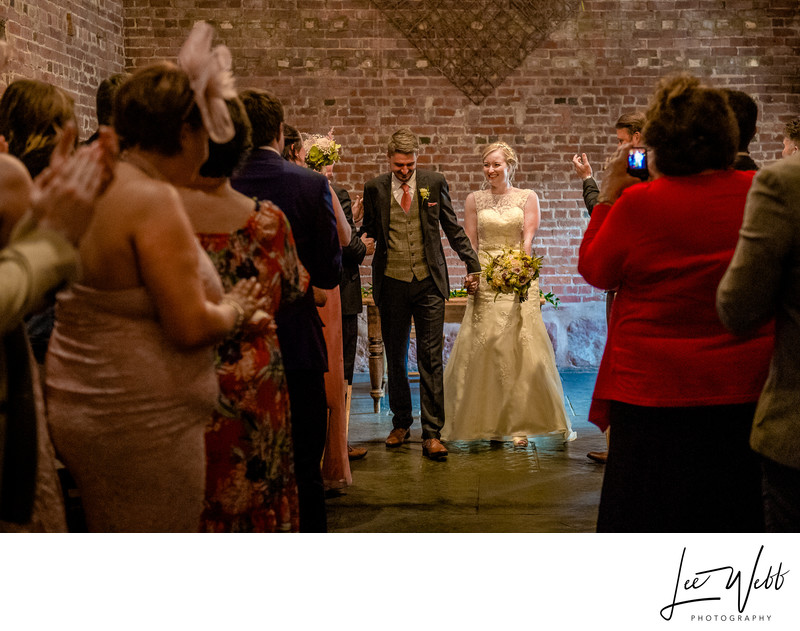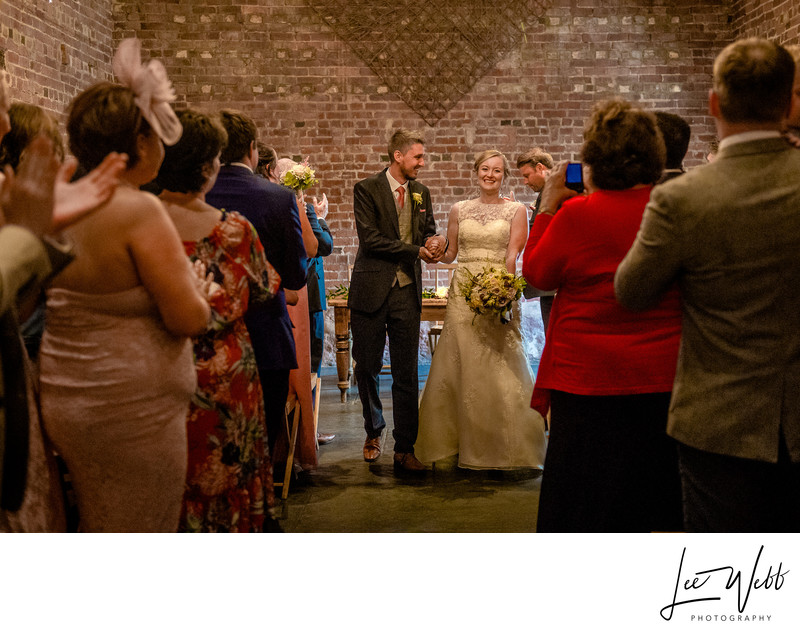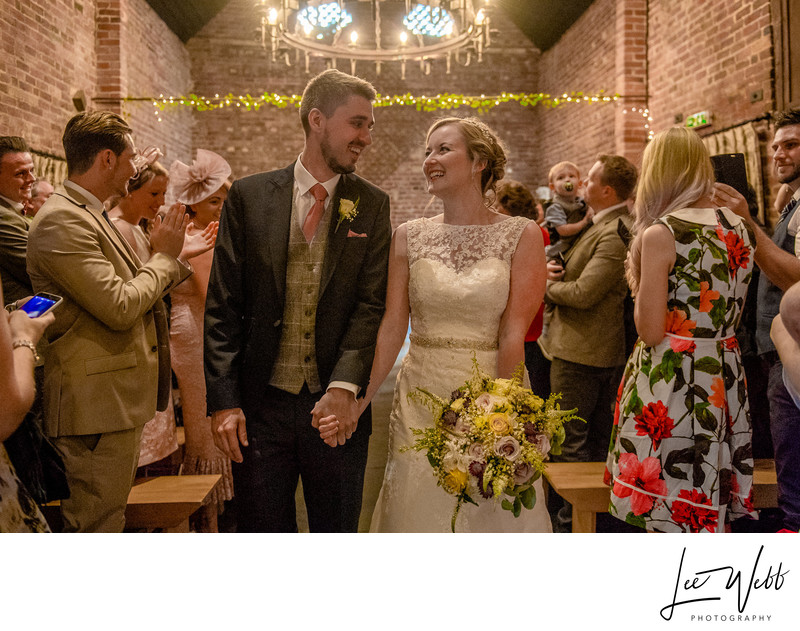 Immediately after the ceremony ended I spent some time capturing the bride and groom greeting their guests; this was the first time on the day that either of them had really had any opportunity to speak with their guests and it's always a time I enjoy photographing as there's often so much going on in such a short space of time. After 15 minutes or so we moved onto the front lawn in order to take some photos of the wedding guests throwing confetti.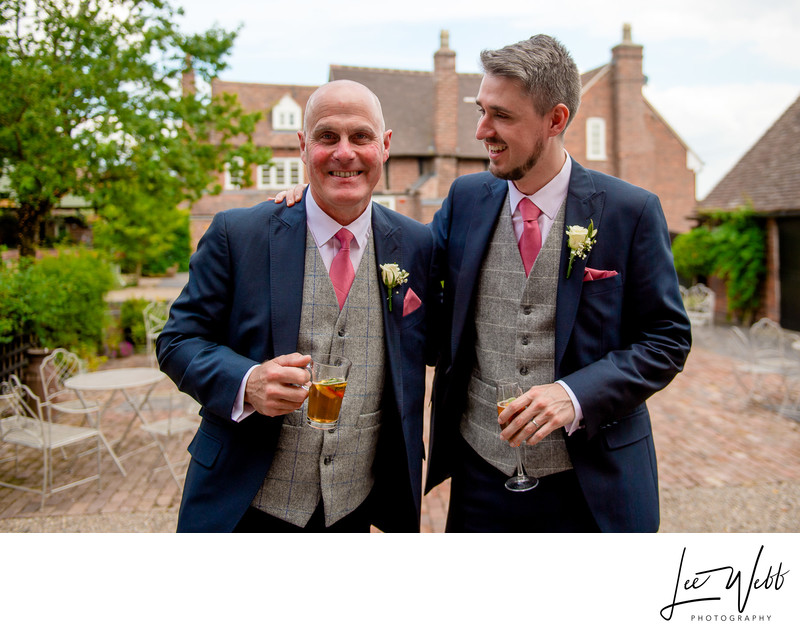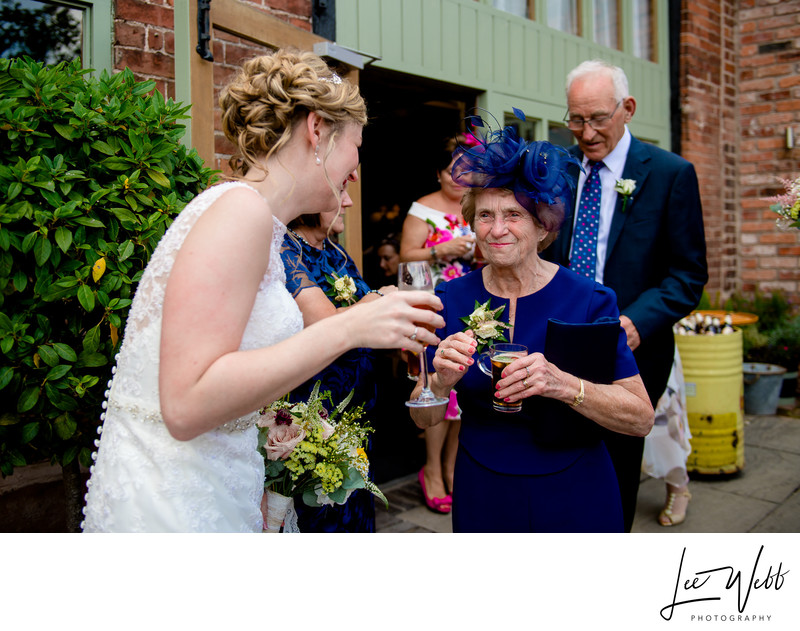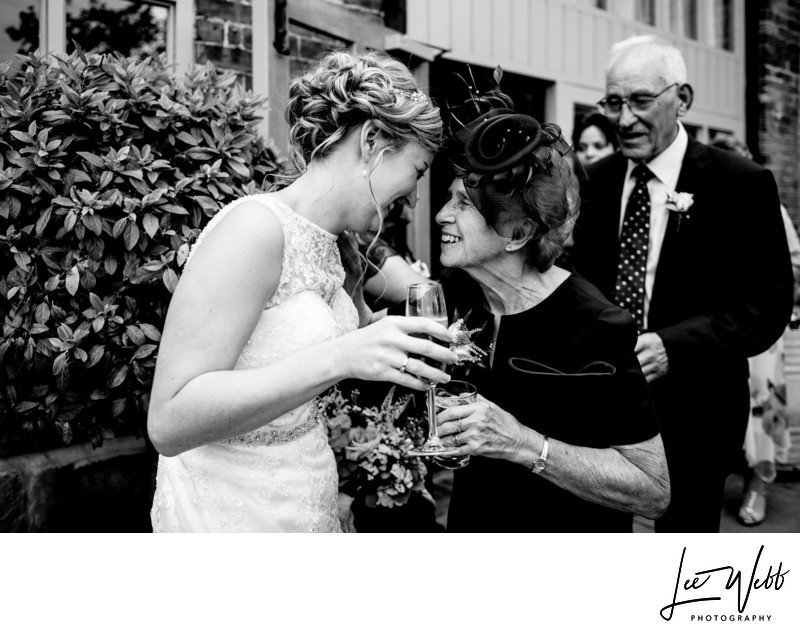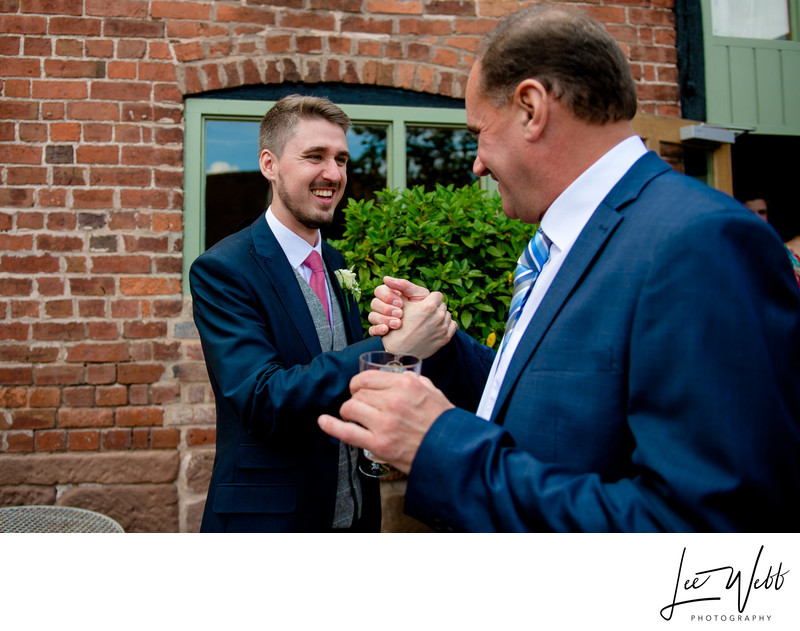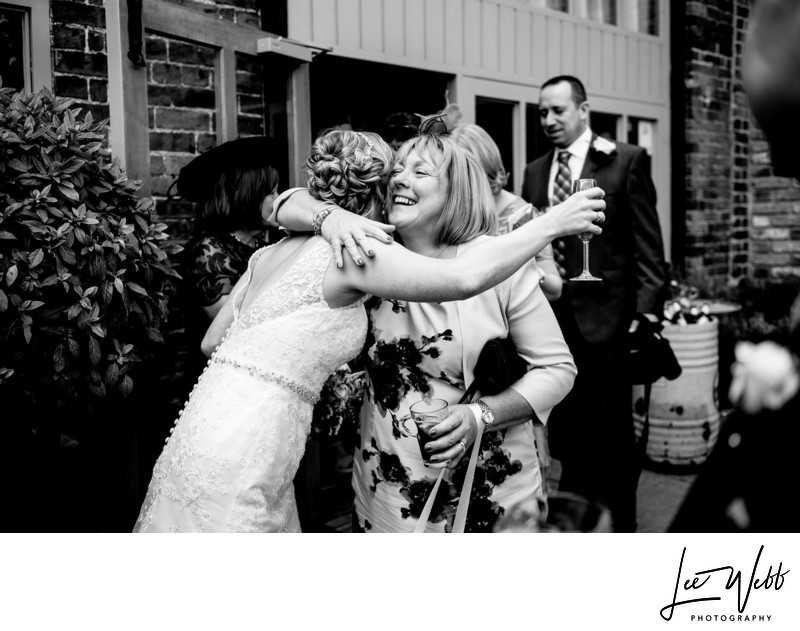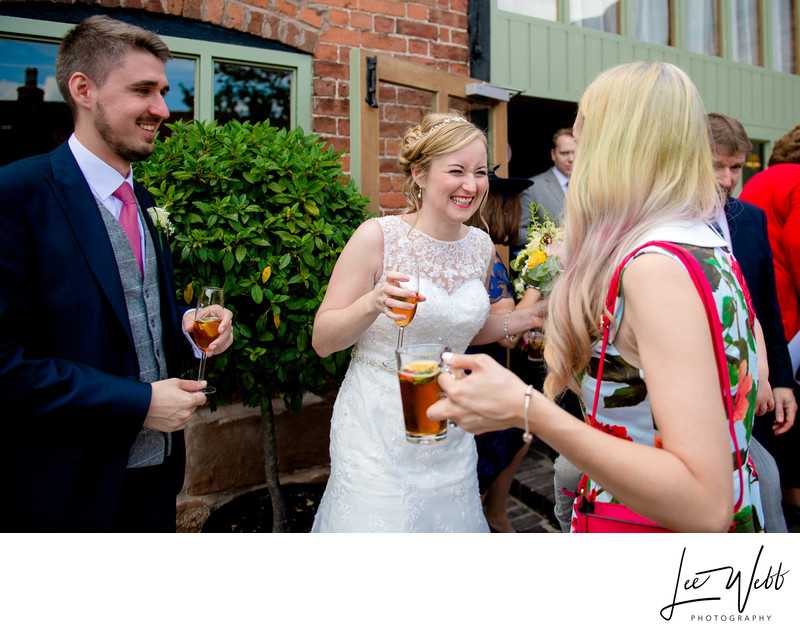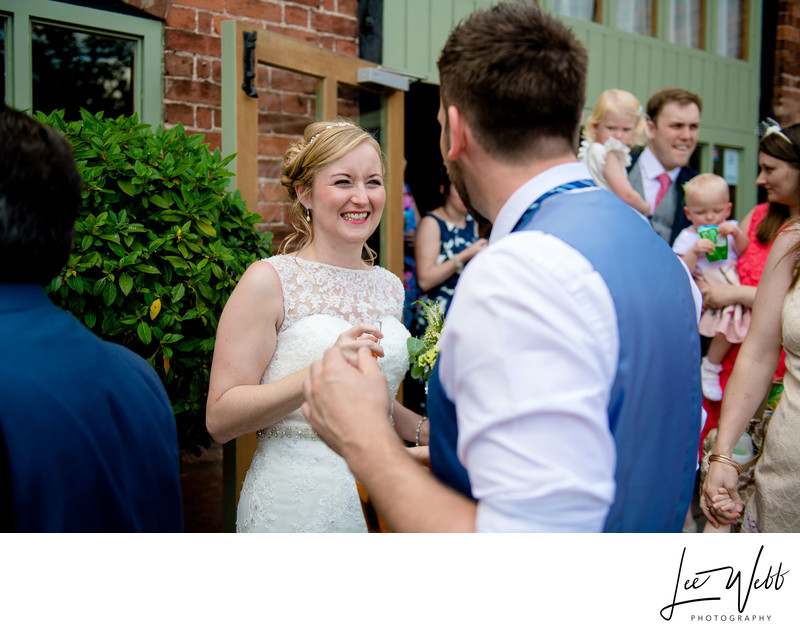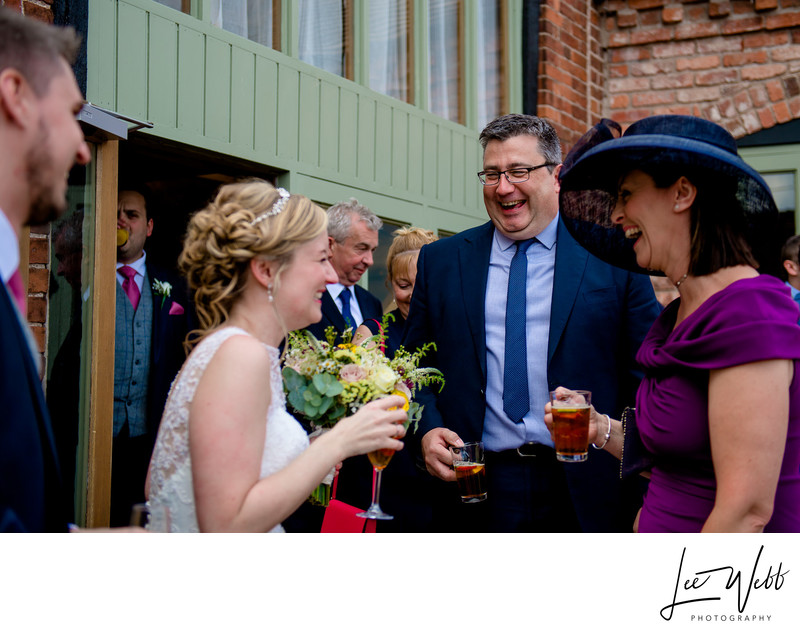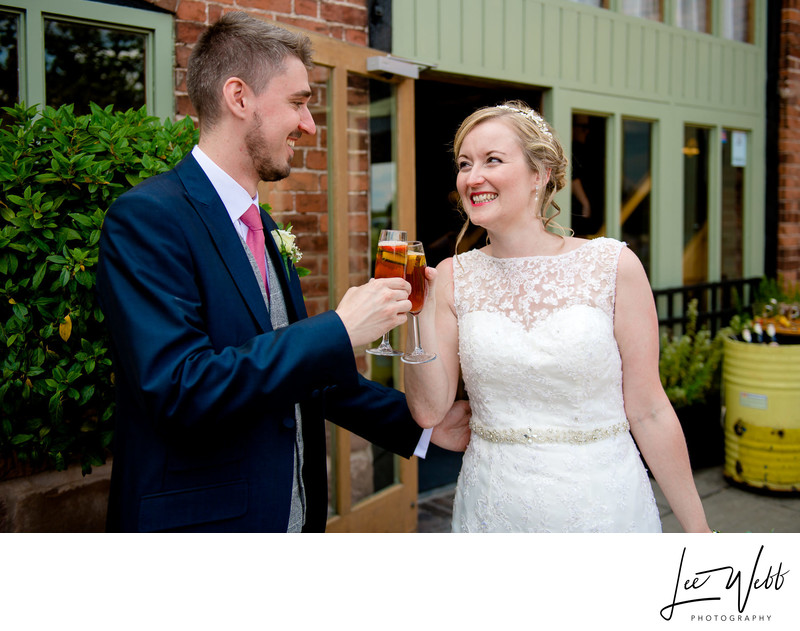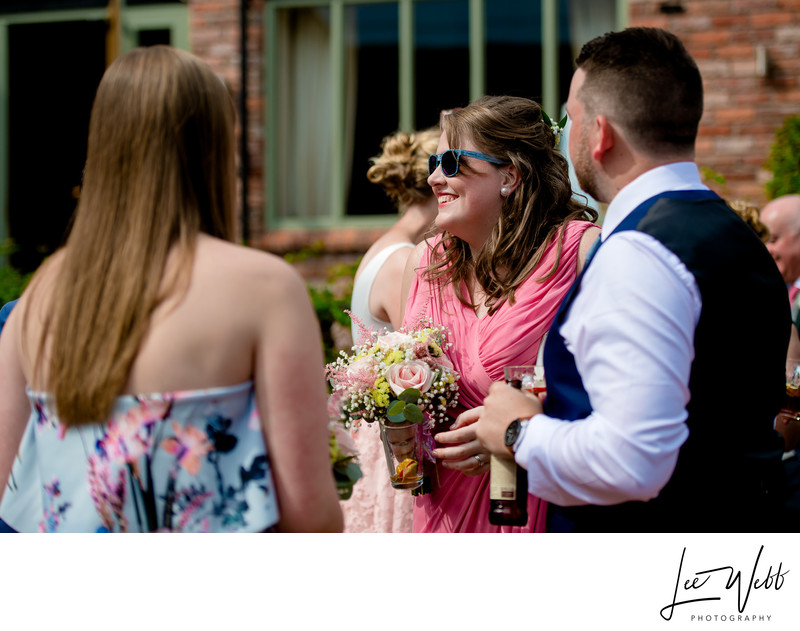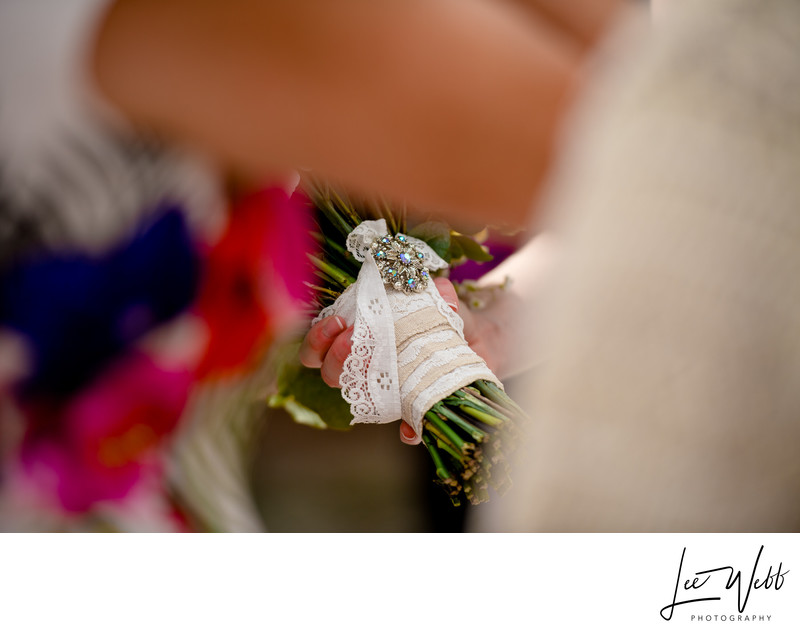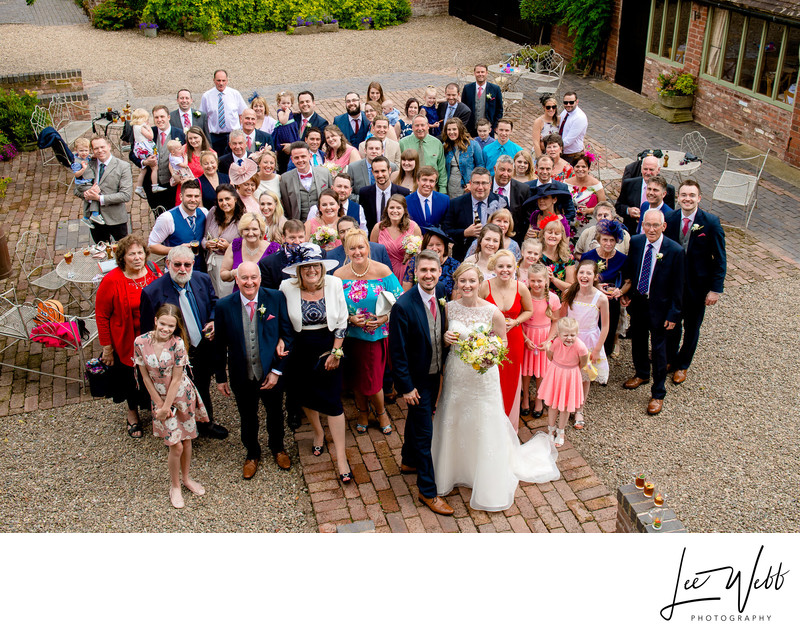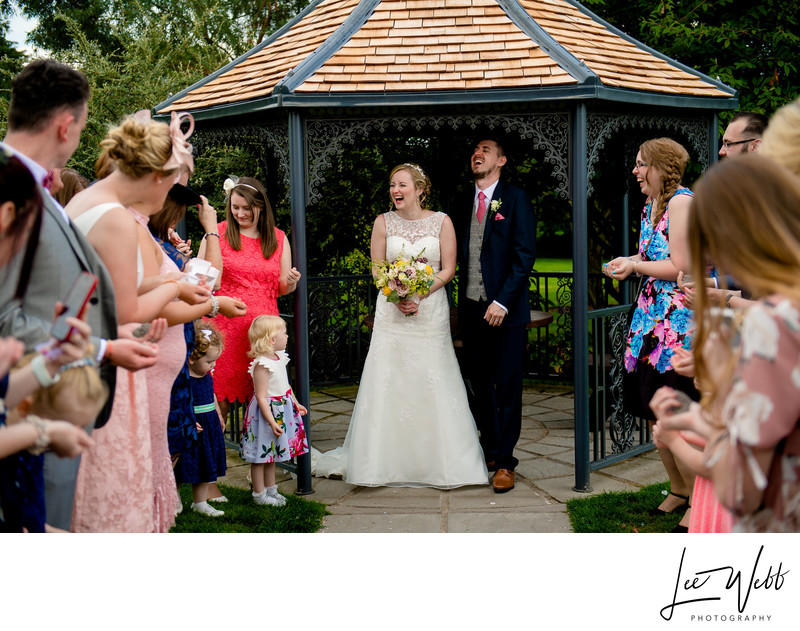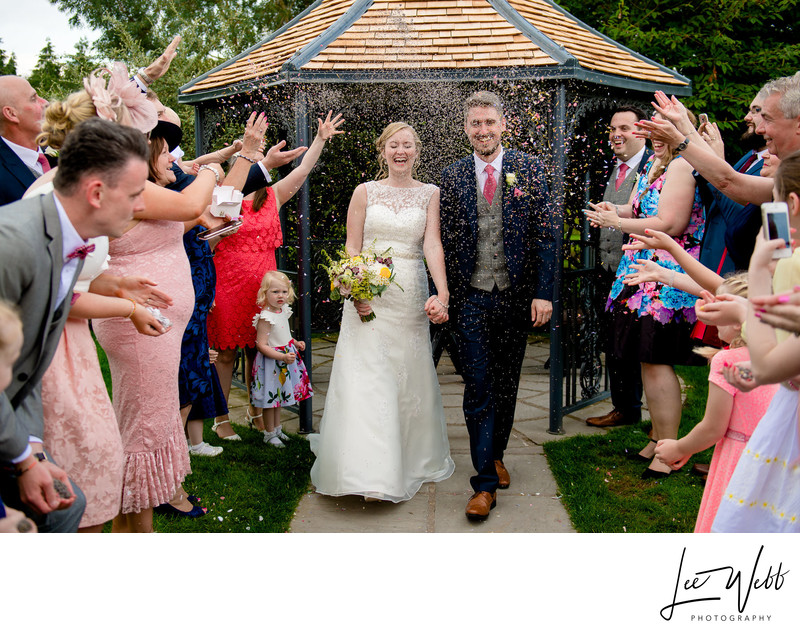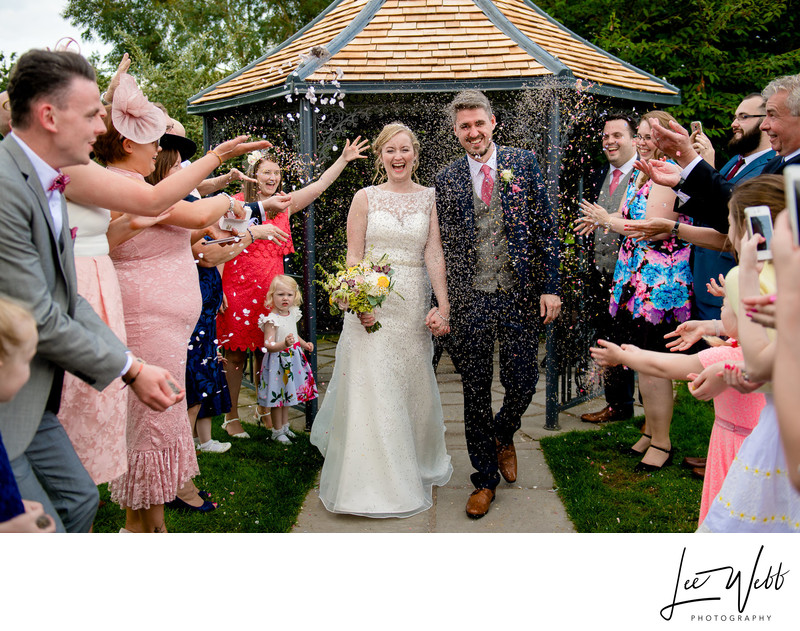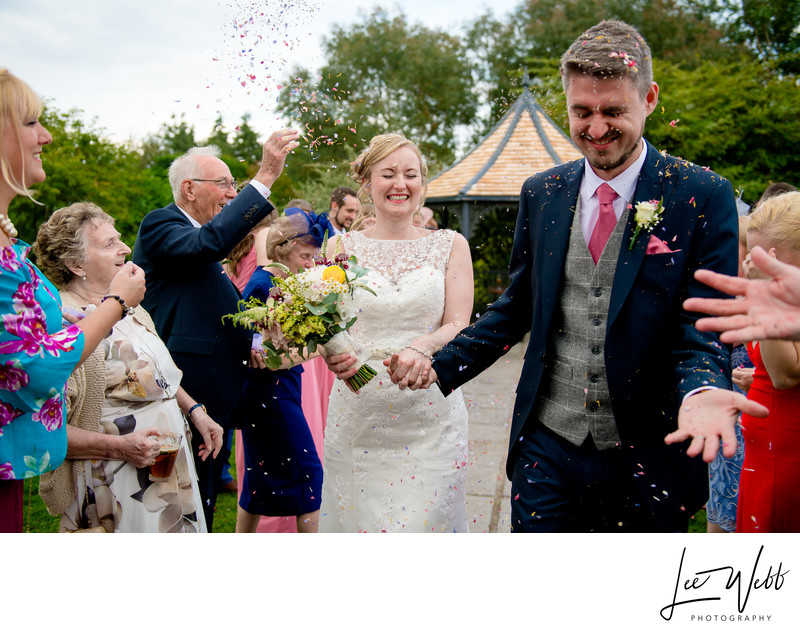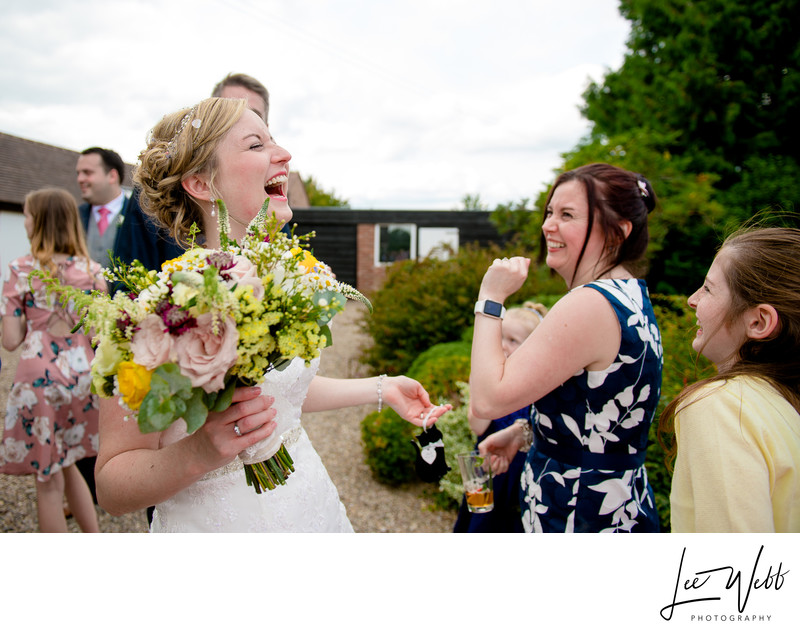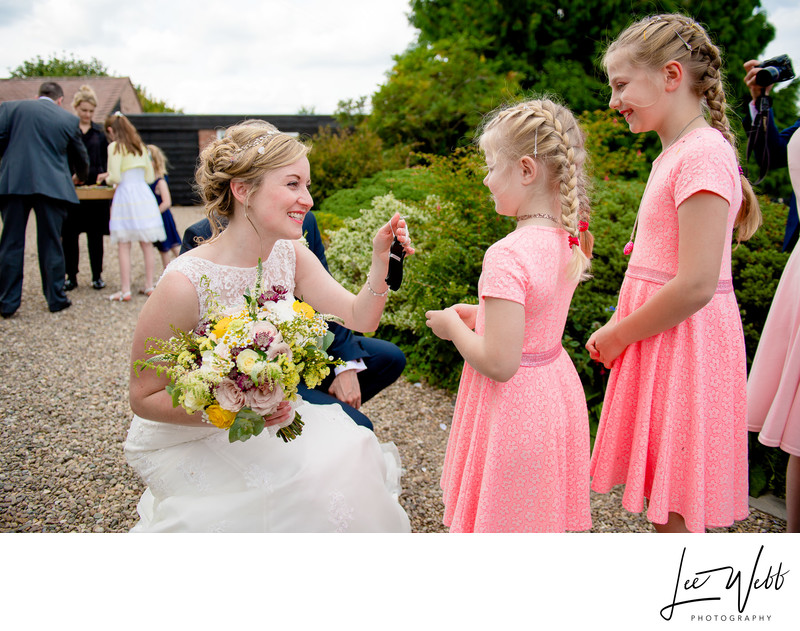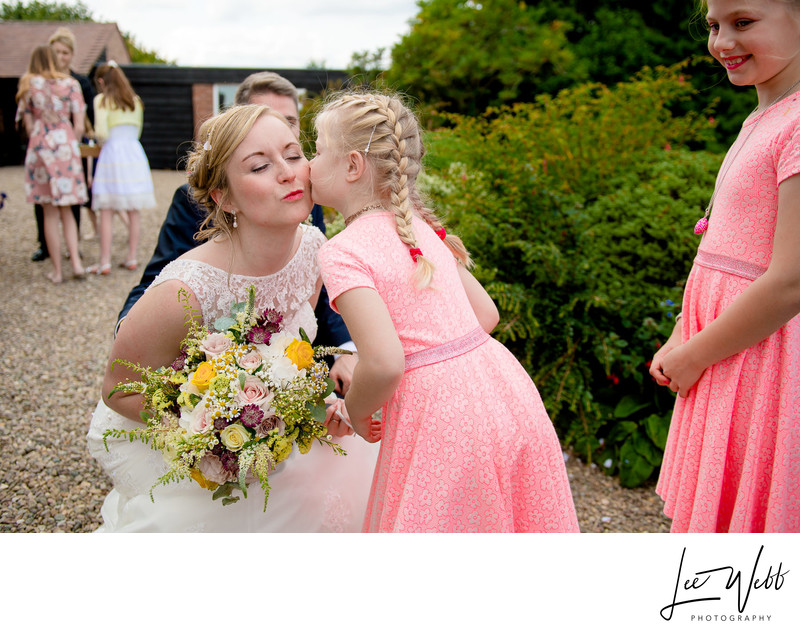 When it came time to take the formal group photos, I took the guests in small groups into the 'secret garden.' This secret garden is a walled garden lined with trees and shrubs, and isn't overlooked by any part of the venue. I find it to be the ideal place to take these group photos as not only are you presented with the perfect backdrop, you also get a little quiet time away from the main party of guests.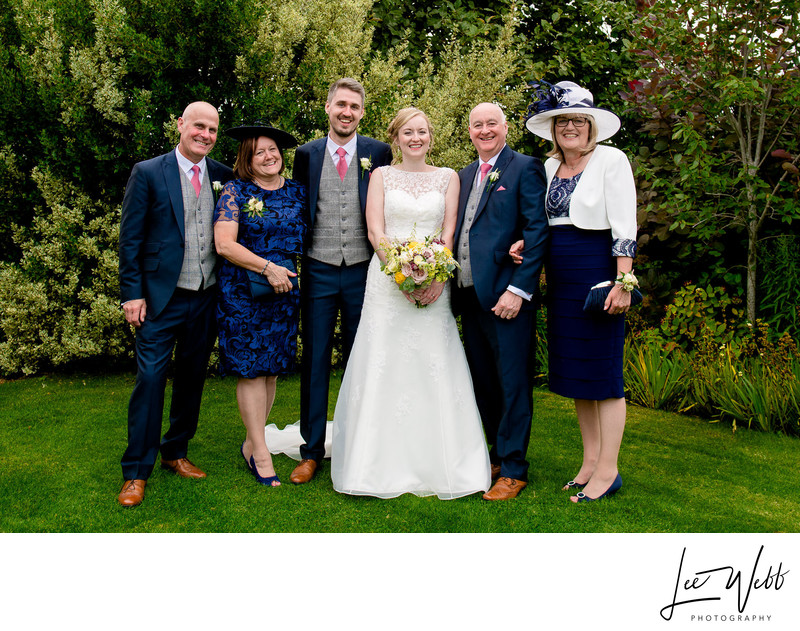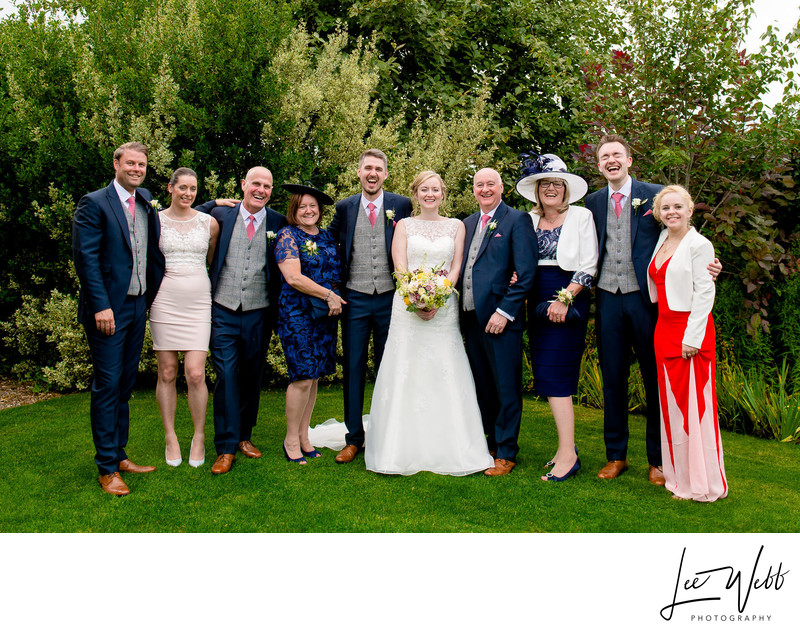 I can't remember what was said here, or who said it - but these photos of the bride and bridesmaids laughing with/at each other are priceless!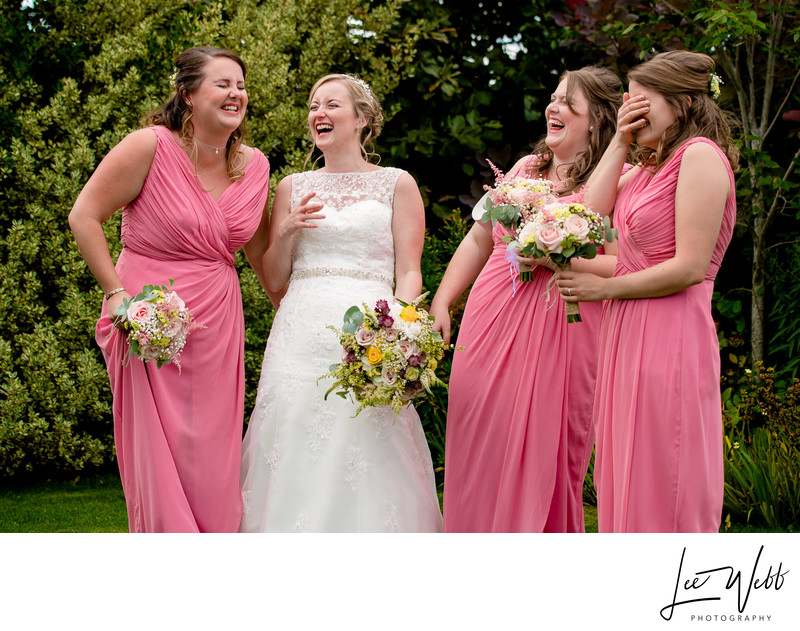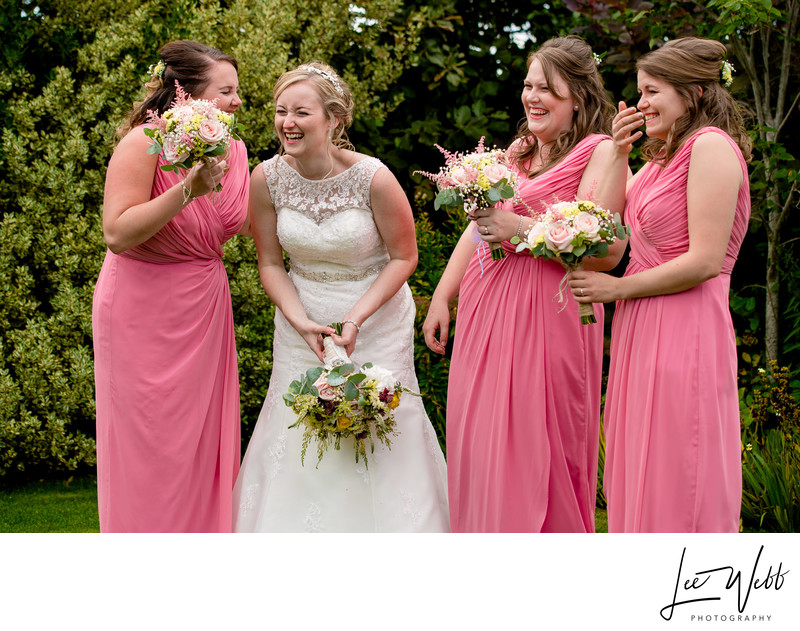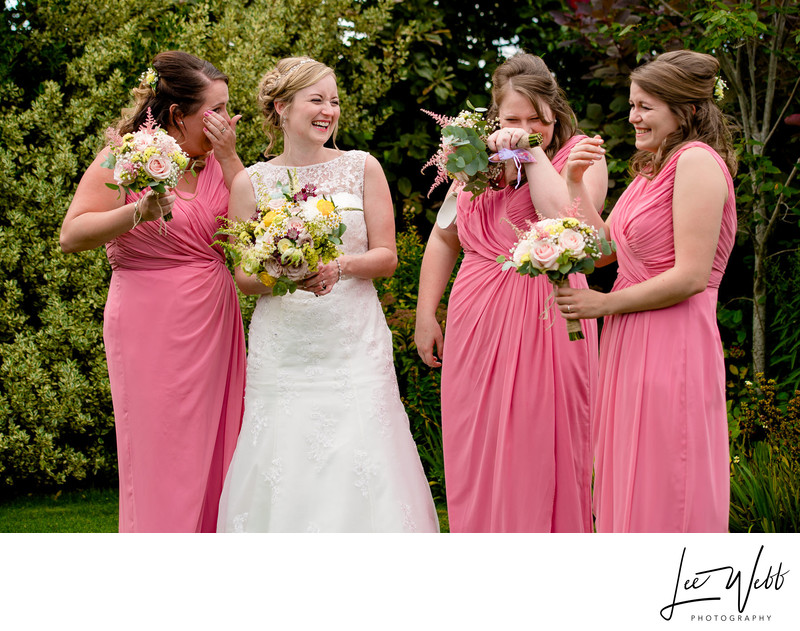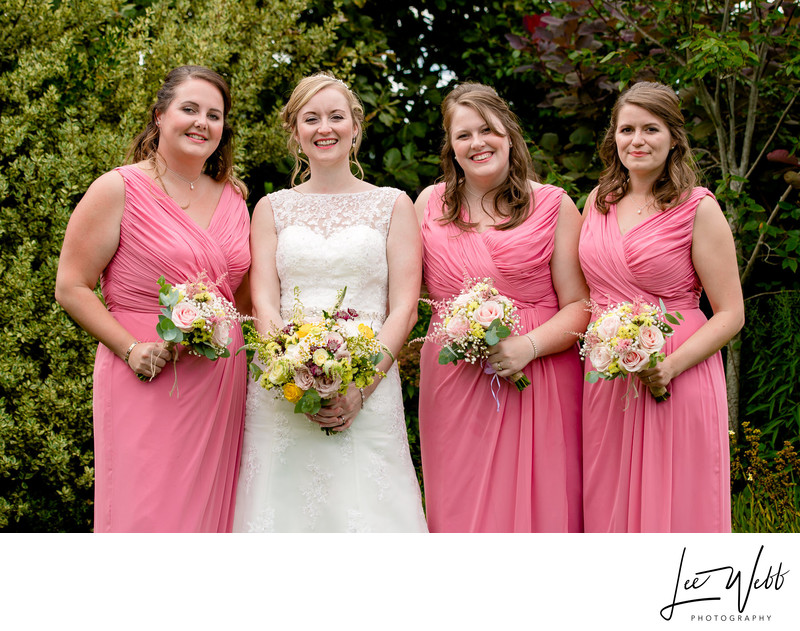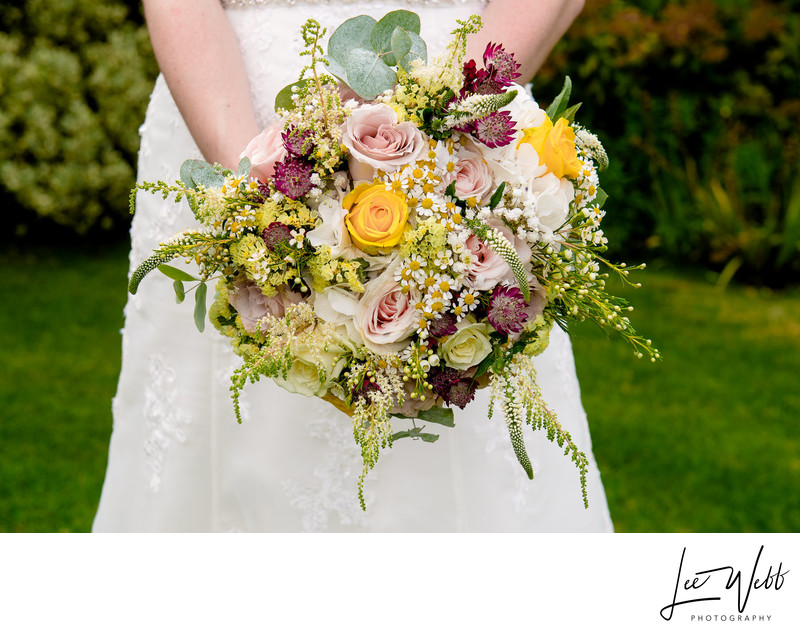 Once the formal photos with the friends and families of the bride and groom had been taken, it was time to capture those all important images of the bride and groom on their own. At the same time, the wedding guests were being called into dinner. As much as I can, I try not to take the bride and groom away from their wedding guests, so the time they're being seated for the wedding breakfast is perfect for the couple's photos, as everyone has their attention drawn away from the fact that for 20 minutes, the newlyweds are elsewhere.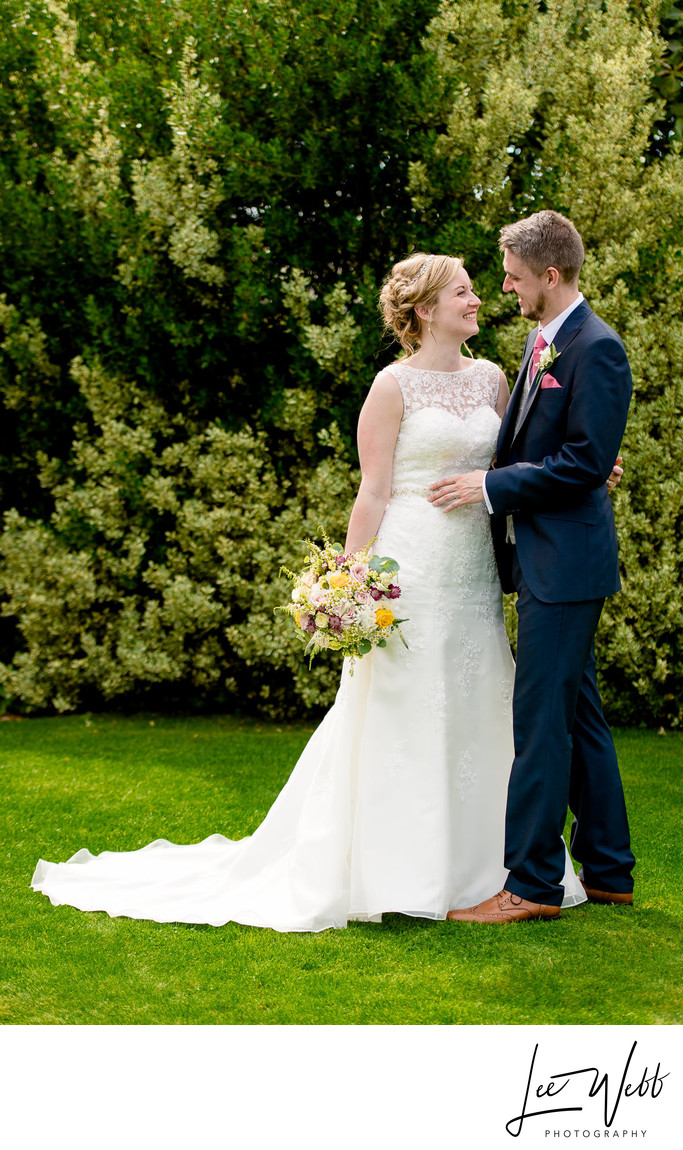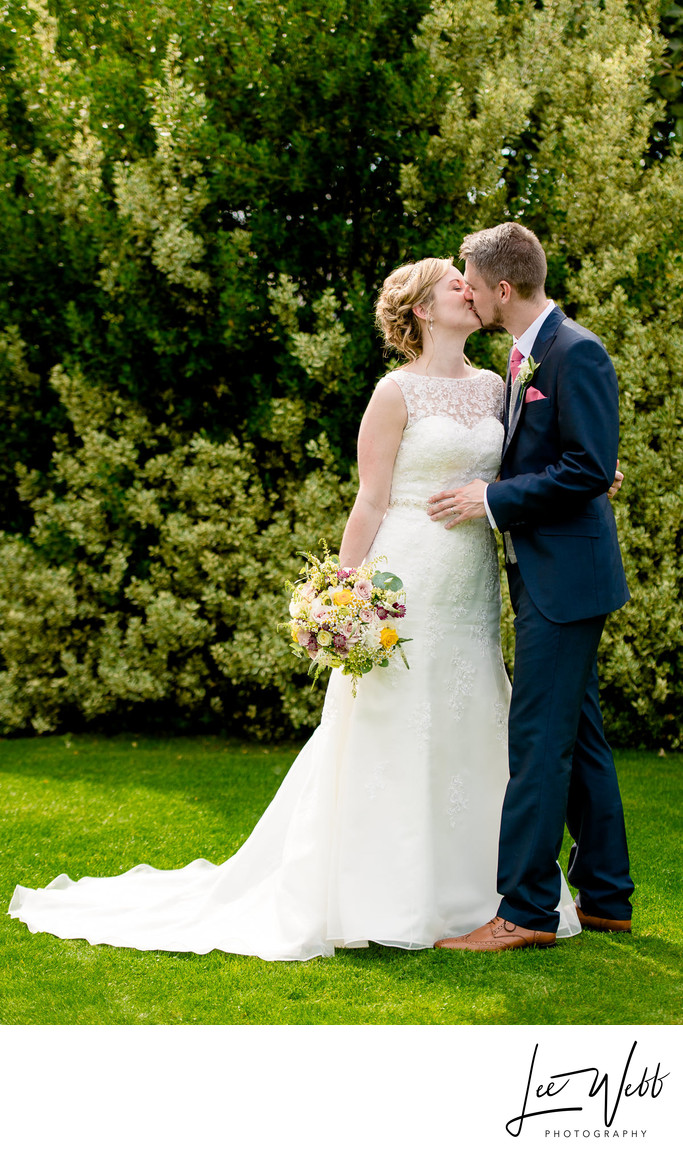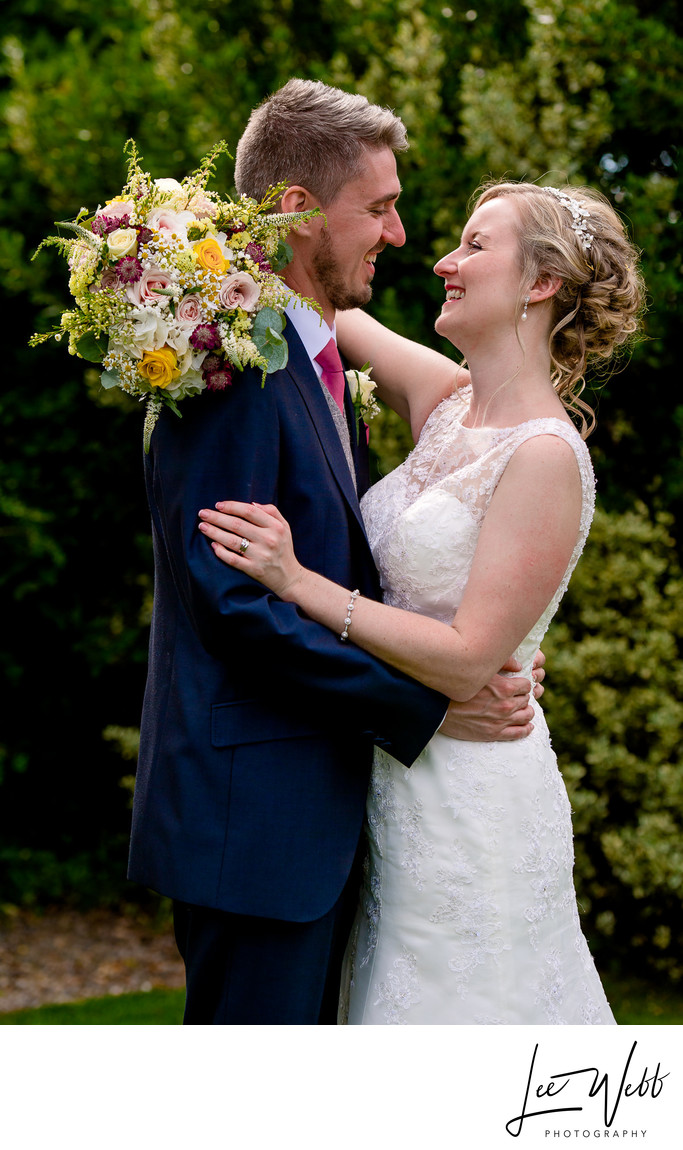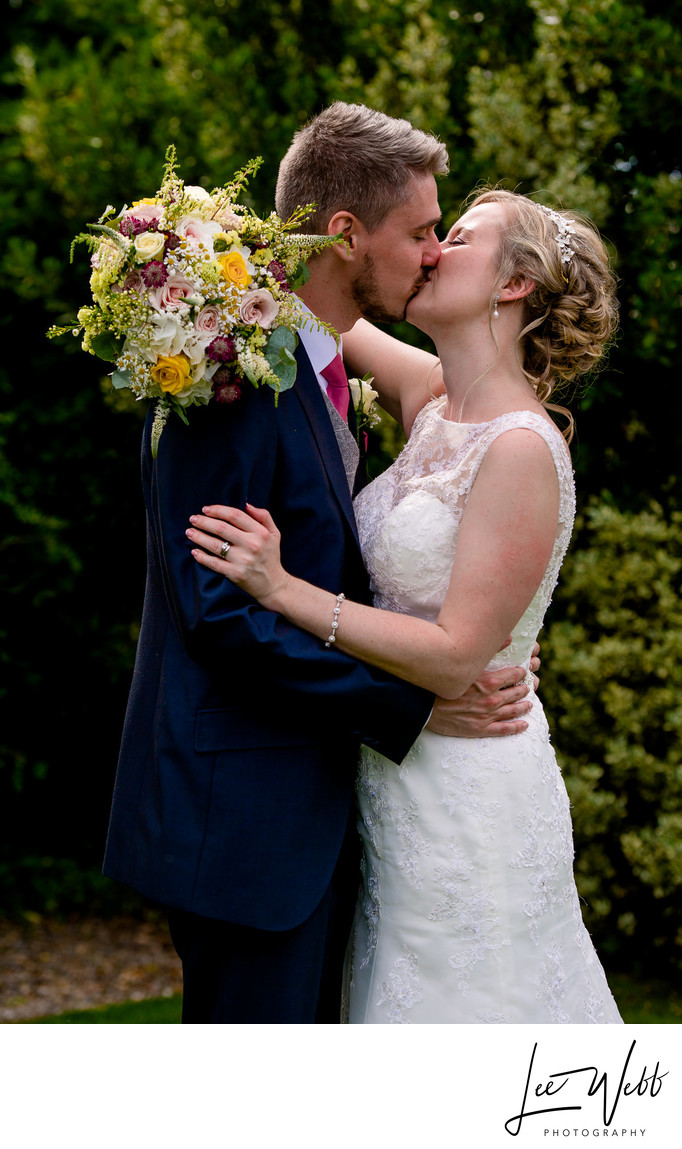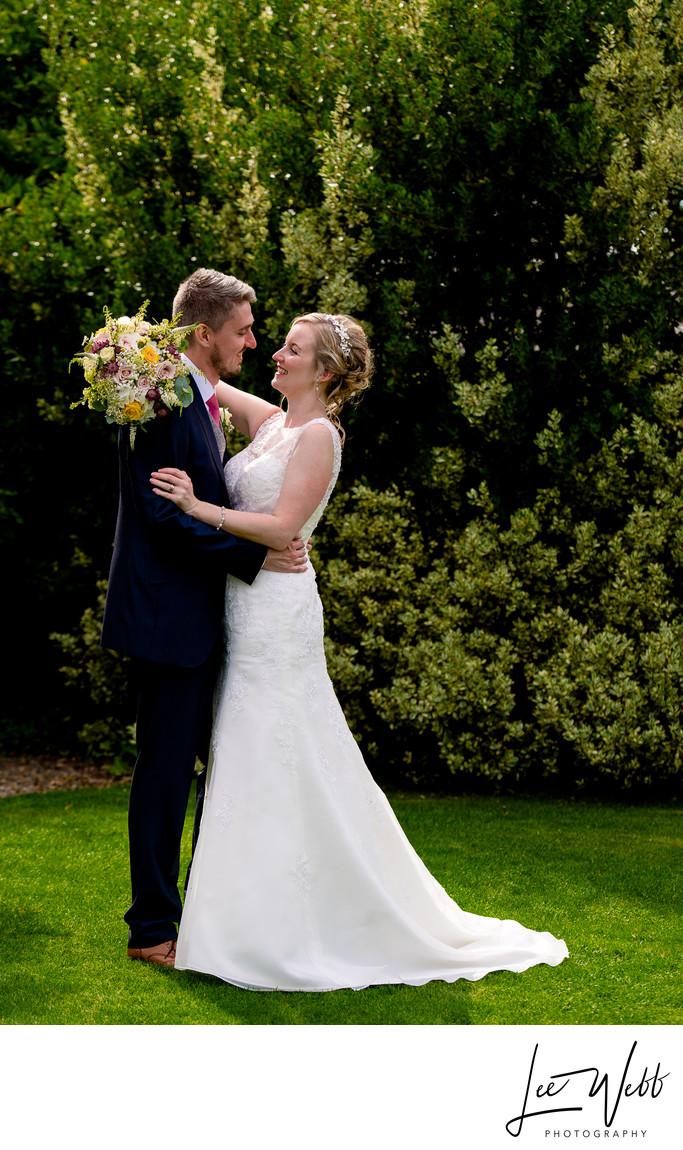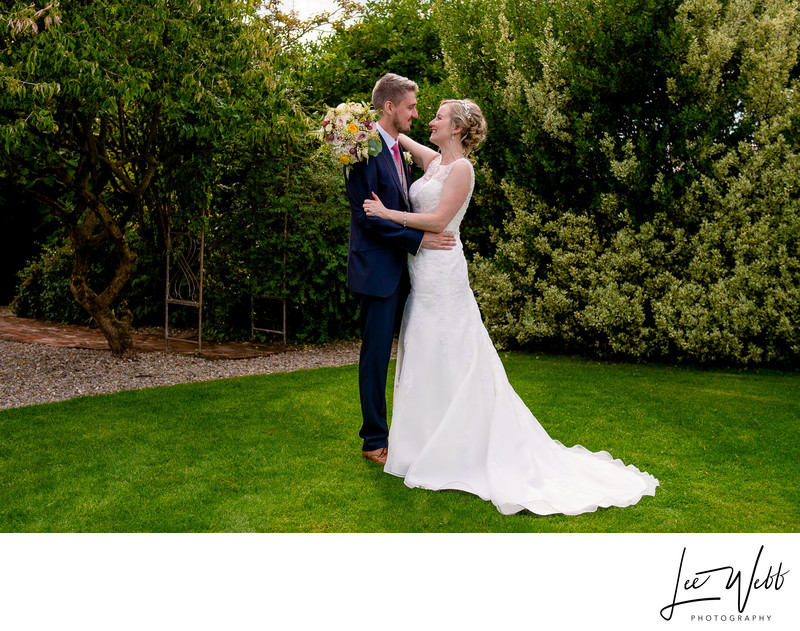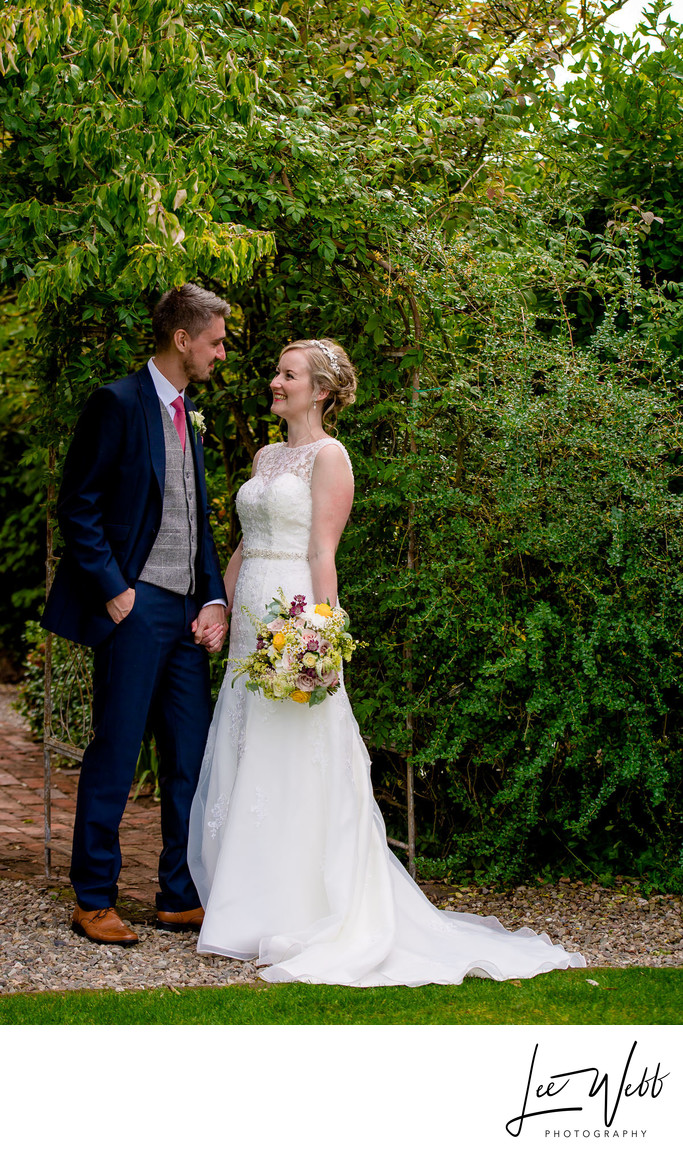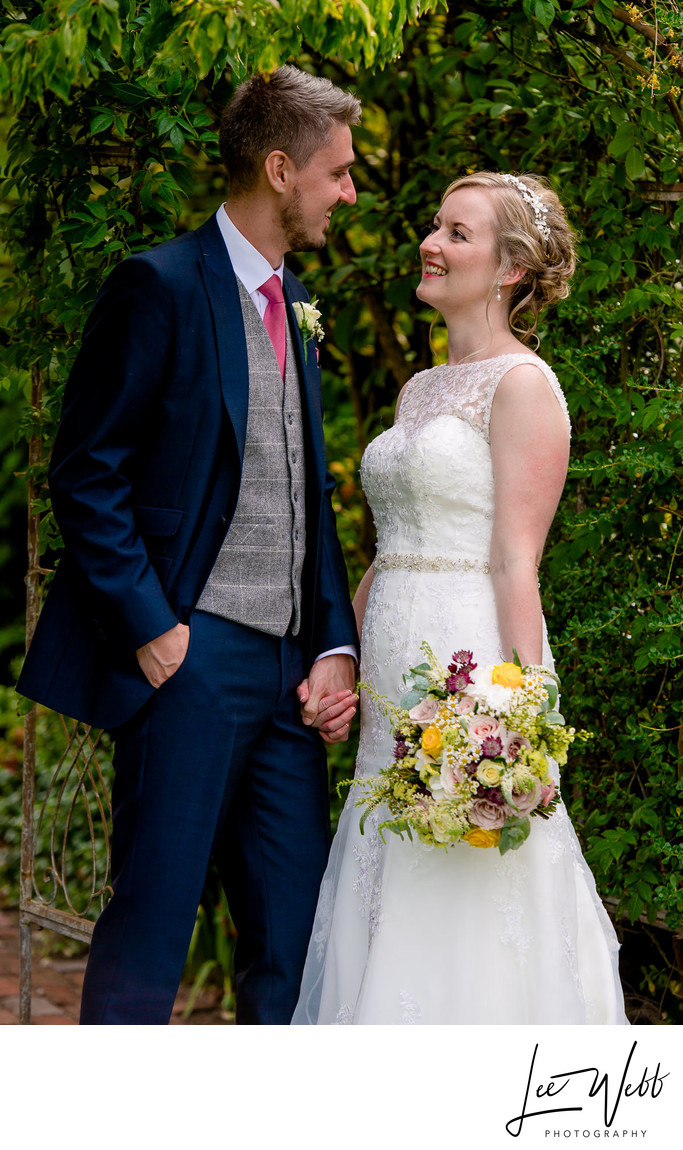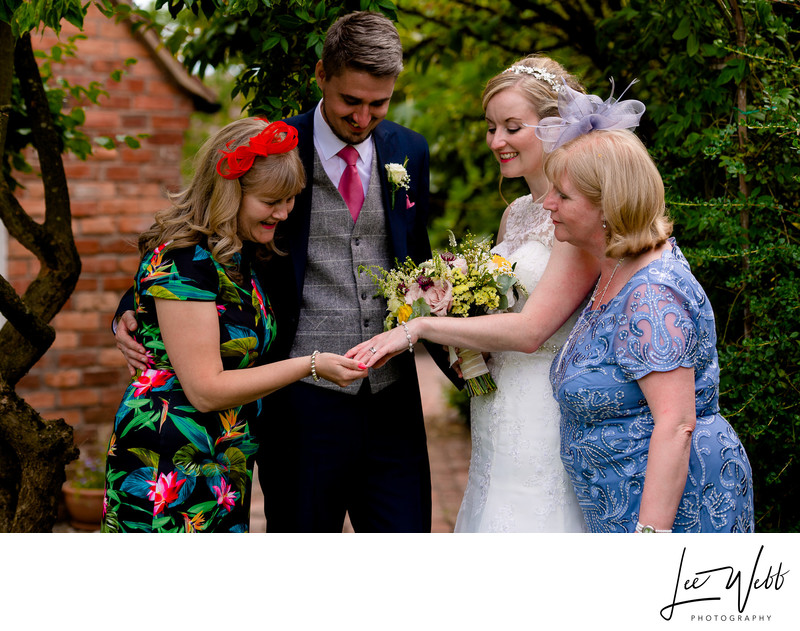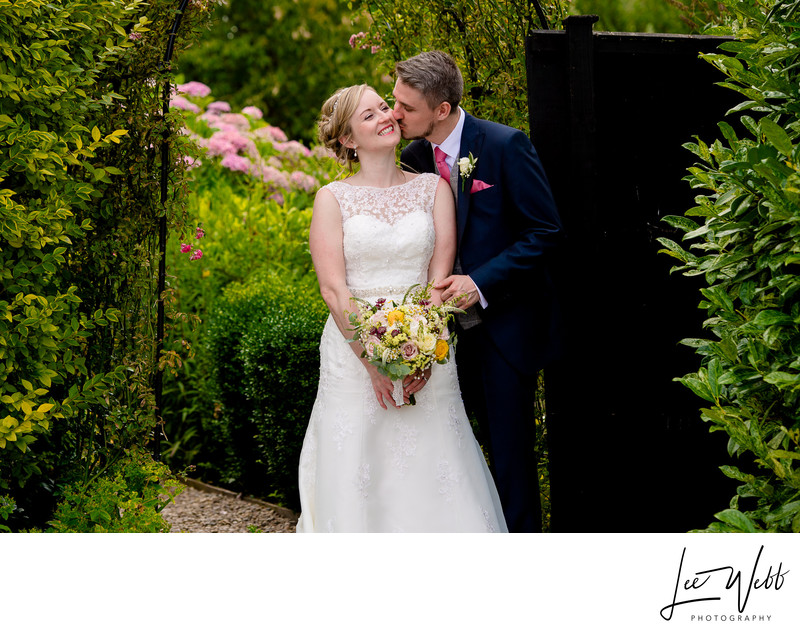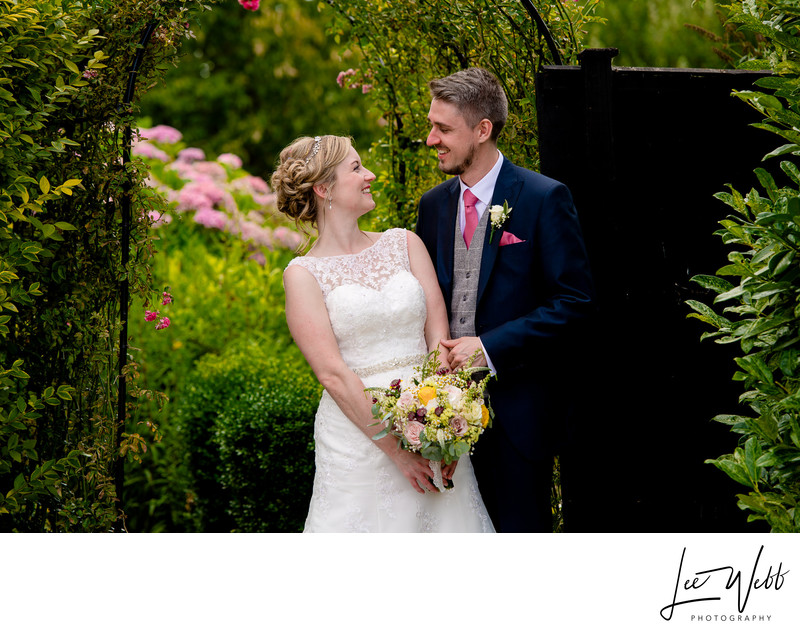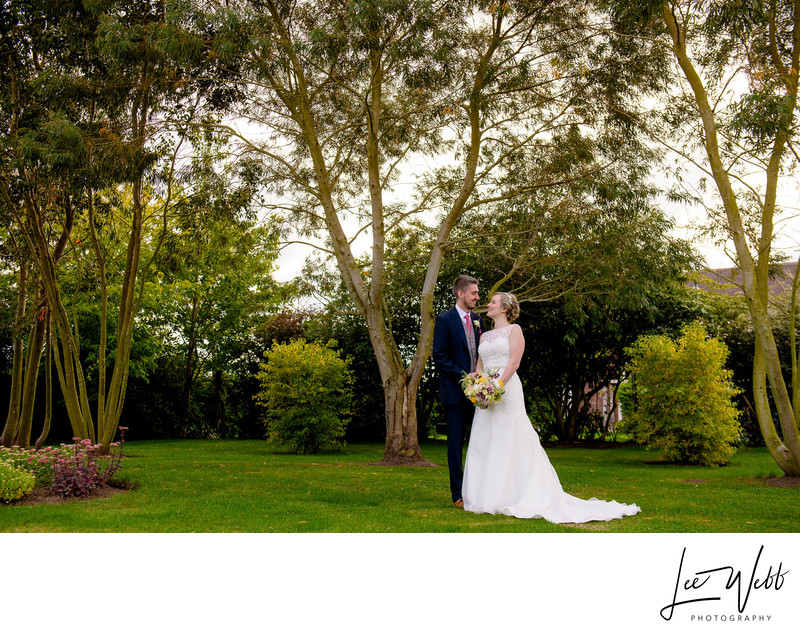 Just over the road from Curradine Barns is a wheat field which is a fantastic place to capture some really special images of the bride and groom. I prefer taking these sorts of images later in the day, towards sunset if I can help it, but I wasn't completely satisfied that it wouldn't rain that evening. I discussed it with Laura and Scott and we decided to take the photos whilst we had the chance, with the view to re-shooting them in a couple of hours if the weather remained in our favour. When it's threatening rain, you often get moody clouds and dramatic sunsets which you'll see at the end of this article.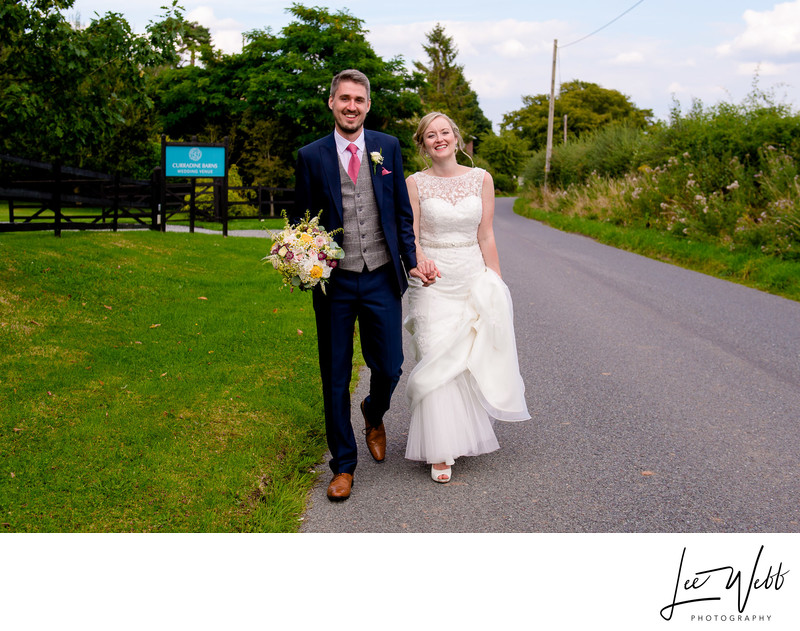 I don't usually crop images to a ratio that makes them hard to print, but I think the picture below just works so well as an extreme wide shot!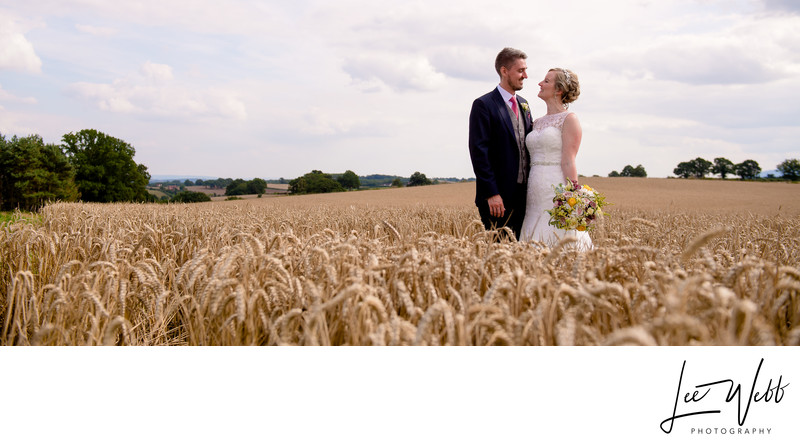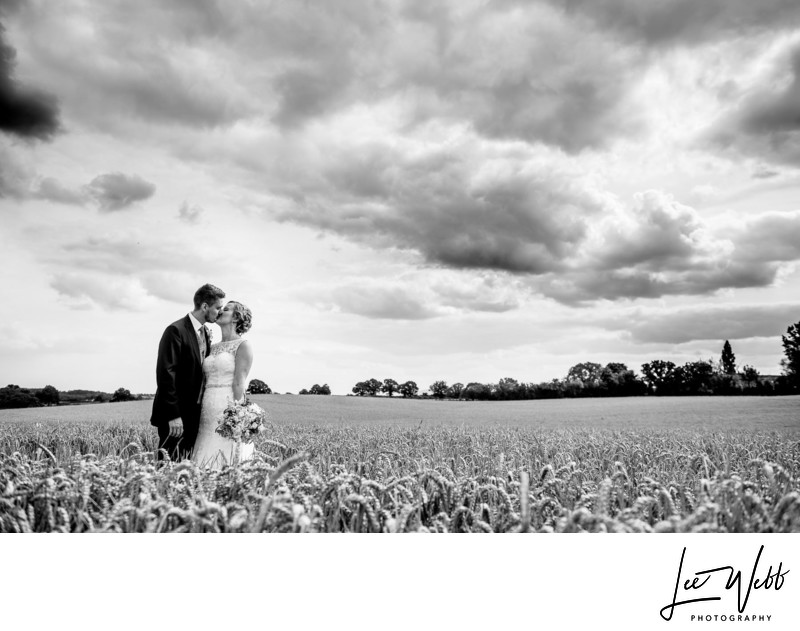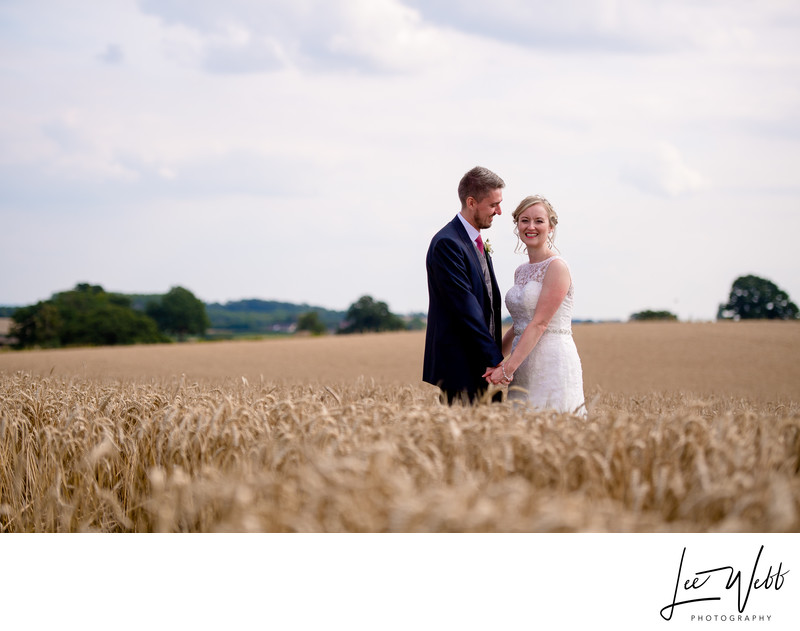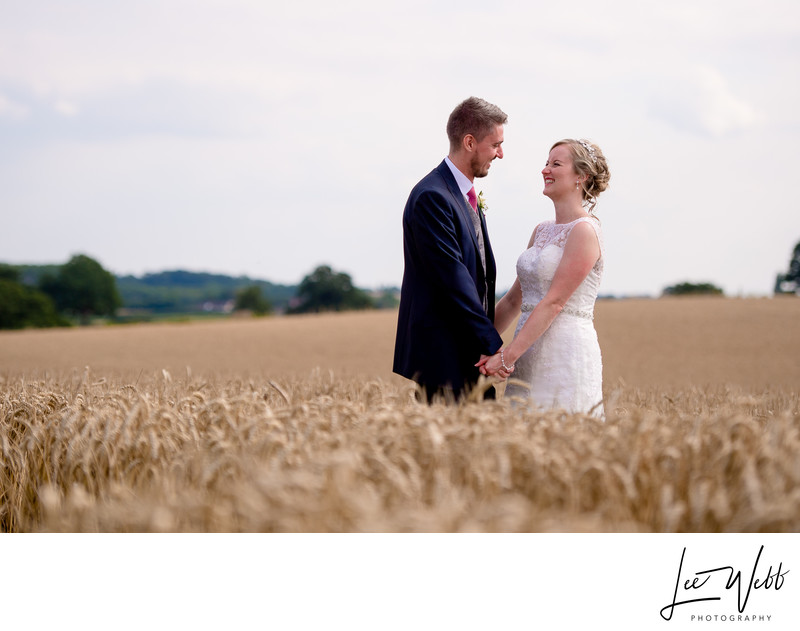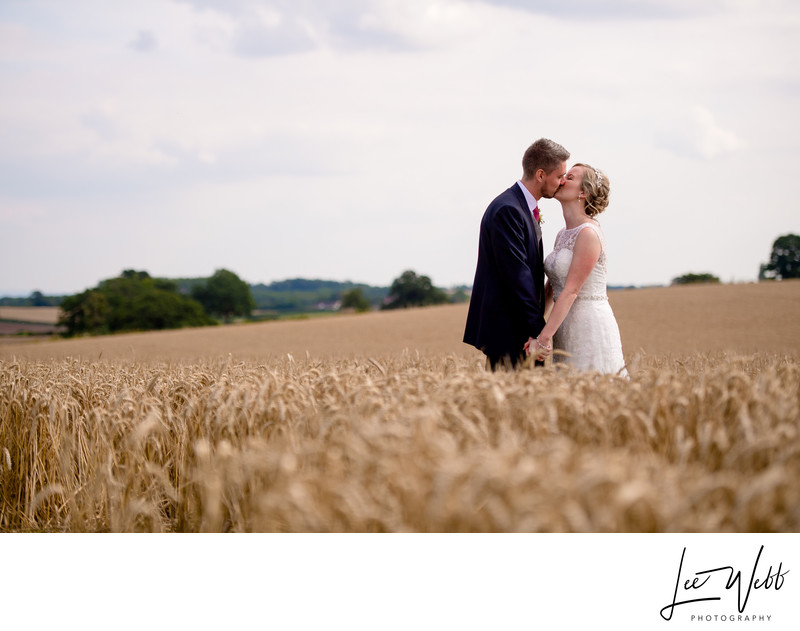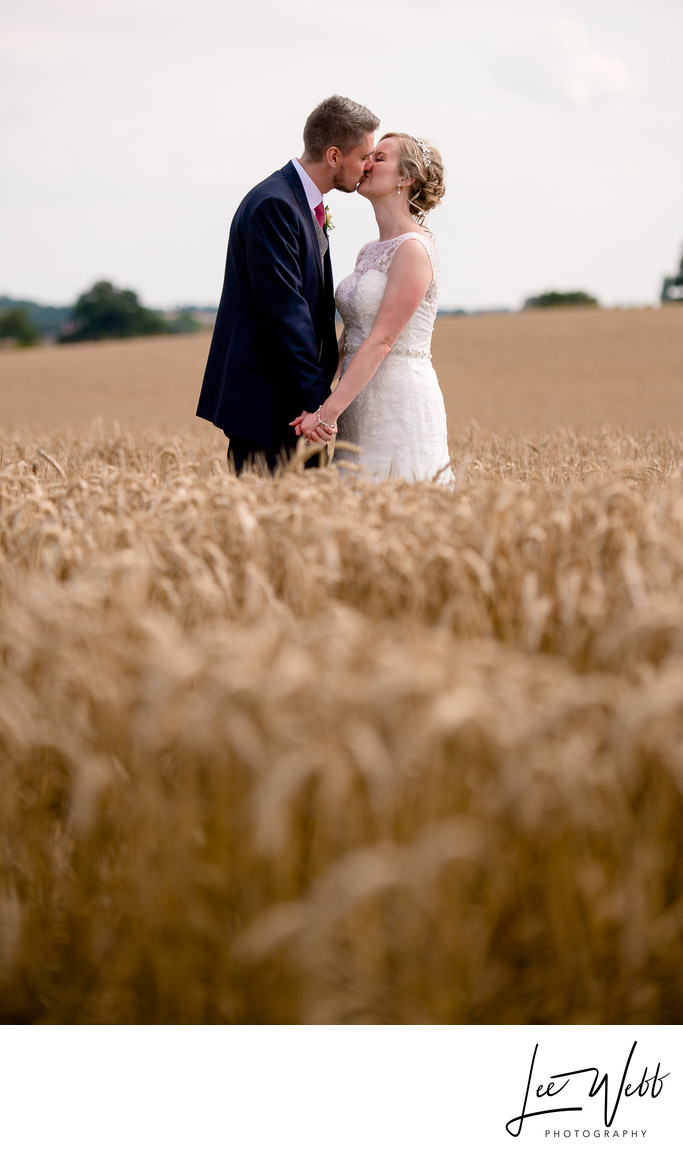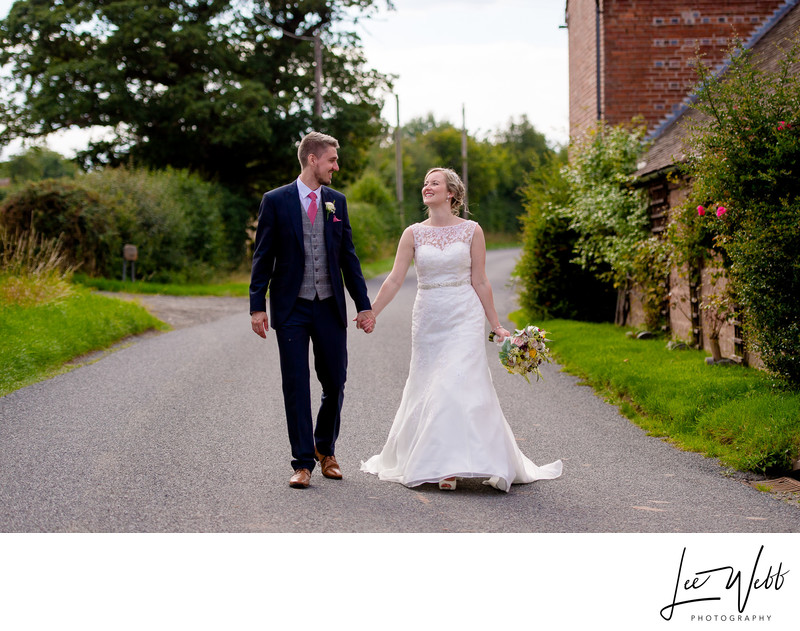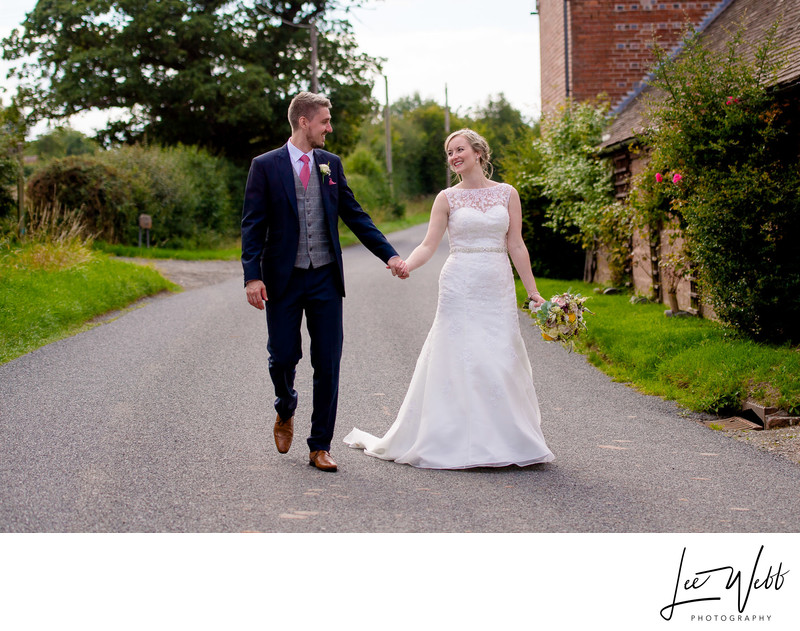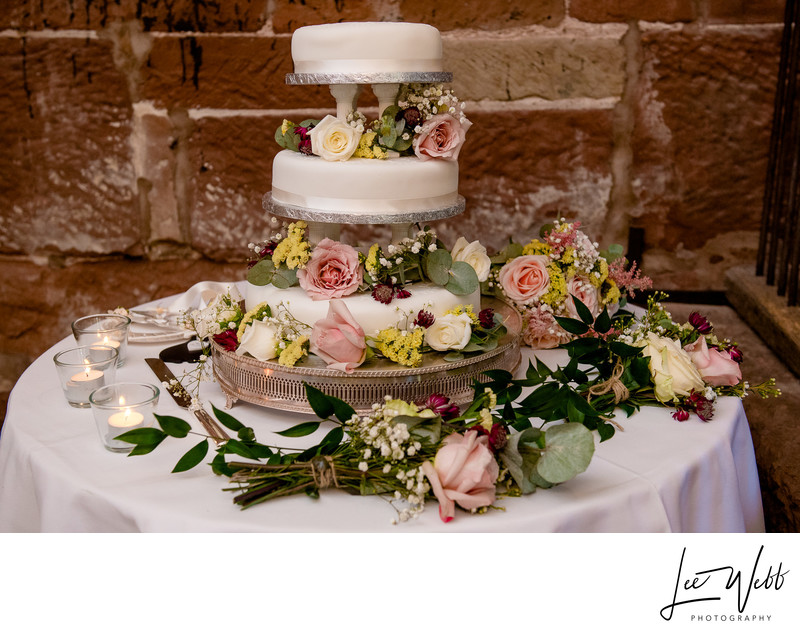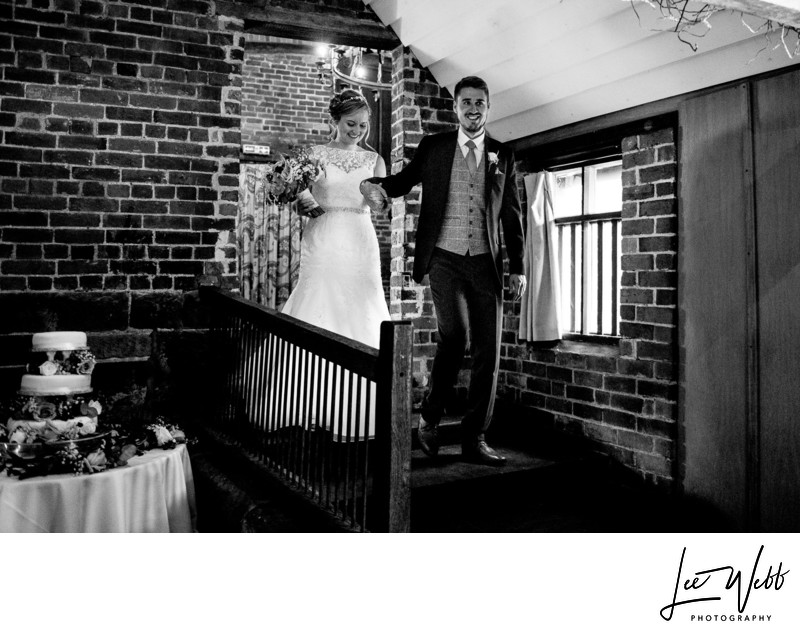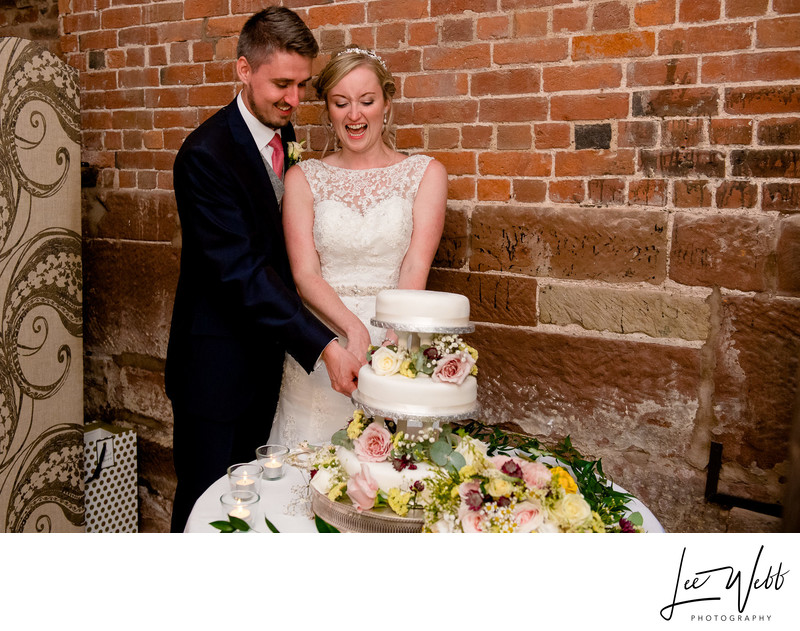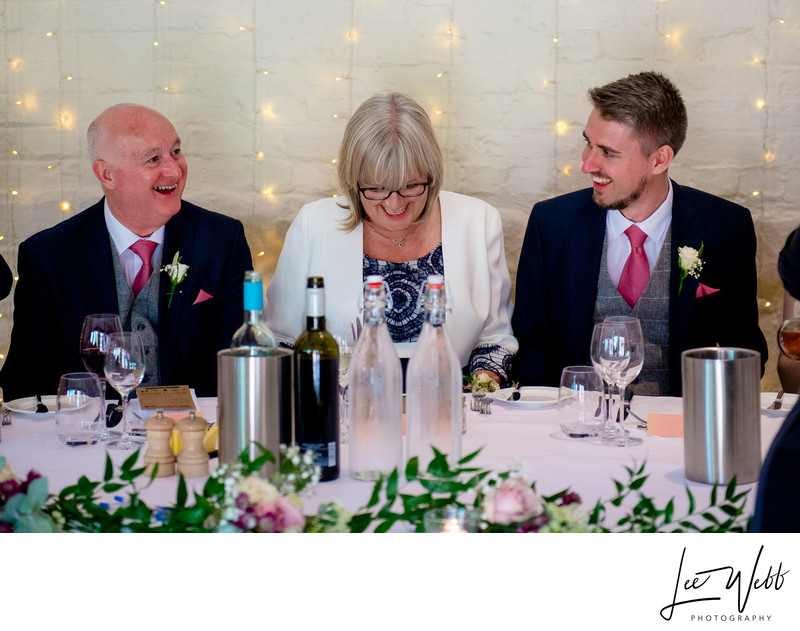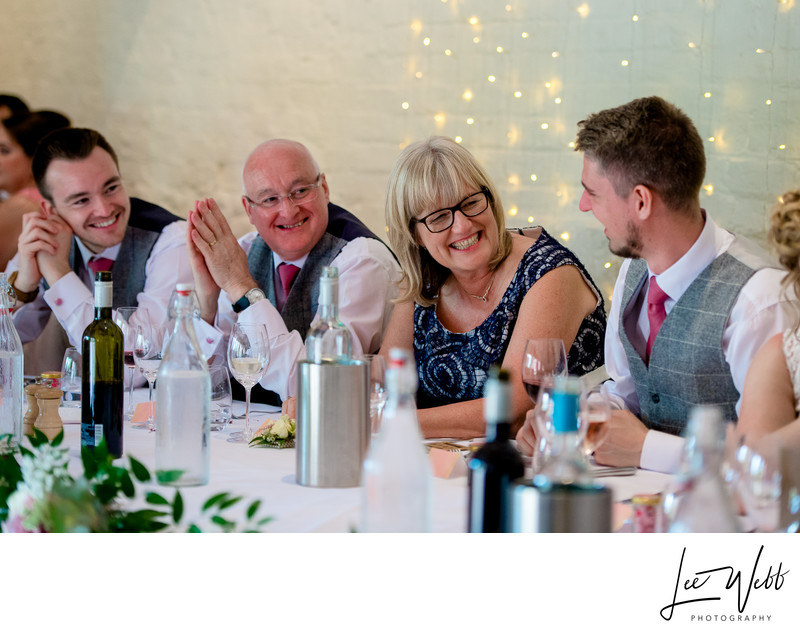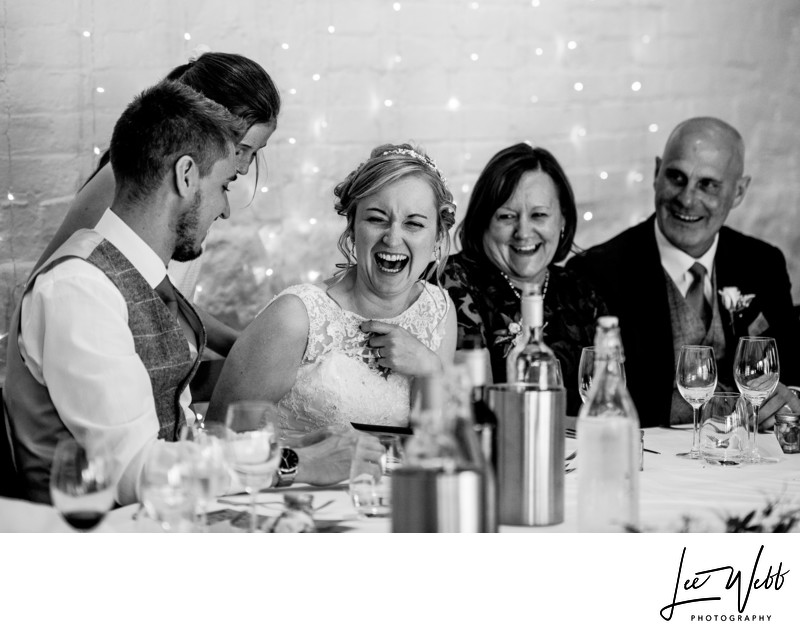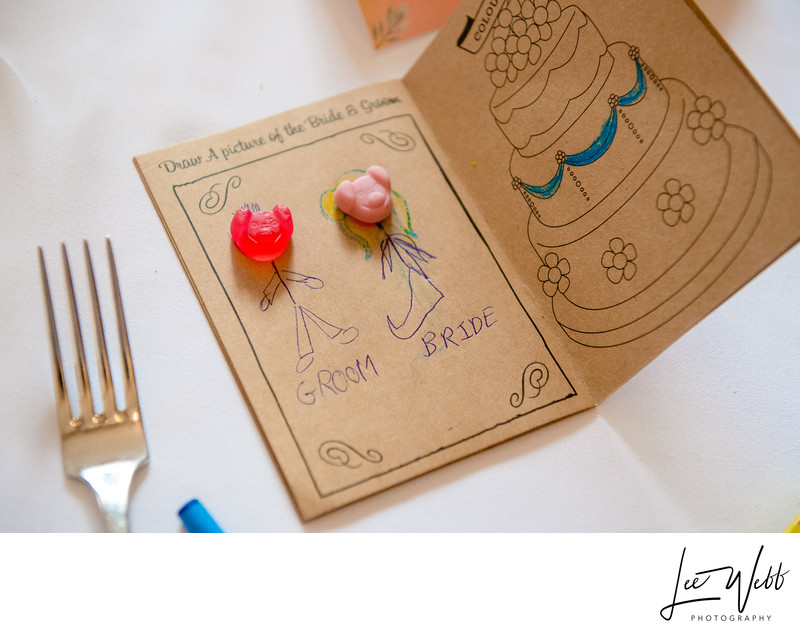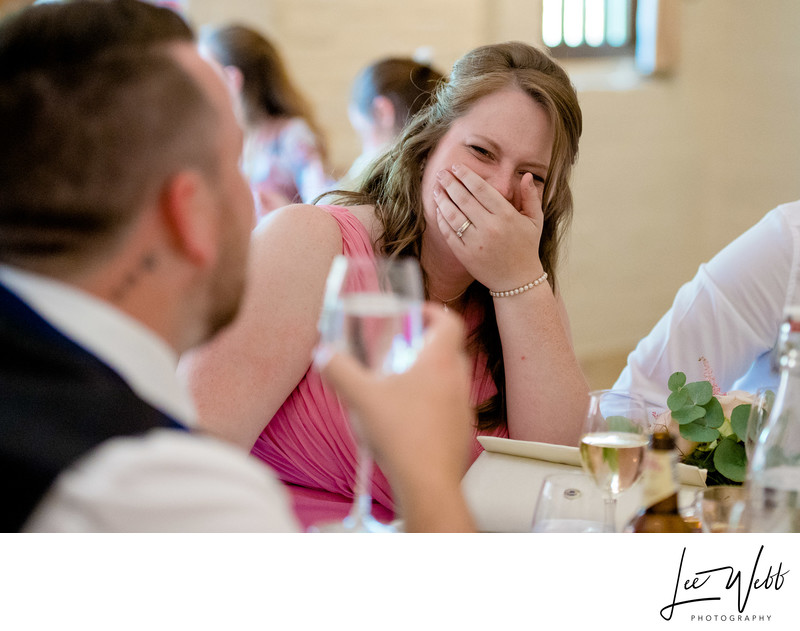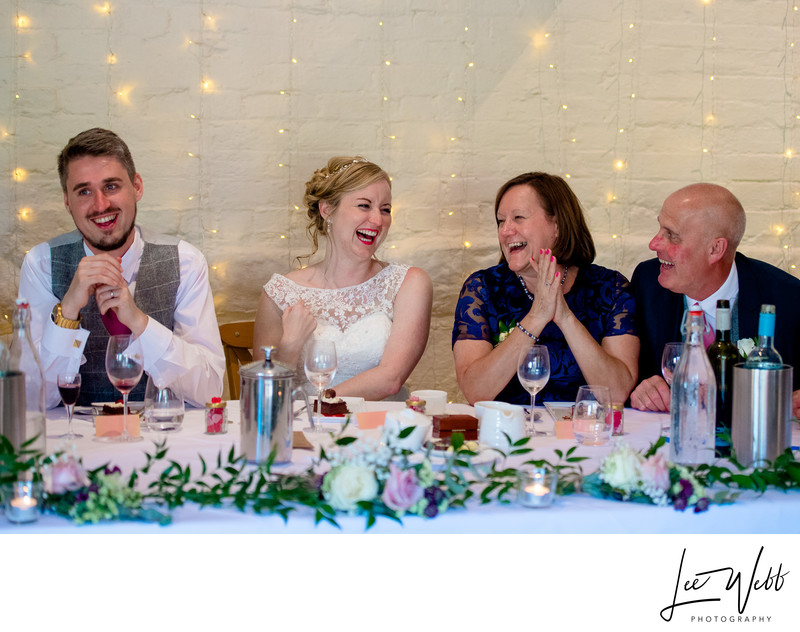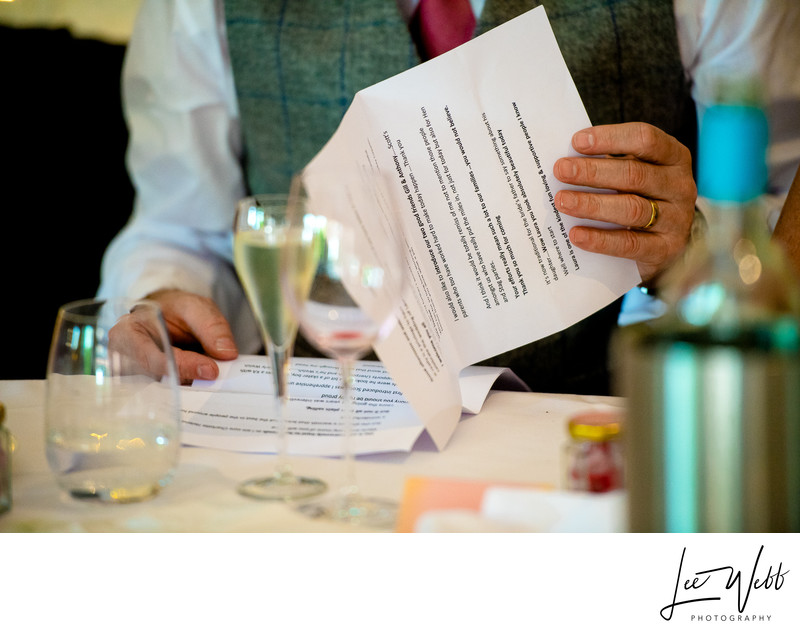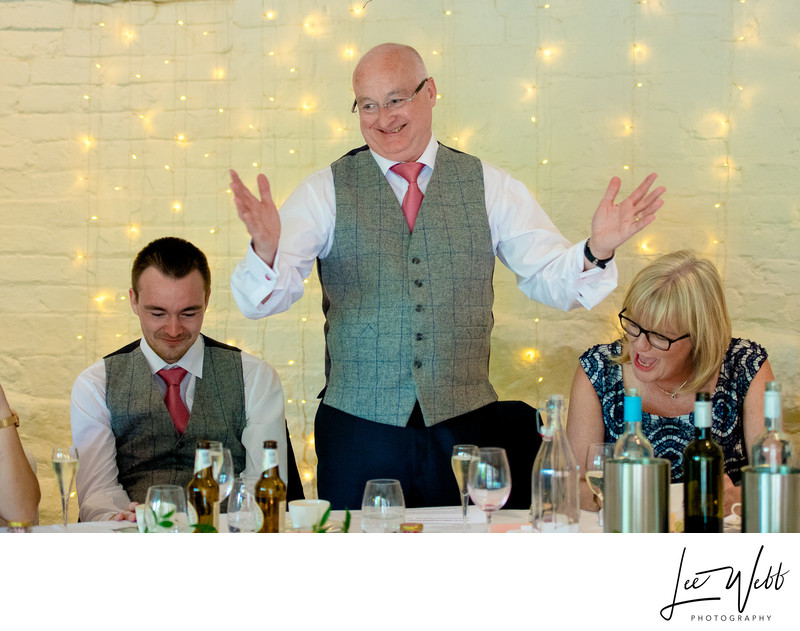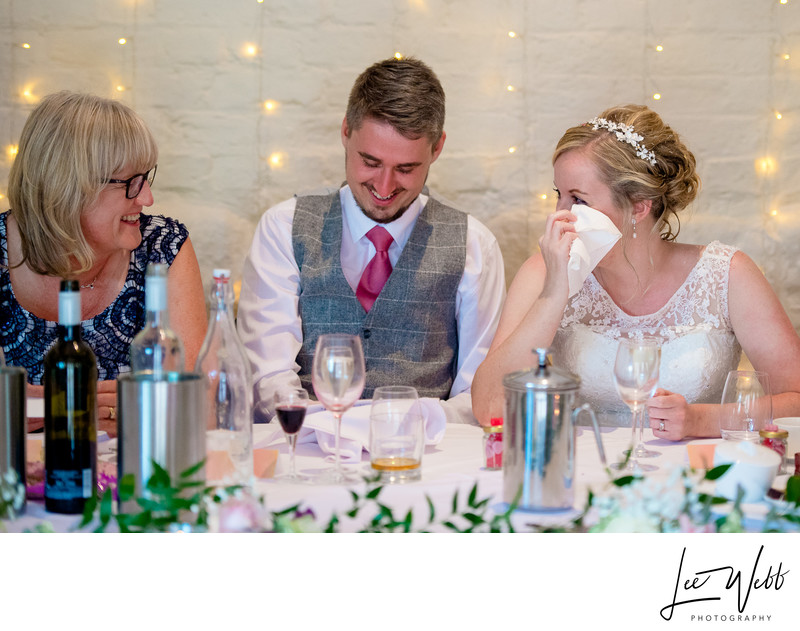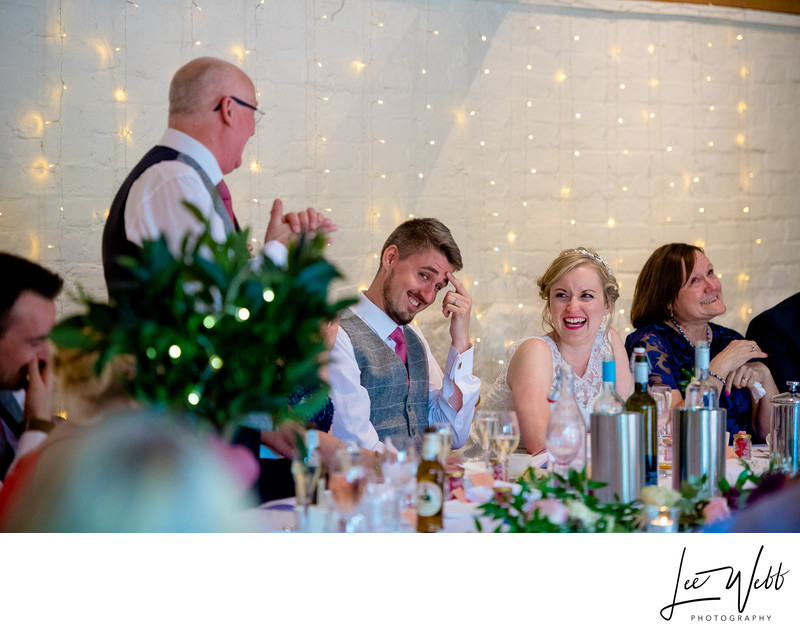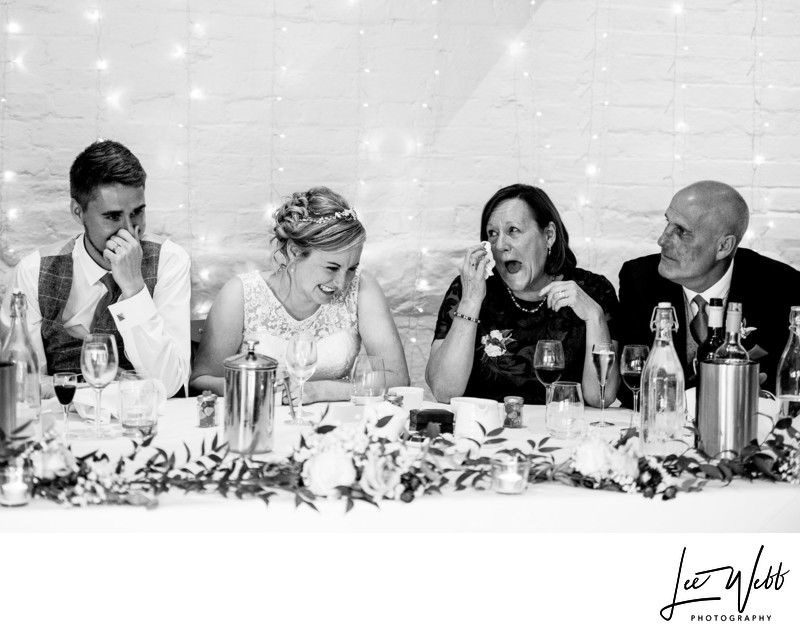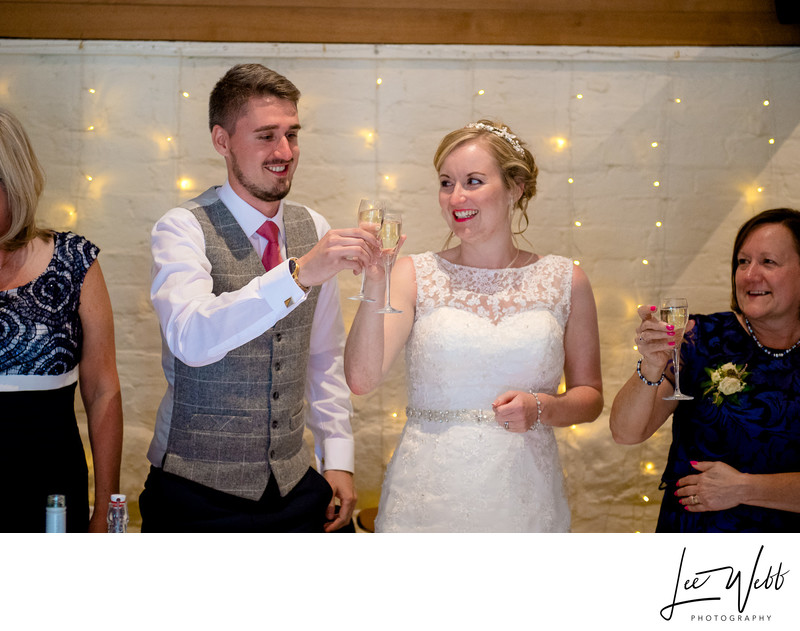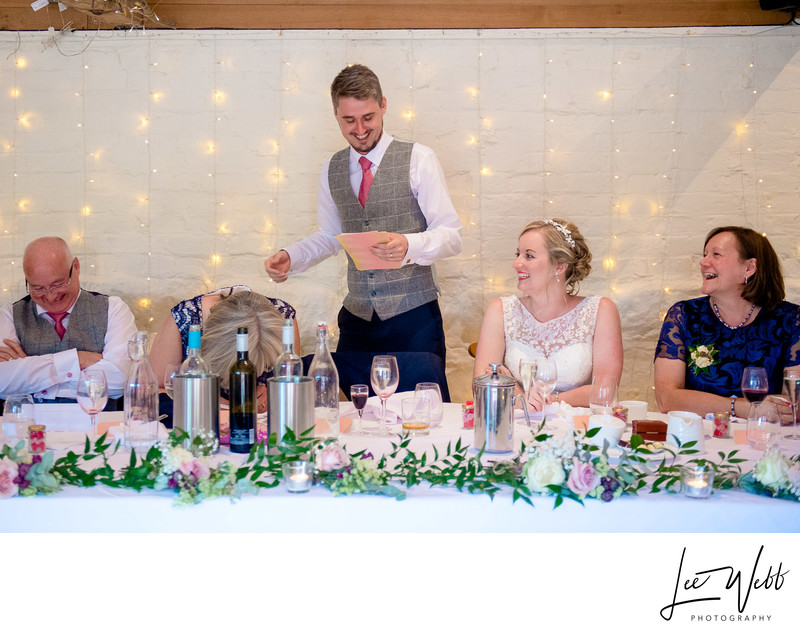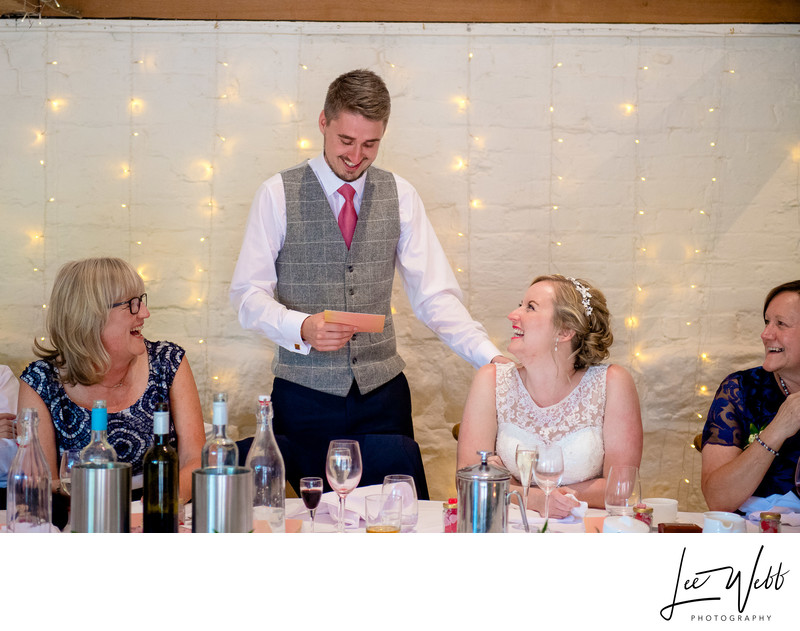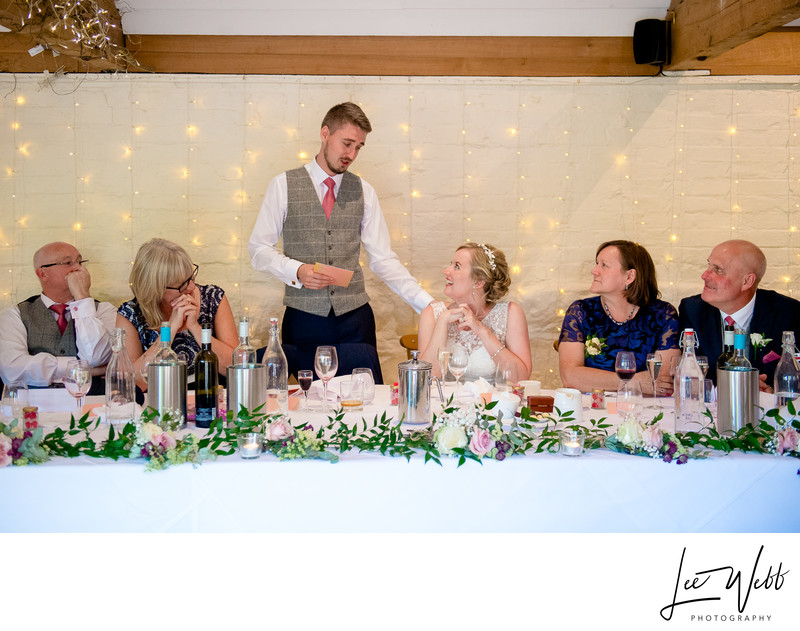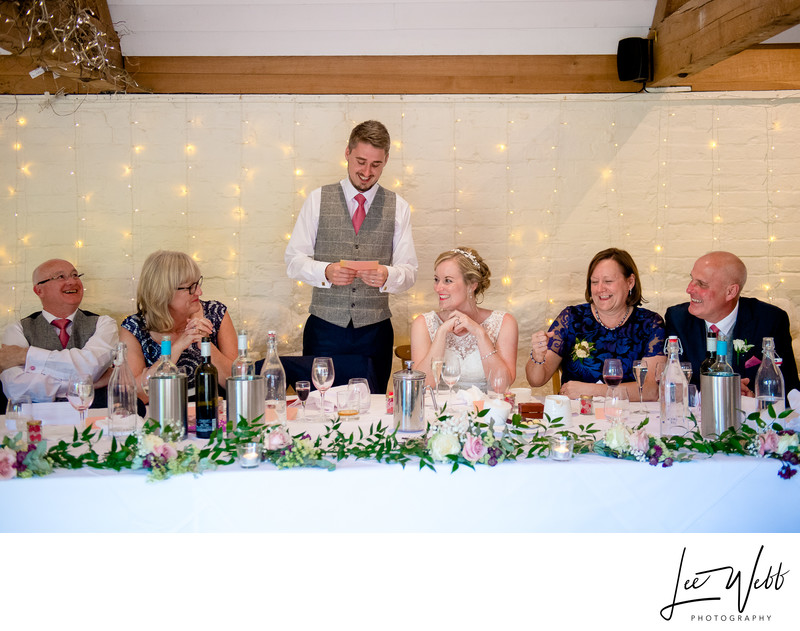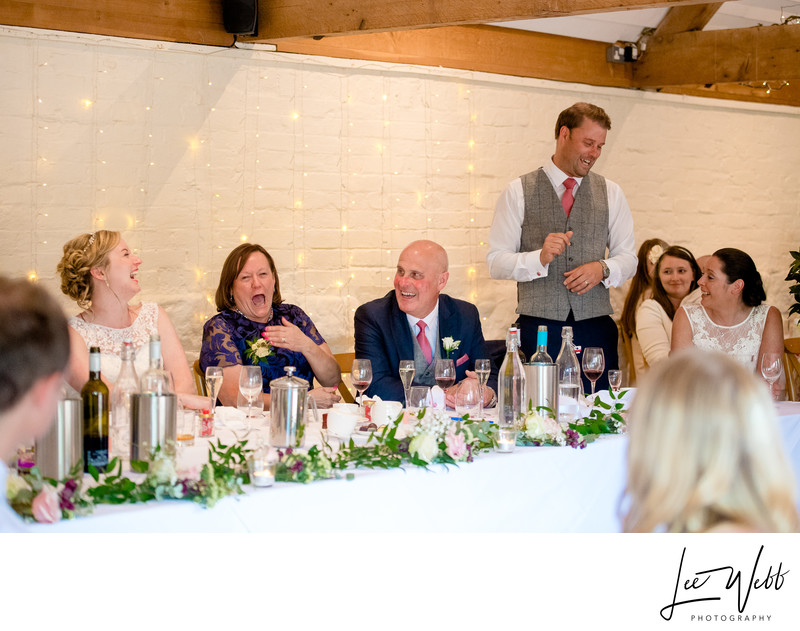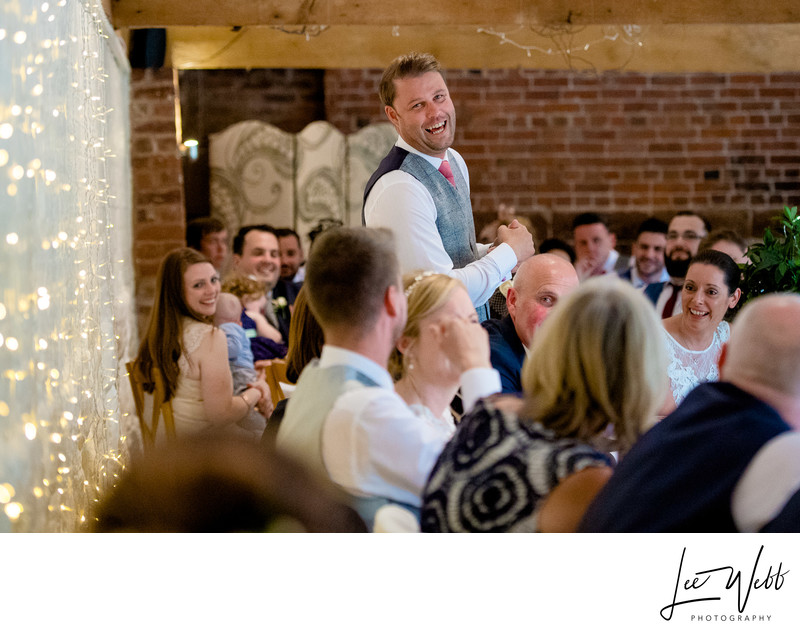 Does this image (below) remind anyone else of Da Vinci's 'Last Supper'?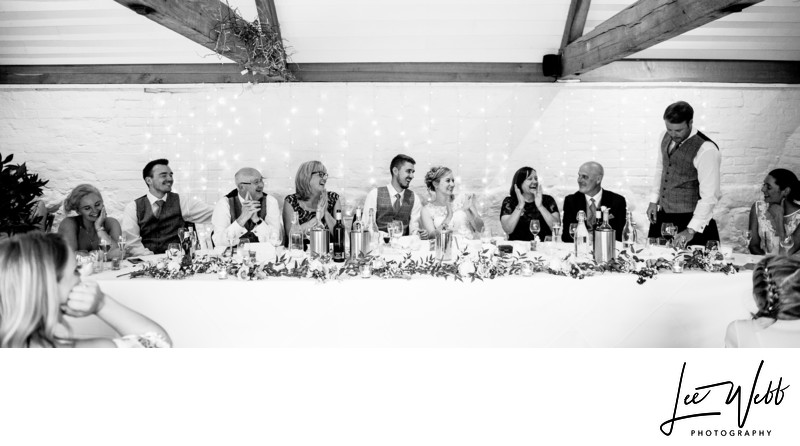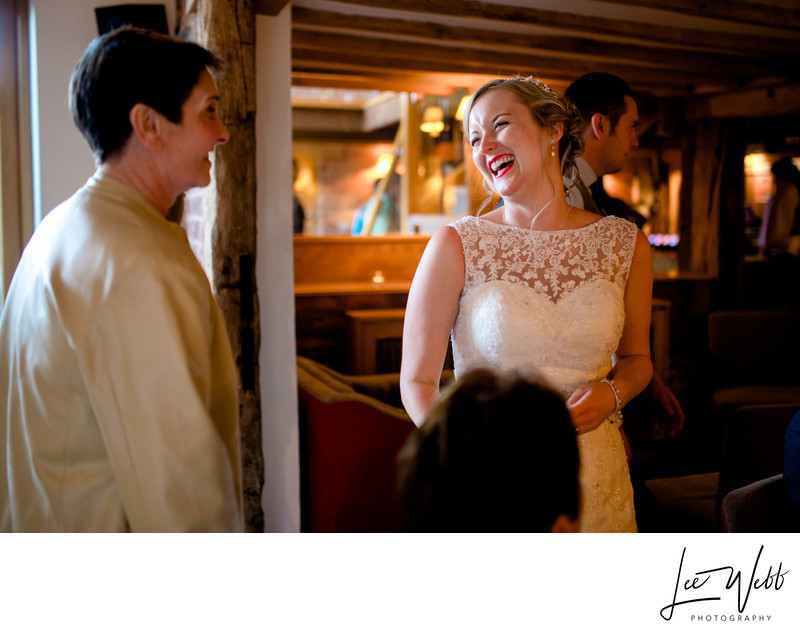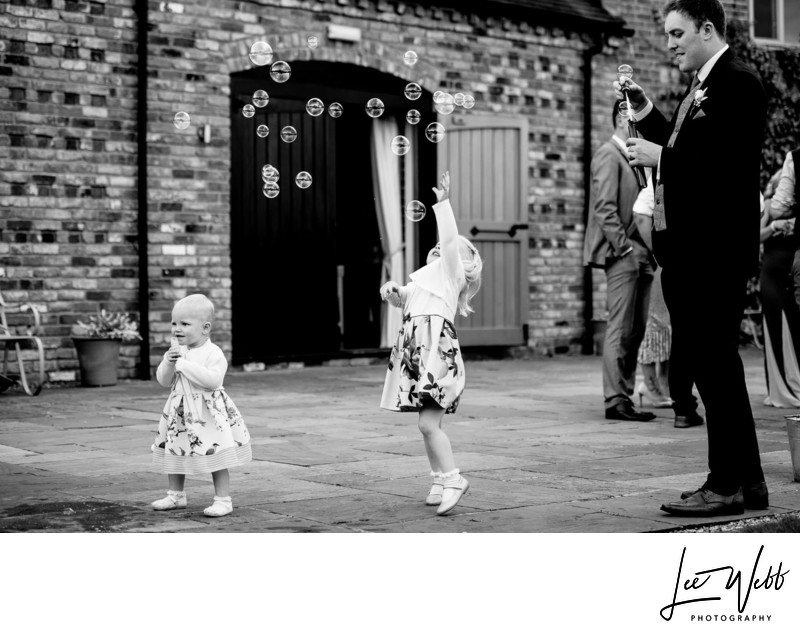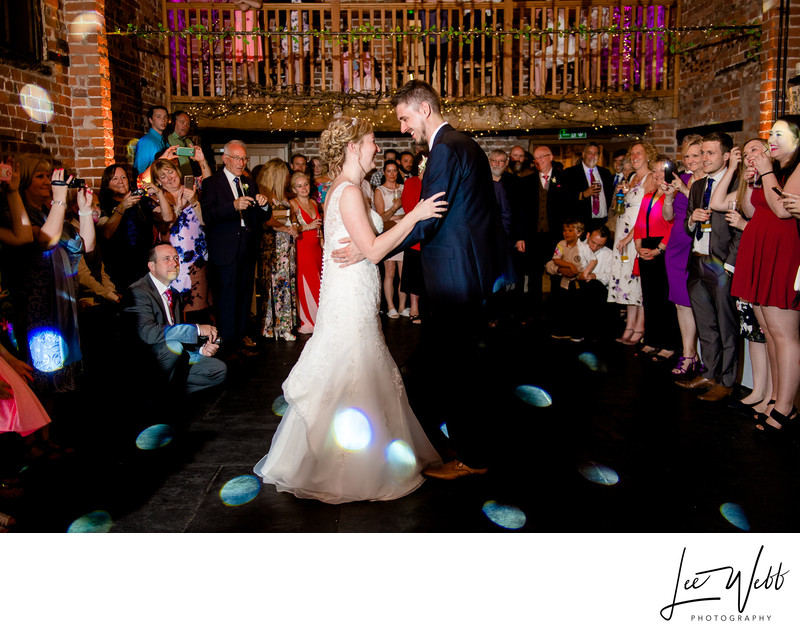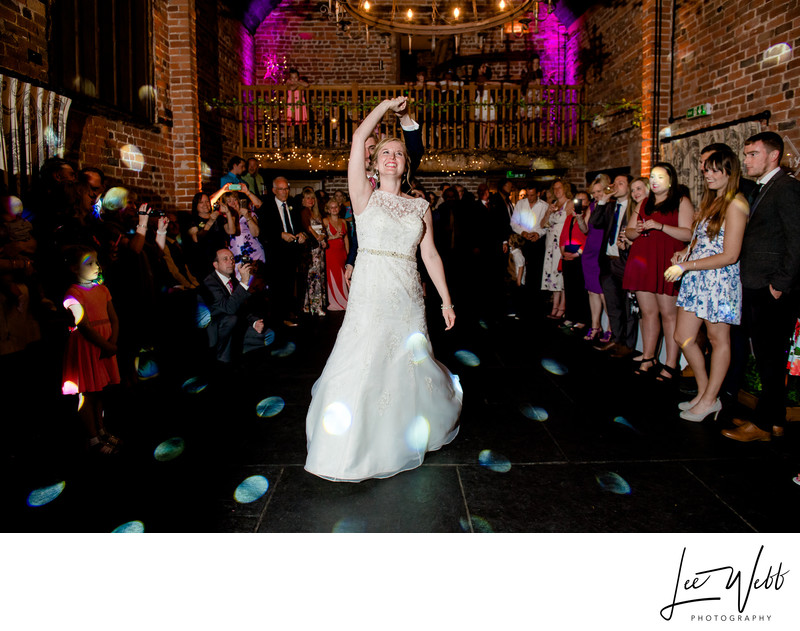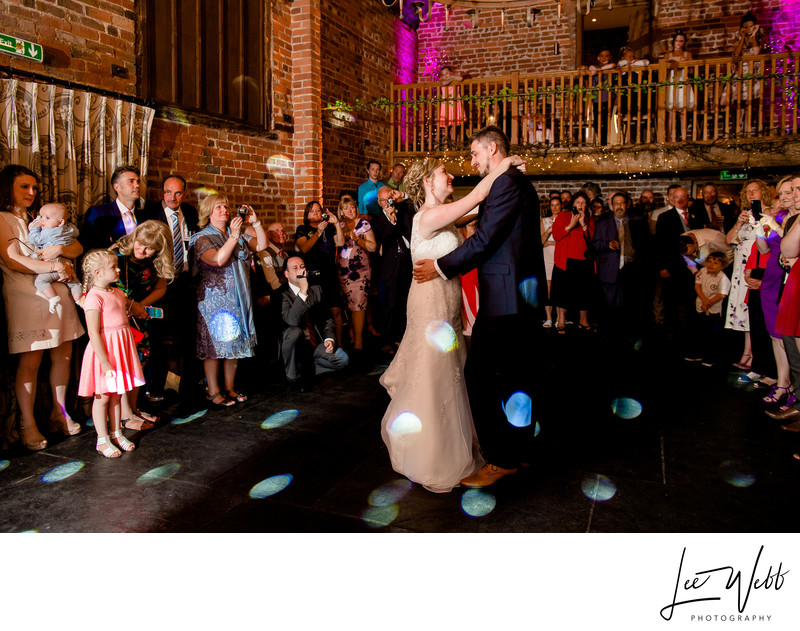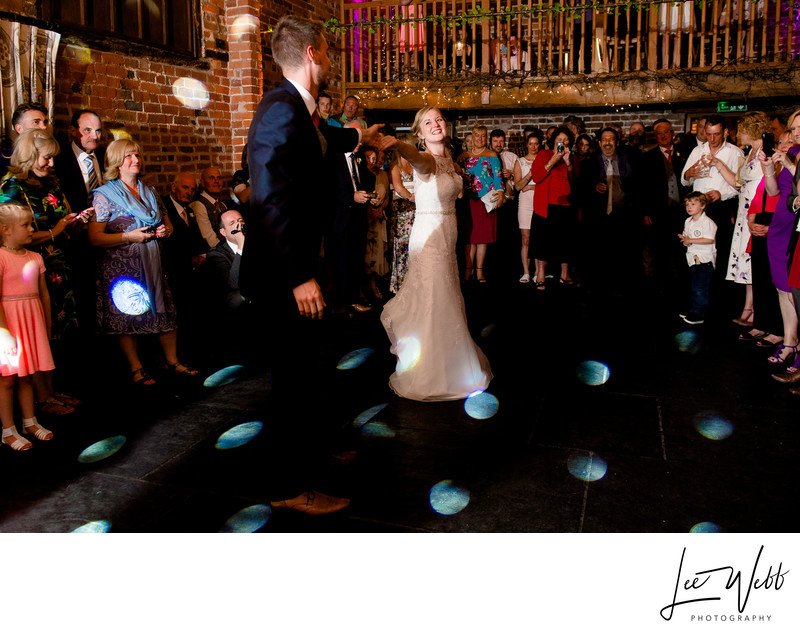 Having taken the photos of the bride and groom taking their first dance as husband and wife, I took a quick walk outside to see if the conditions were right for the sunset photos I had envisioned earlier - and right they were. I popped back inside and told the bride and groom that it was an unmissable opportunity. I grabbed a couple of light-stands for my flashes and we hurriedly walked back to the wheat field across the road from the Venue. I used one light to create a so-called 'rim light' around the couple and another to make sure they were't silhouetted against the bright setting sun. I think you'll agree that the resulting images are amazing wedding photos!