Wedding Photography by Lee Webb
Weddings at Deer Park Hall
Keith and Debbie got married and had their reception at the magnificent Deer Park Hall in Worcestershire.
After getting ready at home, Debbie and her bridesmaids travelled to Deer Park to put their dresses on and make a few final adjustments to the wedding details at the venue.
The wedding ceremony was beautiful, it was held outdoors in the pagoda on Deer Park's Lambs Leap Lawn.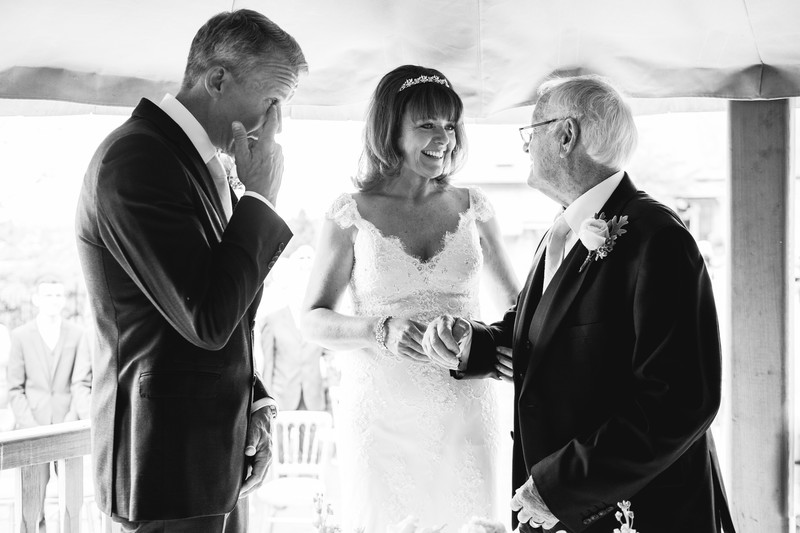 After the ceremony when the chairs from the service were cleared, I took a large group photo on the lawn from the upstairs window that opens from the room in which Debbie had been getting ready that morning.

After a few formal photos, we moved on to taking photos of the bride and groom. The outdoor space at Deer Park is amazing, with a large lawn that's immaculately kept, and gorgeous gardens that make the perfect setting for photos.

There's a raised area of lawn that leads off from a small set of steps and a stream that runs through the centre of the garden, and that's where the main photo for this article was taken. I remained on the lower level of the lawn, so I was able to shoot up at the bride and groom, through the flowers that were in full bloom at the time. The flowers in the garden looked absolutely stunning and made the perfect setting for some lovely wedding photos of this happy couple.

I have photographed many weddings at Deer Park Hall and I am lucky to be one of the wedding venue's recommended photographers. Much of my work features on their website (Click here to view the website) and in their brochures.

Location: Deer Park Hall, Worcestershire.

Keywords: Photographer-directed image (140).

1/500; f/4.0; ISO 100; 122.0 mm.