Wedding Photography by Lee Webb
Evesham Wedding Photographers
Everyone knows that weddings are all about the bride and groom, but at this wedding, a young groomsman really stole the show.
The son of bride and groom, Heather and Andrew appears in this black and white wedding photo having his bow tie tied by a bridesmaid.
Norton Grounds Farm
For the morning of the wedding, as well as their wedding reception, Andrew and Heather had hired Norton Grounds Farm in the Cotswolds.
Norton Grounds is a farm of 120 acres, just outside Chipping Campden and only 20 minutes from Stratford upon Avon.

Norton Grounds Farm is better associated with the training of professional event and dressage riders, but that didn't stop Andrew and Heather putting on an excellent wedding reception. One of the farm fields had been rolled and flattened to make way for a stunning white marquee. Andrew and Heather went to a lot of effort decorating the marquee, having produced a lot of the decorations themselves.
St Ecgwin Church

Andrew and Heather's wedding took place at St Ecgwins church in Honeybourne, near Evesham. Once again, the young groomsman and his adorable smile stole the focus from the bride and groom.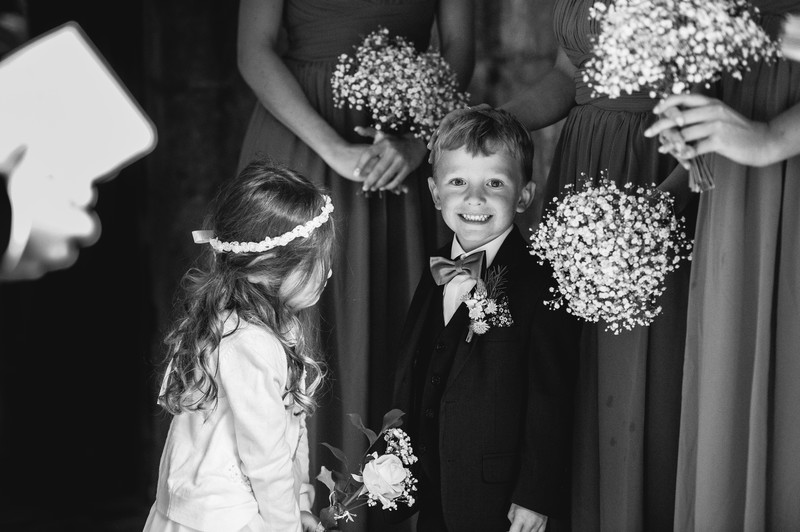 The wedding ceremony at St Ecgwin was beautiful, and one of my favourite wedding photos from the day came from inside the church.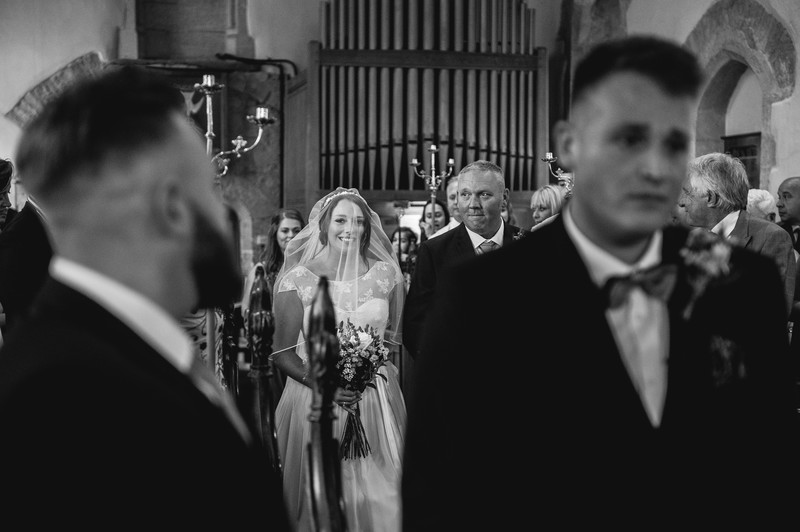 I love the range of emotions on show in this wedding photo. The apprehension on the face of the father of the bride, the nervousness on the groom and the excitement of the bride and she walks down the aisle.

Location: Norton Grounds Farm, GL55 6PY.

Keywords: Documentary wedding photography (129).

1/250; f/2.8; ISO 280; 36.0 mm.