Wedding Photography by Lee Webb
Fun, Relaxed Wedding Photography in Worcester
Poppy and Harry wanted something that wasn't the norm for their wedding. For a start, they wanted to marry underneath an oak tree in the countryside, and wanted to host their own festival-style wedding reception too. Their search for a venue that allowed for both of these things to happen brought them to Rock Village Hall near Bewdley.
Their actual wedding ceremony had happened the week before, at Malvern Registry Office (in order to have a legal marriage) with their outdoor humanist ceremony taking place a week later.
When it came to their formal photos, the bride and groom again wanted something a little different, in addition to the usual posed photos.
The weather forecast for outdoor ceremony date indicated that we were going to have bright, direct sunshine, and lots of it. For this reason, at short notice, the mother of the bride had purchased in bulk some multicoloured sunglasses which really added a sense of lightheartedness to the ceremony. It was these same sunglasses that I used for the photos of the bridal party as you can see above.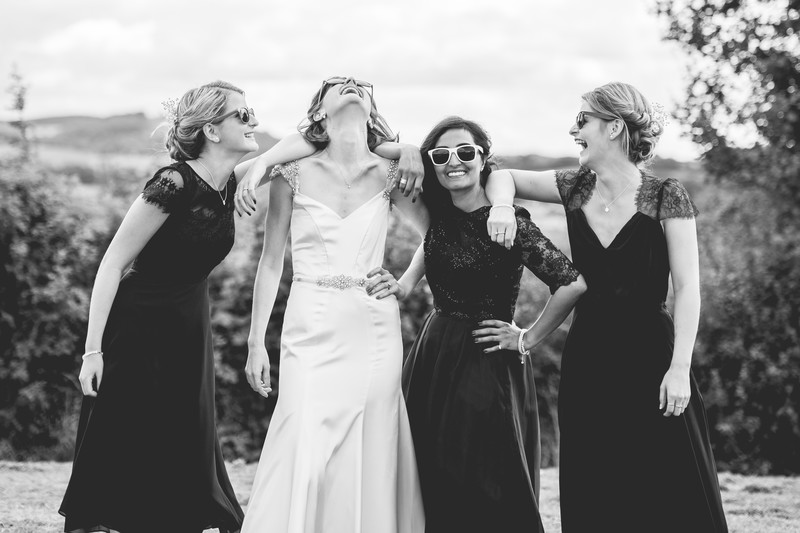 We had an absolute riot taking these photos, and I had the hardest job stopping people from laughing for more of the serious photos!

One of the things that Poppy and Harry were keen on, was moving away from the stereotypical bride/groom shots - so the bridal party opted for some typically masculine poses (see top image) whilst the groom and his ushers had photos posing with flowers, and being carried by the bridesmaids (with varying degrees of success!)

Location: Worcester.

Keywords: Photographer-directed image (140).

1/800; f/2.8; ISO 100; 105.0 mm.