Deborah and Kevan - Birtsmorton Court
Black and white wedding photography Worcestershire
These two images are perhaps my two favourite wedding photos that I've ever taken.
As the bride and groom turned and started walking back down the aisle of Birtsmorton Court Church, the young flower girl that we've previously seen in the album, once again couldn't hide her excitement. She ran in to the aisle and waved at the bride and groom. I love how in the left image, caught just at the perfect time, the groom is waving back - the look on his face is perfect given the scene.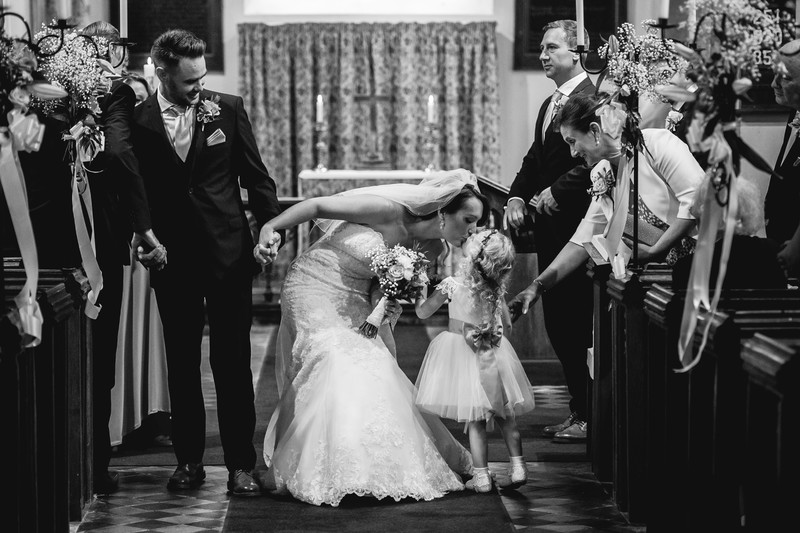 The second image is really the one that tells the story however. I love everything about it - I love how the mother of the groom is trying to pull the flower girl back, conscious that she's now in the way of the married couple. I love how the groom is shaking hands with someone in the congregation, at the same time as he's holding his wife's hand and looking at the flower girl. I love how the flower girl is stood on her tiptoes in order to be able to reach the bride.
The next page of this wedding album shows a third image, taken a couple of seconds later. The bride's reaction really couldn't be better, and I've never seen anyone look so happy. If you look closely in the background of the image, you can see the young flower girl giving the thumbs up - I think she approved of the marriage and the kiss from the bride!
Location: Birtsmorton Court, Worcestershire.