Deborah and Kevan - Birtsmorton Court
Birtsmorton Court White Garden
These photos show the more candid photos that were taken between the wedding ceremony and wedding breakfast, and best show the documentary nature of my work.
The fountain at the centre of the White Garden had rubber ducks placed in the water and small fishing rods were provided for the younger guest (and some not-so-young guests) to keep them occupied and entertained during the drinks reception.
I was able to capture a photo showing two of these rubber ducks in focus and timed the image perfectly that I could show the bride and groom in the background. Had I not included the couple in the back of the image, this image could have been taken anywhere at anytime, but the inclusion of the bride and groom means it's definitely a wedding photo.
The black and white image that makes up the right page is one of my favourite images from the wedding, showing the young flower girl that's already featured heavily in the album, sitting on the lap of the mother of the groom. I absolutely adore this photo, the expressions on both the mother of the groom and the flower girl are just perfect. I also like how the bushes and tree leaves to the left and right of the subject act as a frame, drawing the viewer's eyes naturally into the middle.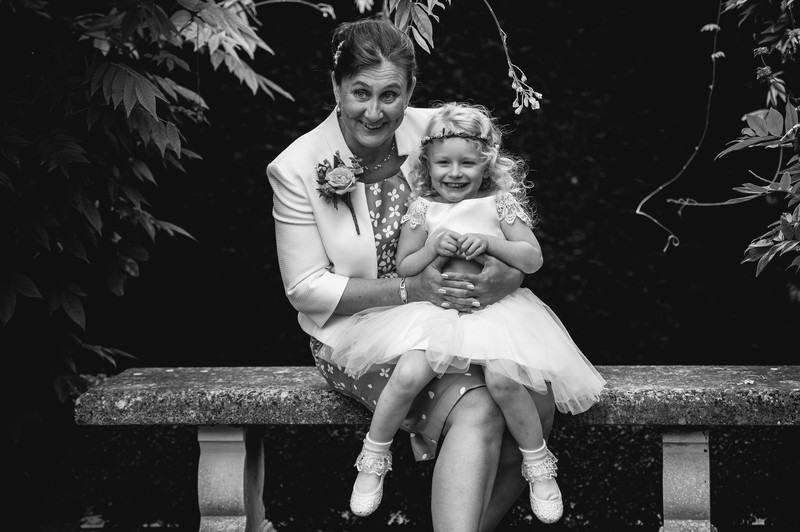 For the background of the left page, I used an lowered opacity image showing the fountain and some of the gardens. If you look closely in the centre of the page, you'll see a small blue rubber duck who has been liberated from the fountain by the flower girl.
Location: Birtsmorton Court, Worcestershire.