Deborah and Kevan - Birtsmorton Court
Birtsmorton Court White Garden wedding
Whilst the wedding guests were making their way back to the newer part of the wedding venue for the wedding breakfast and evening reception, the bride, groom and myself remained in the white garden in order to take some photos of the bride and groom on their own.
The Birtsmorton Court White Garden is a beautifully maintained secluded hideaway, that not only provides the perfect backdrop for beautiful photos like the ones you see on this page, but it actually allows the bride and groom some alone time on their wedding day. Up until this point, it's all been pretty hectic and the newlyweds are usually swamped by friends and family, and there's a few location changes that happen at Birtsmorton Court too. These few minutes of rest together in the White Garden are well deserved and are quite often the first chance the bride and groom have had to spend real time together on their big day.
I tried to emphasise this secluded feeling in the photos, and captured images of the couple stood between two of the manicured hedges that makes up the maze entrance to the garden. This really shows the togetherness with the couple, as well as the bushes helping your eye focus in on the couple. They hedges form two leading lines into the centre of the image.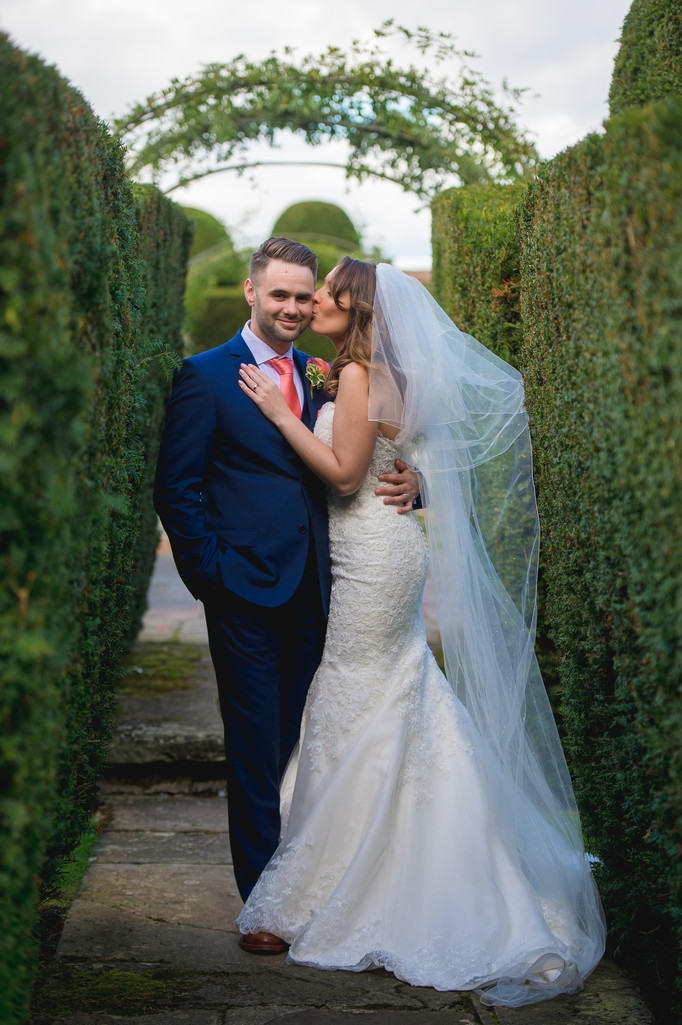 The sky had began to cloud over, but it was still relatively bright outside - these are the ideal conditions for wedding photography, as the clouds diffuse the sun, making it softer and a lot more flattering. The light for these images really couldn't be better, and the delicate nature of the light really works with these particular photos.
For the background of this whole double page spread, I used an out of focus test image that I had taken before I started taking the actual images used for these pages.
Location: Birtsmorton Court, Worcestershire.