Deborah and Kevan - Birtsmorton Court
Birtsmorton Court weddings
These pages show the remainder of the photos that were taken in the private White Garden, as well as part of the walk that we took between the White Garden and the lake that's at Birtsmorton Court.
I loved how the bride and groom had put plastic ducks in the White Garden's central fountain, and wanted to try and include these in at least one image. I stood the bride and groom in a location that I thought would be suitable, and knelt down in order to get the perspective needed for this photo. I love the splash of colour added to this photo by the inclusion of the three rubber ducks, one yellow, one red and one blue. During the taking of this photo, the couple shared a joke I wasn't able to hear, but I was there to catch their reaction. The left image of the smaller portrait images on the left page and the only landscape image on the left page show the bride and groom smiling and laughing naturally.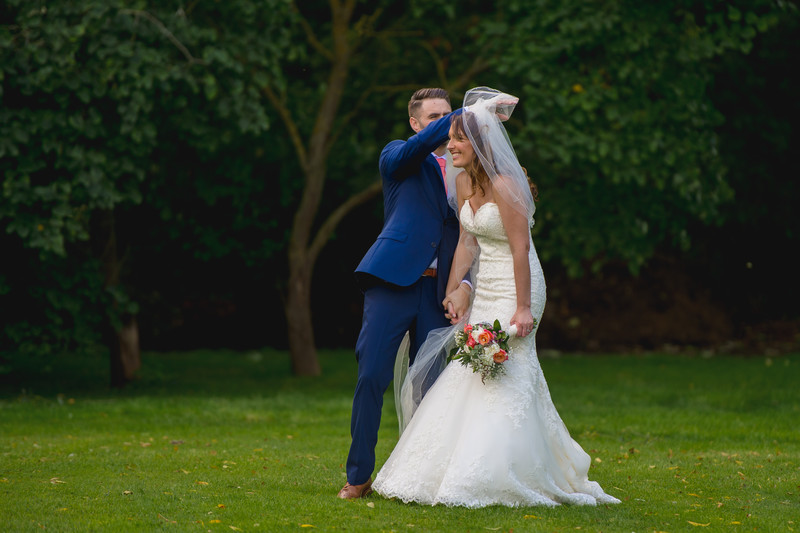 The right page shows more of the walk between the White Garden and the lake. As we were walking, Deborah's veil was blowing across her face and making it difficult to see where she was going. The pair stopped, and ever the true gentleman, Kevan lifted his wife's veil without ever letting go of her hand! I really like this natural moment between the two as it shows much of their character.
The bottom image on the right page was taken at a popular location of mine that runs along the back of one of the private gardens. The red brick is great for complimenting the colours of a groom's suit, and it works especially well here as Kev is wearing blue. I got Kevan to lean on the wall and hold his wife in close, and then I shot this image from a distance of around 7 meters, using a long lens to focus in on the couple, whilst at the same time rendering the largest part of the red brick wall out of focus, naturally leading the viewer's eye into the image.
For the backing photo for the left page, I used a test photo from the White Garden, and the backing image on the right page is made from a similar photo, but taken just before Kevan had stopped to move Deb's veil.
Location: Birtsmorton Court, Worcestershire.