Deborah and Kevan - Birtsmorton Court
Birtsmorton Court weddings
This is my favourite page in the wedding album - I adore black and white wedding photography, and every image on this double page spread i an absolute gem. Alone, any individual image is as priceless as it is timeless, but the whole collection together is stunning. I was so looking forward to using these images together, that this was the very first page that I had completed during the designing of the wedding album.
Usually when the bride is about to get in her wedding dress, I step out of the room or turn my back until the bride is dressed again. I was sat on the top of the stairs whilst waiting for Deborah to get in her dress, and when I was called back into the room, the image on the left was the very first image I took. I love the expression on the face of the bride; She looks so happy, and there's not a hint of nervousness or anxiety.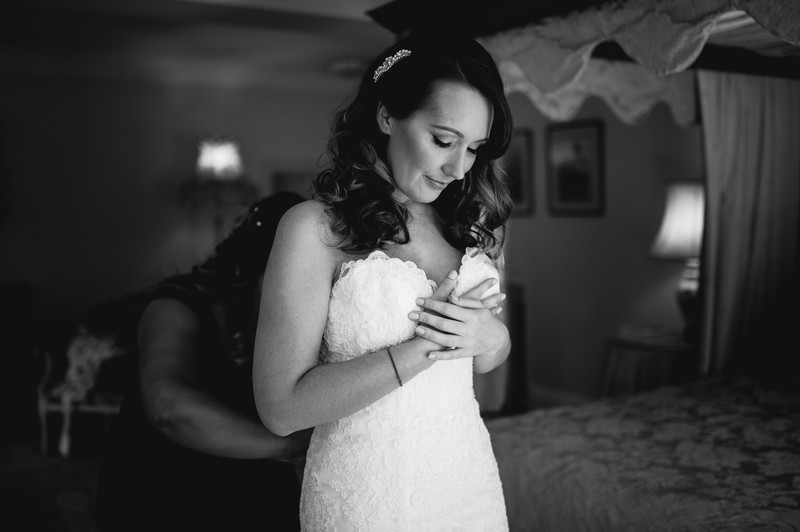 The following images show how Deborah relaxes further, ending with a look of absolute peace and serenity that makes for simply stunning wedding photos of Deborah having her dress tied.
These images are all set against a close-up detail shot of the wedding dress, also in black and white. I think the detail show here really adds to the wedding album, and is the best possible background for the images of the wedding dress being tied.
The lower left image on the right page is an absolute wedding day classic, a focused image showing the hands of the bridesmaid tying the wedding dress and making sure all of the buttons are appropriately placed. Furthermore, this angle really works to show off the finer details of Deborah's incredible wedding dress.
Location: Birtsmorton Court, Worcestershire.