Natalie and Will - Manor by the Lake
Manor by the Lake Cheltenham Wedding
Later in the evening, whilst the majority of the guests were busy dancing the night away, I took the couple back outside for some after dark wedding photography. In the first photo on the left, you can see the it wasn't quite completely dark at this stage and that the sky retained a pale blue colour - but under the trees it was dark enough to get exactly the photos I was looking for.
Manor by the Lake really comes alive at night, with the path around the lake lit by these fairly style lights - only the bulbs are massive and very bright! I used the lights as leading lines into the photo, helping to further highlight the bride and groom within the image.
The lights also create a wonderful ambiance, throwing yellow light up into the trees as well as down on the bride and groom and the path itself.
The image on the right page shows the full extent of the lights and how effective they are. If you look at the sky in this image and compare it to the first photo, you'll see that it's now completely black, which completely changes the feel of the lights.
For the middle image, I went with a different approach entirely. There was a large spotlight in the garden, used to up-light one of the trees that's to the side of the lake. This provided a powerful rim light for the couple, but it was so bright it caused the bride and groom to be a silhouette. As it was a moonless night, there was absolutely no ambient light in this part of the garden, and none of the lights on the venue reached us. I had to use off camera flash to illuminate the couple just a little bit, making sure they stood out from the dark background. It was so dark, I had the camera sensitivity turned up very high, making sure not to make the bride and groom too bright or make the image look unnatural, I set the flash to it's lowest power and moved it some distance away, allowing for just a kiss of light to reach the couple.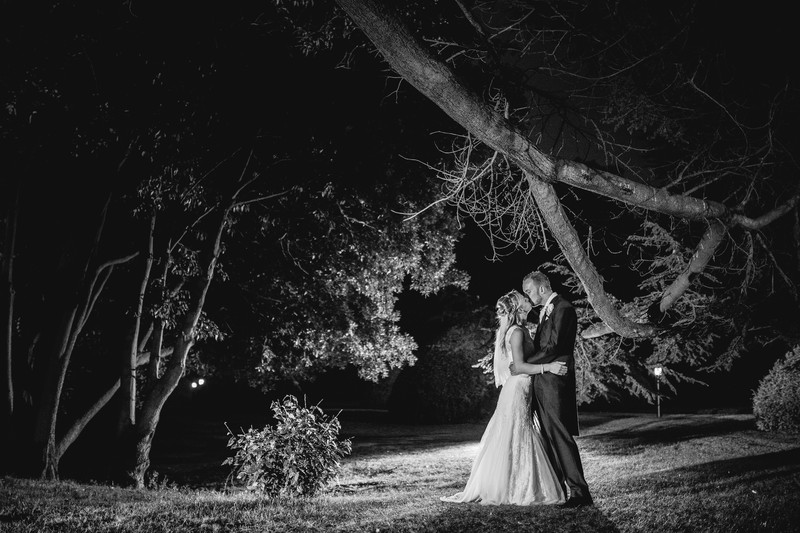 I also really like the black and white landscape version of this image, but I decided to use the colour image in the wedding album in order that it fit better with the other images on the page.




Keywords: Manor by the Lake Weddings (18).