Rebecca and Karl - Worcester Guildhall
Saint Georges Church Worcester

These two images are two of my all-time wedding photos, and when placed together they make for a perfect wedding album double page spread.
Saint Georges Church is inside Worcester City, and has a long road leading from the main road to the front of the church. The walk between the side road and the main entrance of the church is short, so I had to make sure I was in the right place at the right time for risk of missing the arrival of the bride completely.
I was stood at the main gates to the church, and I could see the bridal party's Audi A7 arriving with white wedding tape letting me know I had the correct target in my crosshairs. Once the car had stopped, and the bridal party had exited the vehicle, Beccy's bridesmaids scooped up her enormous wedding train in order that the bride could fit through the gate. Beccy looked straight down the barrel of my lens, and I started taking photos. Documentary wedding photography doesn't often feature people looking straight into the camera lens, as you risk the image looking staged, but here it works really well. I love how happy Beccy looks, and she has a look of genuine excitement on her face. To her sides you can see her bridesmaids, both with a very different look - that of concentration, making sure not to catch her amazing wedding dress on the iron gates.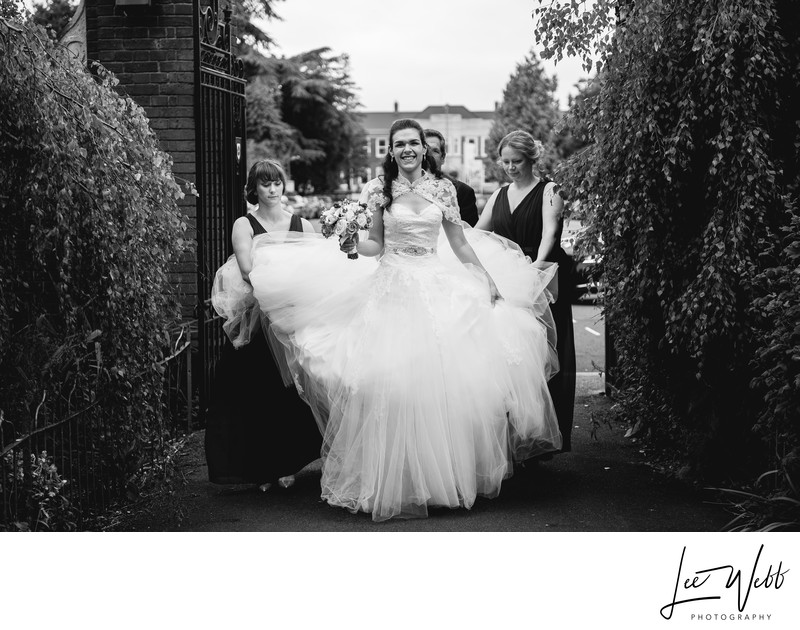 The conversion to black and white makes this image really stand out for me. The bright and overcast sky gave the perfect diffused light, and make every nuance of the bride's wedding dress detail visible.
Once Beccy had met with the vicar at the entrance to the church, I made my way inside to await her formal entrance and walk down the aisle.
It was here that I took another favourite image - Karl, standing at the front of the church with his two best men.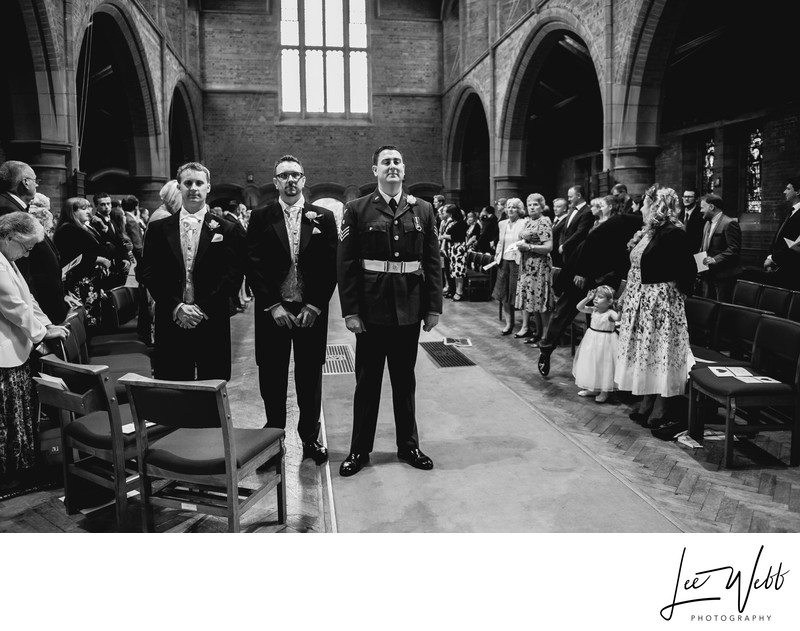 Again, the black and white conversion here makes this image absolutely as powerful as it is timeless. Perhaps my favourite thing about the image is how each one of Karl and his batsmen has a different stance, and a different facial expression.

These two images alone really stand out for me as firm favourites, but the two images together are just perfect.

Keywords: Worcestershire Wedding Photographer (6).