Rebecca and Ryan - Stanbrook Abbey
Stanbrook Abbey Weddings
These pages cover the beginning of the wedding reception which was being held in the Thompson Suite at Stanbrook Abbey, which is located near the new main entrance at George's Bar.
The image that takes up the whole of the left page is one of my favourite images from the whole wedding, and certainly my favourite from the bride and groom's wedding lineup.
Not all bride and grooms have a wedding lineup these days as it's seen as something that's slightly dated, but with that aside, it's a great opportunity for some timeless wedding photos. This black and white photo of Ryan is exactly how I'd describe this image - timeless.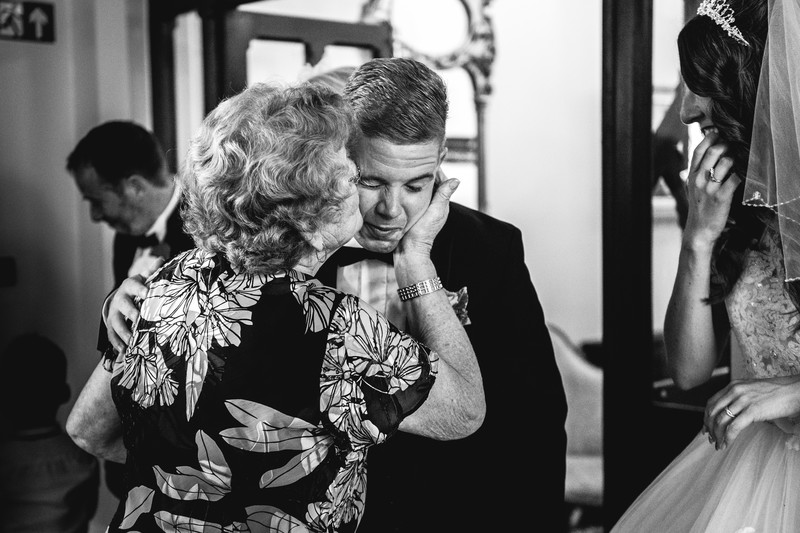 I could see that the groom's nan was approaching the groom during the line-up, so I raised my camera to my eye ready to take a photo. All of a sudden, the groom's nan raised her right hand and placed it on the cheek of the groom, and I knew she was about to give him a massive kiss. She pulled Ryan's face towards hers, and landed an enormous kiss on his right cheek. Ryan naturally scrunched his face in reaction to the kiss, which made for an amazing photo, which I think works particularly well as a black and white. One of the aspects of this image that really makes it for me, is the bride on the right hand side of the left page, and her reaction, a look of surprise and humour.

The right page for this album shows a few different pivotal events that happened during the wedding breakfast. First of all, in the upper left corner is the announcement into the room of the bride and groom, with the other images showing the speeches from the groom and best man.

The lower right image shows the couple's fantastic wedding cake, an homage to the travels that the couple has undertaken together.

Location: Stanbrook Abbey, Worcester .

Keywords: Worcester Documentary Wedding Photographers.