Rebecca and Ryan - Stanbrook Abbey
Stanbrook Abbey Wedding Album
The left image of this page of the wedding album shows the bride, sat in the wedding car and waiting to depart for Stanbrook Abbey. This was the last photo I took of her before I left myself. Despite the wedding car being old and slow by today's standards, I made sure that I left the bride's parents house where she had been getting ready early, in order that I definitely arrive before the wedding party.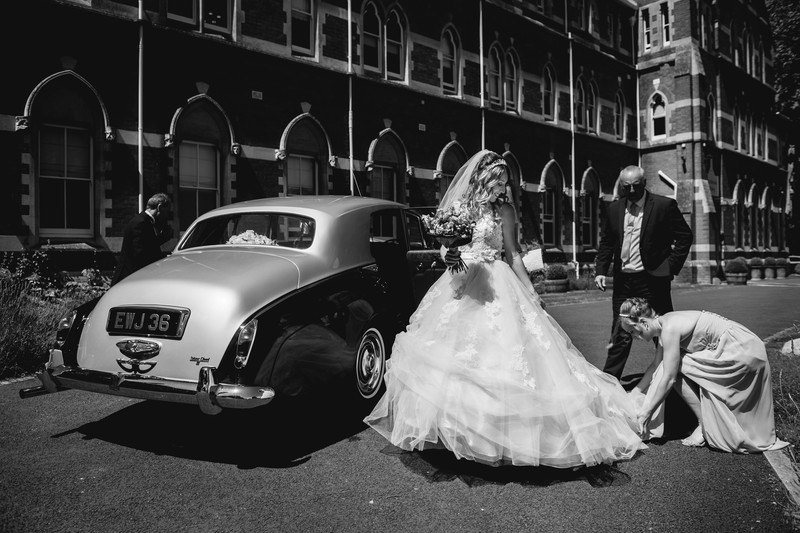 It was the right decision as the above image is one of my favourites from their wedding day. It's cropped slightly different when it appears in the wedding album in subsequent pages, but it still works wonderfully as it's presented here.

The portrait of Rebecca within the wedding album was intended to be a natural, reportage style photo, and the previous images to this one had been so. When I was taking her photo however, she looked at me and cracked this beautiful smile - I was powerless to resist taking a photo and I'm very pleased that I did!

The image of her soon-to-be husband on the opposing page is a set up image however. When I arrived at Stanbrook Abbey I worked out that I maybe had 15 minutes in order to locate and photograph the groom and his best man before the bride arrived, and I definitely didn't want them seeing each other before the wedding - if they chose to, then that's their decision and I'm happy either way, but if they wanted to keep to tradition but saw each other on my account, I'd be mortified!

I soon found Ryan and his best man, and took them outside for some photos before the ceremony. As previously mentioned, the sunlight was direct and very bright, so I opted to stand Ryan and his best man in an area of shade at the old front entrance to Stanbrook Abbey. This gave a lovely soft light that made for more flattering images, whilst keeping the groom in the shade also kept him cool - he was sweating enough without me actively heating him up!

Keywords: Wedding Photographers in Worcestershire (5).