Rebecca and Ryan - Stanbrook Abbey
Stanbrook Abbey weddings
This is one of my favourite double page spreads from Rebecca and Ryan's Stanbrook Abbey wedding album.
The left page shows an image of the bride, fresh from the wedding car, having her dress adjusted by her maid of honour. The light just couldn't be better for this image - The direct sunlight meant that I had to expose for the wedding dress, making the rest of the image rather dark and moody. This would normally leave the bride with a dark face, but the sunlight was being reflected off the front of her wedding dress, lighting the bride's face too. This give the image an unusual and almost unnatural appearance, but this is what makes me love it so much.
The right page of this wedding album has to be my favourite, as Ryan is showing the full gamut of human emotion between four photos. There were many more we could have used here, but we had limited space in the album and we couldn't fill the entire book with the many different pre-wedding faces of Ryan!
The upper left image shows Ryan being walked down the aisle by his best man, with the other images showing a palpable sense of nervousness. The lower left image on the right hand page is perhaps my favourite, with Ryan looking up to the stained glass windows above, drawing in a large breath to help calm himself. Black and white has given this single image a really timeless feel.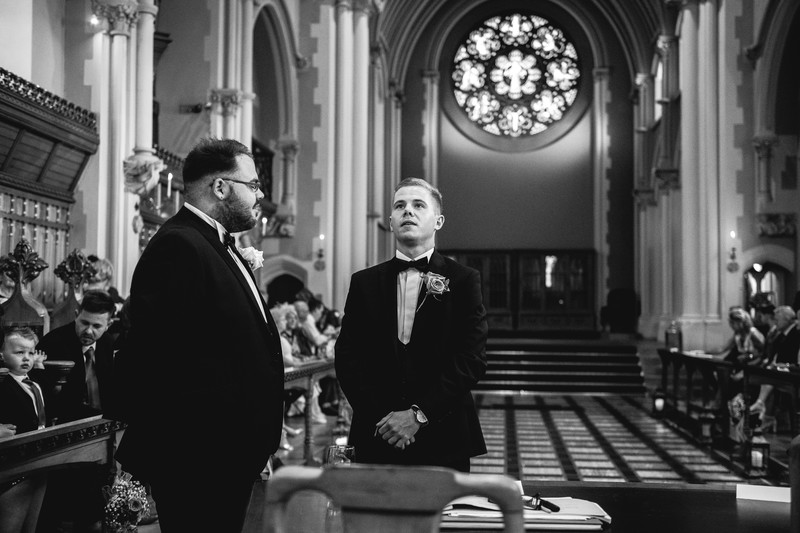 The final image on the page shows the moment that he and everyone else had been waiting for - the arrival of the bridal party. The main aisle in the Callow Hall at Stanbrook Abbey is long at over 25 metres, which keeps the groom waiting just that little while longer before he can be with his bride.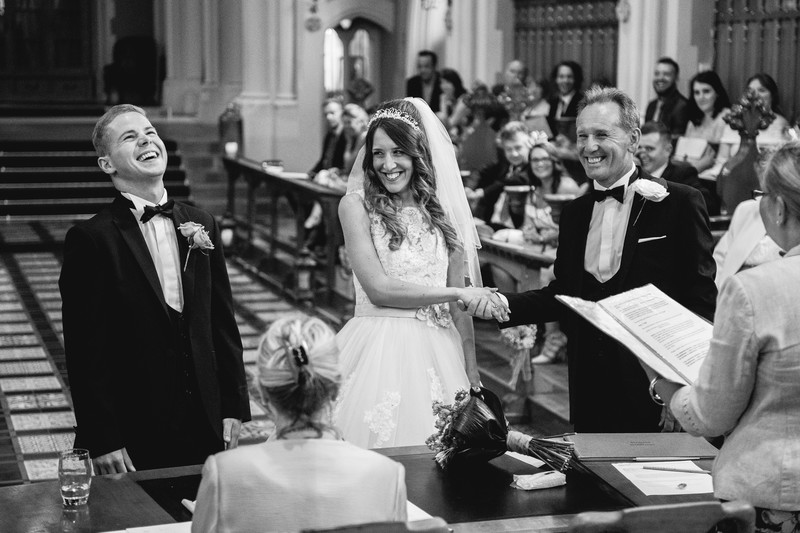 As you can see from the above image, his nerves very soon subsided and that look of woe was replaced by one of sheer happiness.

Keywords: Stanbrook Abbey Worcestershire Weddings.