Wedding Photography by Lee Webb
Mythe Barn Weddings
So it's safe to say that this is one of my favourite photos from this year. I love black and white, veils and natural light, so to have all of that come together was a dream.
The last wedding I photographed at Mythe Barn was pre-covid, but it didn't take much time for me to find my way around again. That being said, it poured with rain literally all day, so we were penned inside!
The bridal suite at Mythe Barn is nicely hidden away from the guests, at the back of the venue and accessed by a private staircase. The main getting-ready room that these photos were taken in has a large window that gives plenty of natural, directional light (my absolute favourite thing) which really made for some dramatic black and white images.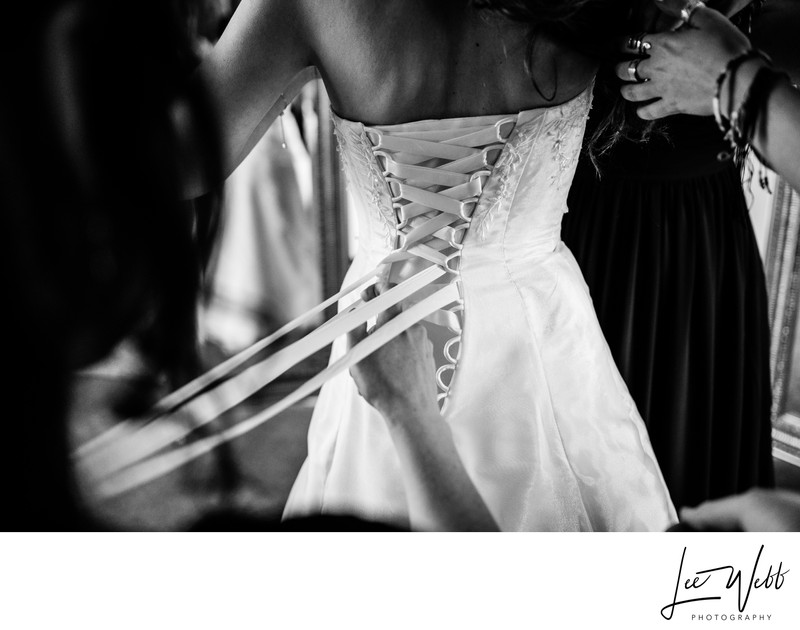 It's not particularly common to see lace-up wedding dresses these days (I see maybe 2 or 3 a year at best) but they're a godsend for photography, for a couple of reasons. Firstly, lacing up a dress is far more dramatic than a quick zip-up, especially in the early stages when the bridesmaids are dealing with literal feet of fabric. The other reason I really like a lace-up dress for photography, is that more often than not, it's a real team effort. Dresses are heavy, the ribbon is long and it's not easy on the fingers at the best of times. All this means it's a much longer job to get the bride in the dress than it otherwise would be with a zip. 20 minutes means I can really take my time!
Once the bride was in the dress and it was beautifully fastened (a job that I've ended up doing many-a-time!) it was time for the father of the bride to see his daughter in her wedding gown for the first time. On one side of the room is a triple-mirror set up, which I decided to use to show the bridesmaids in the background of the image.
Another thing I enjoy photographing but rarely get the opportunity to do is an over-the-head veil shot. Veils are worn for fashion instead of veiling the bride from the groom as per tradition, and are usually worn these days down the back, instead of over the head. That was the case here too, but the veil was worn over the bride's face for a few fleeting moments as some adjustments were made to the veil's comb.






Location: Mythe Barn.

Keywords: Pure documentary wedding photography (16).