Curradine Barns Weddings
Whilst I have photographed many weddings at Curradine Barns in Shrawley, this Curradine Barns wedding photo of Scott and Laura has such a special place in my heart, like no other wedding photo does.
This photo, taken on a beautiful August evening is a far-cry from how and when I first met this amazing couple. A week before Christmas 2014 I received an email from Scott, saying that he was planning to propose to his *then* girlfriend Laura. The location was to be the top of the British Camp in the Malvern Hills, Worcestershire. Scott asked that I candidly photograph his proposal that Laura didn't know what was going on. I accepted the challenge, and on a cold New Year's Eve day, I sat mid-way up the British Camp and waited for the pair to come into view.
It was a hard job as I had to ensure I was in the right place at the right time but also blending into the background as best I could. I would say the hardest part was actually following the couple the entire way up the hill. I was absolutely sure that Laura would notice that I had been discreetly following them for half a mile or so, and would really notice that I had been secretly trying to take their picture!
The going wasn't easy, it had rained a lot recently and the grassy areas we damp and very slippery, and there was quite a stiff breeze too, with a rather unpleasant wind chill.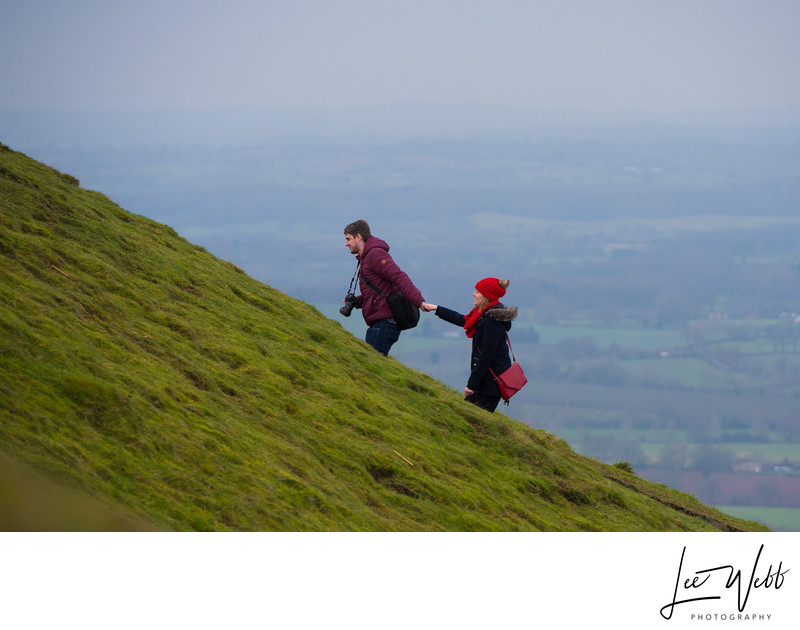 I did get worried at one point, where about 100 metres from the top, Laura paused. She stood still for about 30 seconds and my heart skipped many beats at this point. It looked like she wasn't going to continue, and I wouldn't have blamed her at all.
But, what was the plan from here? The plan all along had been simple - Scott would message me from the restaurant at the bottom of the British Camp with what they were both wearing (as I hadn't met them before) and he'd message me again when they were leaving. He'd get to the top, drop to one knee, pop the big question, I'd take photographs of the whole thing and everyone would be happy. Plan B was all of the above, but with Laura saying no, and Scott and I heading to the pub - but we both knew that wasn't really an option! Laura not making it to the top though never came into my considerations. I just always assumed they'd both get there.
I'll be honest, my heart did melt a little when Scott gave Laura his had, and let her the rest of the way to the top of the British Camp.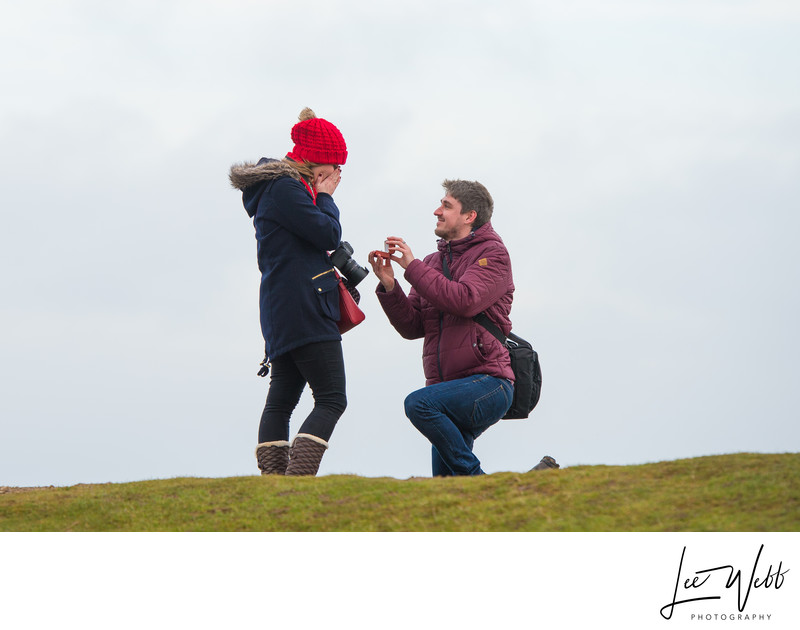 A keen photographer himself, Scott had taken his camera up the hills with him, and this was actually the way he was going to propose. He'd told me beforehand, that on his camera, he would photograph him the night before, holding large cards that in a series of photographs would ask the questions 'will you marry me?' Scott would take a few photos along the walk, and when they got to the top, he'd hand Laura the camera and ask her to look back through the photos.
This part of the plan worked perfectly. Laura took the camera, and proceeded to look back through the photos. You could see her smiling at the scenery photos that Scott had taken on the walk up the hills, and you could see her face suddenly change to a look of confusion when she got to the proposal photos. By the time she'd worked out what was happening, Scott was already down on one knee. I was about 30 metres away at the time, and shooting with a long lens, still trying to stay out of view. As soon as Scott had popped the question, I stated to close the distance between myself and the couple.
I ran over, congratulated them both and then after they'd had a few minutes to calm down, I walked them to a spot just out of the wind and took photos of the two of them for a couple of minutes, before leaving everything to sink in.
This black and white photo below is one of my favourites from the two minute impromptu photo shoot, and I was overjoyed when I met with the couple again in 2017 in order to discuss their wedding, to find the photo framed and on the wall in their living room.
One of the things I love the most about the photo, is how Laura's up on her tiptoes in order to kiss her new fiancé. I also love the intimacy here, and how closely they're holding each other. It was a wonderful couple of hours and genuinely one of the best things I've ever done. Scott and Laura, if you're reading this - Thank you so, so much for letting me be a part of your engagement, from start to finish.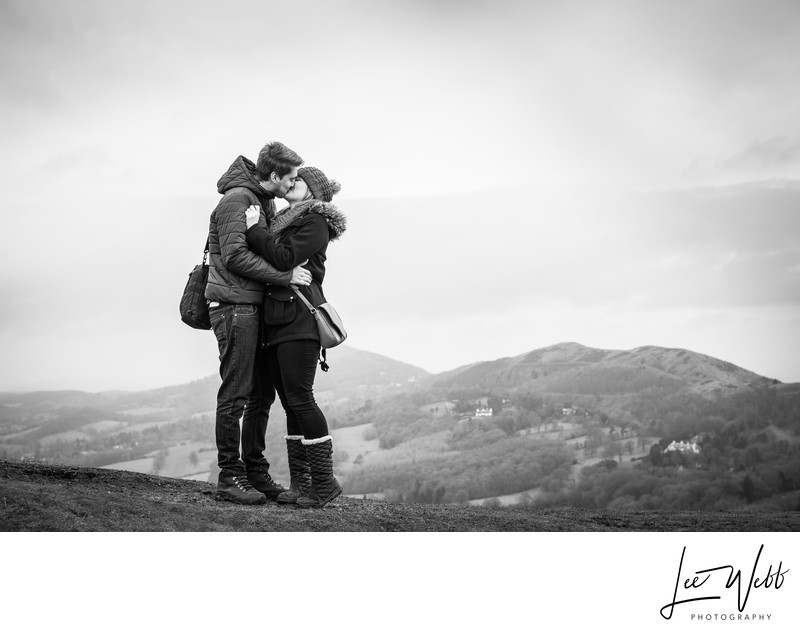 Proposal to wedding: 953 days. I'm honoured to have been part of the story.


To view Curradine Barn's wedding website, click here

Location: Curradine Barns, Worcestershire.

Keywords: Photographer-directed image (140).

1/250; f/4.0; ISO 125; 32.0 mm.