Wedding Photography by Lee Webb
Stanbrook Abbey Worcester weddings
Nicola and Alex got married at Stanbrook Abbey in Worcestershire just before Christmas.
Nicola decided to get ready at home, a relatively short distance from the venue. Whilst Stanbrook Abbey has an enormous bride's manor (which can easily sleep and cater for an entire bridal party,) sometimes it's nice to get ready in a relaxing and familiar environment.
Getting ready away from the venue also meant that I got to photograph Nicola and her father arriving at the venue, and I'm glad I did because I love this photo of the two of them. I love how happy they both look, and the way Nicola is holding her wedding dress allows the viewer to appreciate all of the more subtle details within it. In this image, I also really like how the bride and her father are naturally framed between the tall trees that are either side of the steps behind them.
Owing to the late time of year, we lost what most photographers would consider usable light very soon after the wedding, but for me this is when Stanbrook Abbey comes alive!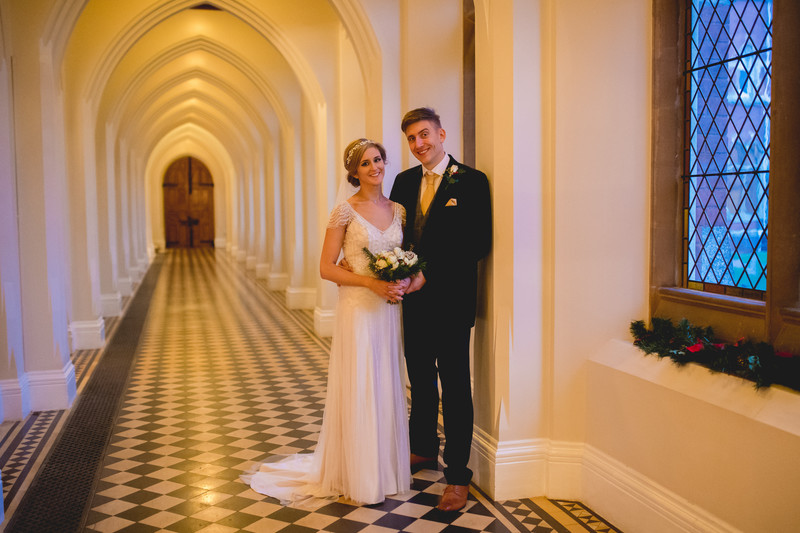 This popular location has a completely different feel at night to during the day. In daylight hours, the sun streaks in from the right of the frame and provides a very directional light, whereas the artificial light you see here gives the corridor a real ambiance that you don't get with daylight.
One of my favourite photos to take, which I've not yet seen from another photographer, is shown below.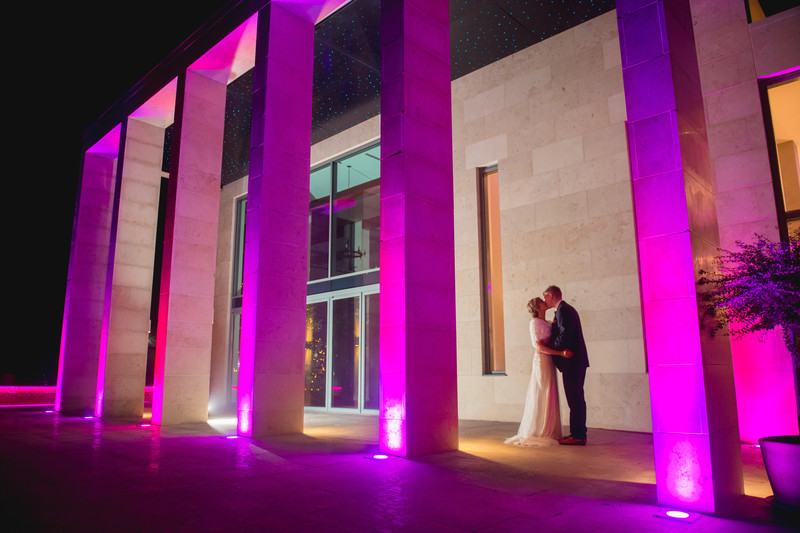 The old front entrance to Stanbrook Abbey is the location you see in the main photo for this article, but in 2012, George's Bar was opened at the other end of the venue thus forming the new front entrance. On the outside of the building, powerful up-lighting colours the outside of the building pretty much any colour you can think of, and the colours of these lights can be changed by the venue staff. I like to use the fuchsia pink you see here as I find that it creates the best results (that, and the fact the green lights have a look of the Incredible Hulk about them!)

Location: Stanbrook Abbey, Worcestershire.

Keywords: Documentary wedding photography (129).

1/320; f/2.8; ISO 100; 29.0 mm.