Wedding Photography by Lee Webb
Stanbrook Abbey Wedding Photography
Stanbrook Abbey is one of my favourite places to photograph weddings in Worcestershire. Whether it's blindingly sunny in the middle of July, or a freezing cold day around Christmas, it's always just a lovely place for a wedding. Stanbrook Abbey for me, is as pretty on the inside as it is on the outside - and it's really, really stunning on the outside! From the architecture of the building itself, which dates back to the early 16th century, to the new addition of George's bar and then there's the countryside it's surrounded by - all 26 acres of Worcestershire's finest. There's a huge lake which is hidden away, but makes for the perfect backdrop for any outside wedding photos. Inside of course you have the cloisters and the Callow Great Hall, both of which have put the venue on the map when it comes to weddings.
Parastou and Neil got married at Stanbrook Abbey in November, which would usually mean a chilly day and limited time spent outside. This particular November it had been unseasonably warm, which was great for weddings! It meant you could spend longer time outside with the bride and groom and guests, without the worry any of them are going to freeze!
Parastou wore an amazing wedding dress and complimented it with a full cathedral-length veil that was easily the longest that I had ever seen. I knew it would make for some truly awesome wedding photos... the trouble is, even with a venue that's as vast as Stanbrook Abbey is, I found it difficult to find the space to fit the whole veil into a photo!
Once Parastou was dressed and I had finished taking photos of Neil, the groom, who was also getting ready at Stanbrook, I took a few minutes to photograph some bridal portraits, and really tried to show the veil off in it's splendour. Parastou was getting ready in Stanbrook Abbey's Bridal Manor House, and one room in particular on the ground floor showed promise - it was almost long enough to get the whole veil in, and the light coming from the window was soft and was just what I was looking for for the image that I had in mind. I asked Parastou to stand in the window, with her head to one side and lift her veil slightly in her right arm. I fanned the veil out behind her (after removing literally all of the furniture from the room!) and then carefully positioned myself over the veil to take a series of photos. Out of the photos I took, the main image is my favourite, but I also took some slightly wider images to really show-off the length of the train as you can see below.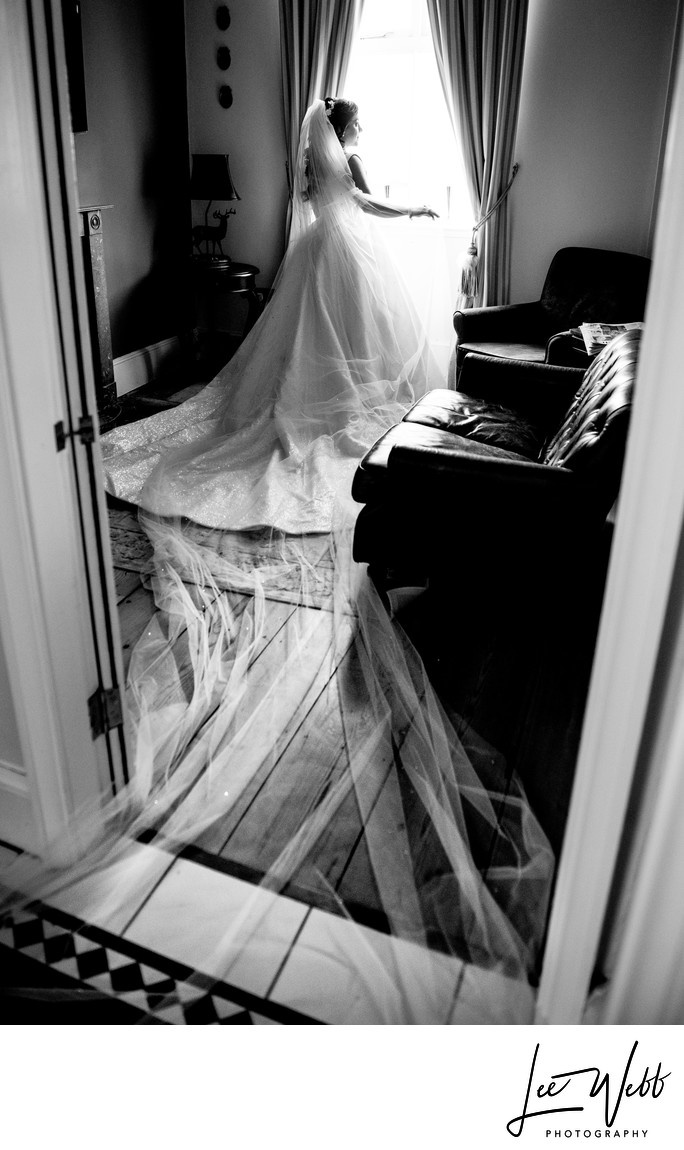 Brides Manor at Stanbrook Abbey
The Manor House at Stanbrook Abbey (or Bride's Manor on wedding days) is a beautifully well-appointed private Manor House that adjoins the Abbey by means of a private 50-metre long corridor. It offers the opportunity for up to 12 guests to stay the night before a wedding, then use the ample space to get ready the next day. There's a master-suite upstairs with separate bathroom and a dressing room with make up counter, and many rooms downstairs that are also ideal for a bride and her bridesmaids to get ready. In the centre of the house is a staircase that travels through two hundred and seventy degrees, which is one of my favourite places to take bridal portraits at Stanbrook Abbey. In a bid to try and get all of Parastou's veil in a single image, I asked her to go to the top of the staircase and slowly make her way down, whilst I remained at the top with a wide angle lens. The resulting image, I think, it superb!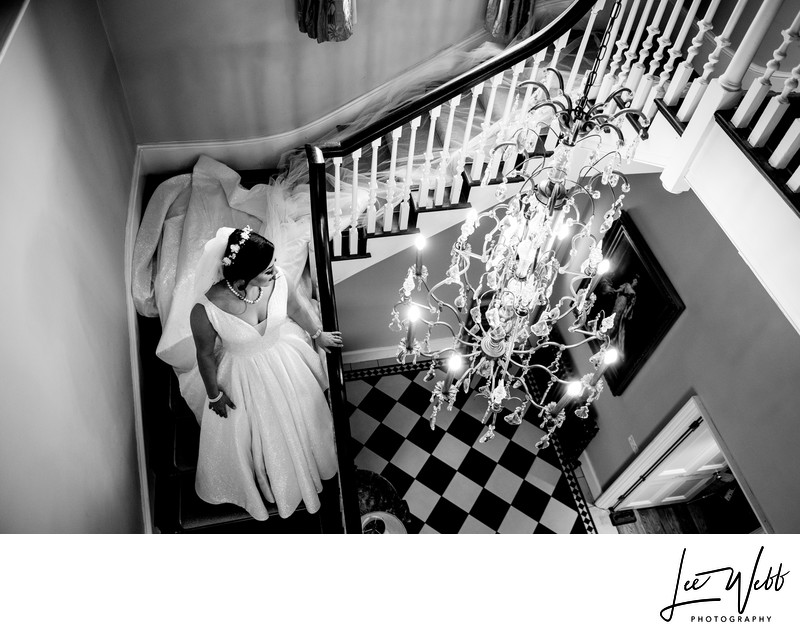 Parastou's full-length veil also featured heavily in the 'couple's photos' of the bride and groom. Parastou and Neil's wedding was, to our ethnocentric point of view, a little backwards; the groom got to see the bride before the wedding, then they had their family photos taken, followed by their couples photos, then they got married and finished with a reception. Parastou is Iranian, and this is the way that Persian weddings happen - I must say it was a revelation and it's made me think twice about how I want to get married. It seems the Persian way is so much less stressful than what has become the traditional British way of doing things.
These two photos below were taken in the famous cloisters of Stanbrook Abbey. I usually take photos here much later in the day, after the wedding, sometimes before, sometimes after the wedding breakfast. Due to the order of events for this wedding, I had to take my photos here at around midday, meaning I had bright sunshine to deal with (despite being inside!) It wasn't a problem though, and I love the photos that we took here, especially how that veil creates a lovely leading-line into the image.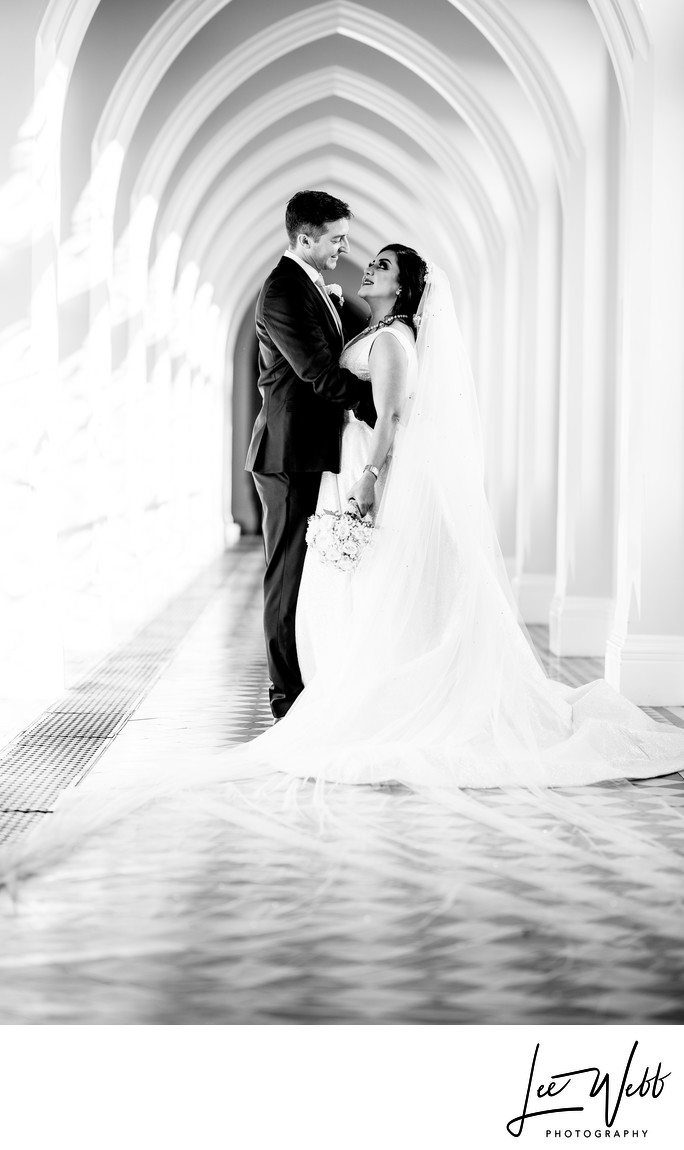 Parastou and Neil's Stanbrook Abbey was amazing, and I'm very tempted to do an 'example wedding' style write-up about it.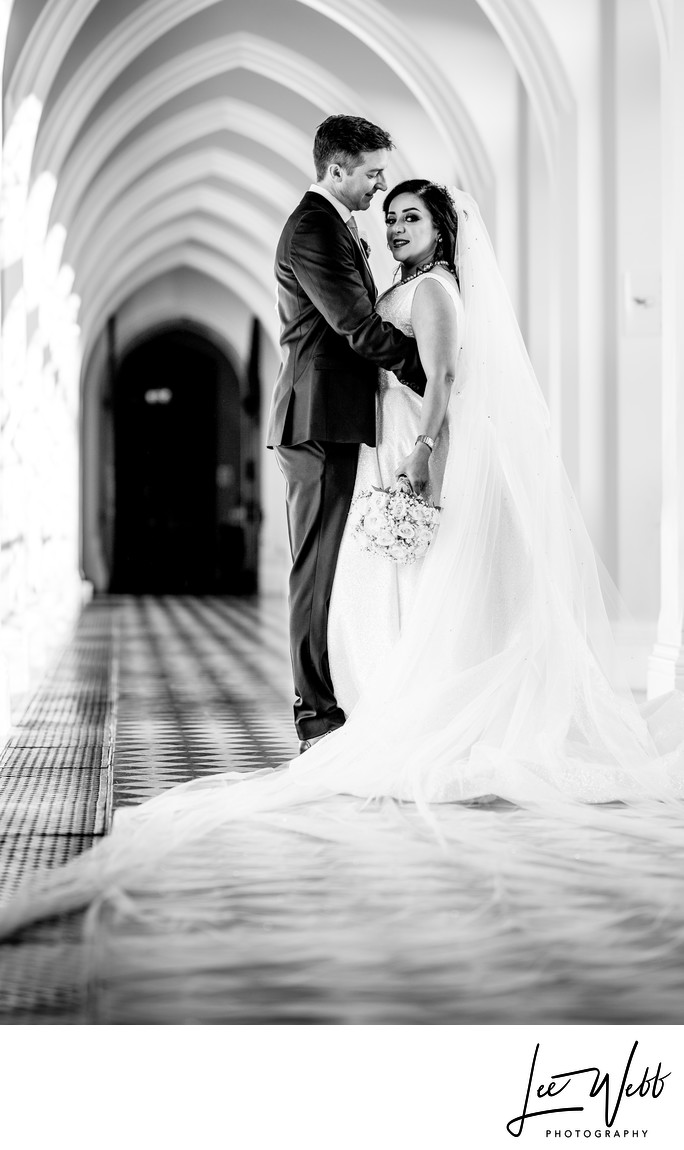 Keywords: Photographer-directed image (140).

1/320; f/2.8; ISO 1600; 35.0 mm.