Wedding Photography by Lee Webb
Eastnor Castle Wedding
Alice and Matt's epic Eastnor Castle wedding
This is one of my favourite images from Alice and Matt's wedding at Eastnor Castle, and it's one of those that almost didn't happen. One of the reasons I like wedding photography in general, is having to think-on-my-feet. Being short of time, under immense pressure to deliver and having to come up with ideas that work. There's nothing worse than expending lots of energy and using a lot of the bride and groom's time, without coming up with the goods.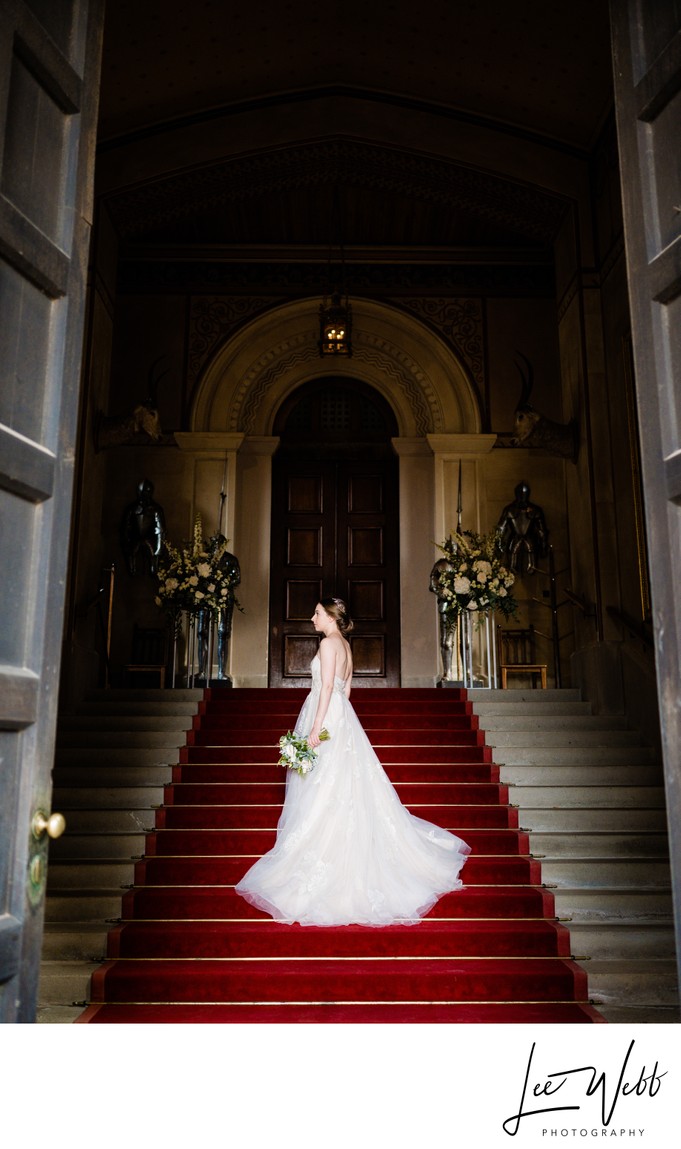 The wedding guests had been moved into the main hall, ready for the wedding breakfast to be served. Alice and Matt were at the bottom of the stairs, waiting to be announced in to the room, and I pushed one of the front doors a little to retrieve my camera bag which I'd left in one of the corners. As I looked up, I saw this focused light that I had created, and I knew I was onto something. I partially closed the other door, further focusing the light on the red carpet. The venue staff could see what I was planning, and offered to move a few things for me such as the seating plan that would have otherwise been in the image. I took several photos of the bride and groom, and did some bridal portraits too - with the stairs providing the perfect place to show off that fabulous wedding dress.

Location: Eastnor Castle, Ledbury.

Keywords: Photographer-directed image (139).