Wedding Photography by Lee Webb
Wood Norton Hotel Worcestershire Weddings
If you've seen any of my other posts regarding the Wood Norton Hotel in Worcestershire, you'll know that I'm both a) a really big fan of the venue and b) one of only three recommended photographers for them.
The Wood Norton Hotel is just stunning inside and out, and one of the best rooms internally had got to be the bridal suite. The walls are panelled with a really rich wood, which gives the room a really warm felling that adds so much to the photos. It's a huge space too, allowing you to get yourself and all of your bridesmaids in there with you. The light comes through large windows that are all down the one side of the room (and this kind of directional lighting is a dream for photographers and makeup artists alike)
In the bedroom of the bridal suite (it's a proper suite with a bathroom, living area and separate bedroom and dressing area) is a full length mirror that a lot of brides decide to get ready in front of, which is great for photography! The light is coming from the right direction, the mirror means you can see the front and back of the dress at the same time and the wood on the walls give everything that warm glow.
As Laura is looking into the light in this picture, it gives a really flatting look, and just enough light is still reaching her back to show off the beautiful and intricate detailing on the back of her dress.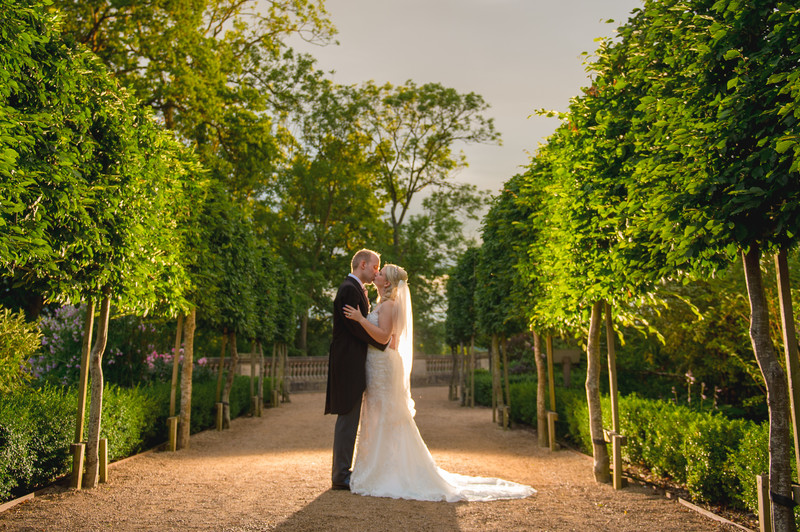 Location: Wood Norton Hotel, Worcestershire.

Keywords: Documentary wedding photography (129).

1/320; f/1.4; ISO 320; 35.0 mm.