Wedding Photography by Lee Webb
Wood Norton Hotel Weddings
I am one of only three Wood Norton recommended wedding photographers.

David and Laura got married at Fladbury church and held their wedding reception at the Wood Norton Hotel, just a short distance away.
I had spent the morning with Laura and her bridal party in the bridal suite, which is a stunning location for photos of the bride and bridesmaids getting ready. The red wood panelling on the walls provides a lovely warmth to the room, and the contrast between the colour of the walls and the whites of a wedding dress is a wonderful combination.
Just so you can see what the wedding looked like, here's a photo of David showing his emotional side when Laura was being escorted down the aisle by her older brother.

Back at the Wood Norton Hotel, as soon as the group photos were complete, I started the photos of the bride and groom. The Wood Norton is a fantastic place for your wedding or reception, as the garden has so much scope for photography.
The light in the early afternoon was was bright and very hot, and I was conscious of cooking the groom, dressing in a black full morning suit. Direct sunlight also creates a lot of contrast, more than cameras can typically deal with, which is made a lot worse when you stand a groom wearing black next to a bride wearing white - the white brides dress reflects nearly all of the light, whilst the groom's suit absorbs it. To counter this, for the main photo of this article, I chose to stand the bride and groom in an area of open shade. To the right of the main lawn at the Wood Norton is a group of very tall and quite dense trees, that creates a large patch of workable space in the middle of the day. You can see this same space below, in one of David and Laura's engagement photos.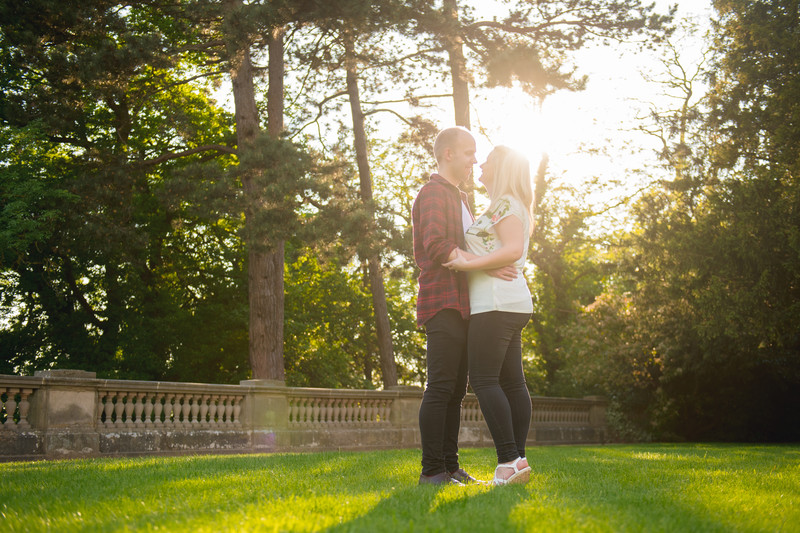 Open shade is a great leveller on sunny days. The shade reduces the overall contrast in the image, gives a cool place for the bride and groom to stand, and ensures that no one in the image is squinting at the sun. At the same time however, the bright light hitting the floor all around the bride and groom produces a pool of perfect soft light that's exactly what you wish for as a photographer.

To get the maximum effect from this photo, and to really lift the bride and groom off the background for a three-dimensional looking image, I used my associate photographers 200mm f/2 lens. The extremely wide aperture gives a very limited depth of field - only things within a depth of a couple of inches will be in focus, with everything out gradually transitioning into a gorgeous, silky-smooth blur.

Location: Wood Norton Hotel, Worcestershire.

Keywords: Photographer-directed image (139).