Ailsa & Anthony's Bodenham Arboretum Wedding
Bodenham Arboretum Wedding Photography
Ailsa & Anthony
Ailsa and Anthony got married at Rock Village Church just outside of Kidderminster in the West Midlands, with their reception being held at the rather magnificent Bodenham Arboretum. Bodenham Arboretum perhaps isn't your traditional pre-packaged wedding reception venue, but that's not always a bad thing; Having a slightly unconventional wedding venue, be it for the ceremony, the reception or both, means you can really put your own spin, or personal touch on the day. There are some wedding venues that do 220 weddings back to back, and there's a real risk that you, as a bride or groom, could end up feeling like another wedding on the conveyor belt of weddings, and that everything is the same for each couple everyday. Going your own way puts an end to that possibility.
My day started with Ailsa and her bridesmaids who were having their hair done and makeup applied at Abacus in Bewdley. I get asked often why I choose to start my day at the same time that the bride is starting hers. The question 'surely no one wants to see a bride without makeup on at 8am, it is?' comes up a lot and I always give the same answer - I'm not really there to photograph people having their makeup applied or their hair styled. I'm really there to capture all those little moments that happen along the way.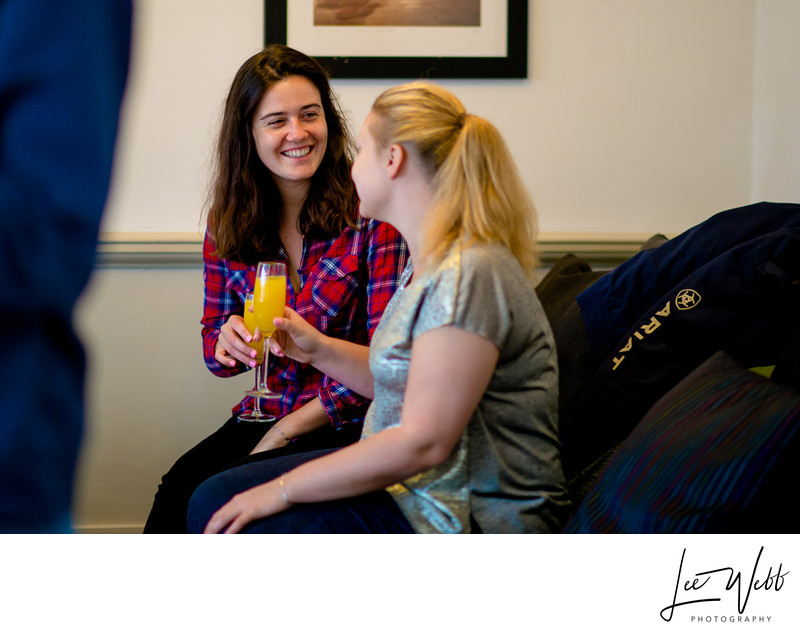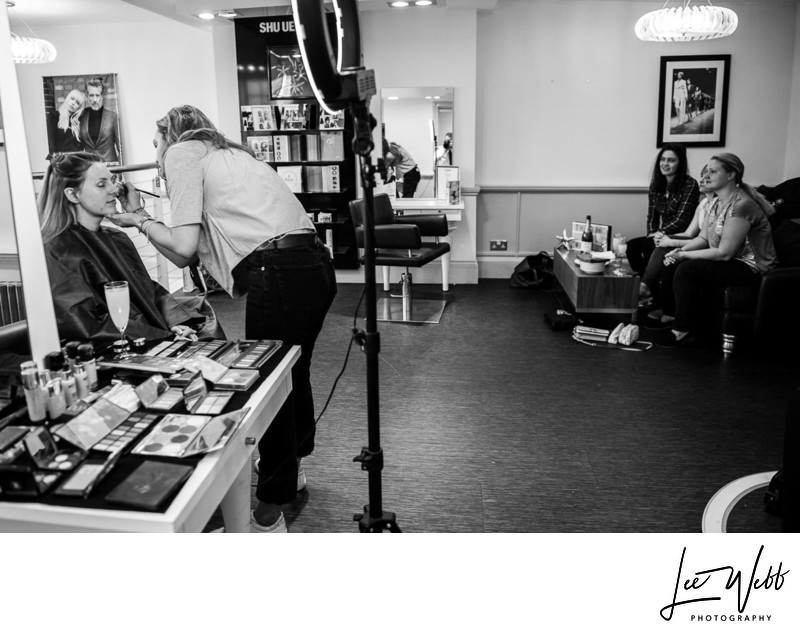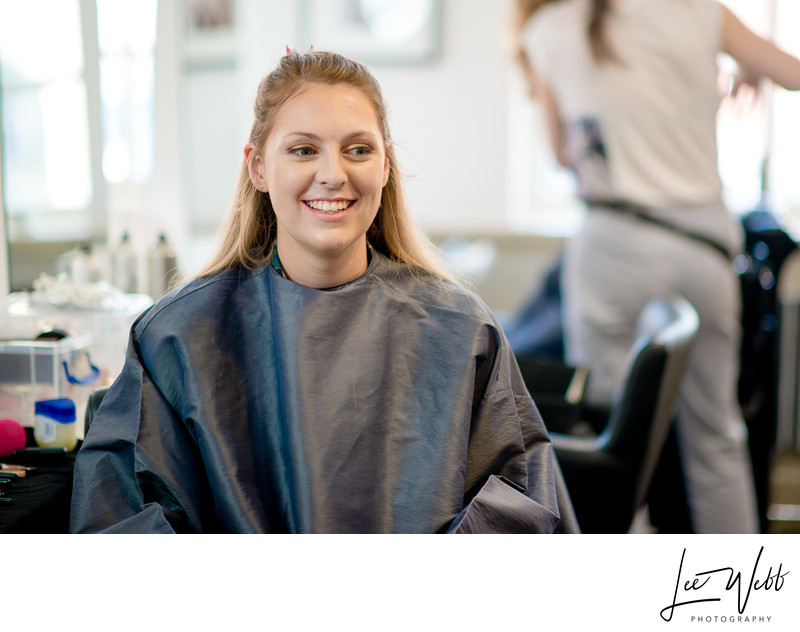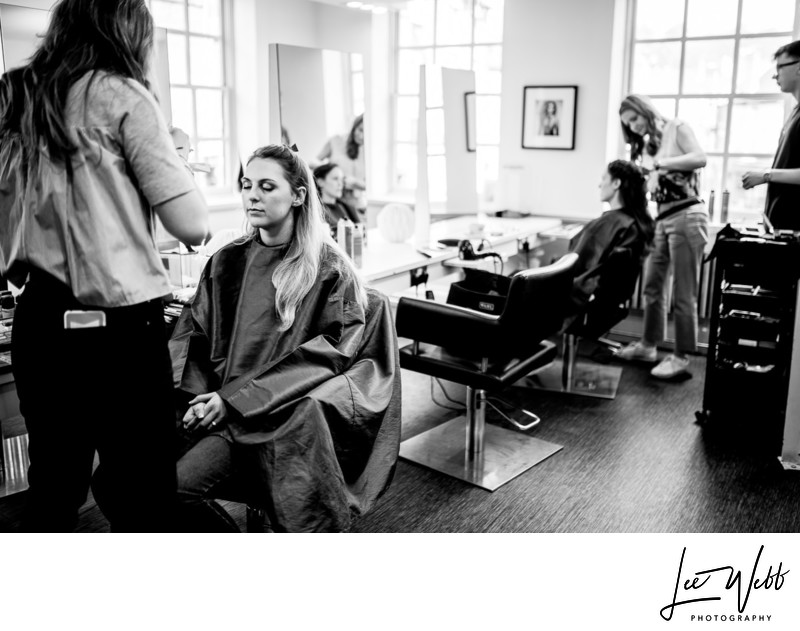 Abacus in Bewdley were fantastic hosts, keeping the bridal party well fed and watered with bucks fizz and various types of pastry. They were also generous enough to keep me caffeinated with a seemingly endless supply of coffee available.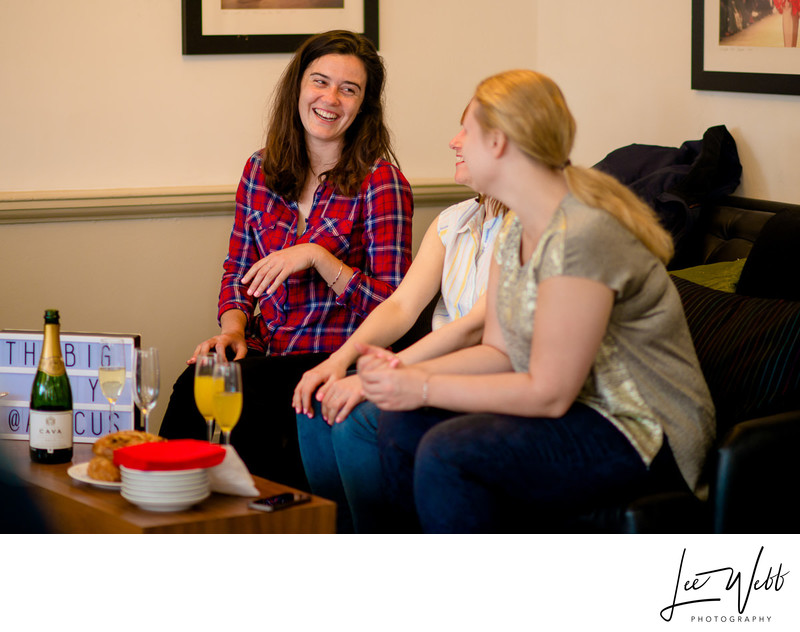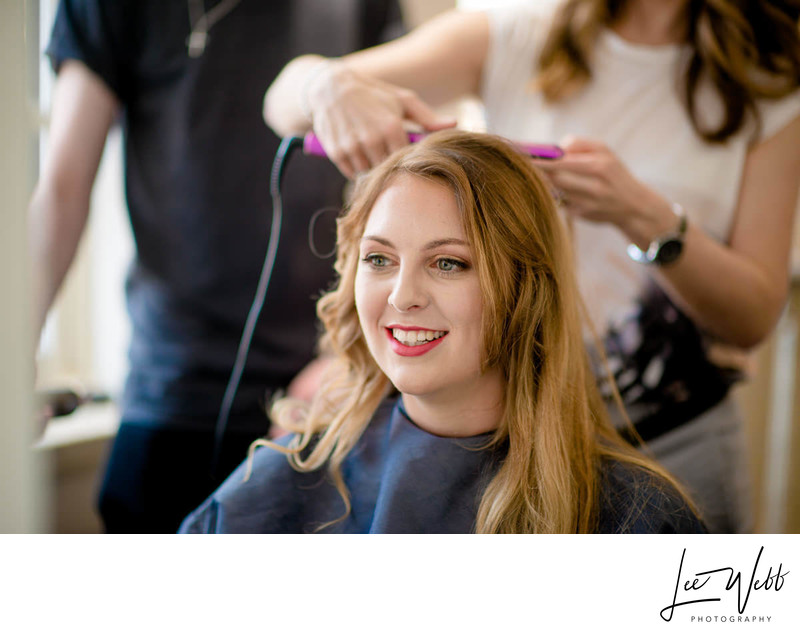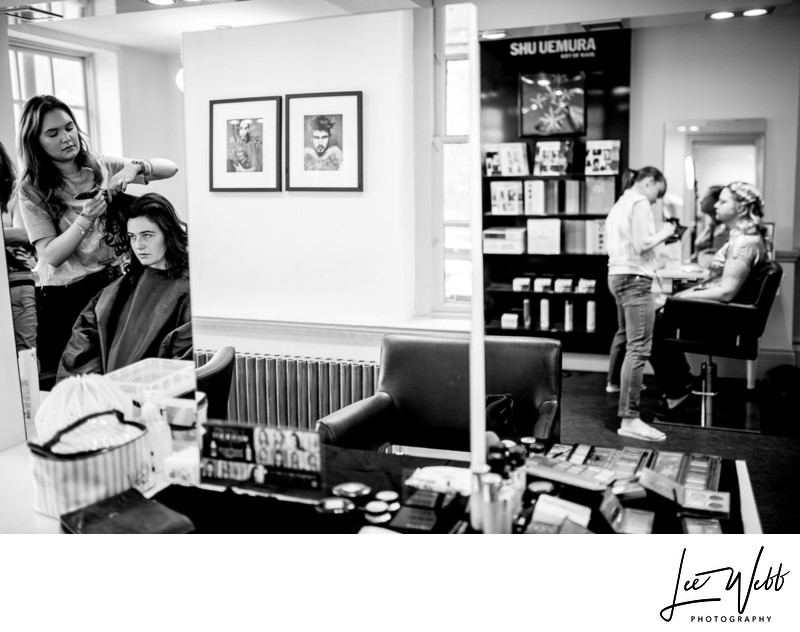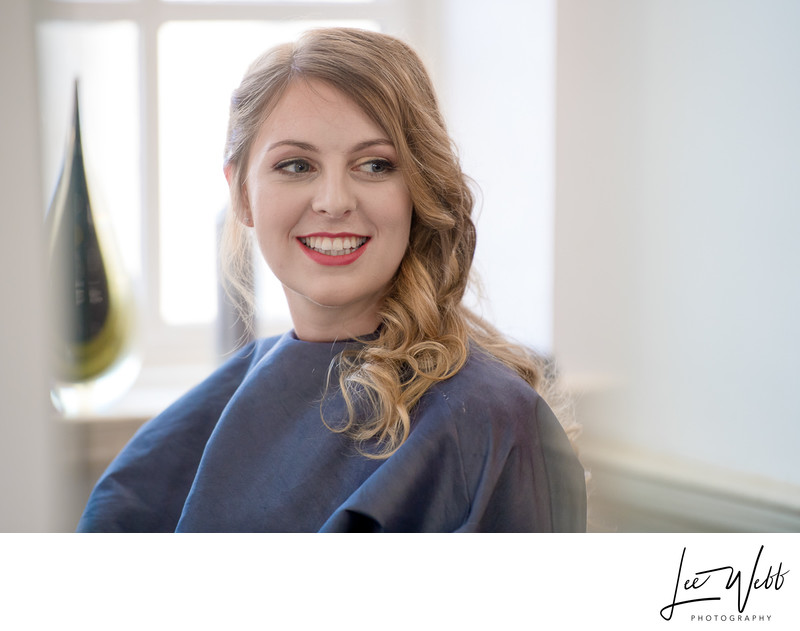 After a couple of hours of bridal prep at Abacus, the bridal party moved back to where they had stayed the previous night - Kateshill House bed and breakfast just a few hundred metres up the road. Kateshill House is an elegant Georgian manor house set away from the main road in 2 acres of gardens. The house was completed in 1740 and is Grade II listed. From a wedding photographers point of view, when it comes to photographing the latter stages of bridal preparation (finishing touches to hair and makeup and the all important getting in the wedding dress) having a building like Kateshill House couldn't be better. The bedrooms are large and very well appointed, which no doubt lends towards the bed and breakfast's five-star rating. The rooms also have very high ceilings and loads of natural light from enormous bay windows at one end. Ailsa chose a stunning A-line wedding dress with lace sleeves, which looked incredibly elegant.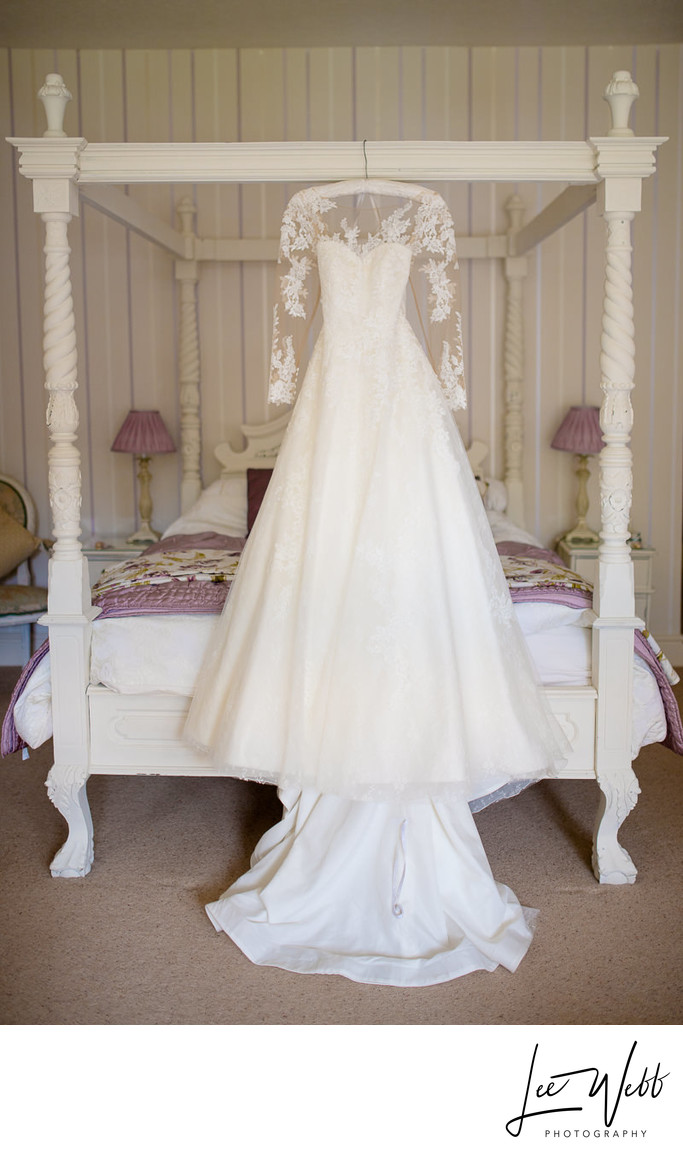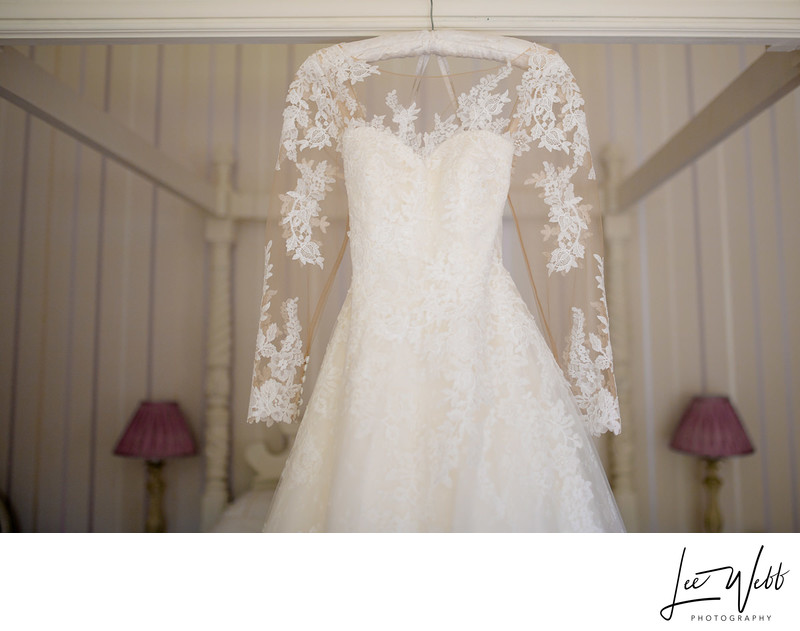 For her wedding colour theme, Ailsa had chosen my favourite colour - red, and lots of it. Not only were her bridal shoes and bridesmaids dresses red, her watch strap and wedding flowers were coloured to match. Red can be a hard colour to pull off at weddings, with the vast majority of brides choosing a much more subtle, often pastel colour.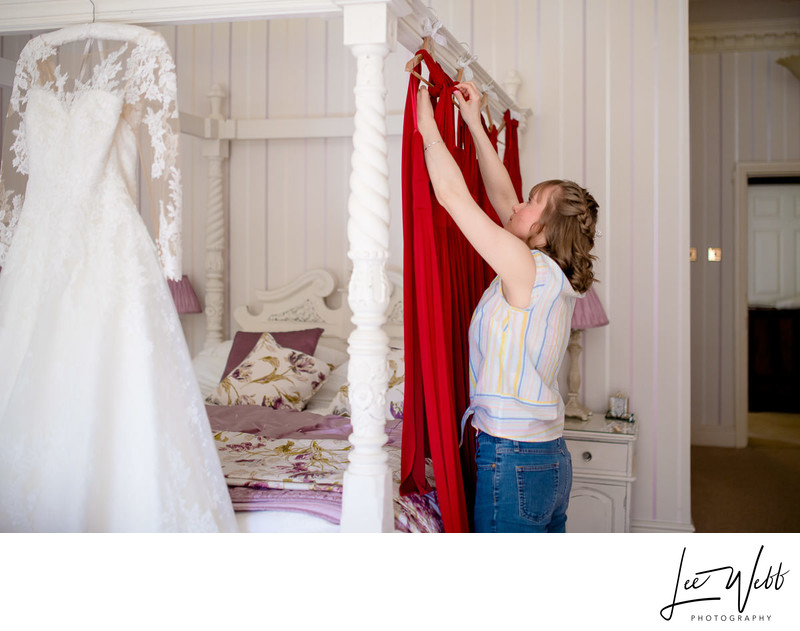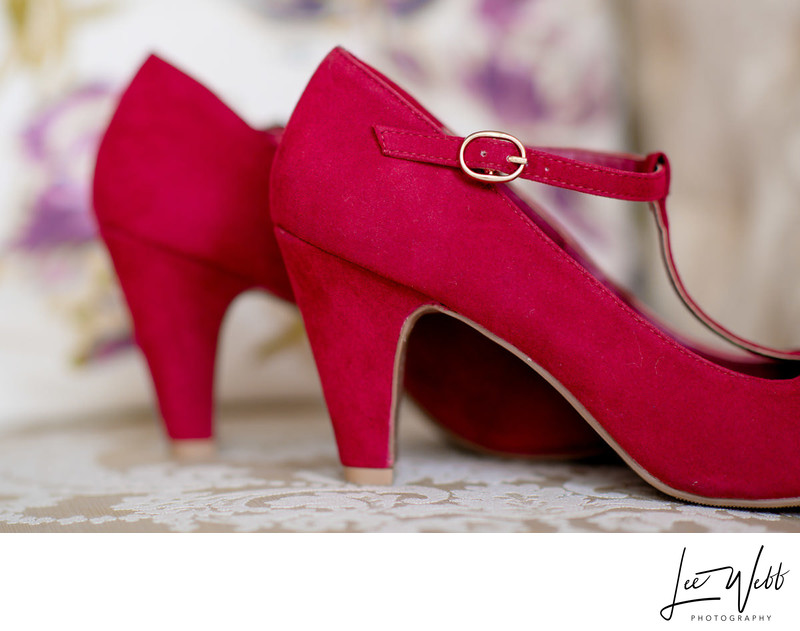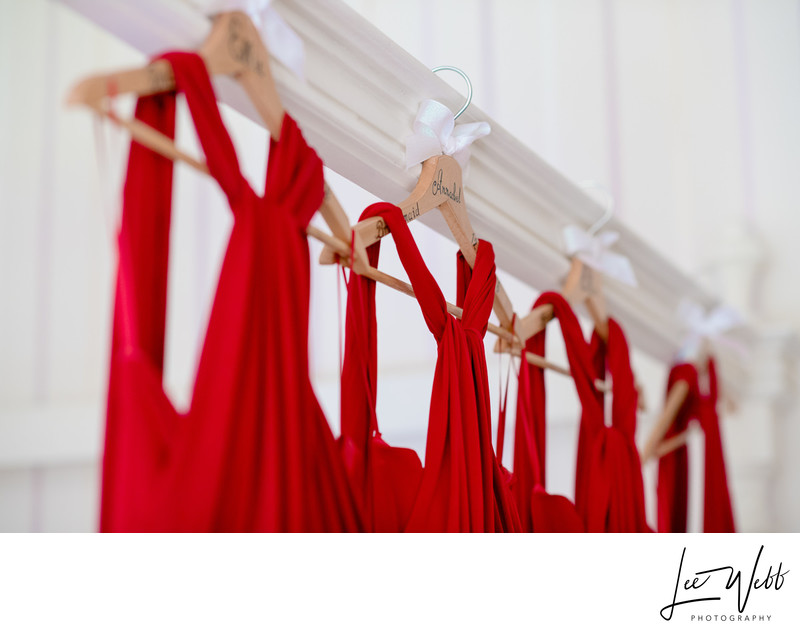 As stunningly beautiful as the photos of Ailsa putting in her own earrings and stepping into her shoes are, they are completely unposed and I didn't offer any direction on the day. I simply stood back and let the day unfold just as it would have if I wasn't there. Documentary wedding photography is absolutely the best way of capturing the real essence of a wedding.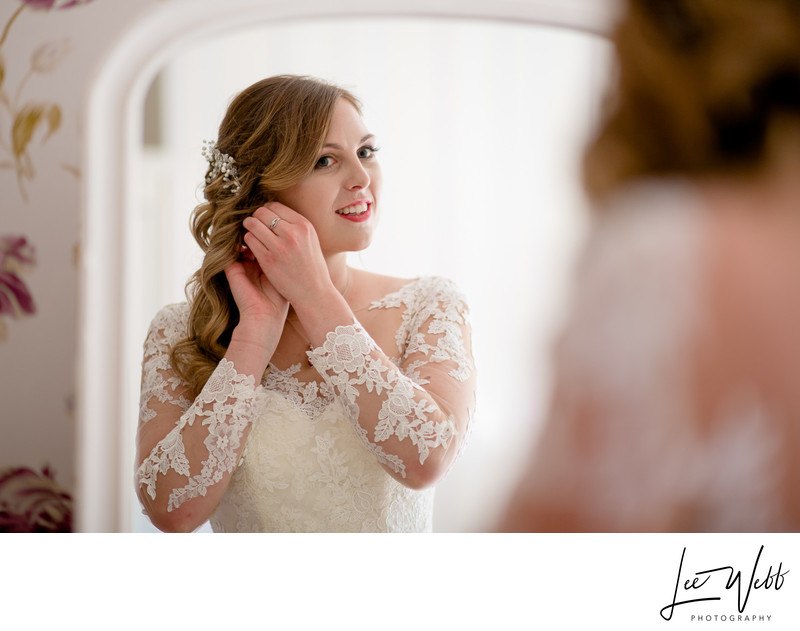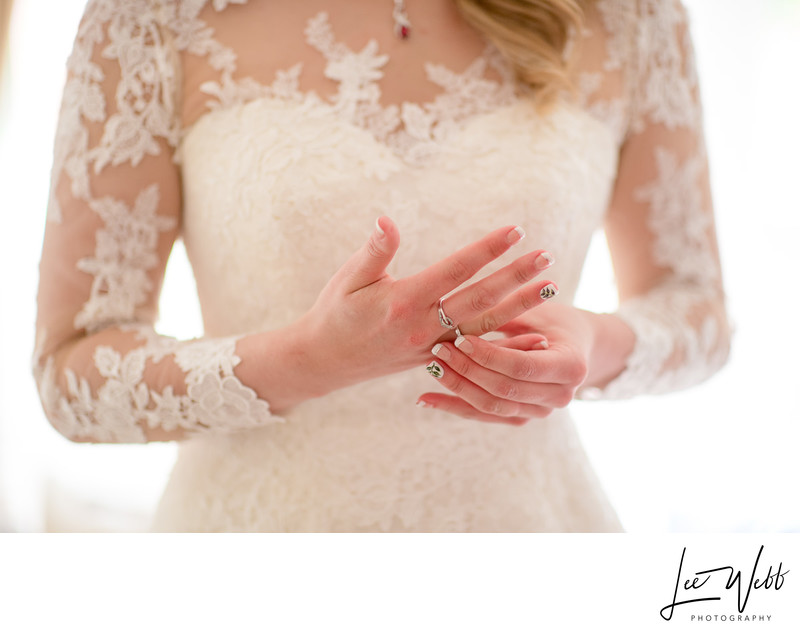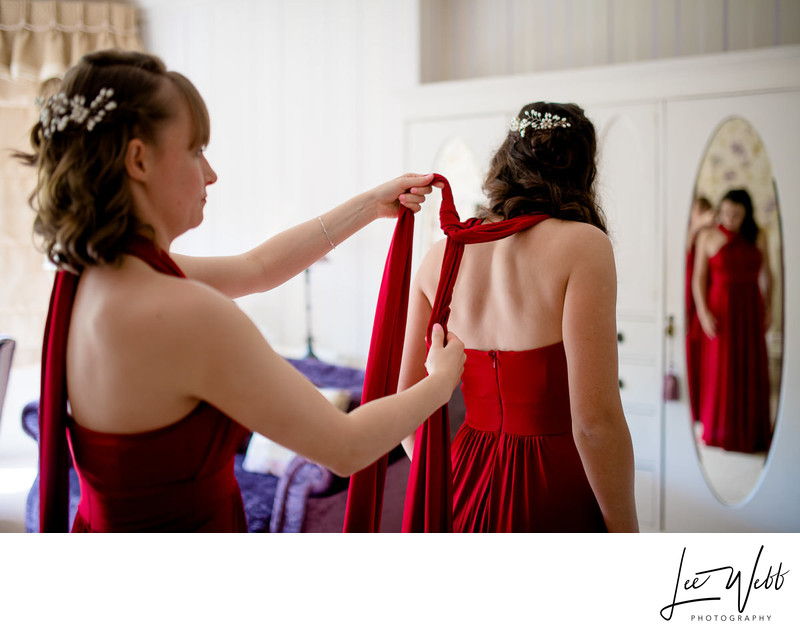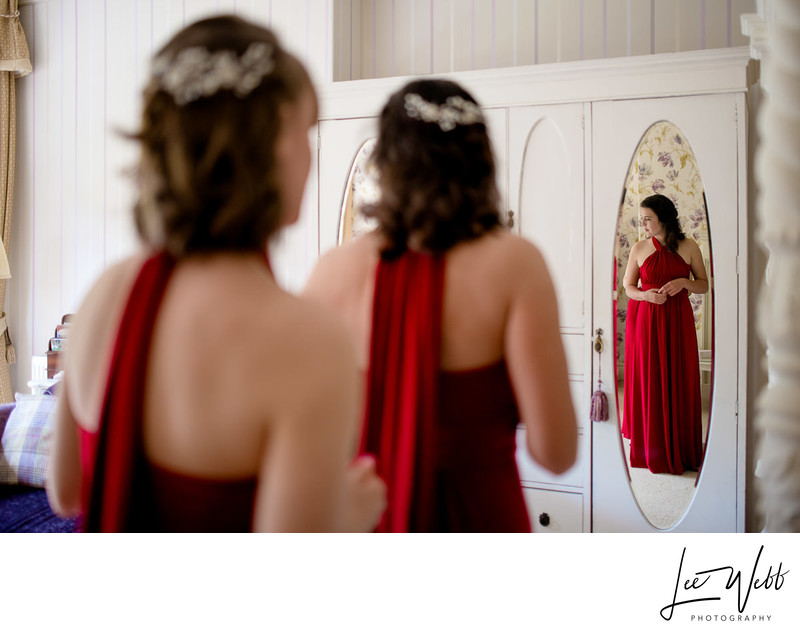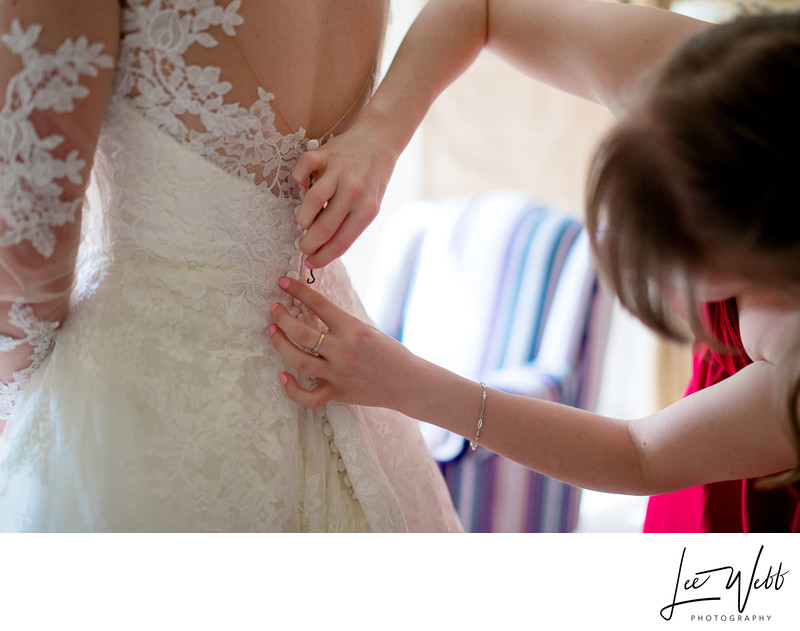 The bride reds of the bridesmaids dresses provided a really stark contrast to the white of Ailsa's wedding dress, as well as the bedroom decorations. This splash of colour really adds to the photos, and I love the way the bride is framed here between her bridesmaids.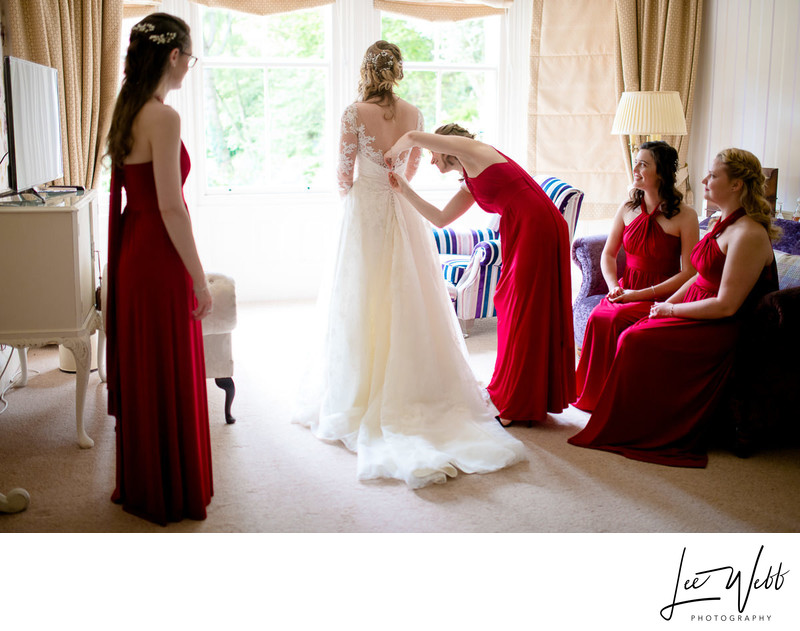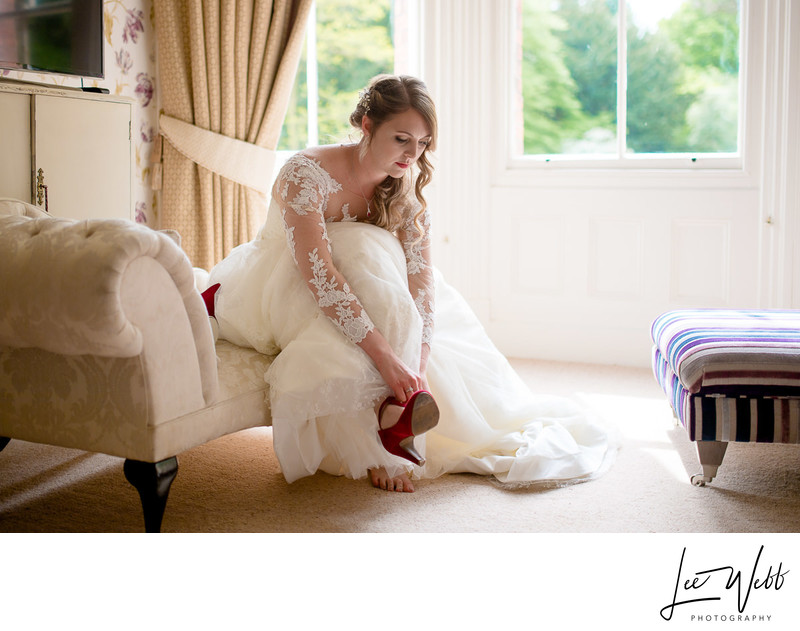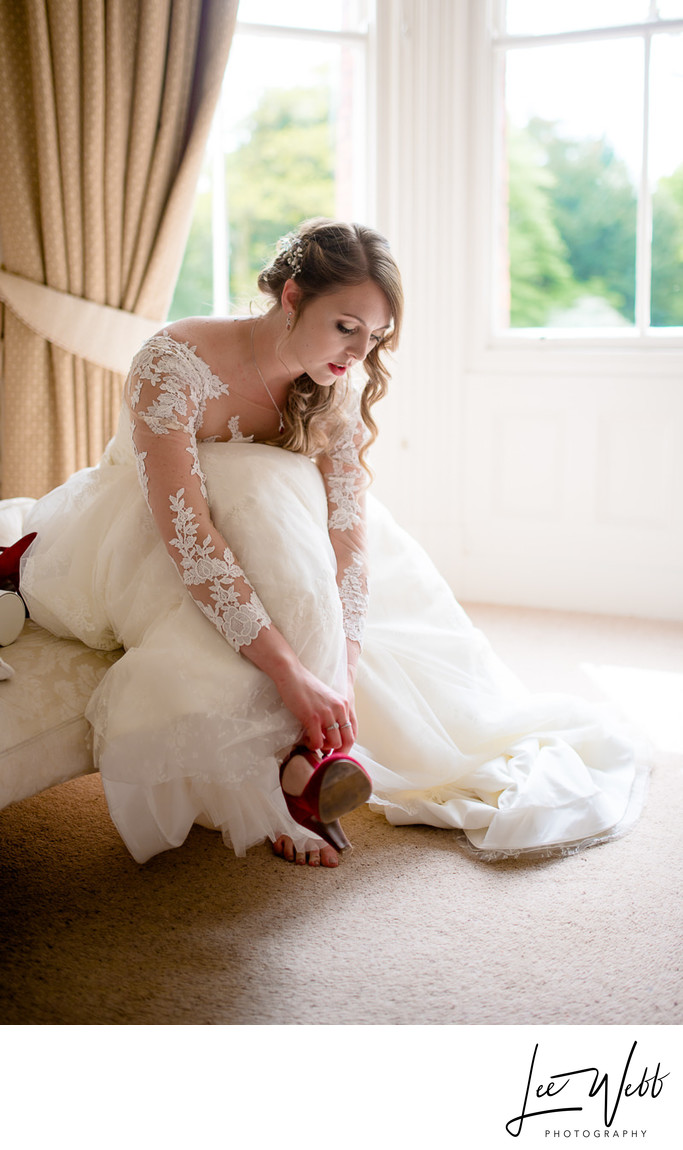 This is one of my favourite images from the wedding morning, showing Ailsa making her way down the main staircase. The bridal party was ready in enough time that we could take some formal portraits of the bride, bridesmaids and the bride's parents in the gardens before we had to leave for the church. So many brides wish to have some more formal portraits taken before they have to leave for the church or civil ceremony, but most, sadly, run out of time.
Instead of aiming to be ready for the time you need to leave, and hoping that you get time for some photos, actually build time in to your day so you don't run over. In the last 300 weddings, practically every bride has wanted some photos before leaving, and only 10 or so have managed it.
Wedding tip: Build an extra 30 minutes into this part of your wedding day for photos. Sure, the photos only take 10 minutes - this way you can secretly run over by 20 minutes (which will happen) and still be good for time!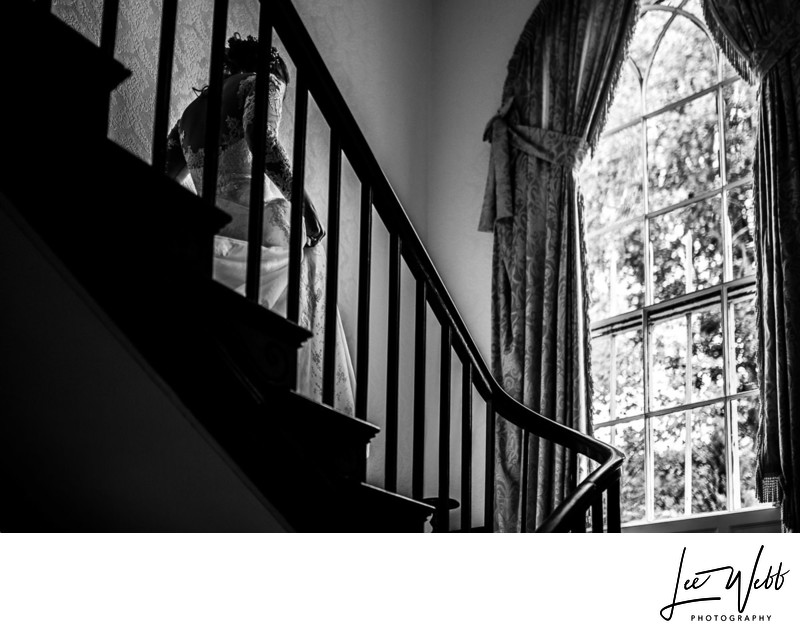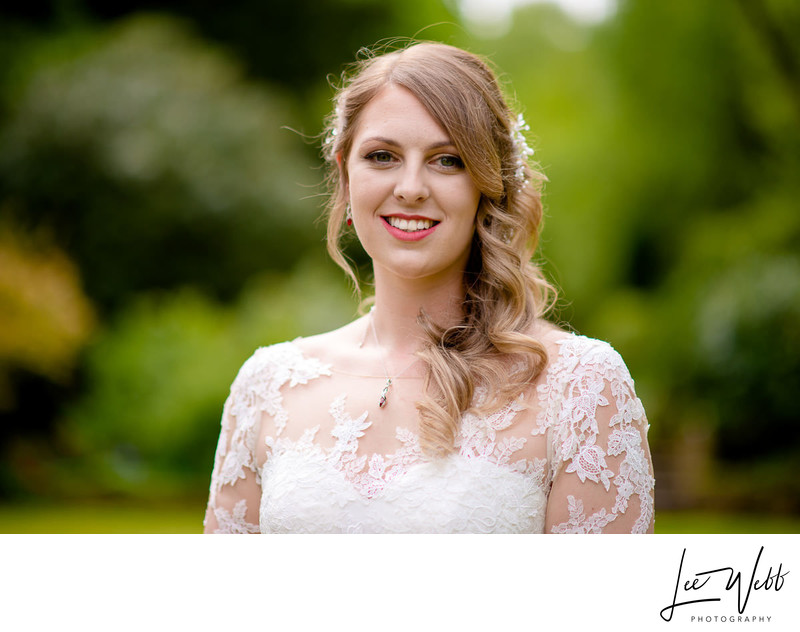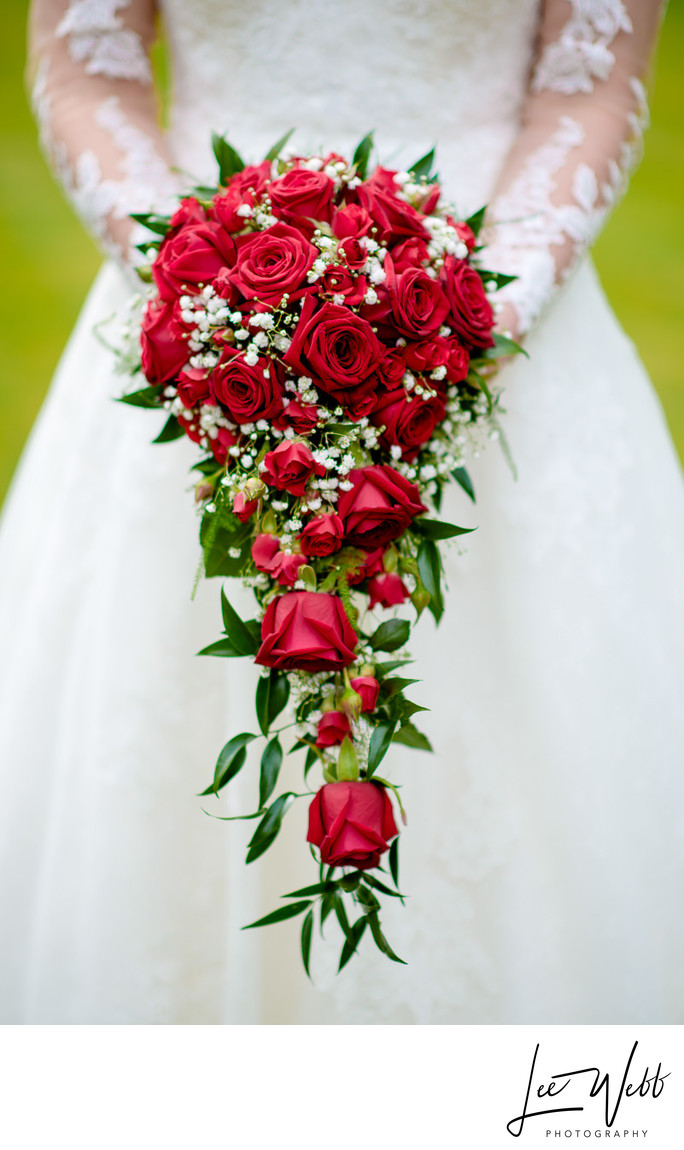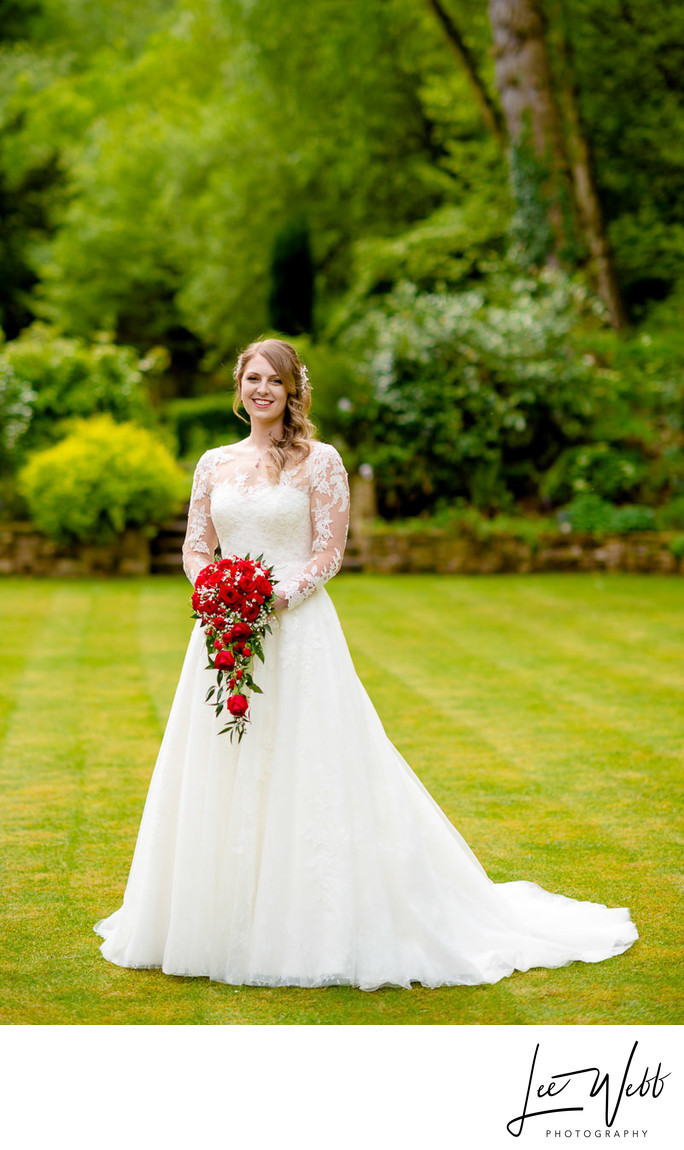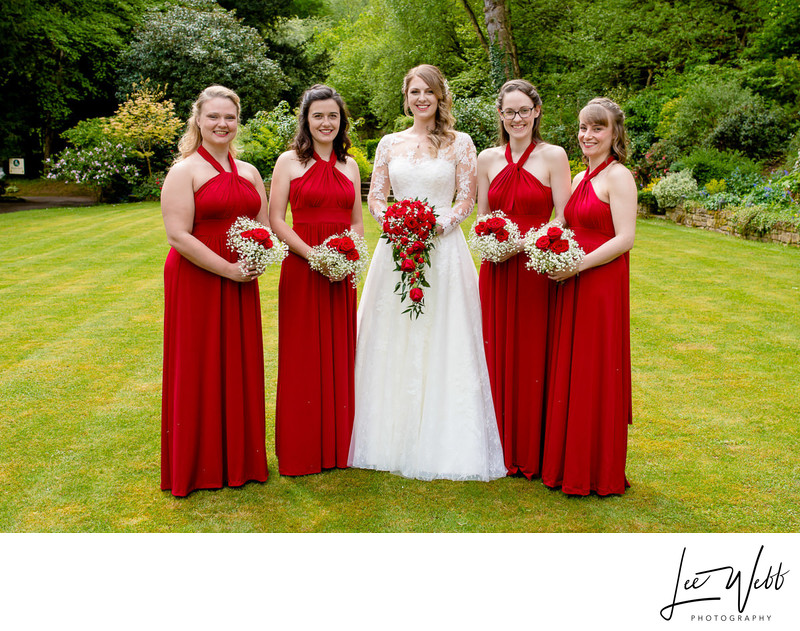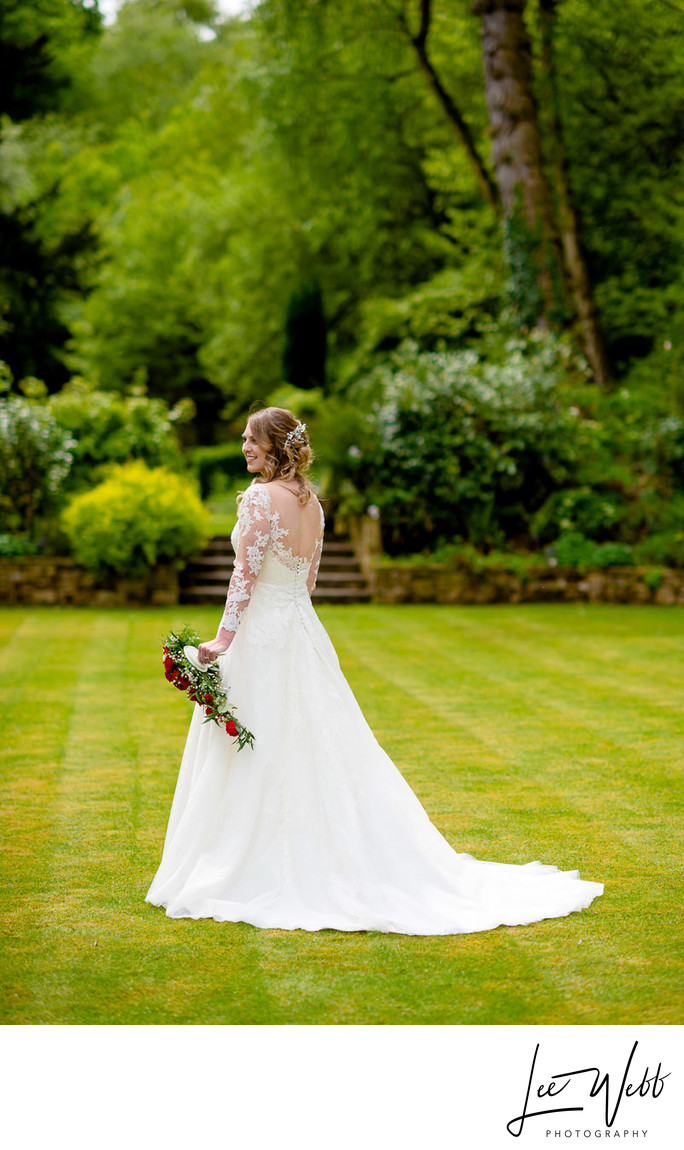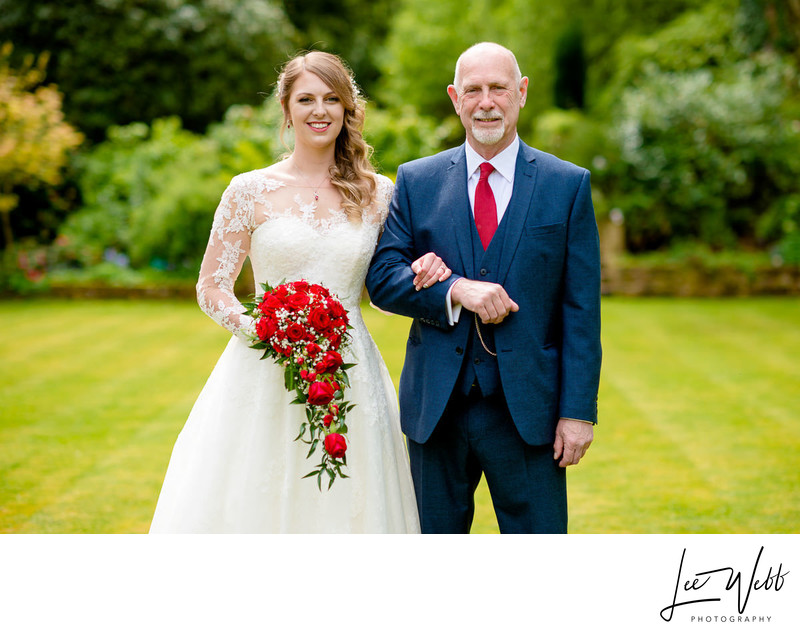 I arrived at the church in time to capture some candids of the guests arriving. I also took this time to photograph Anthony and his best man before the arrival of the bride. I always really enjoy these photos as you're never quite sure in what kind of state the groom is going to be in - some grooms are excited, with others being incredibly nervous or anxious. Anthony was very cool, calm and collected and took the photos in his stride.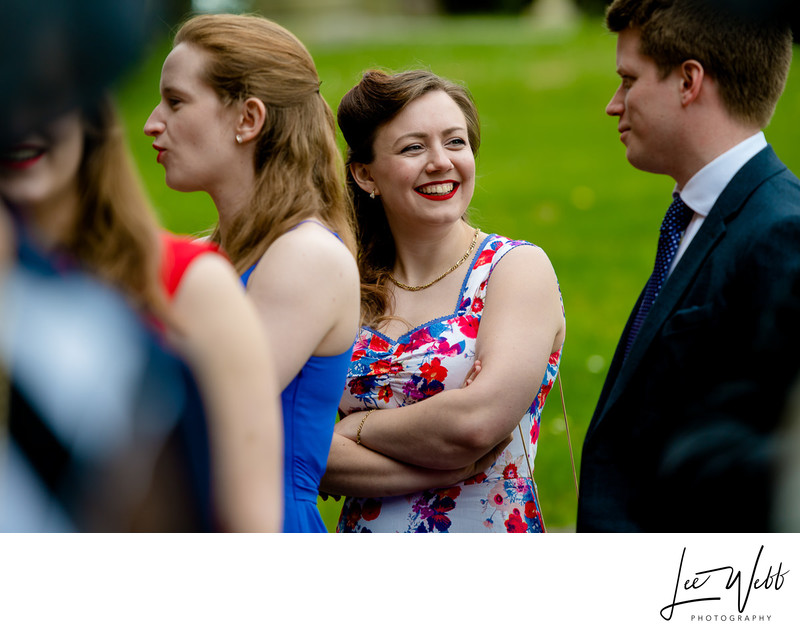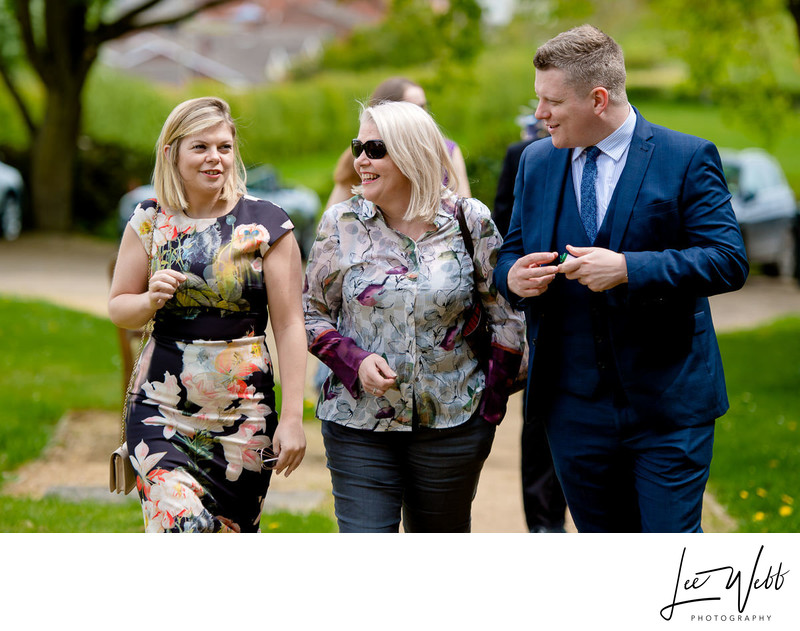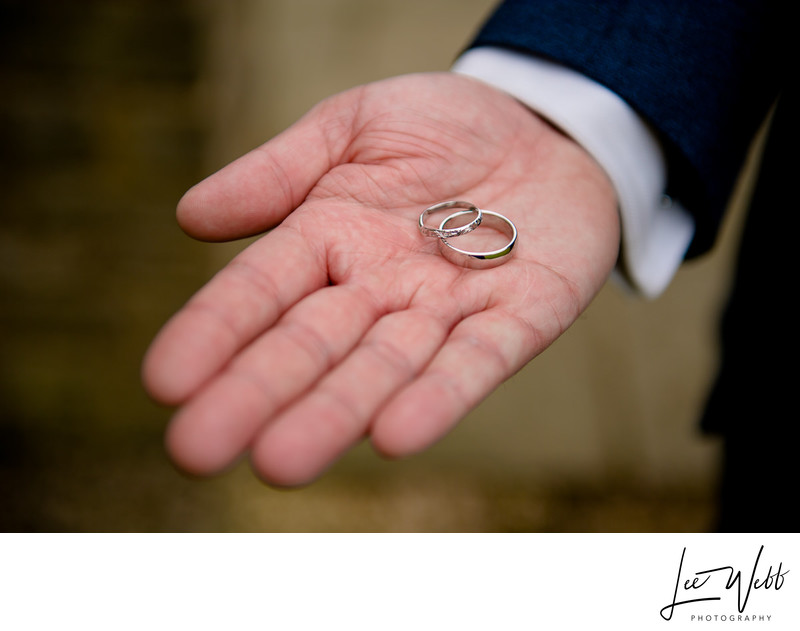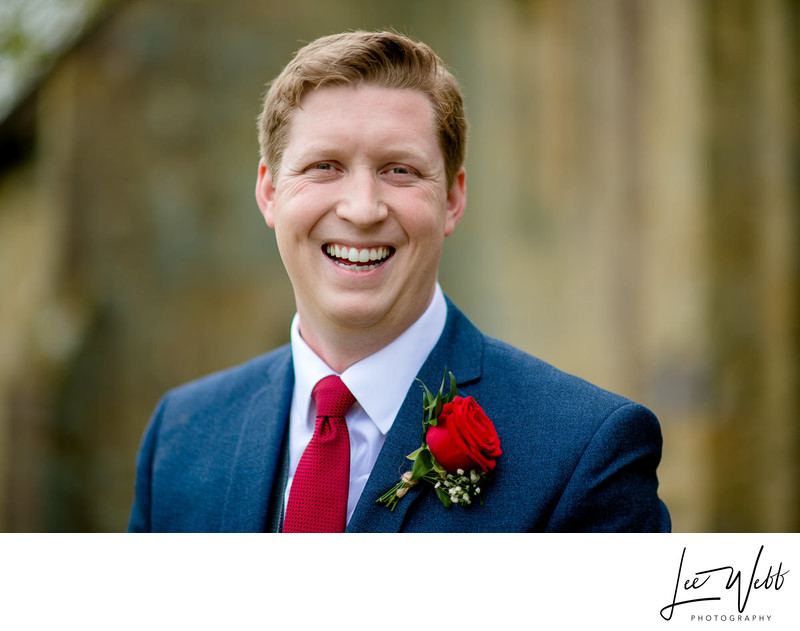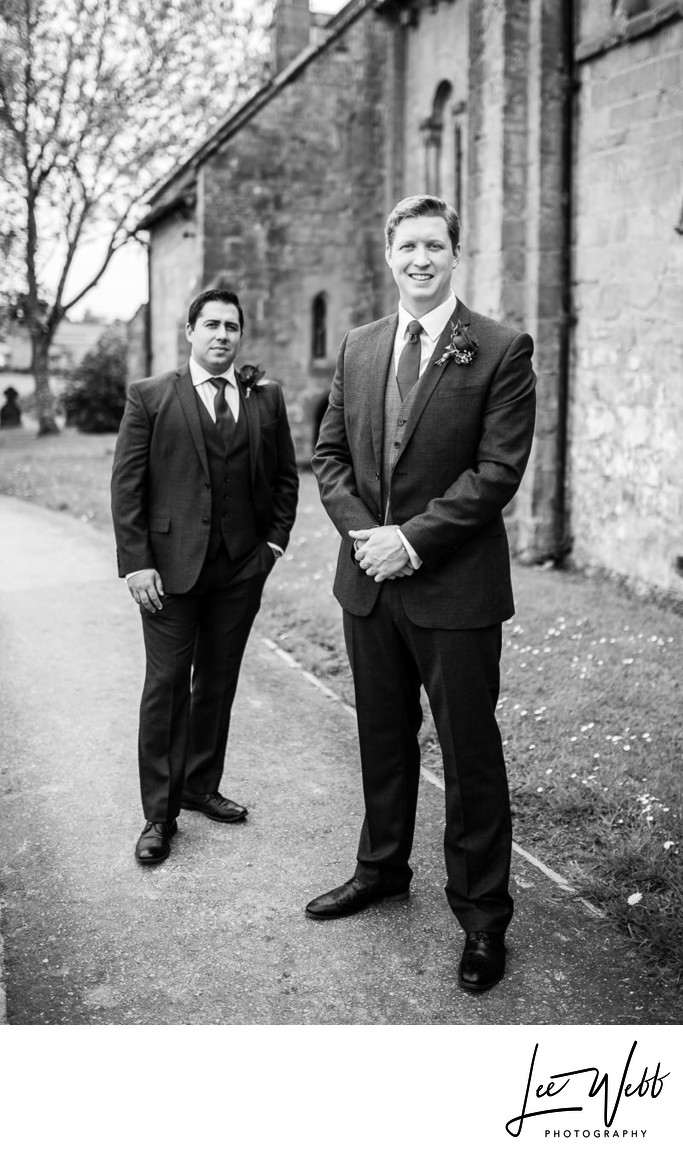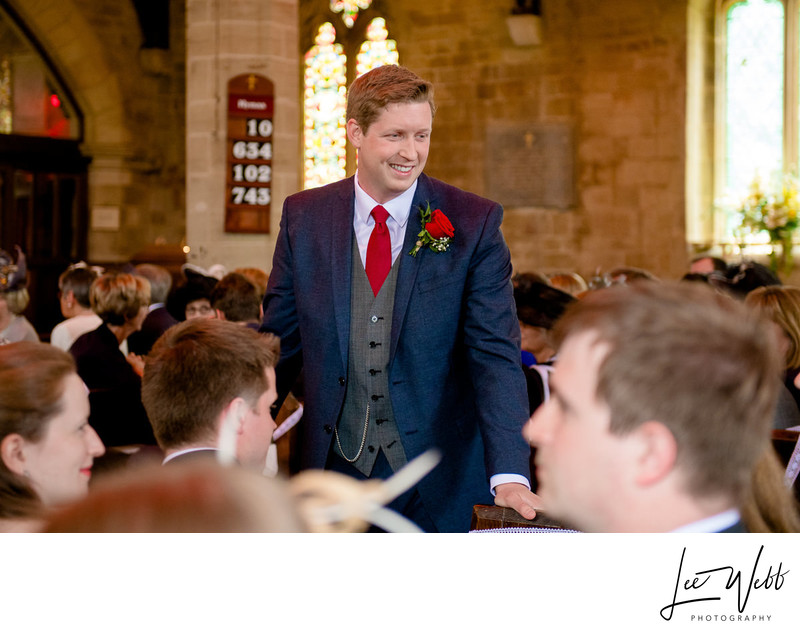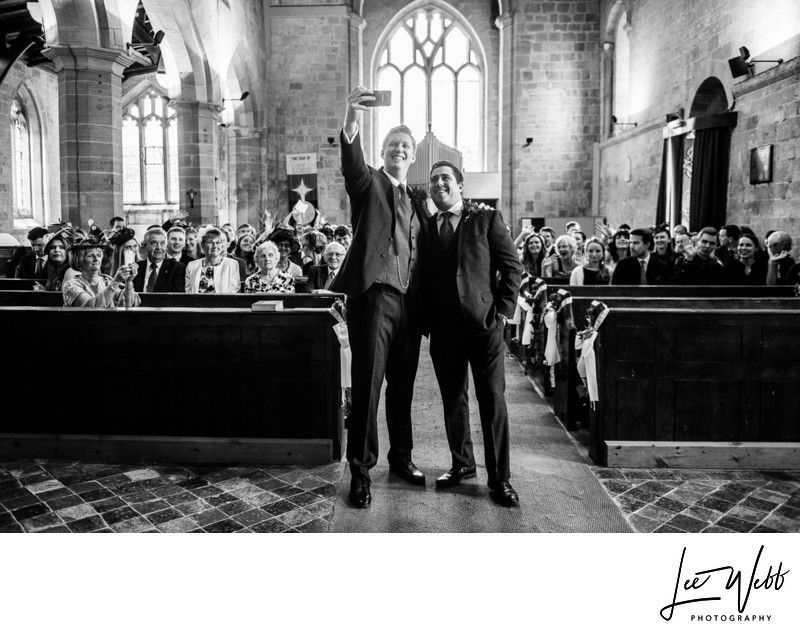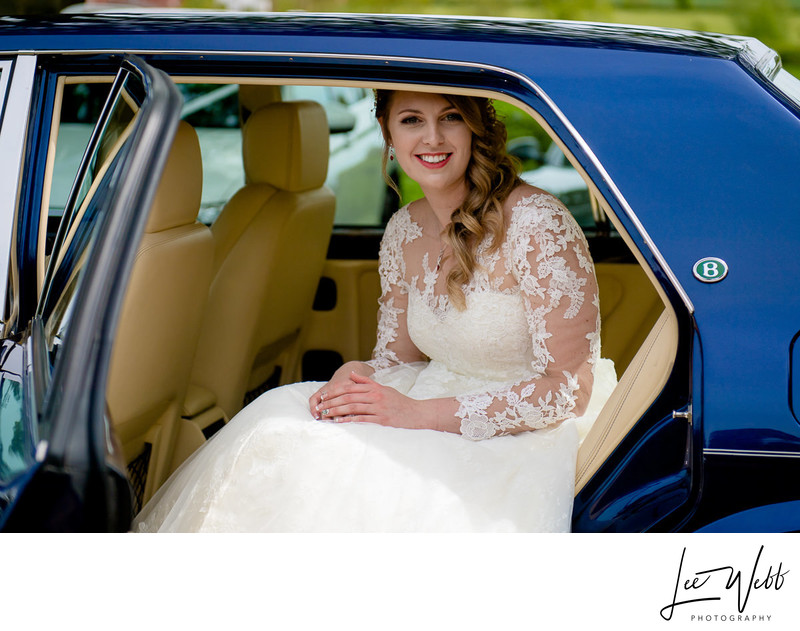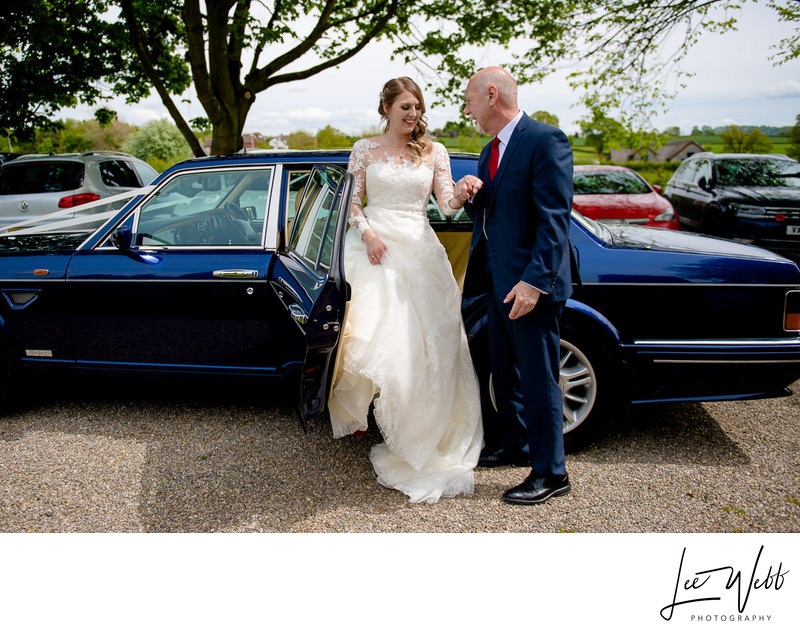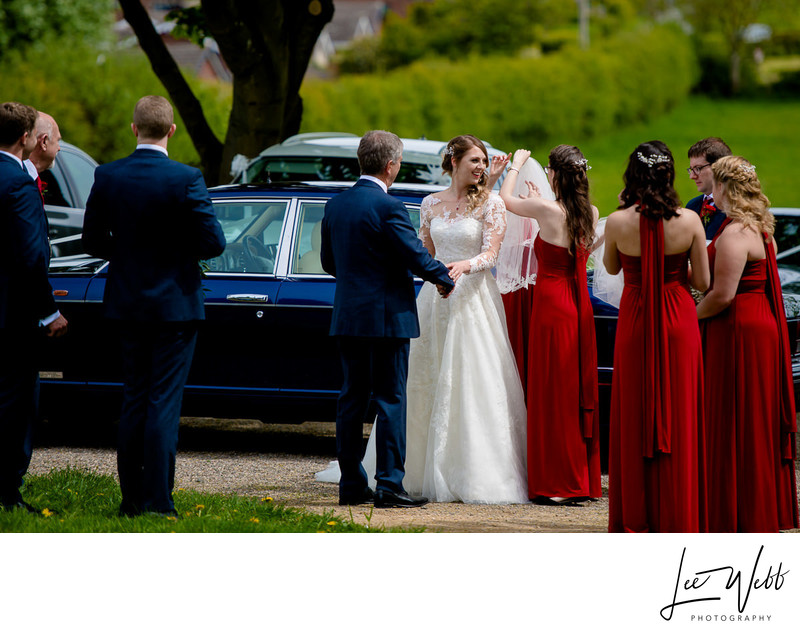 Ailsa wore a cathedral-length veil which was so large she couldn't wear it in the car, meaning the only option was for the bridesmaids to position it once they had all arrived at church. It turned out to be a 4-person job! I'm certainly not complaining though - the moment created a wonderful opportunity for some totally different photos and I really love the bright colours on show - the red, white and blue of the bridesmaids, bride and wedding car.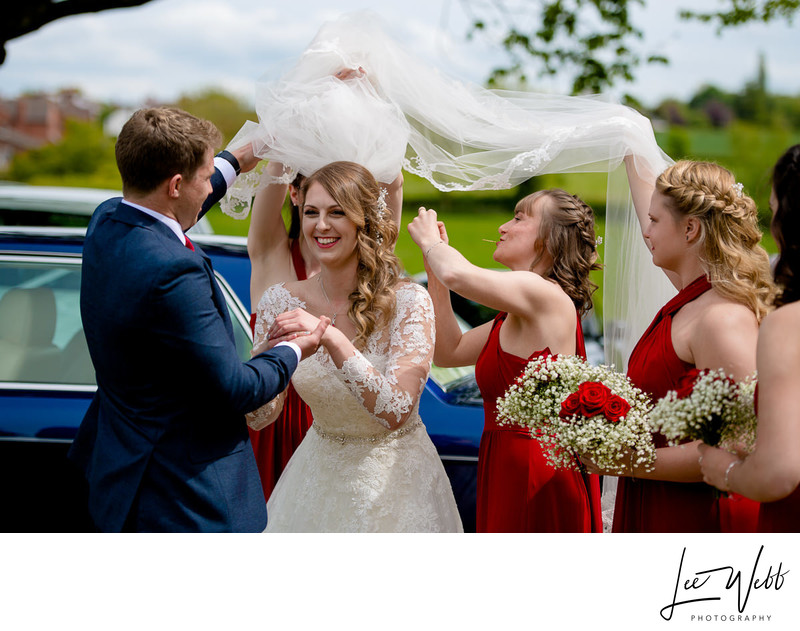 So often this photo is posed, with bridesmaids carrying the brides' dresses' train whilst she walks along the path to the church. With Ailsa however, her veil was so long it made it very difficult for anyone to actually walk behind her!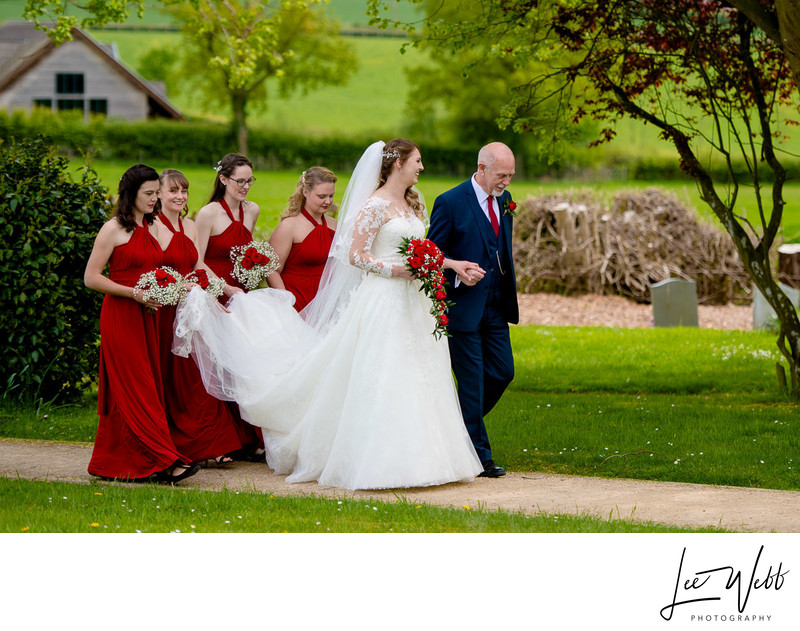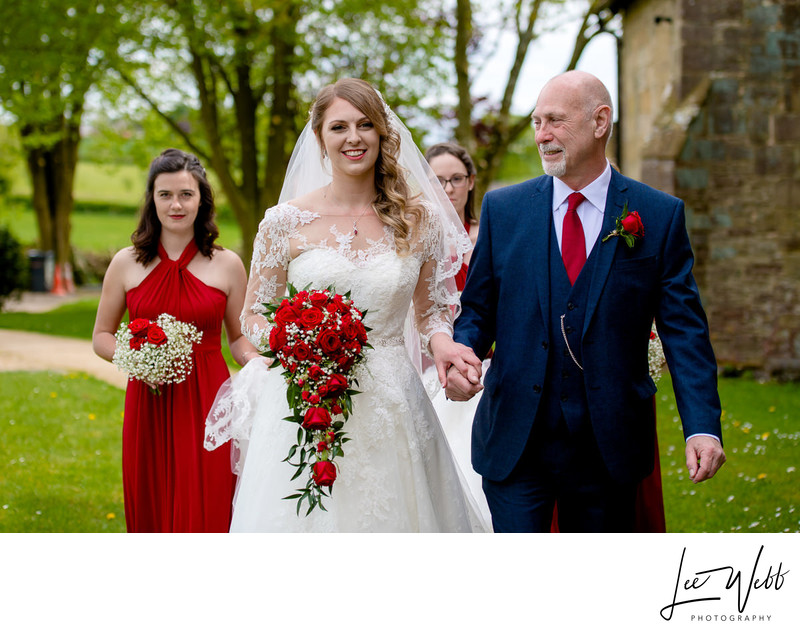 Despite it being a warm summer's day, for some reason, the over-head heating inside the church had been left on and at full power. It was warm where I was standing, and I cook see the sweat beginning to pour from the groom (and not through nerves.) The other drawback, apart from having the groom slowly being cooked in front of my eyes, was the old fashioned heat lamps produced a rather bright orange glow. I couldn't stand the heat, and at this stage I'd already had to remove my jacket, and I could see Anthony really struggling too. Luckily, at the very beginning of the ceremony the vicar announced that a hymn was to be sung. I took this opportunity to sneak out the back of the church, run around the side and ask the verger if she could turn the heating off. She duly obliged, knocked the heating off and the rest of the wedding ceremony went without incident.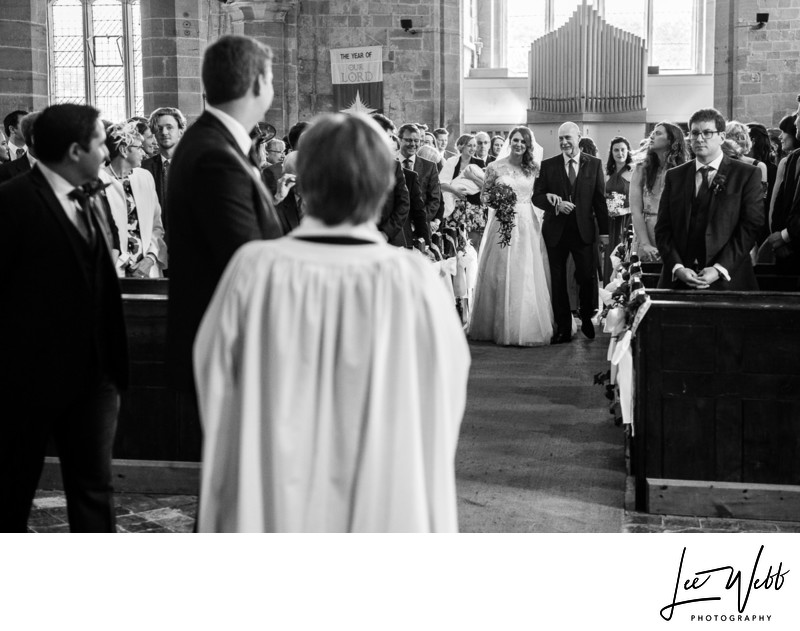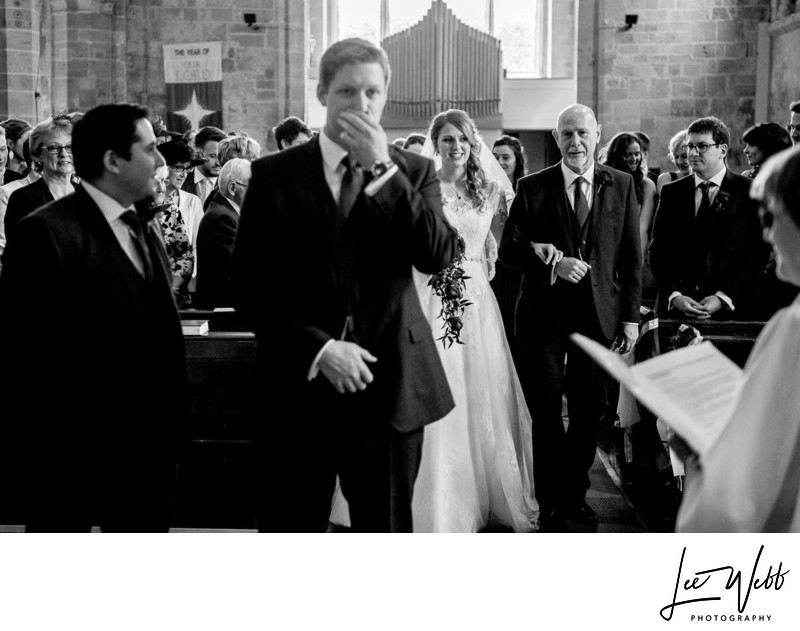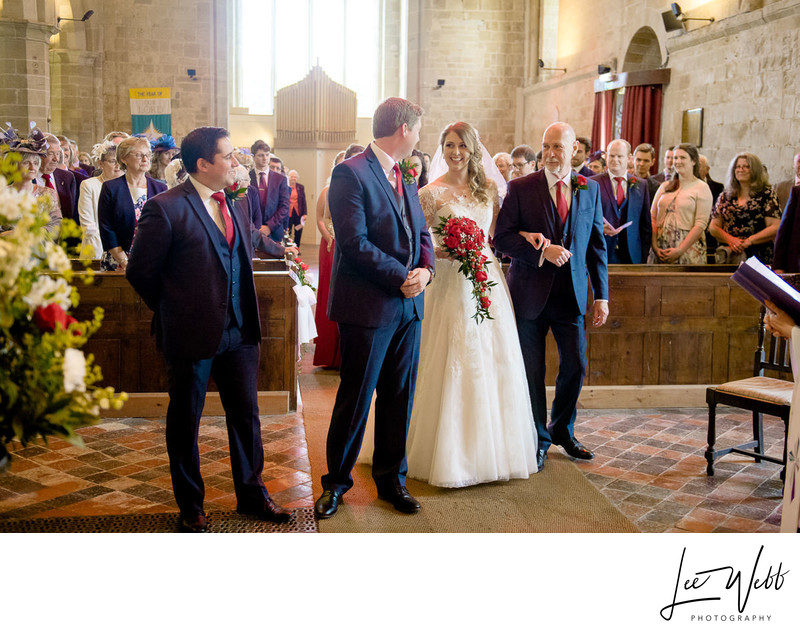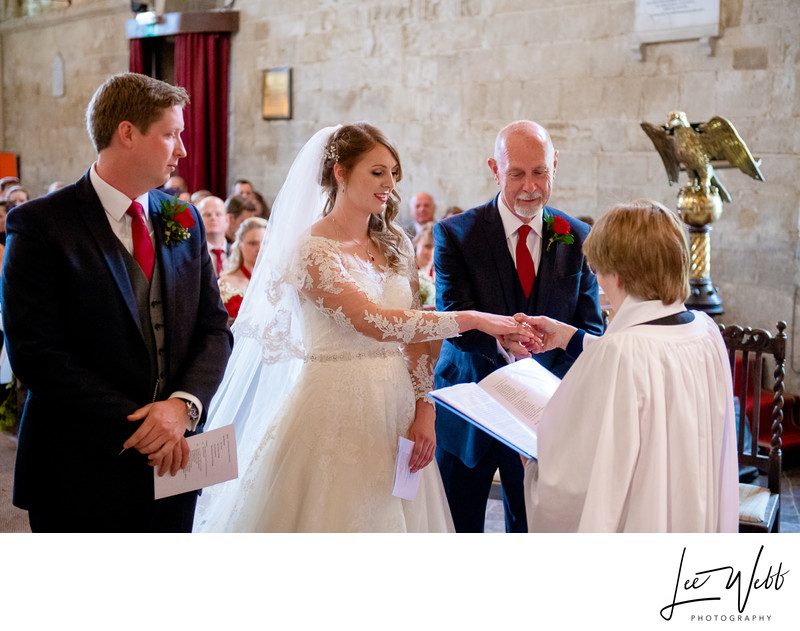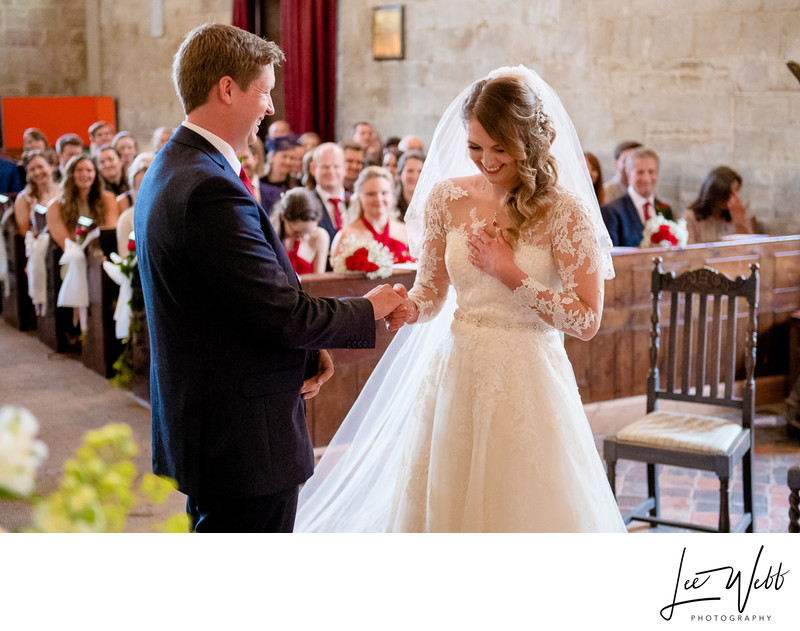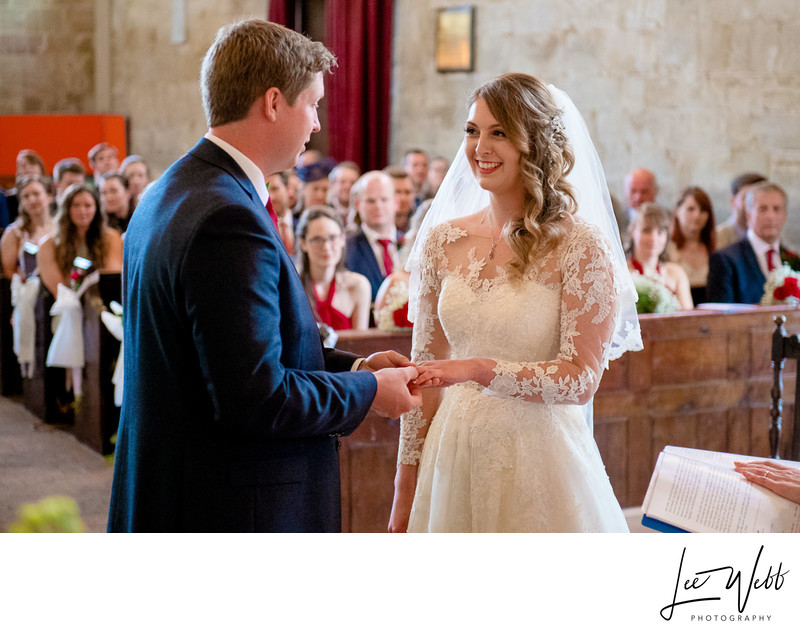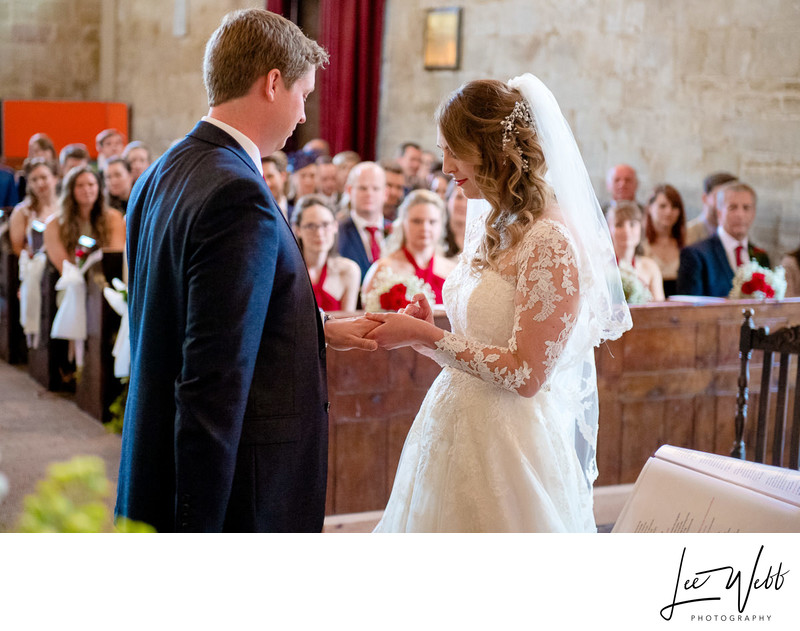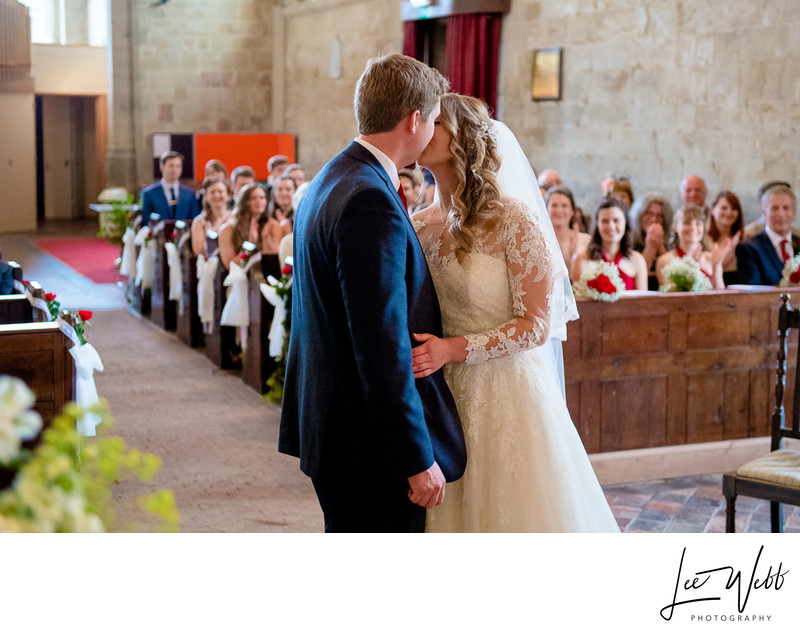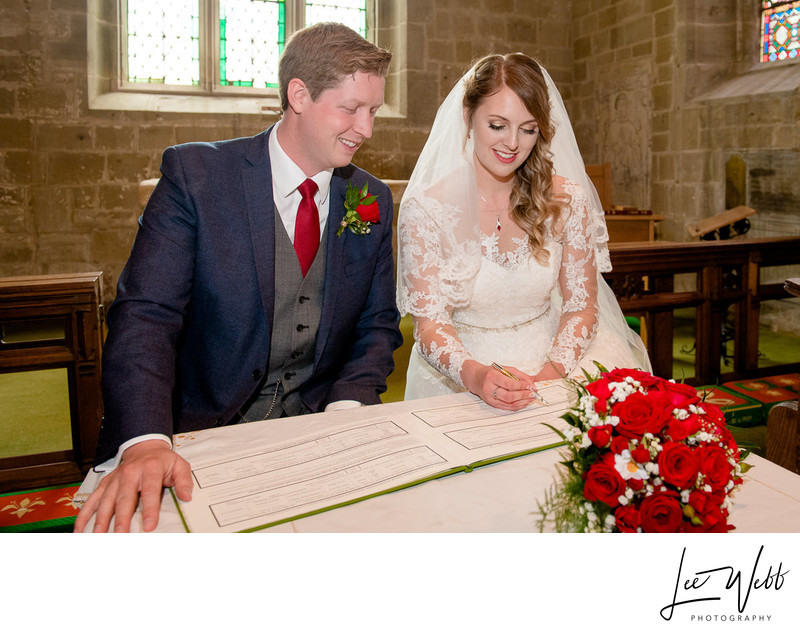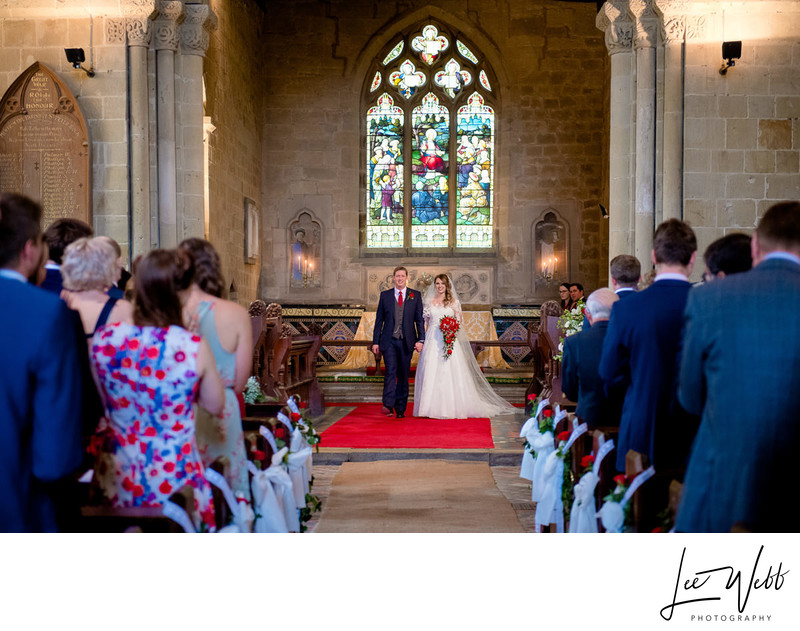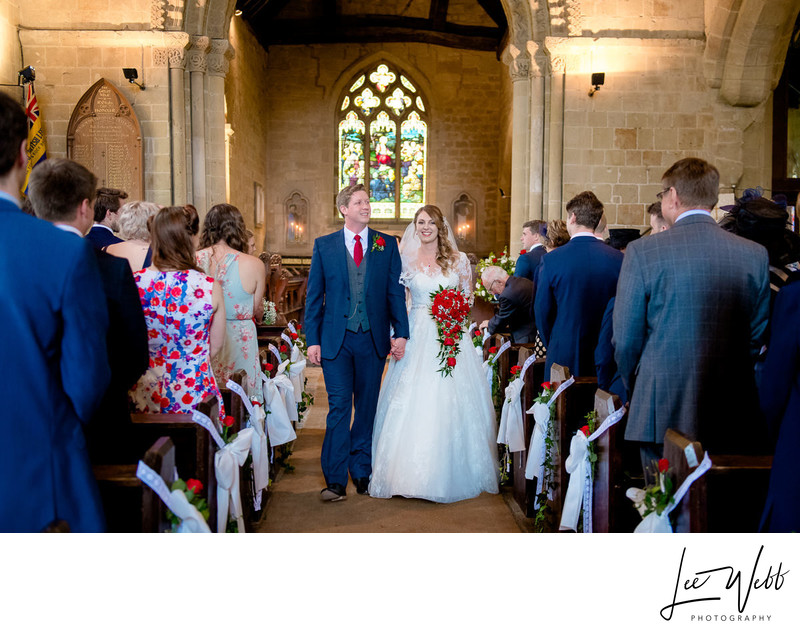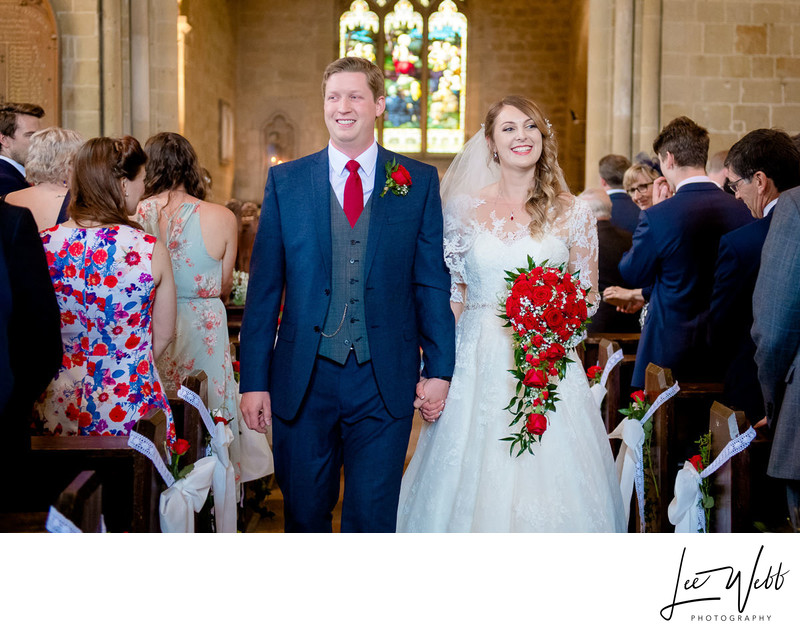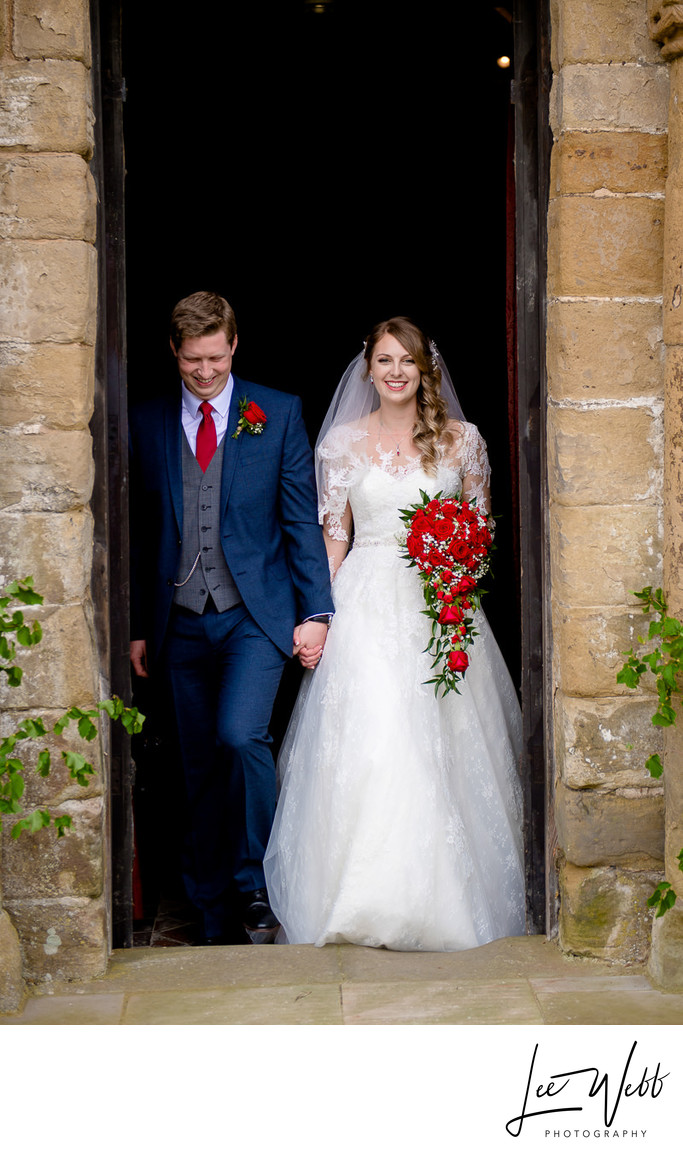 This is one of my favourite documentary style photos from the day, showing the view that faced the bride and groom once they left the church. The wedding guests were all lined up and preparing to shower the newlyweds with confetti, and this was the view that awaited them.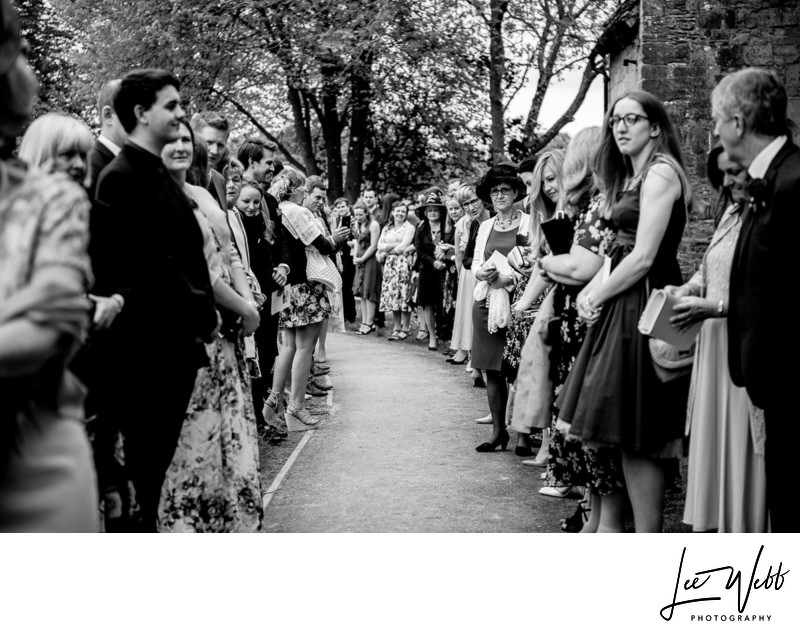 One image the bride and groom were very keen to have taken at the church was the one seen below, outside the church doors. When I had met with the couple for our final pre-wedding consultation, we spoke at length about the images they wanted, and this one came up. Apparently, all the members of the groom's family who have been married at Rock Village Church have had their photos taken outside of this very door. It's wonderful to be able to carry on this tradition on their behalf.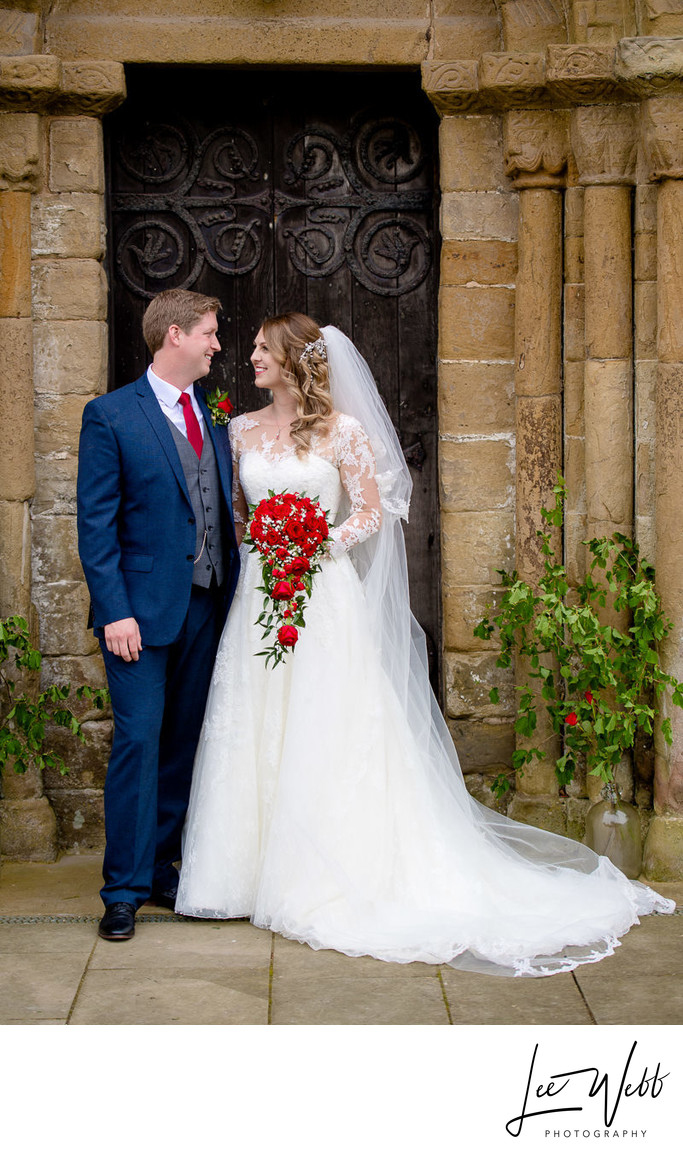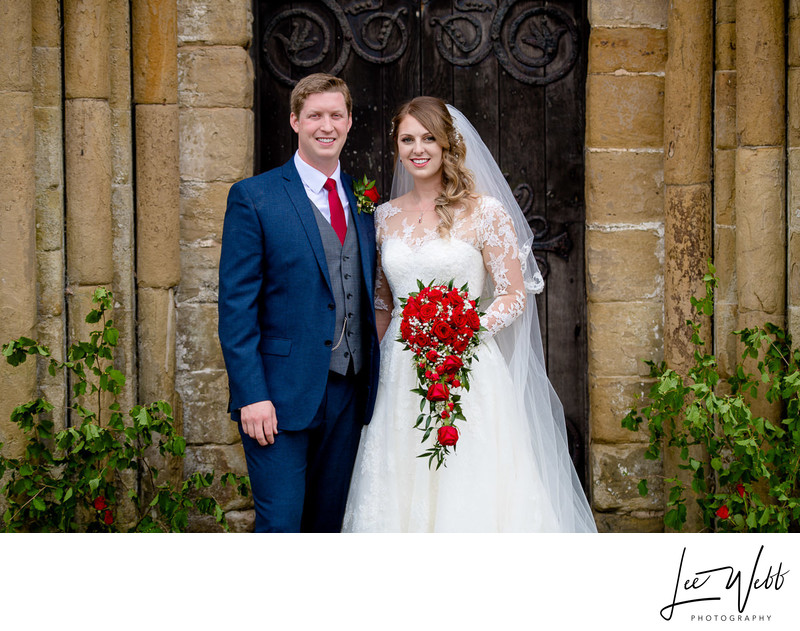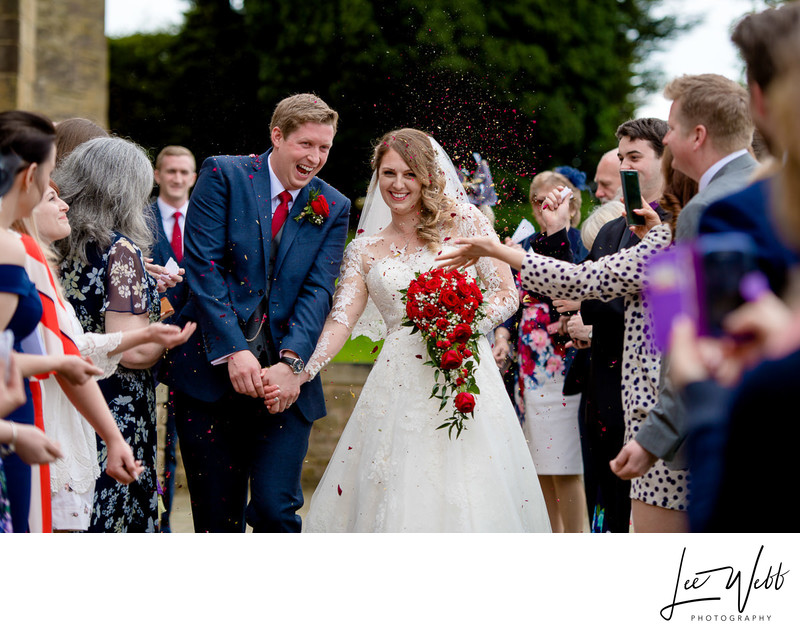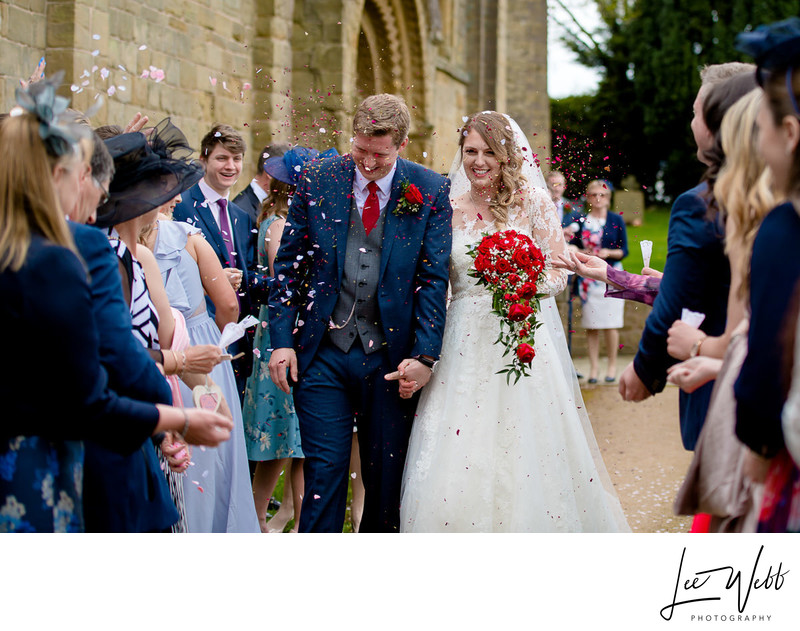 One of the other requests from the bride and groom was that the formal wedding photos (namely the family photos) were taken on the front lawn with the church in the background. Luckily for everyone involved, this would mean having the sun behind them allowing them to look naturally into the camera. Having the sun directly on guests' faces produces long, harsh shadows and nothing but people squinting at me!
When it comes to photographing the very largest of group photos, it's always a good idea, where possible, to have the wedding photographer stand at an elevated position so that he or she can shoot down on the wedding guests. This means you can have a photo where you have say 20 people across and 8 rows back, allowing everyone to see the camera and appear in a photo. The good news was, at Rock Village Church there's a walled entrance to the car park, which gave me the perfect platform on which to stand and take the larger photos.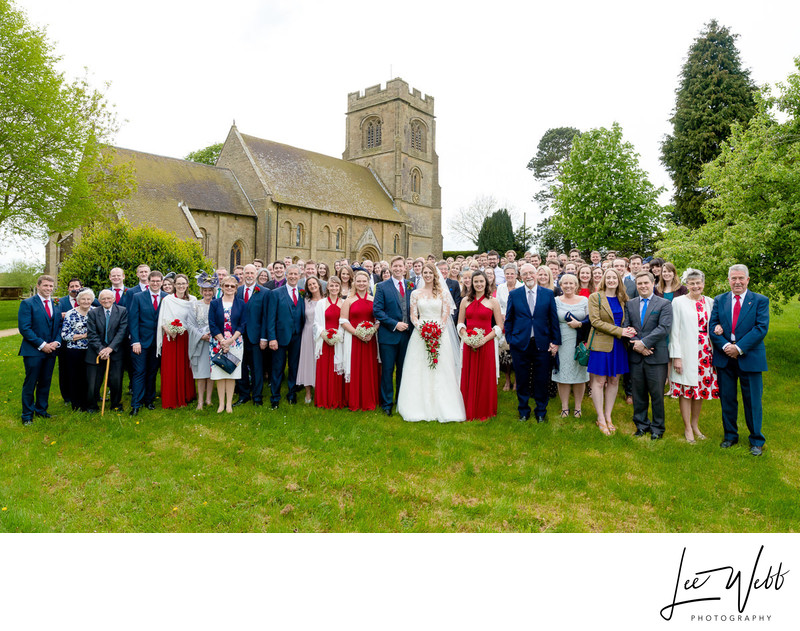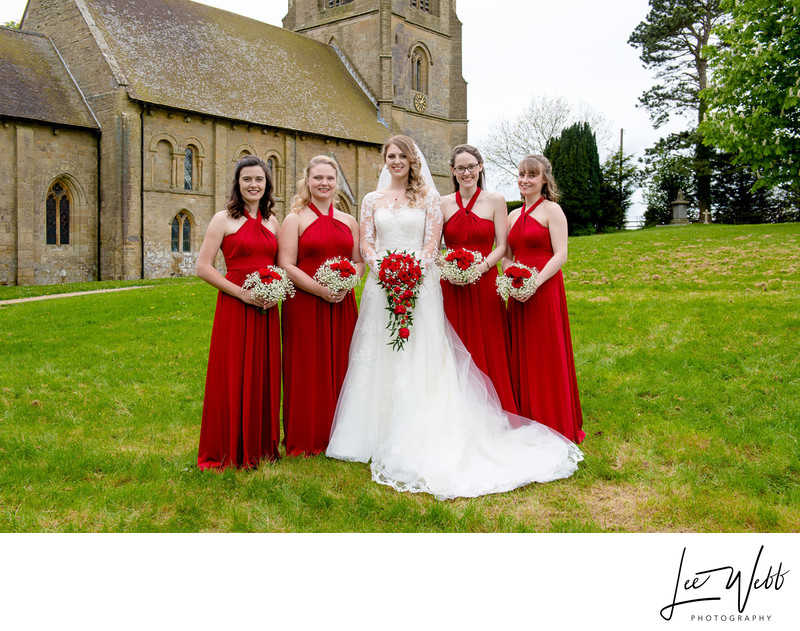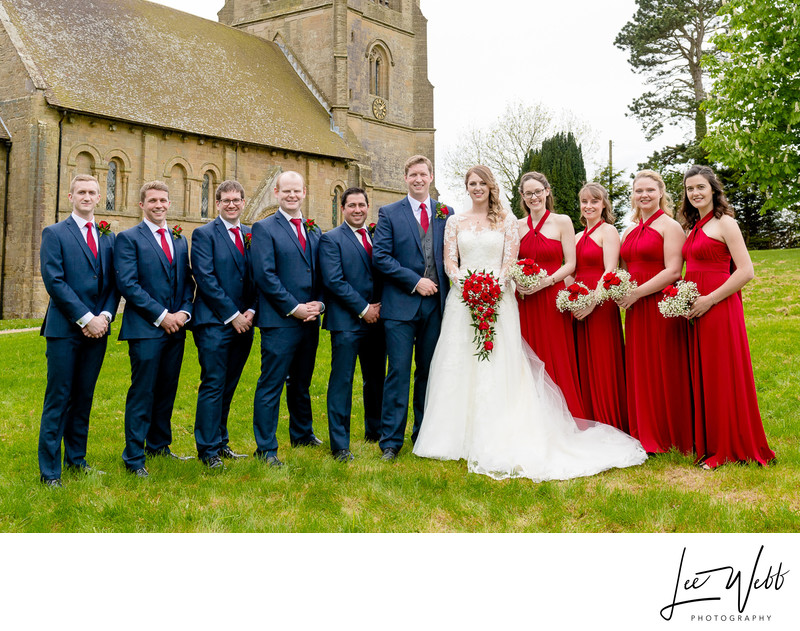 After the formal group photos had been taken outside the church, I took the bride and groom back inside to take some more private and personal images of the two of them. This also allowed the bride and groom to share a few moments alone together, which is actually a rarity at a modern wedding.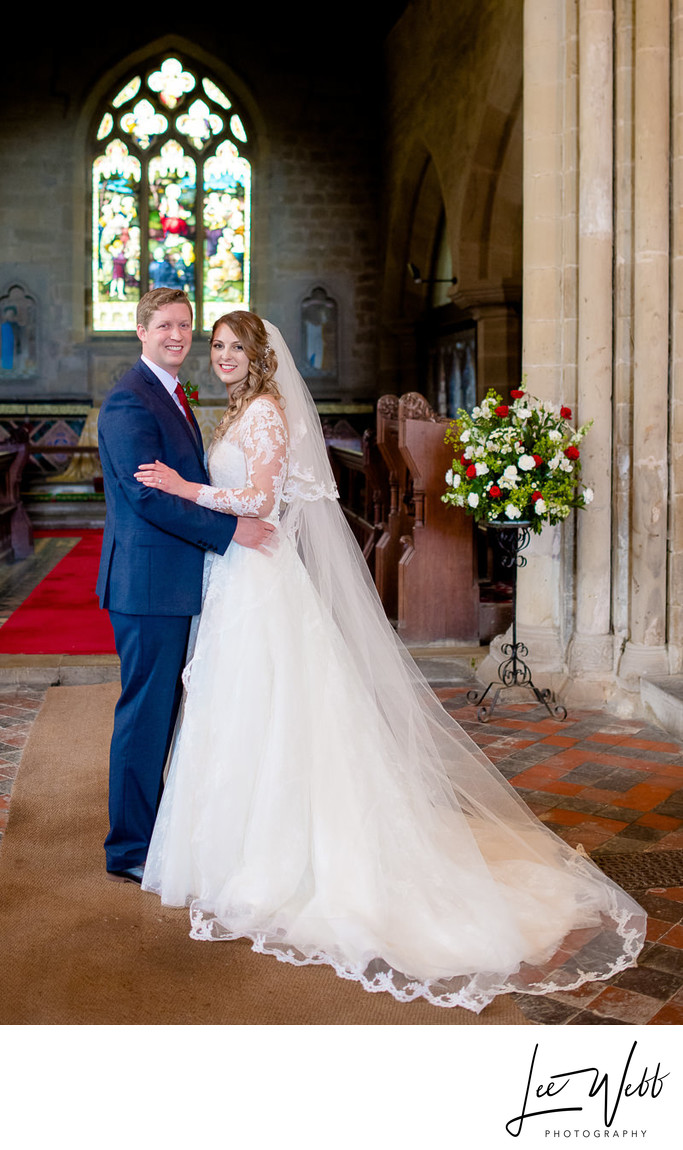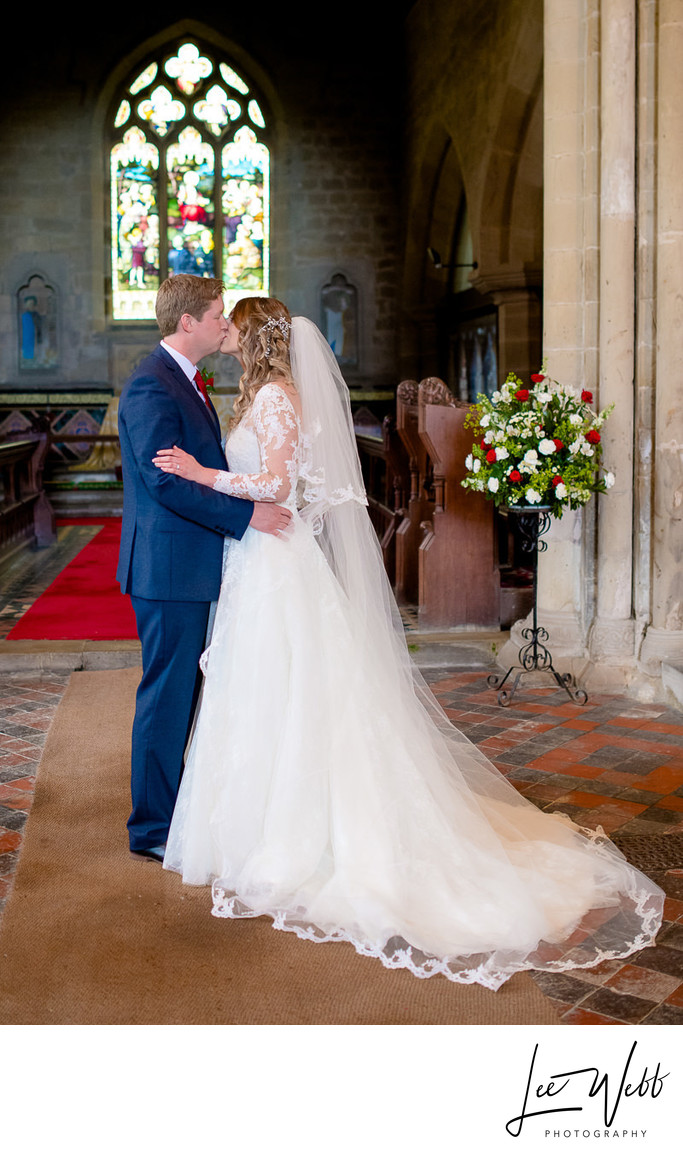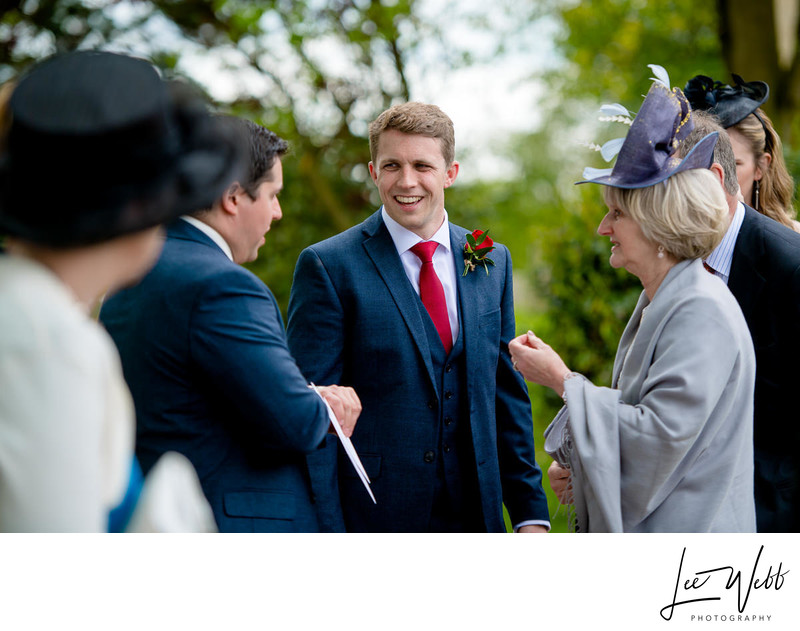 I made my way back outside to capture some candid images of the wedding guests who hadn't yet left for the wedding reception venue of Bodenham Arboretum. The bride and groom had stayed inside the church, as, owing to the sheer volume of the confetti that had been thrown at them, a lot of it was lodged in various places making them both somewhat uncomfortable. After a few minutes of removing the offending confetti the bride and groom reappeared, and the relief on the bride's face is easy to see!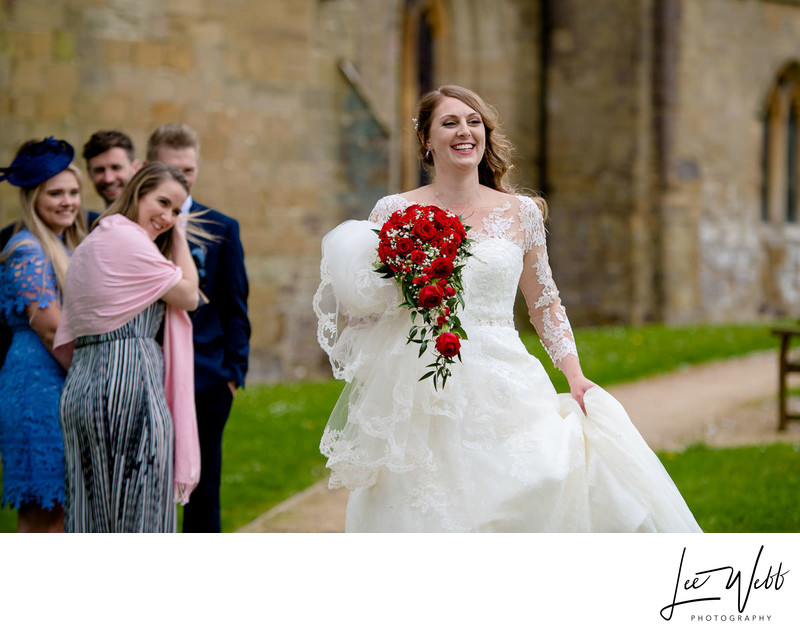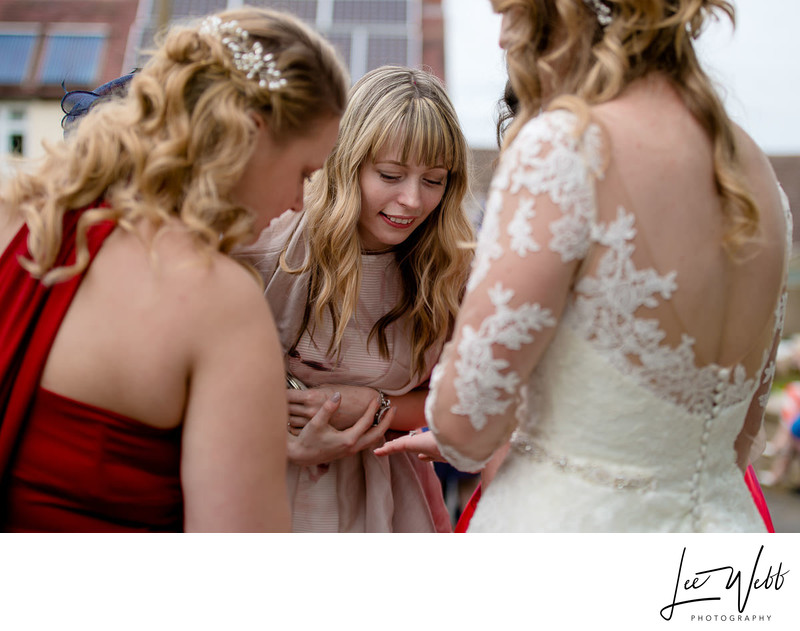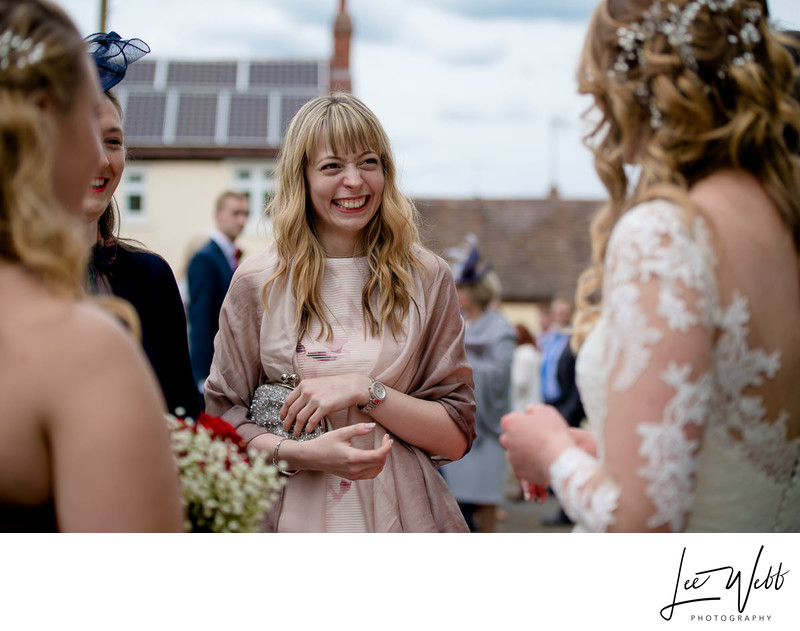 After the wedding we made the short trip to Bodenham Arboretum for the reception. Bodenham Arboretum is an oasis of plantations, pools and tree-lined avenues in a landscaped garden containing over 3,000 shrub and tree species from all over the world. It's also a dream-location for a wedding photographer.
Every wedding photographer secretly worries about where a new client is going to hold their reception, because you really hope they've chosen a venue with some good outdoor space, or enough locations to shoot at during their wedding that you really do the day justice. When Anthony and Ailsa told me they were hosting their wedding reception at Bodenham Arboretum, I was very excited at having such a vast landscape to work with.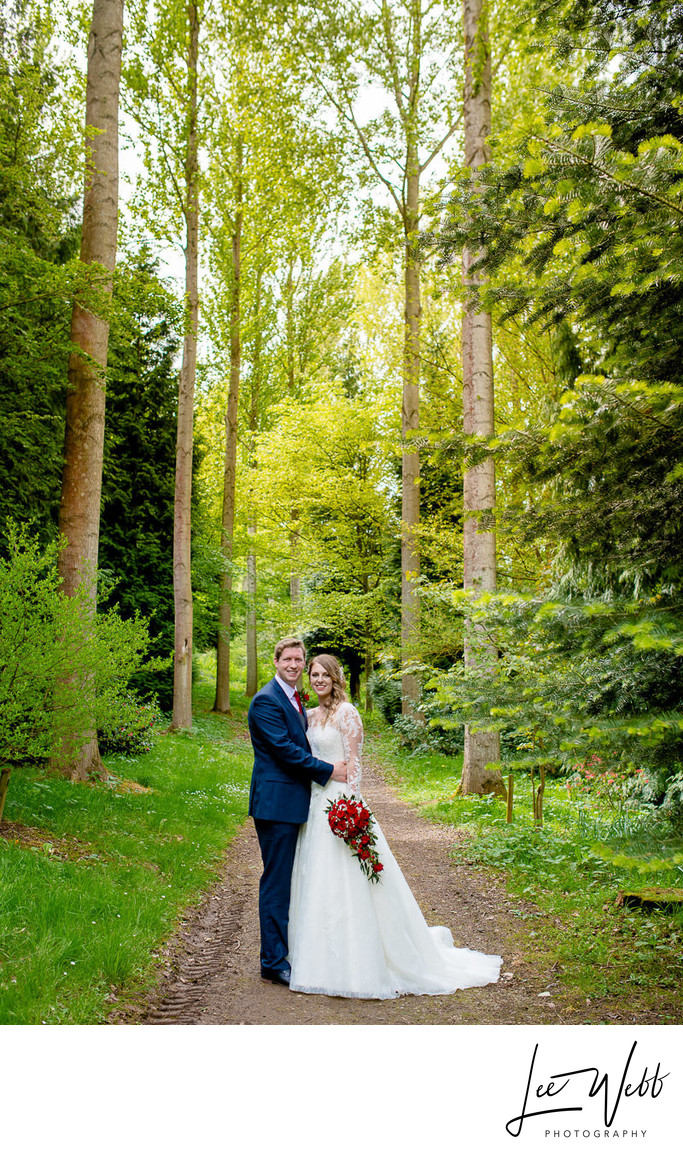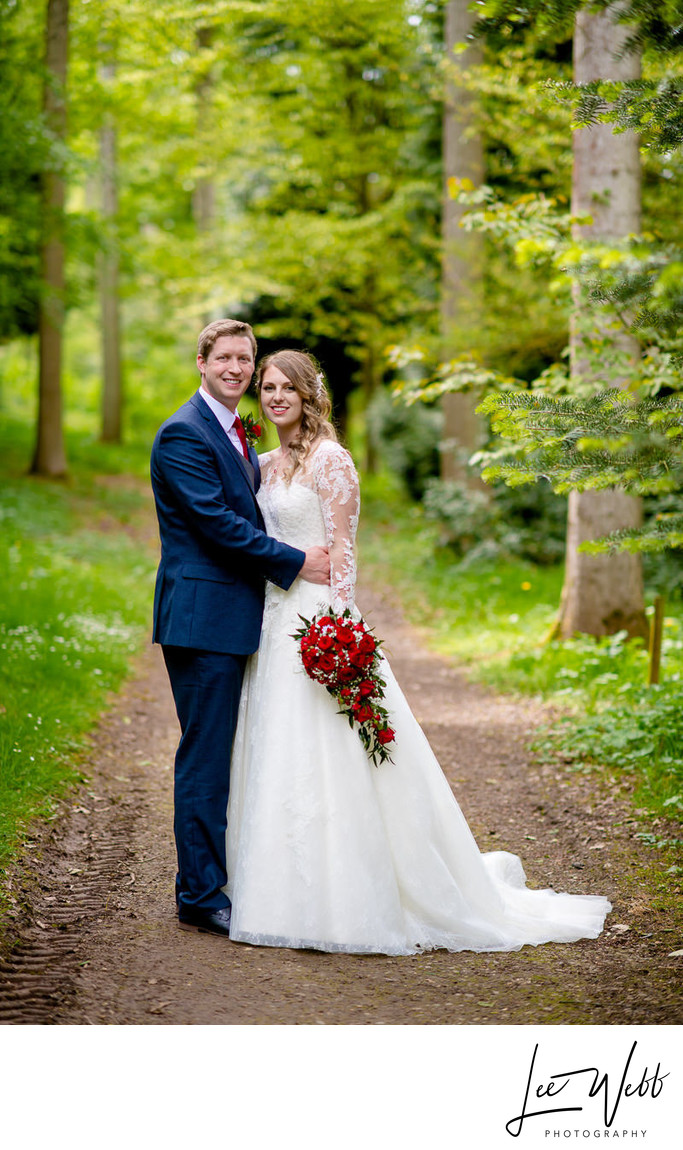 The conditions couldn't have been better for wedding photography - bright and overcast. Cloud cover acts like a giant soft-box and provides the most flattering light for couples portraits. As much as I hear brides and grooms on the morning of their wedding hoping for a bright and sunny day, direct sunlight actually hampers wedding photography: Having the sun shine directly onto your subject from the front, is far from flattering as long and harsh shadows are drawn across their bodies. Furthermore, there's much more contrast meaning there's a likelihood of having a wedding dress that appears too bright or a wedding suit that appears too dark. Cloud cover really takes care of this, and provides for the most flattering light you can use outside of a studio. Not having to worry about whether the sun is hitting your subject in the face means you can shoot exactly where and how you wish to shoot.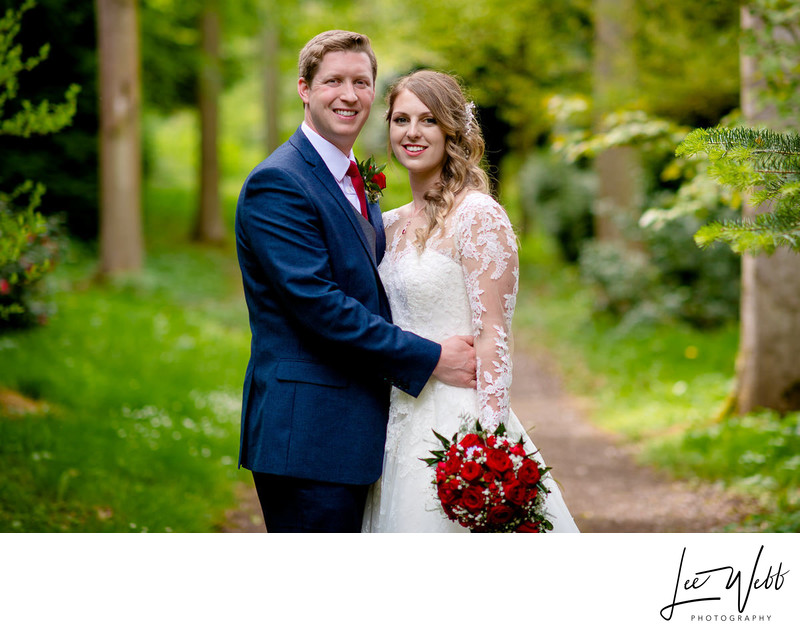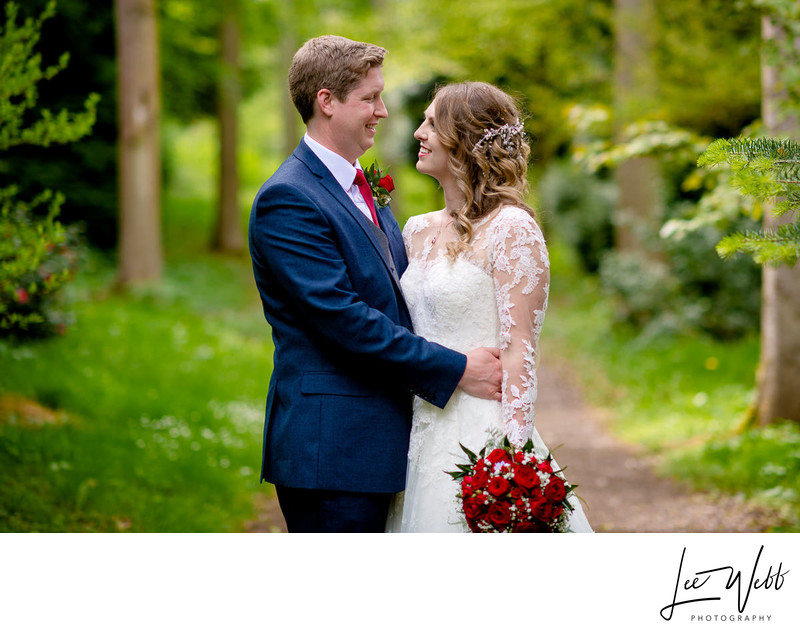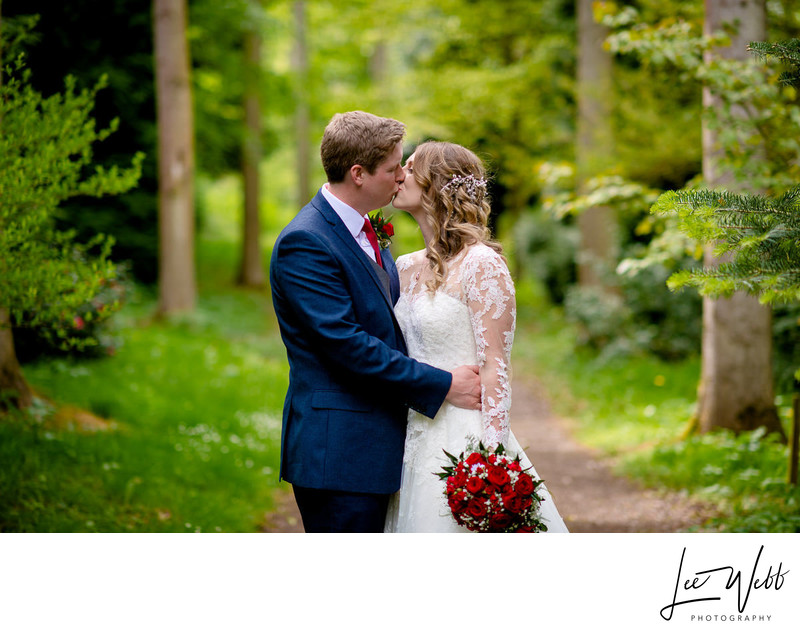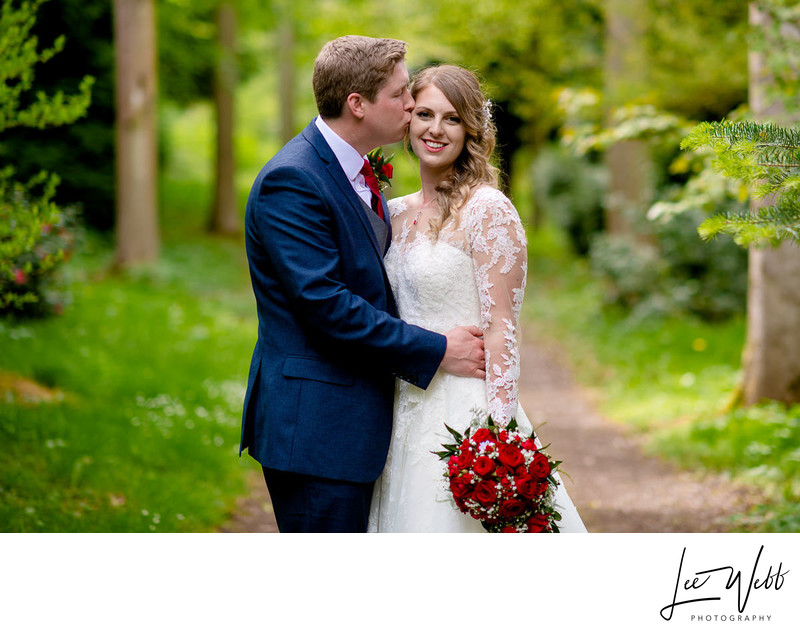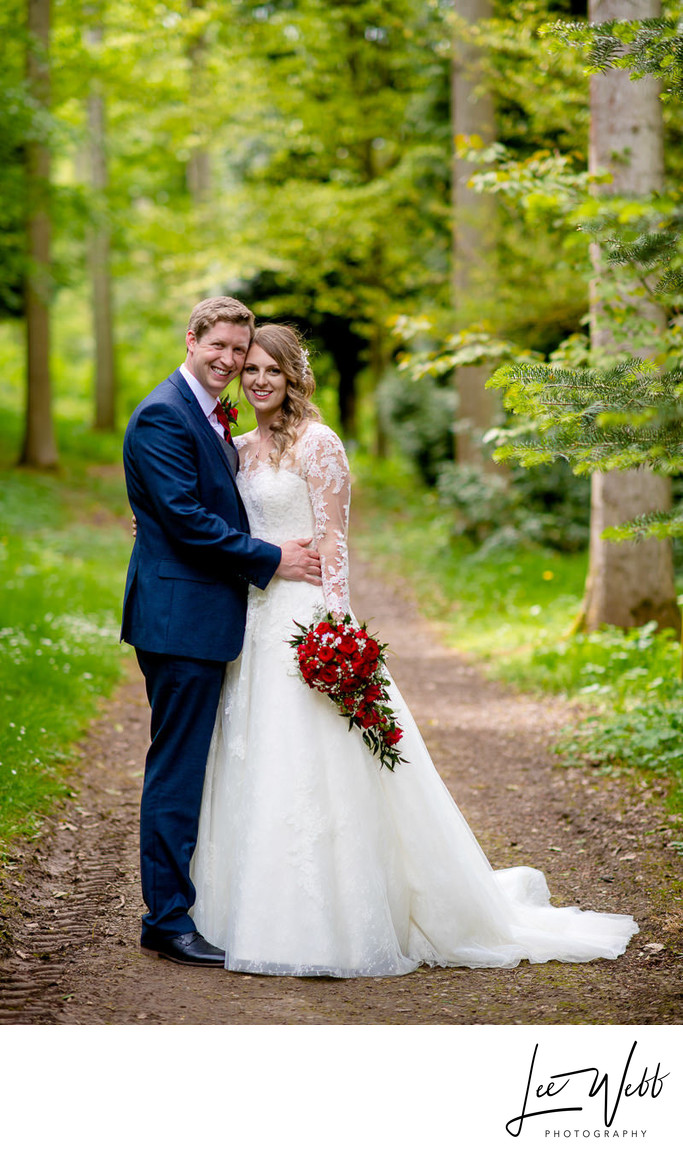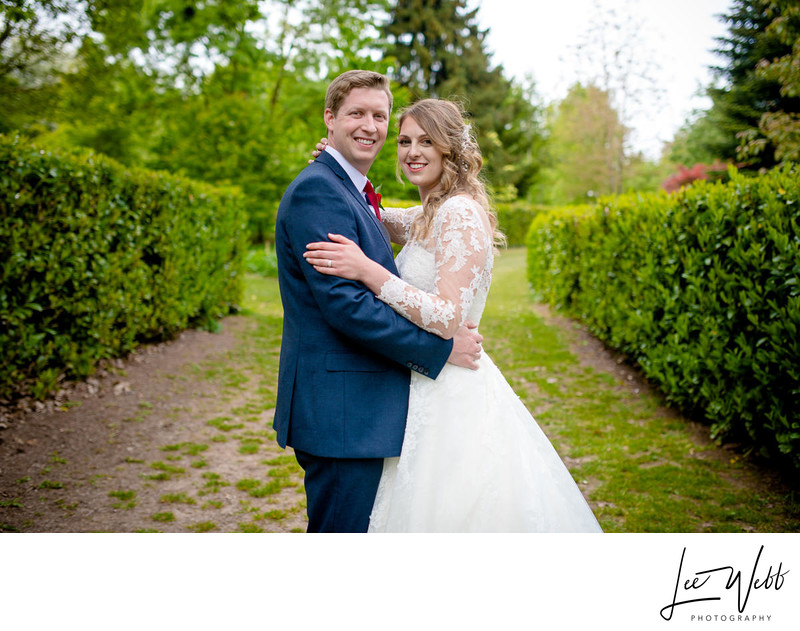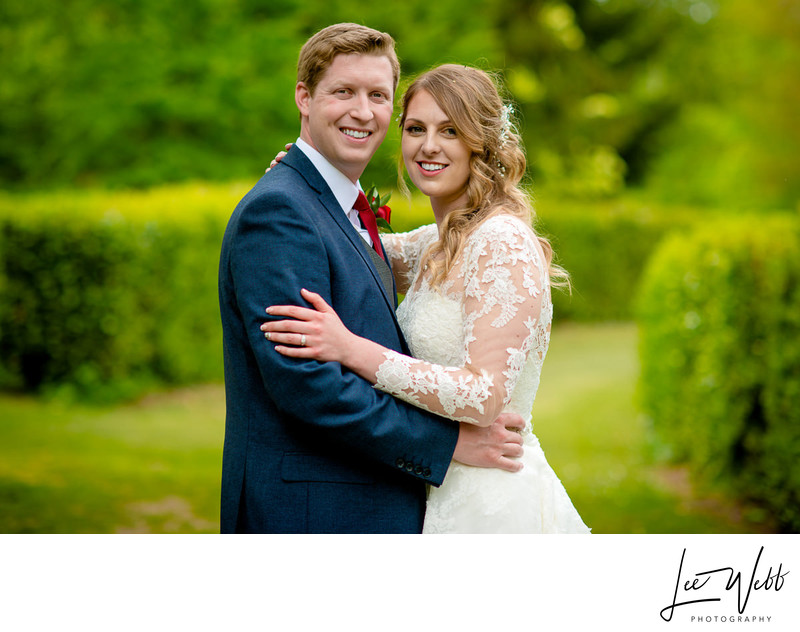 Bodenham Arboretum is a massive venue, far bigger than you can reasonably expect to see all of in the space of a wedding, let alone in the 30 minutes or so that most people allocate for their 'couples portraits.' In order to help combat this, I made sure that our final pre-wedding meeting took place at the arboretum, allowing the bride and groom to walk the grounds with me and decide between us where we'd like to take the photos of the couple. The bride and groom recommended places that they wished to have photos, and I made suggestions based on what would look best. We spent about two hours exploring the venue during this meeting, and used a map to mark out the route we would follow on the wedding day, ensuring we got the biggest bang-for-our-buck when it came to how we used time on the big day.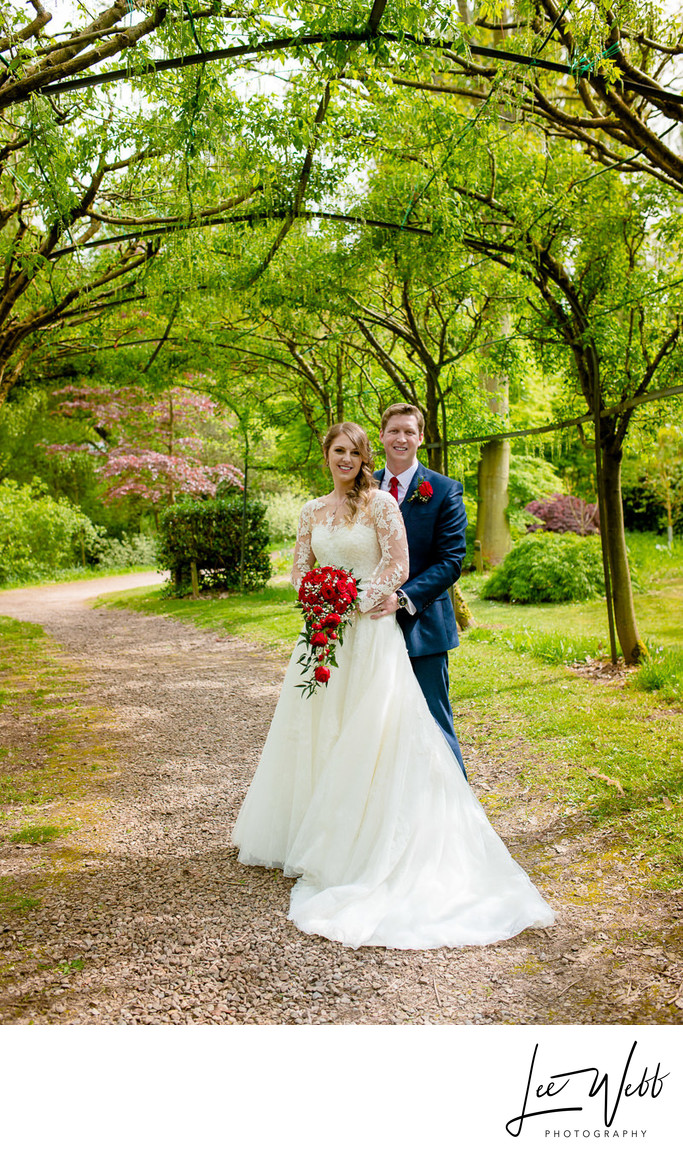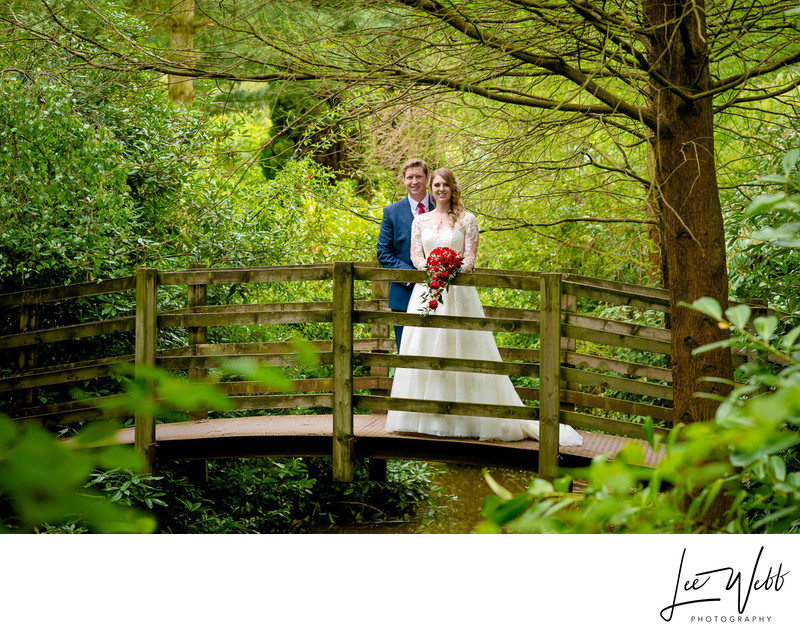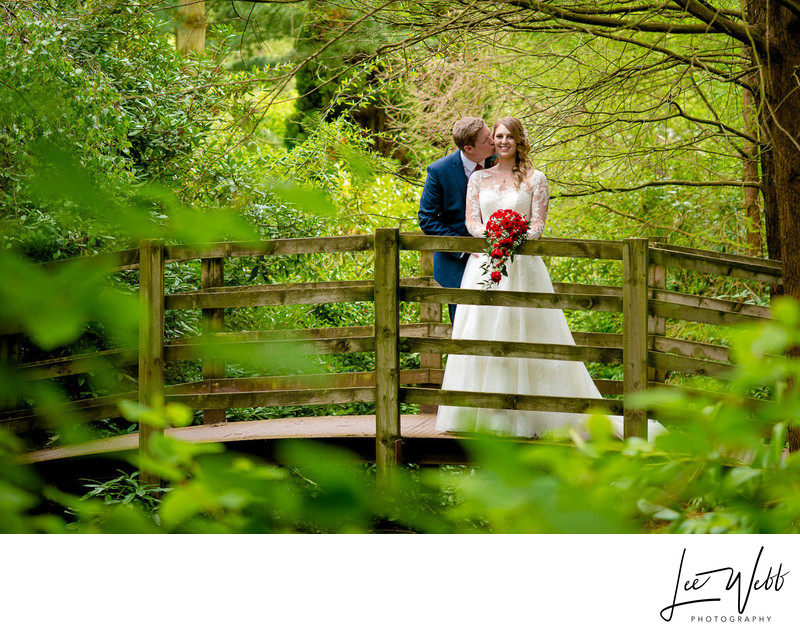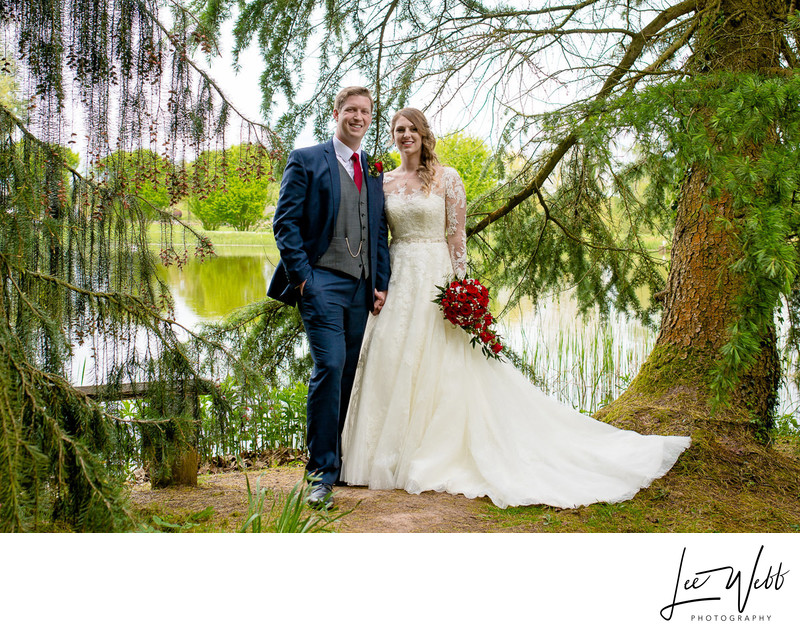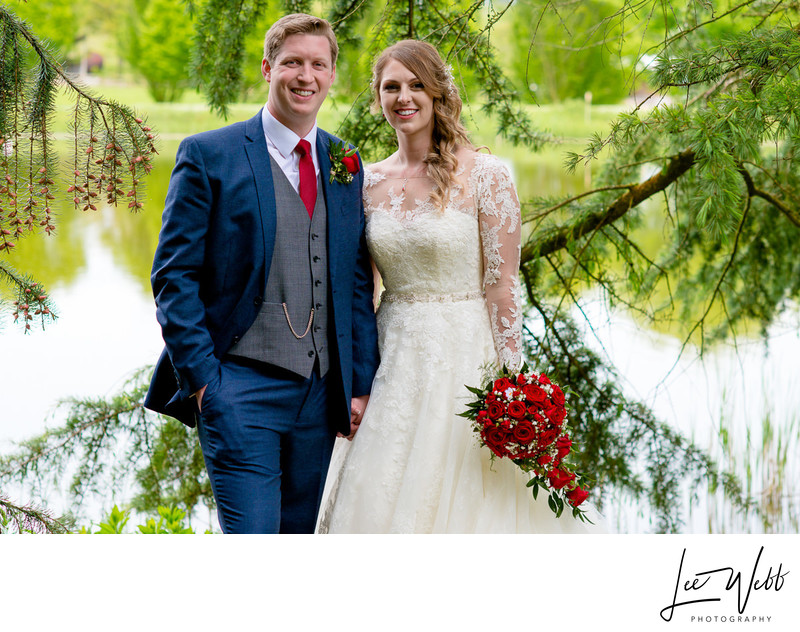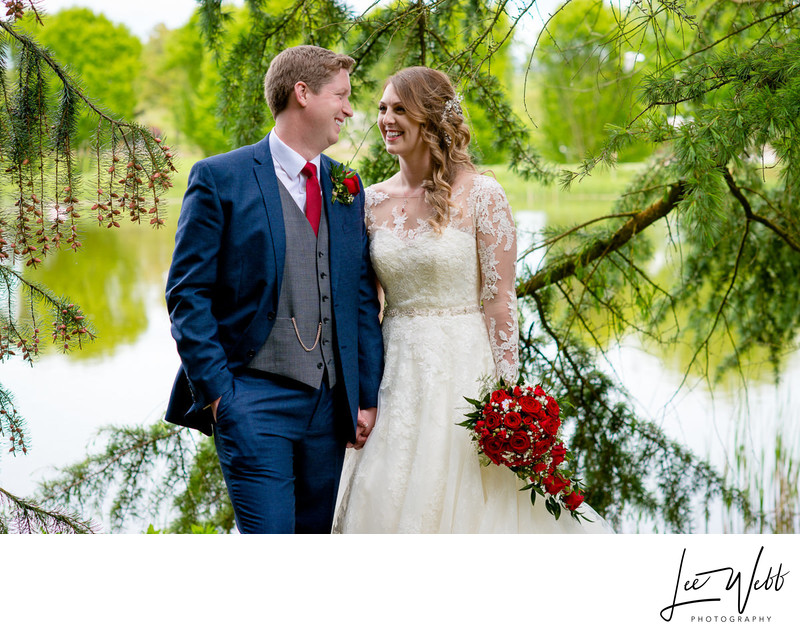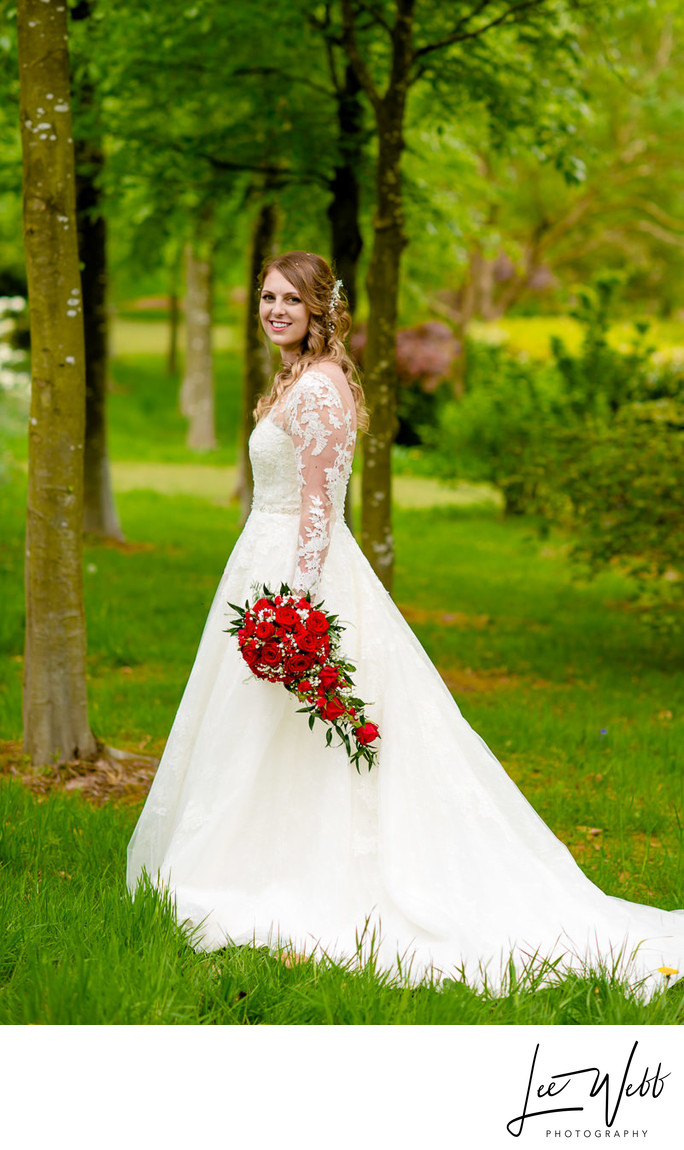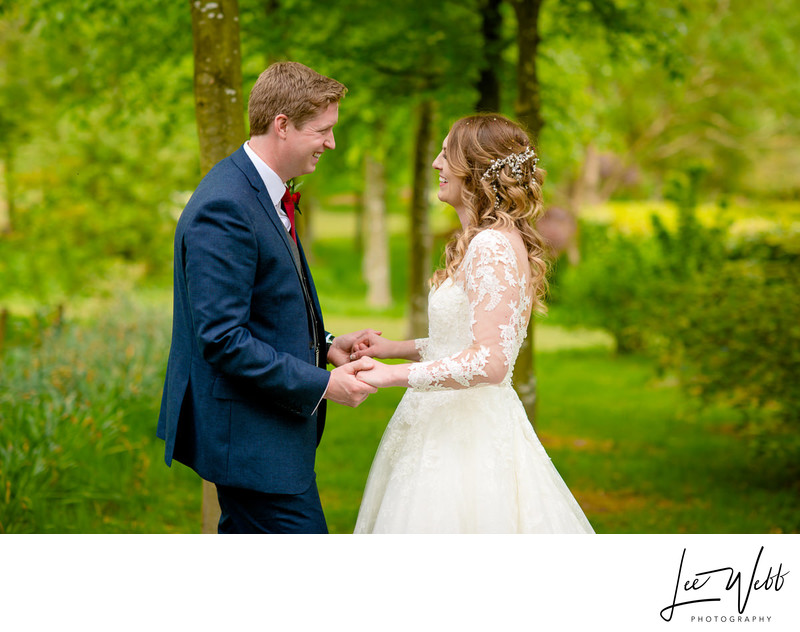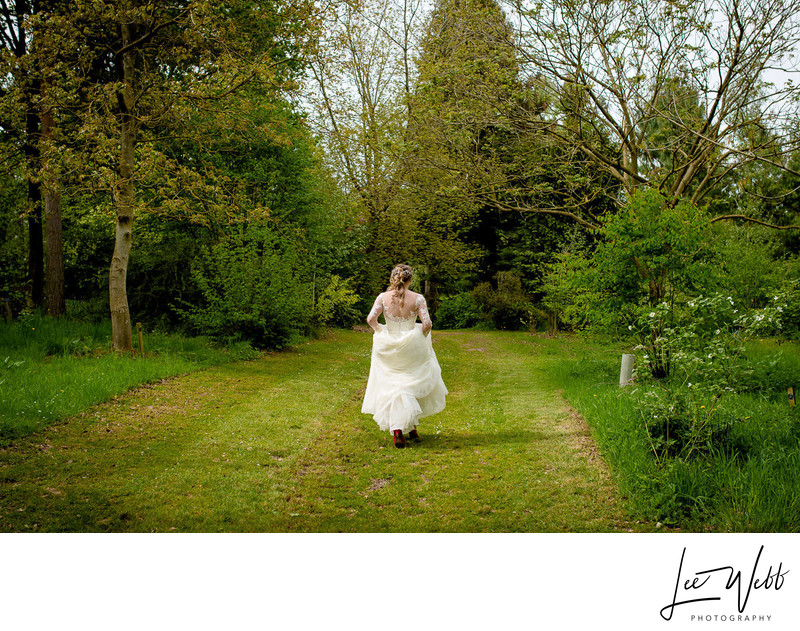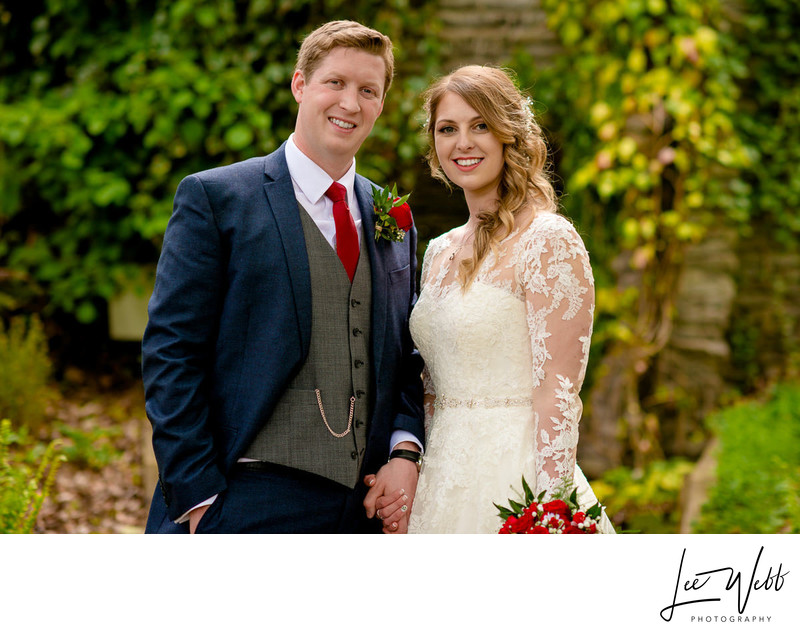 Ailsa and Anthony made sure all of the formal group photos they wanted were taken at the church, allowing the guests to fully enjoy themselves once they had made their way to the reception. This also meant that the bride, groom and myself were able to take a full 45 minutes to walk around the wonderful location and really get a full and varied collection of wedding photos.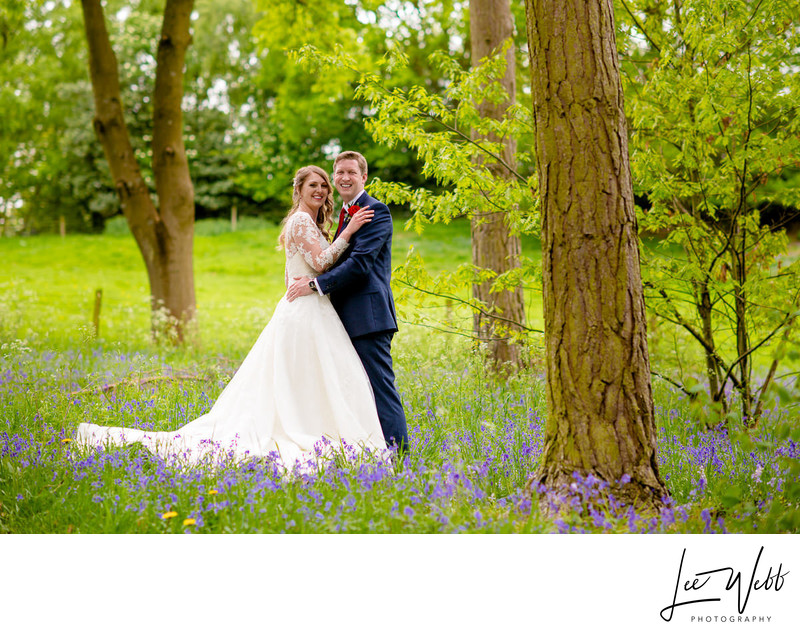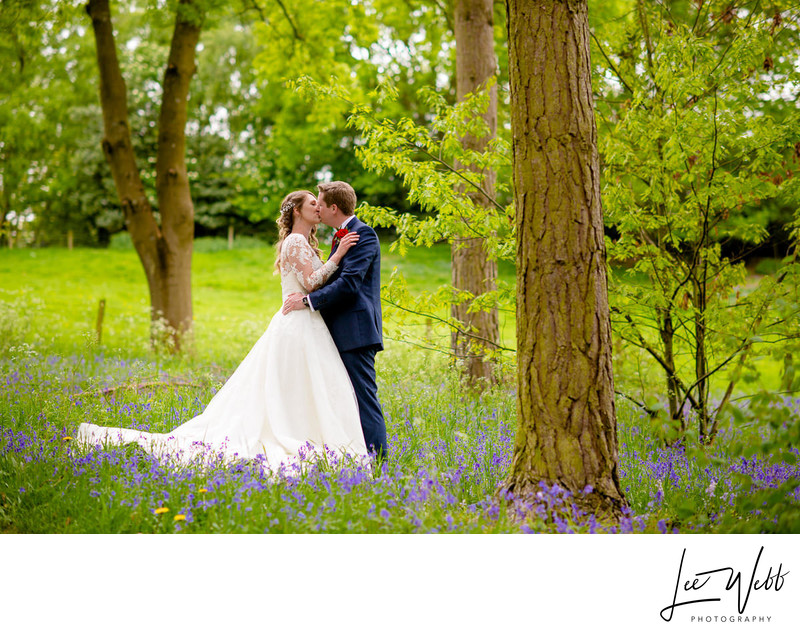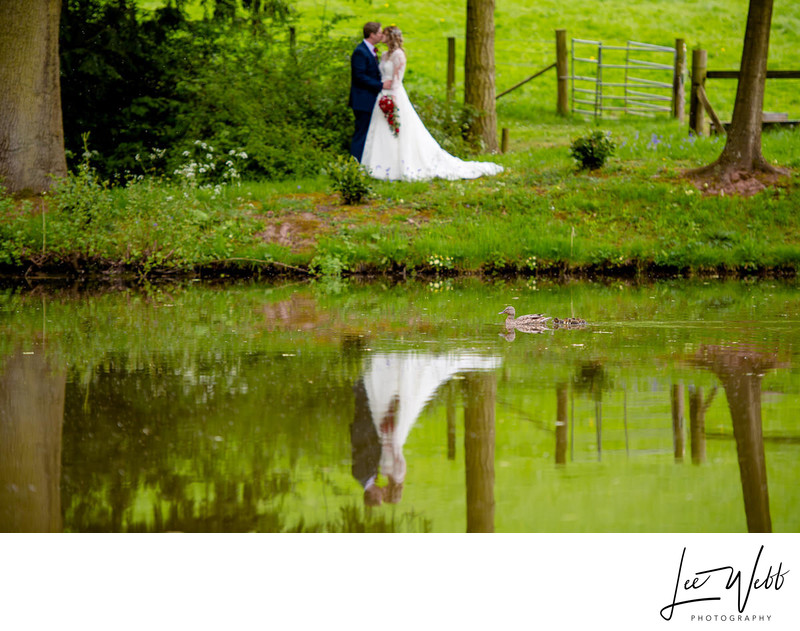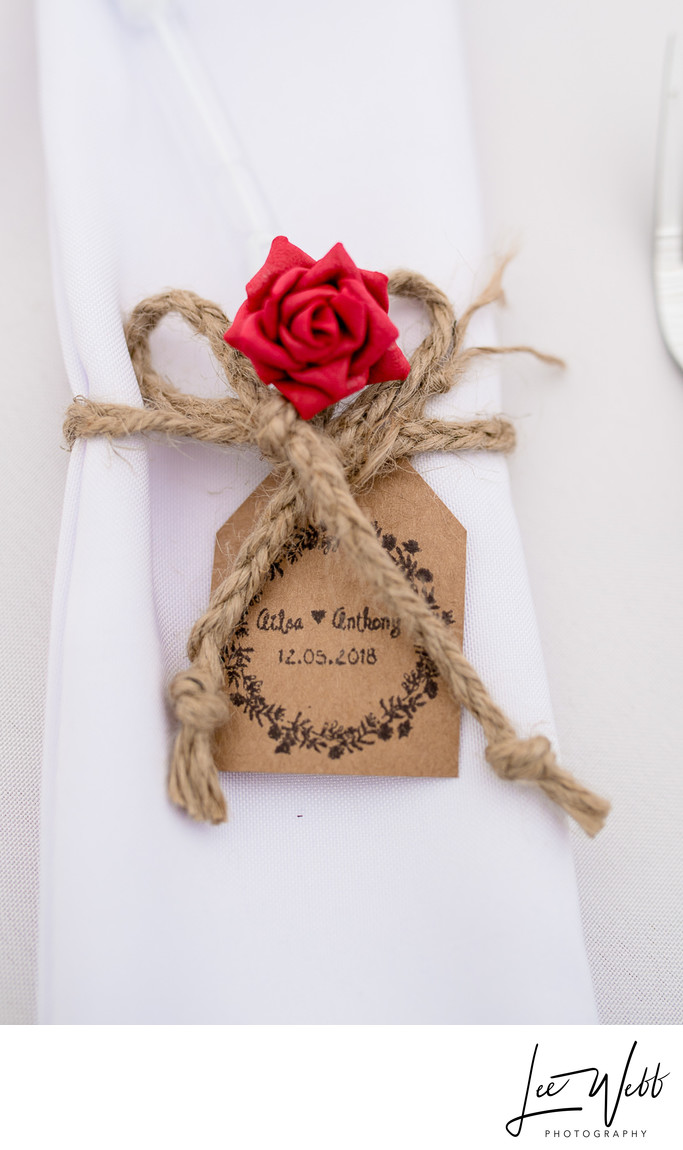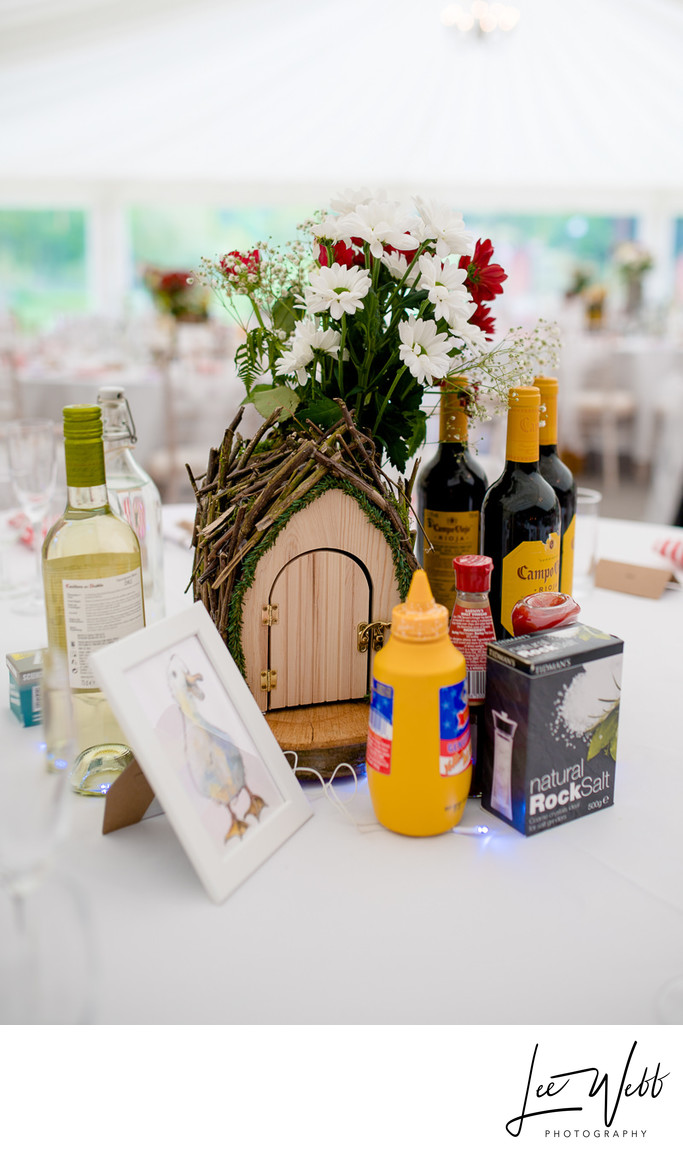 The bride and groom were big 'foodies' and there was one rule for food when it came to their wedding - that there should be plenty! The wedding guests enjoyed a barbecue and for dessert, guests were invited to bring enough pudding or cake to share with others - this meant there was enough to go around several times! (My kind of wedding!)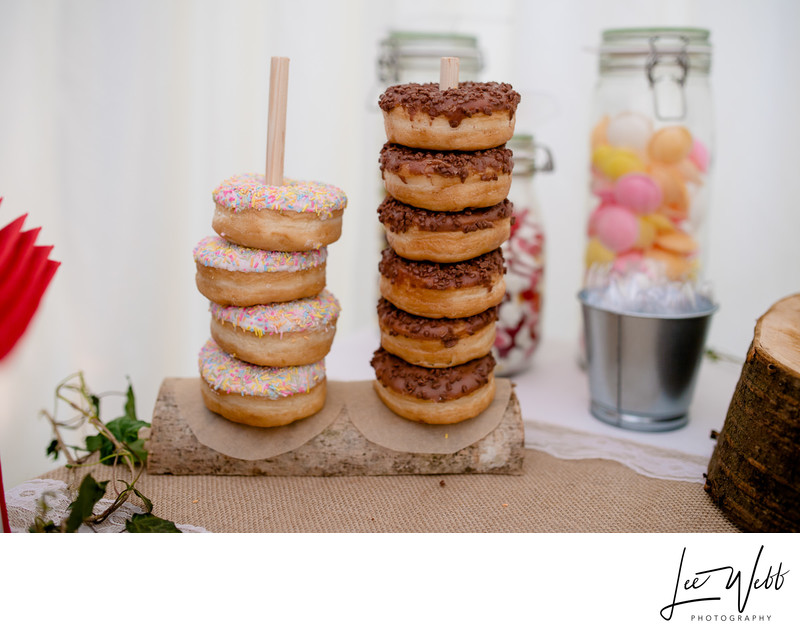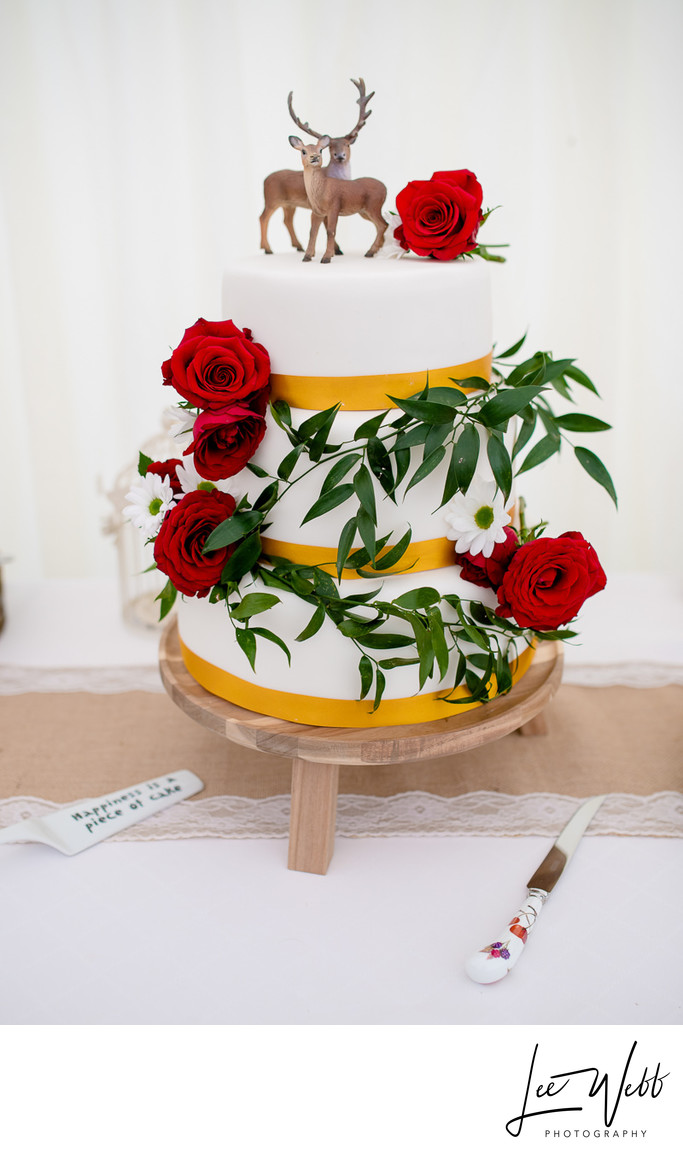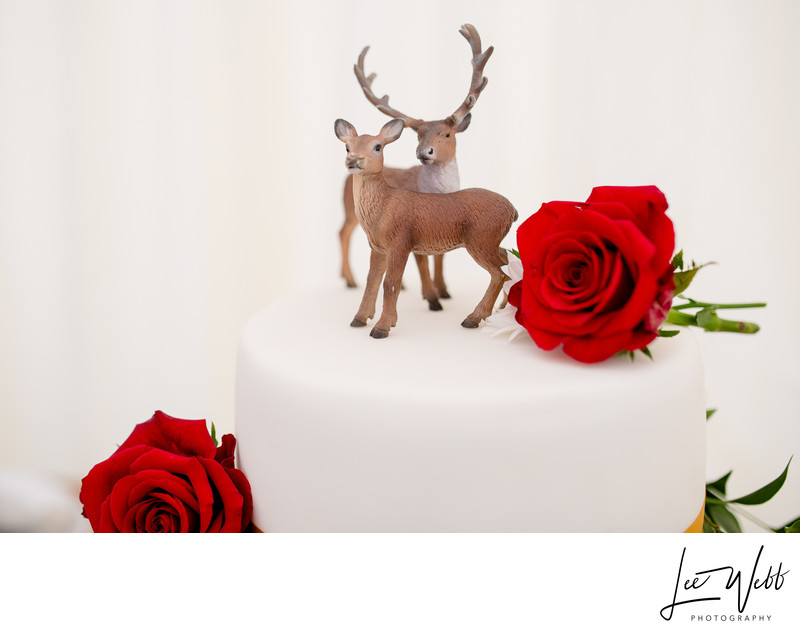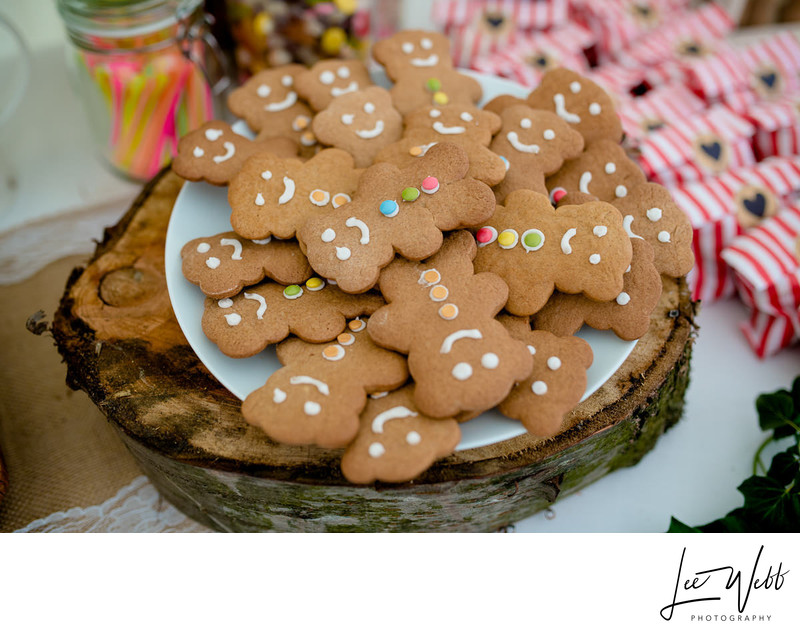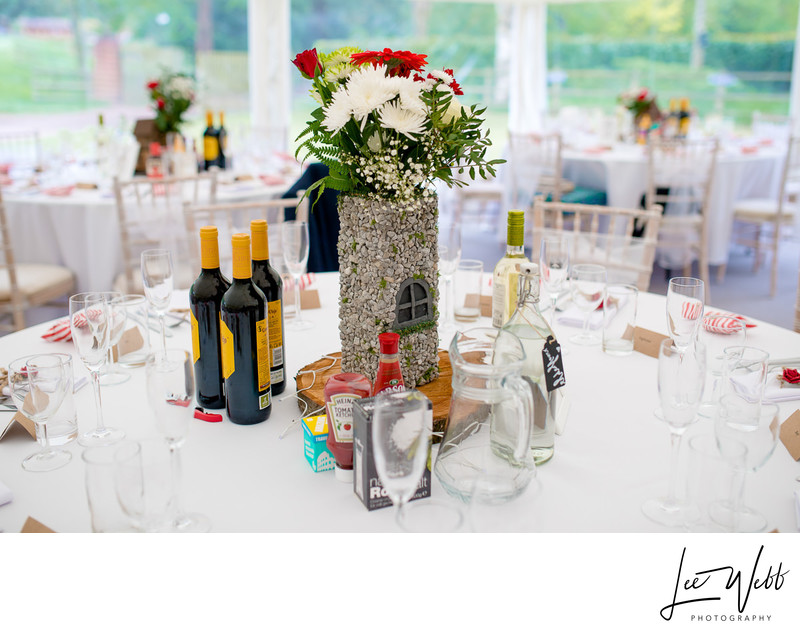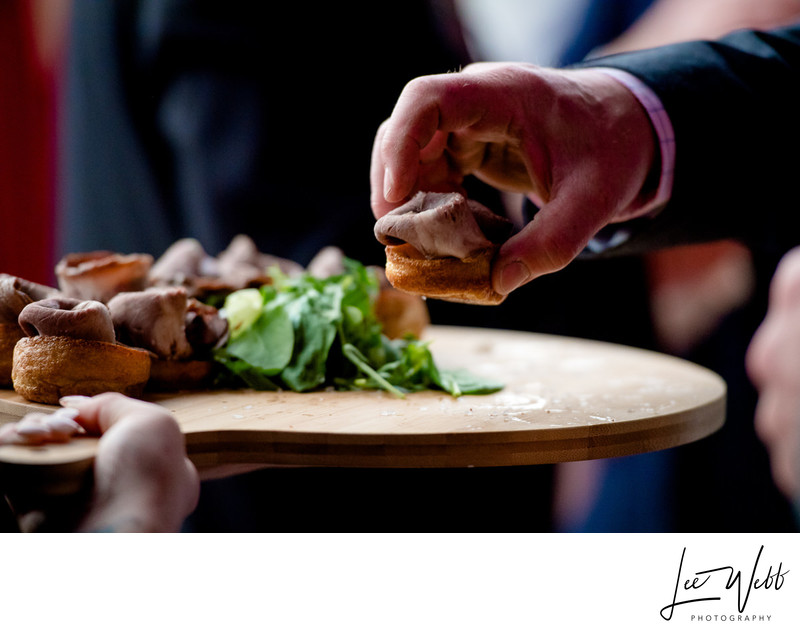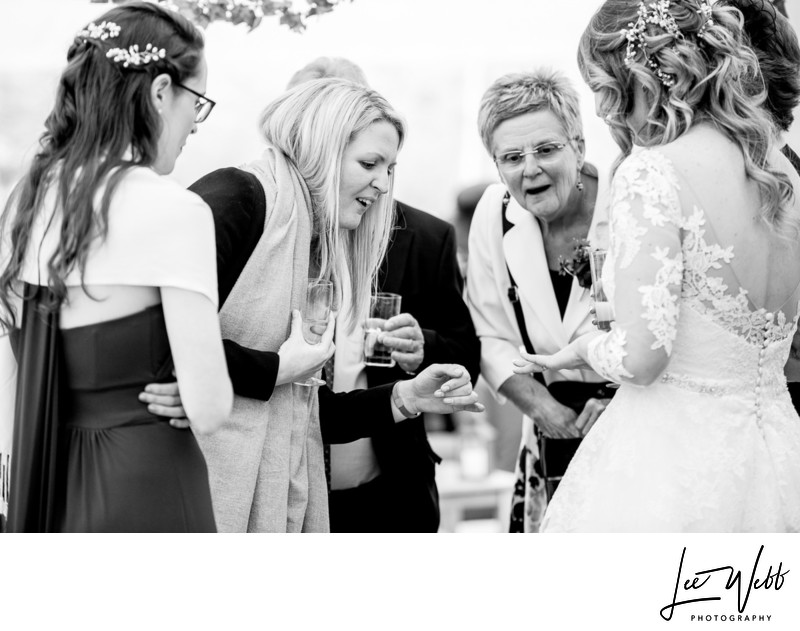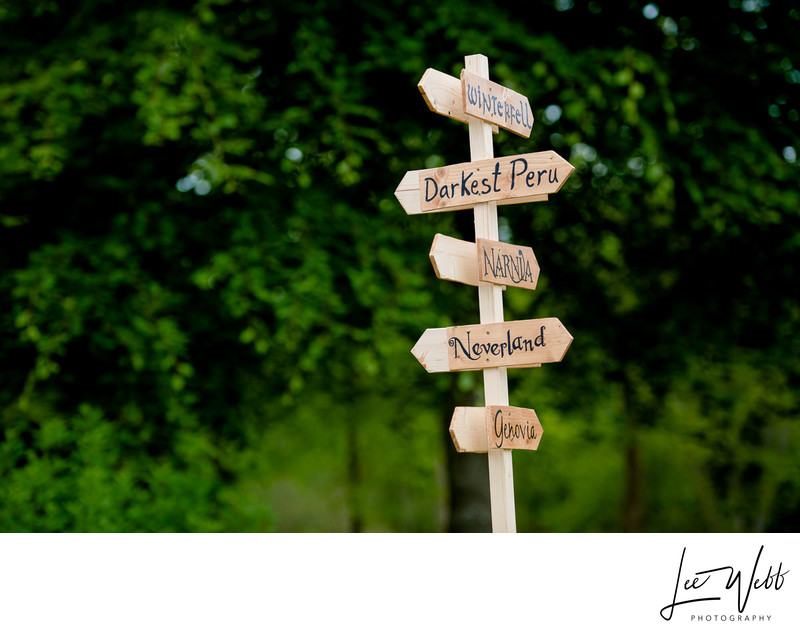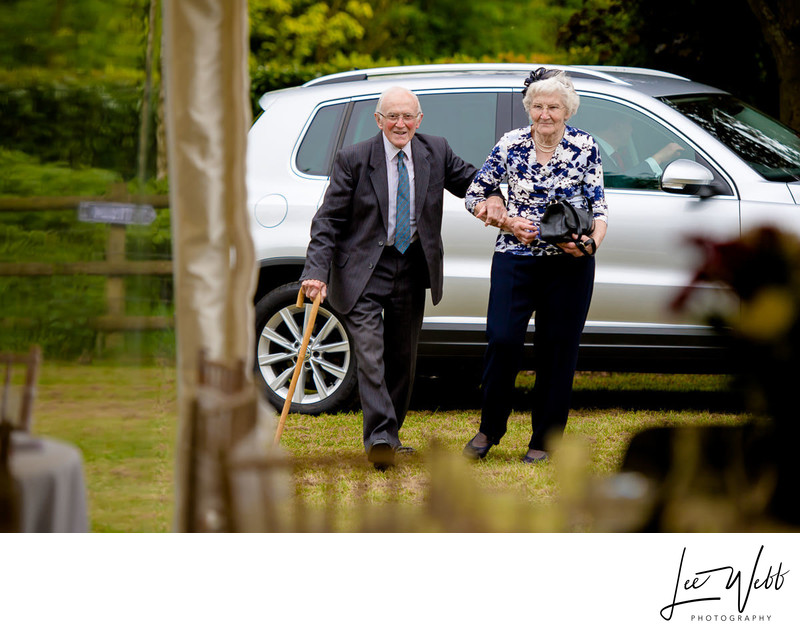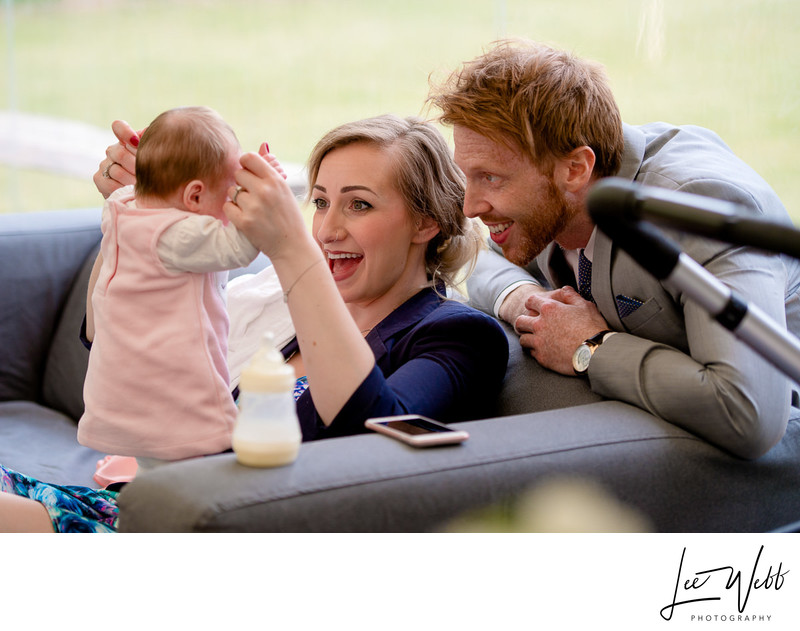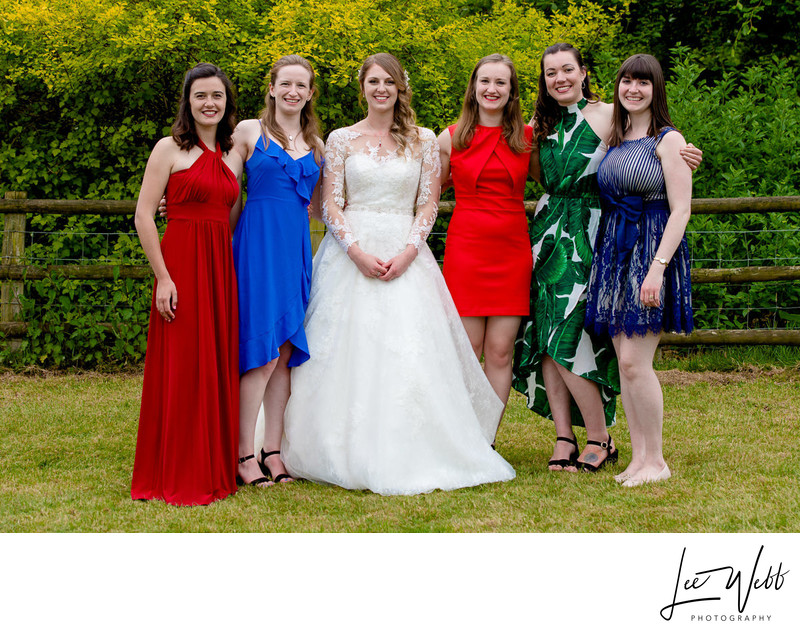 Lawn games provided ample entertainment for the day and evening guests alike. The ring-toss and Frisbee proved to be very popular! Modern wedding days are becoming more and more drawn out - I often find myself at weddings for 15 hours, and the party goes on long after I leave. There's a risk that a wedding can stagnate after the wedding breakfast, especially in summer months where it's still light past 9pm. Garden games are a great way to keep people busy, and laughing at the same time. It's also a good way to get some really natural, candid photos of your wedding guests.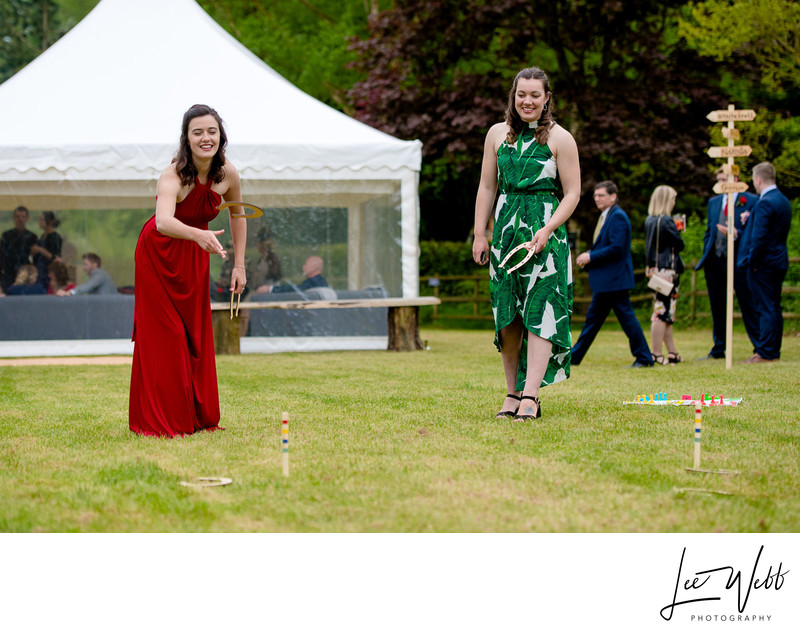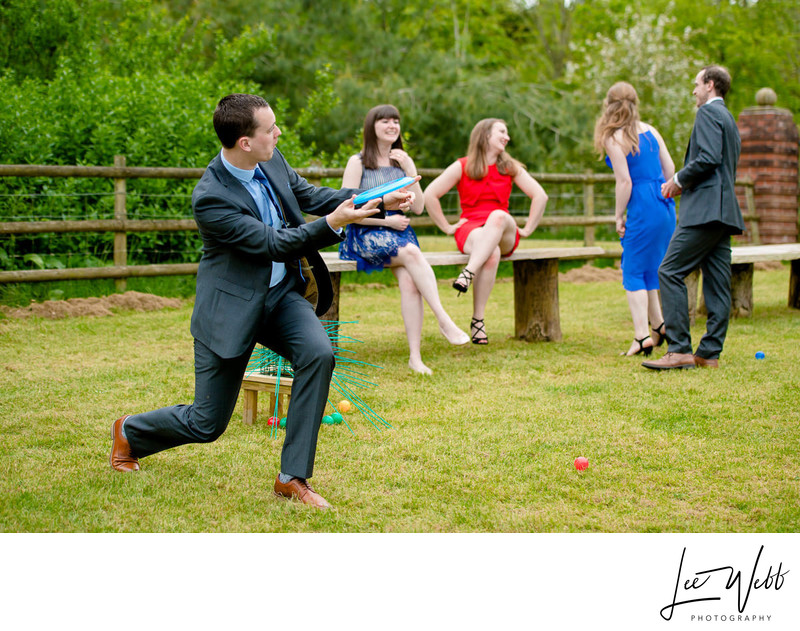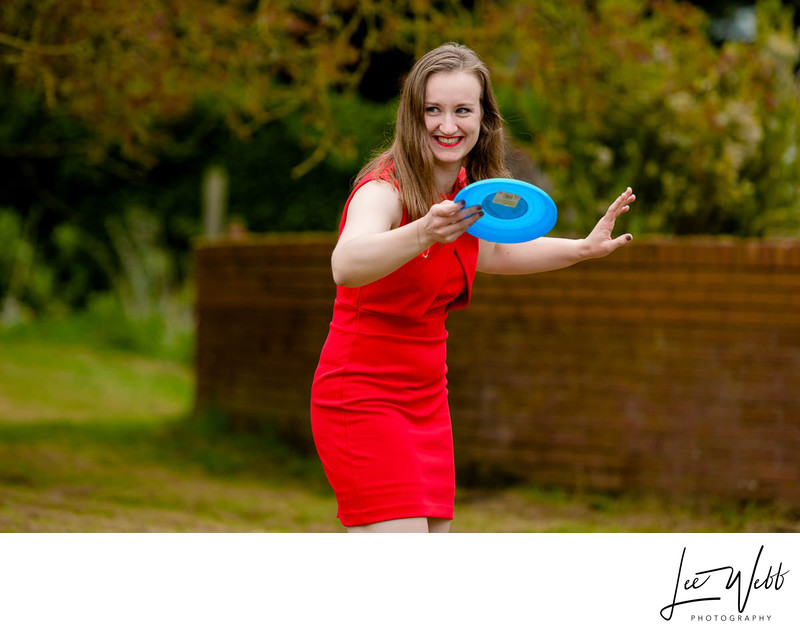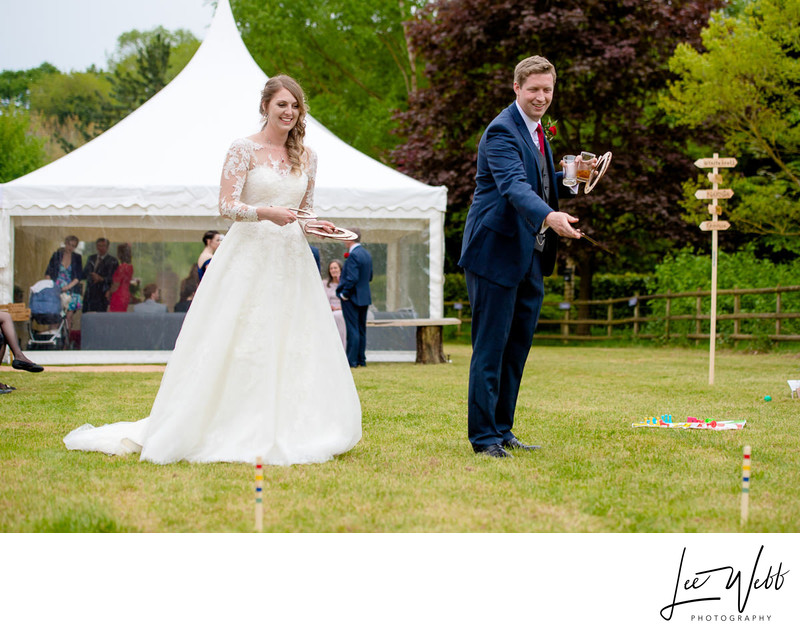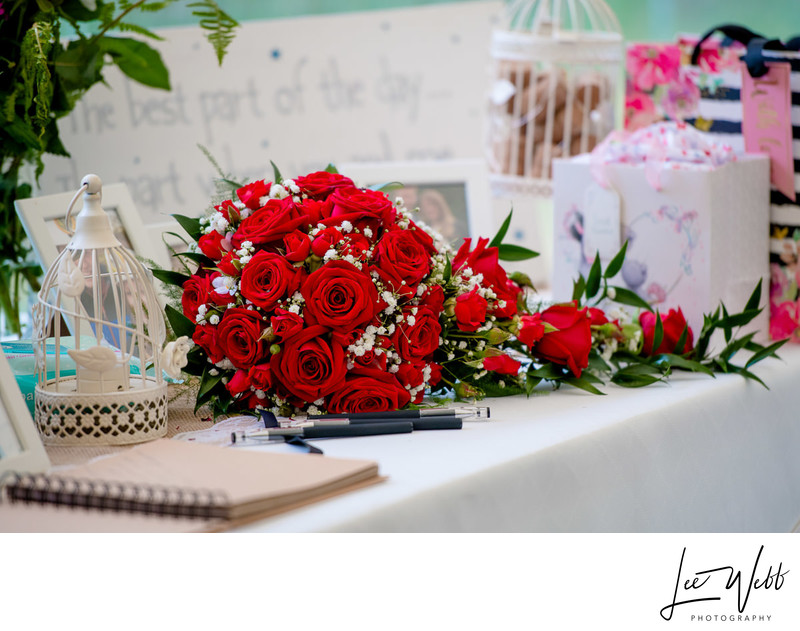 For the wedding breakfast, the bride and groom had picked to have a BBQ feast instead of the more traditional three courses. And when they said 'feast,' they really meant it! The starter consisted of a cold meat platter with pickles and coleslaw, with the main including options for chicken and beed burgers for the meat-eaters and Halloumi burgers for the vegetarians.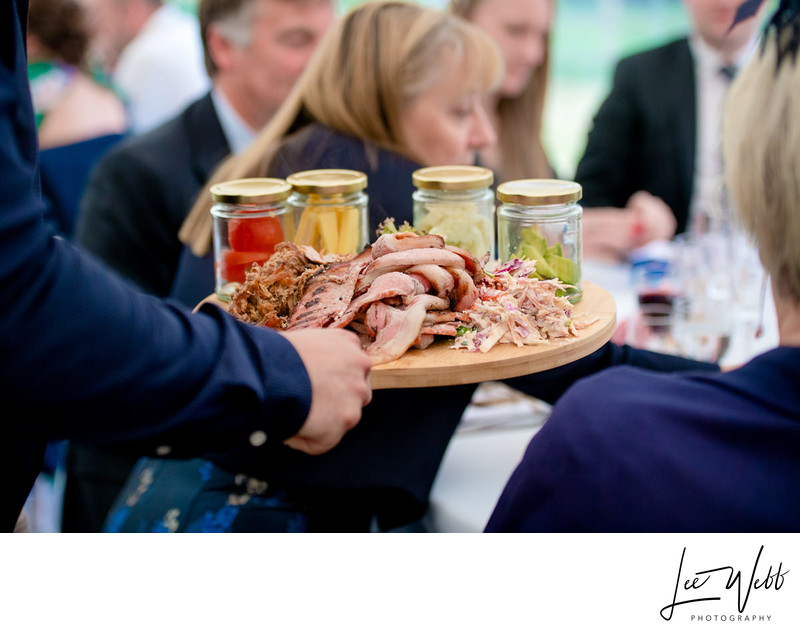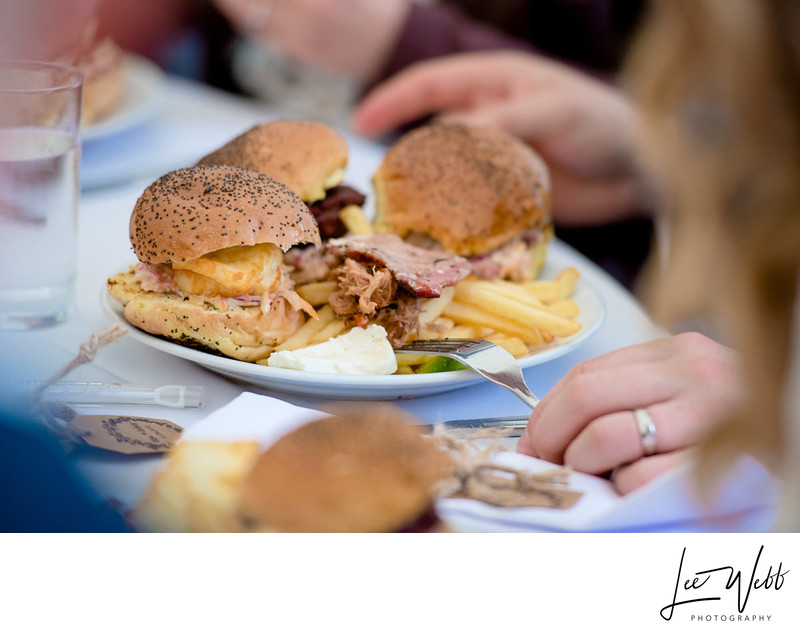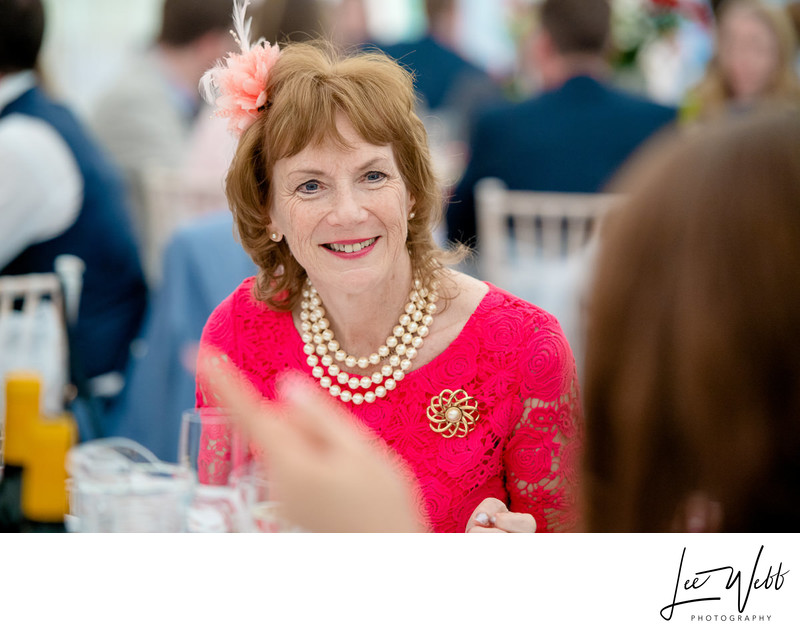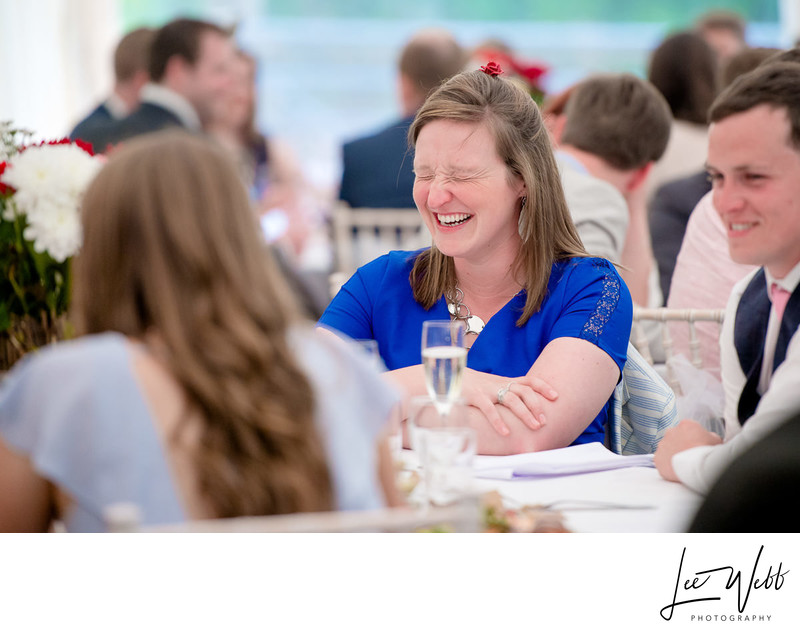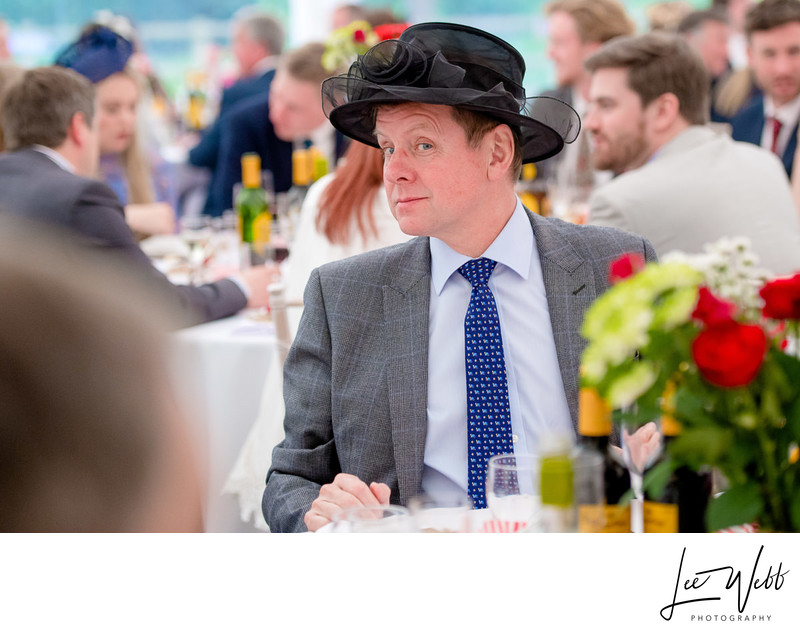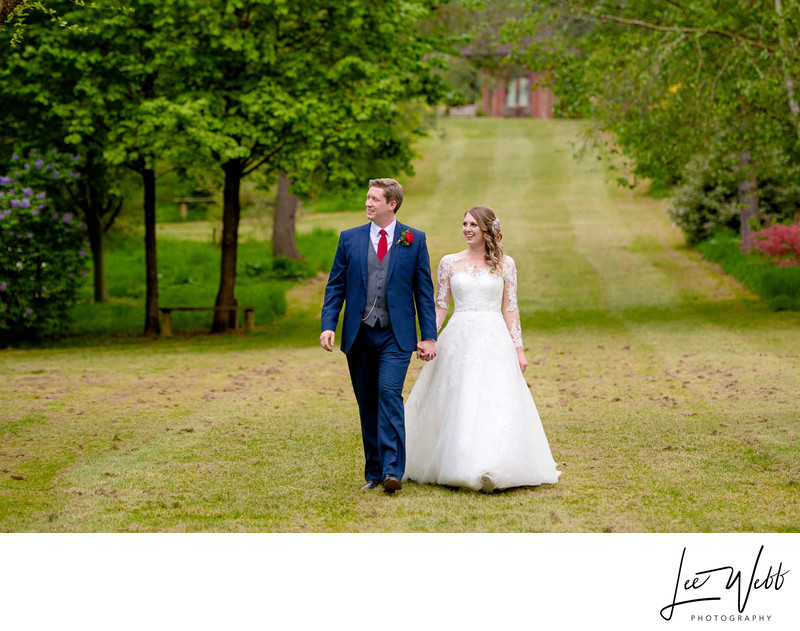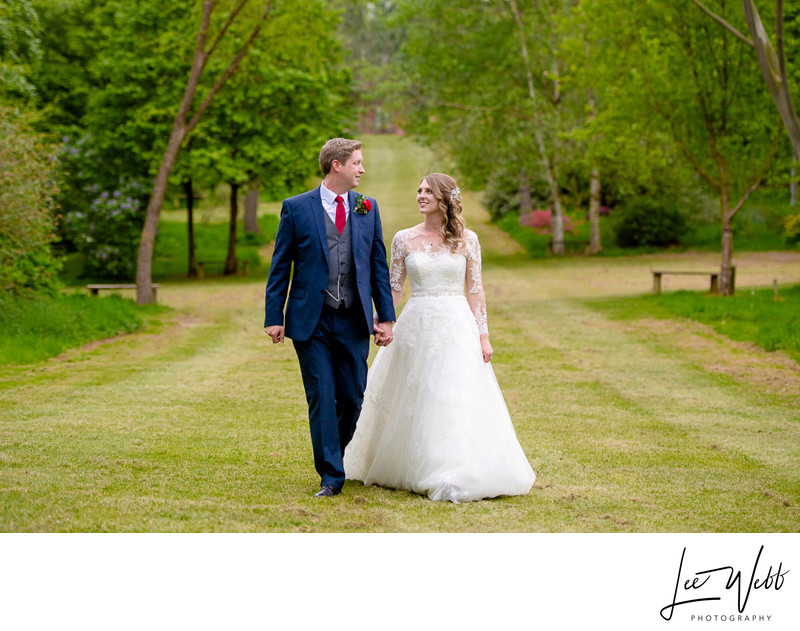 The groom decided to write his speech (with some help it must be added) only a few minutes before he was due to give it! The good news is, it was a hit!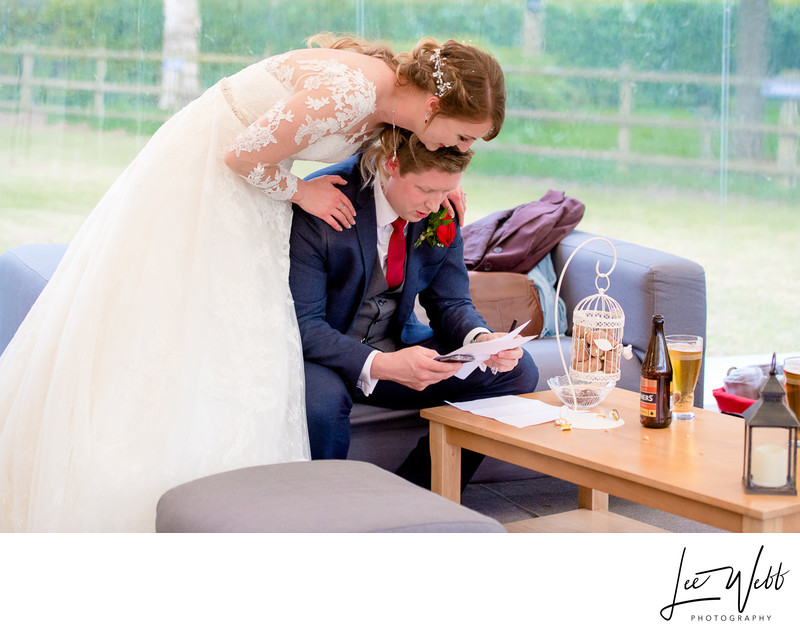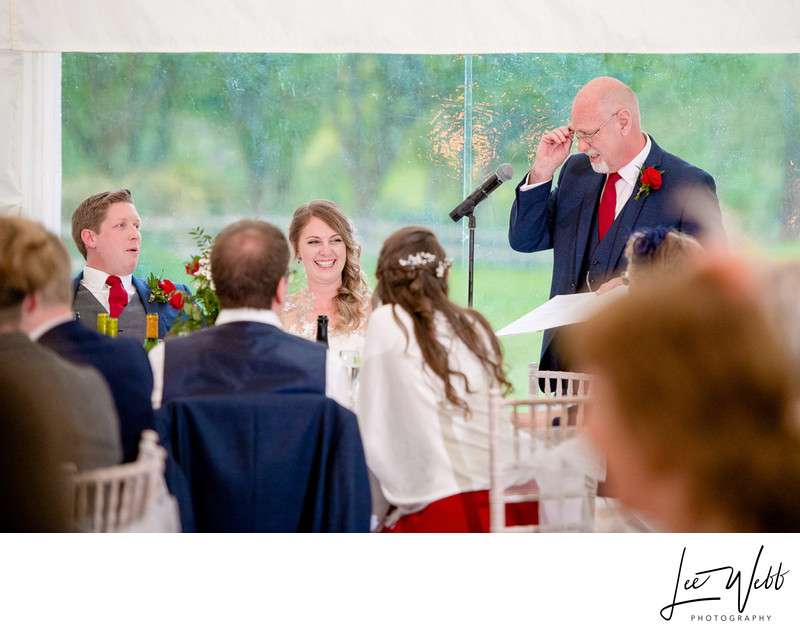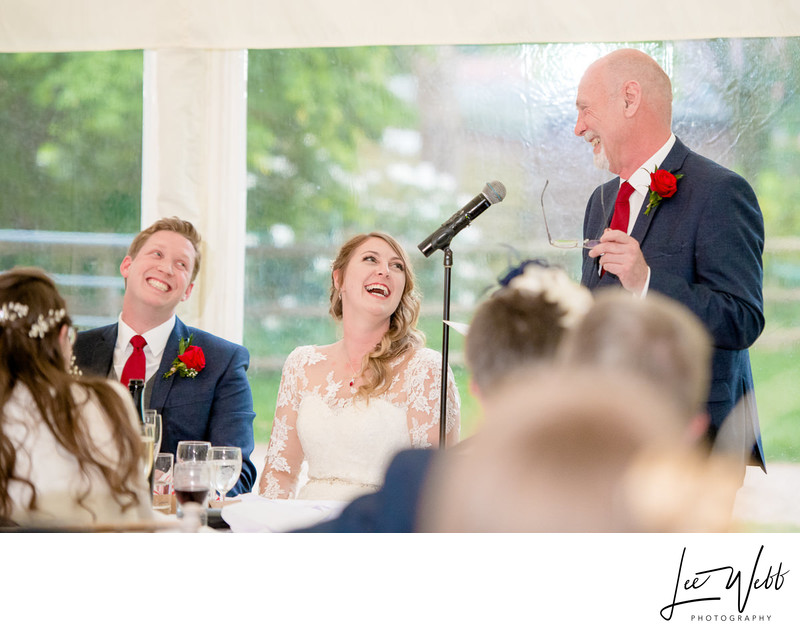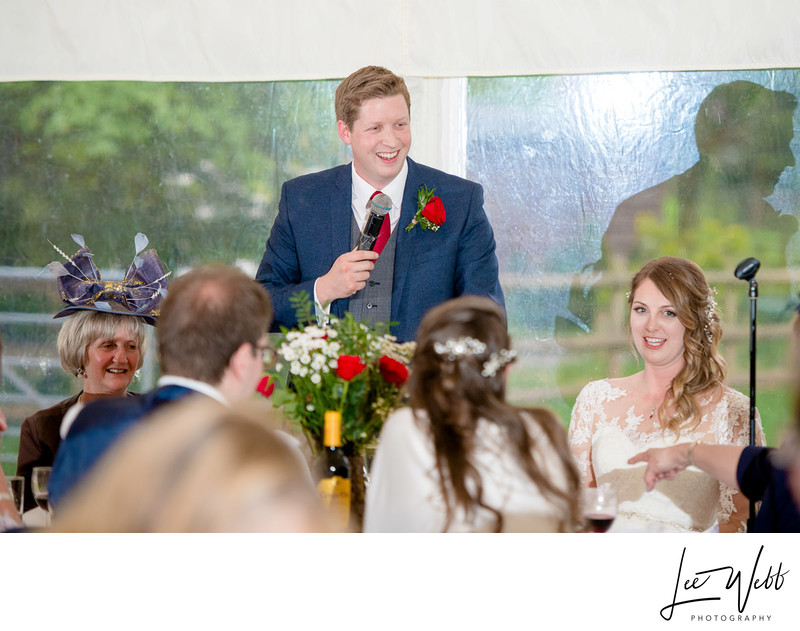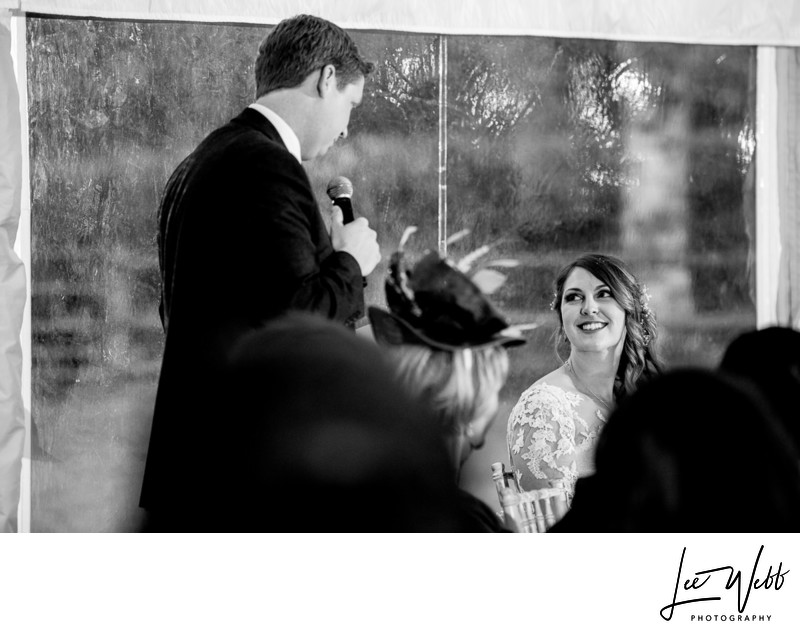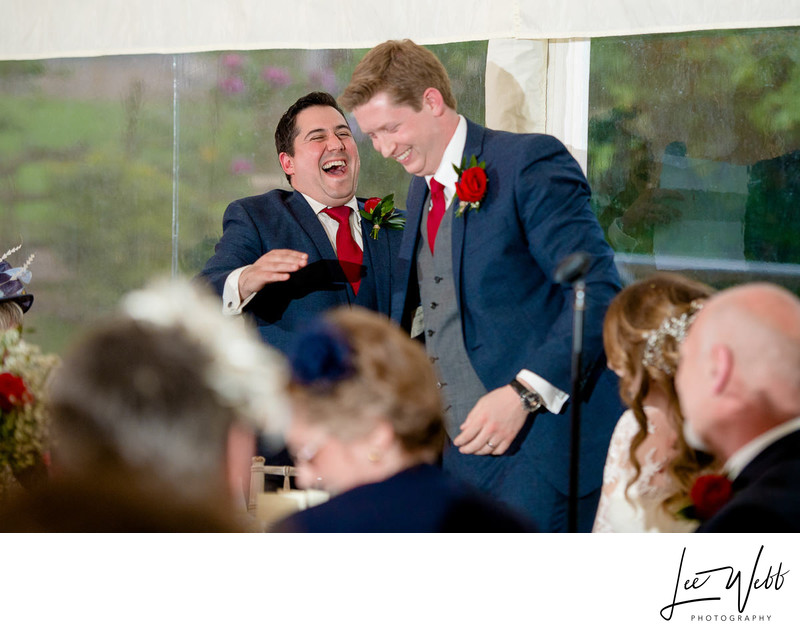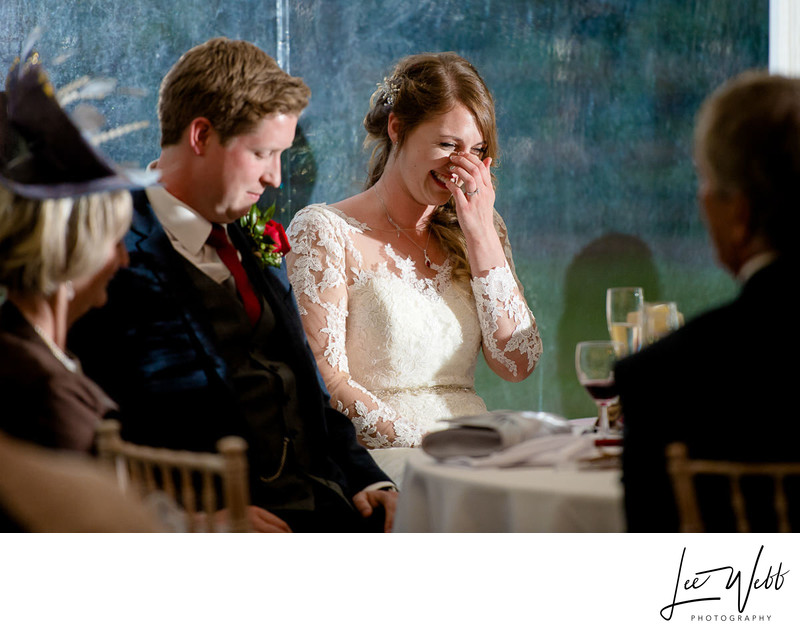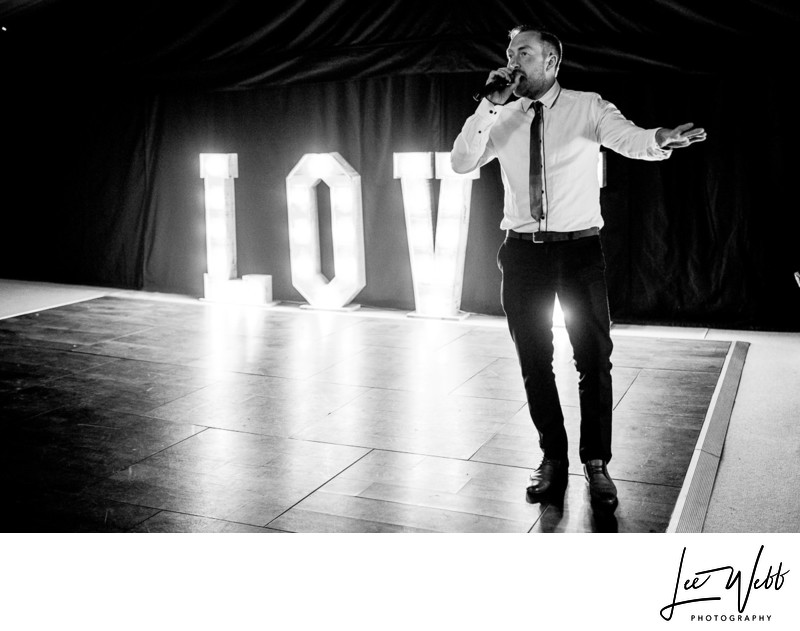 Truer words have never been spoken: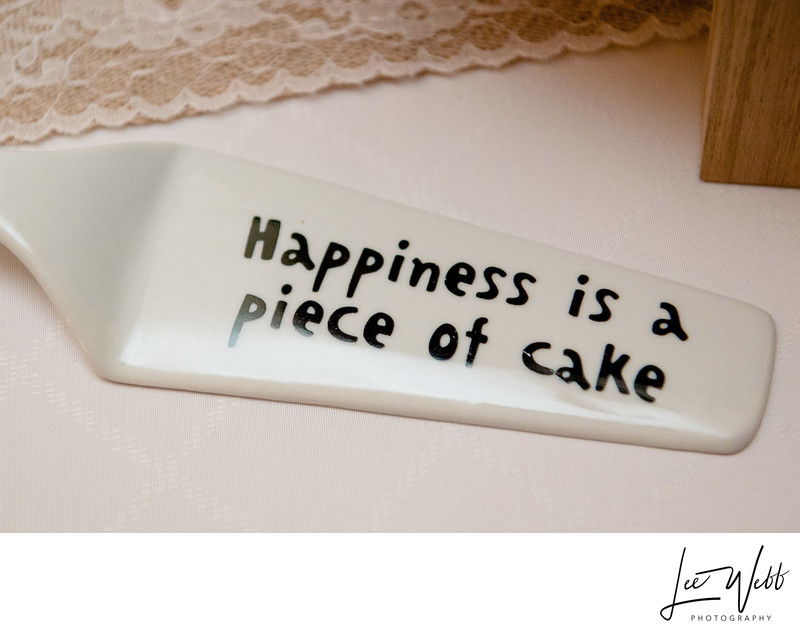 A tree with leaves made from guest thumbprints is a beautiful way of capturing a piece of everyone who was present on the wedding day, and leaves you with a piece of art that wouldn't look out of place in any room of your home.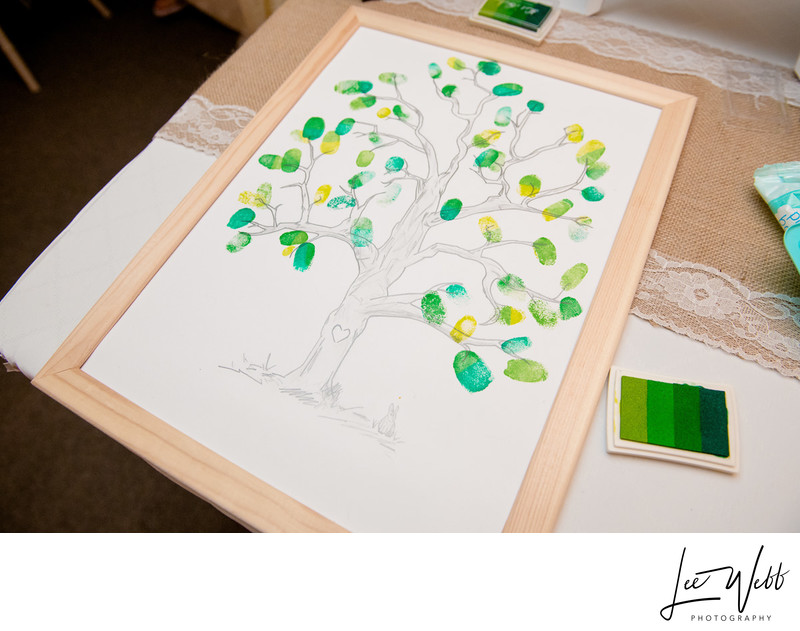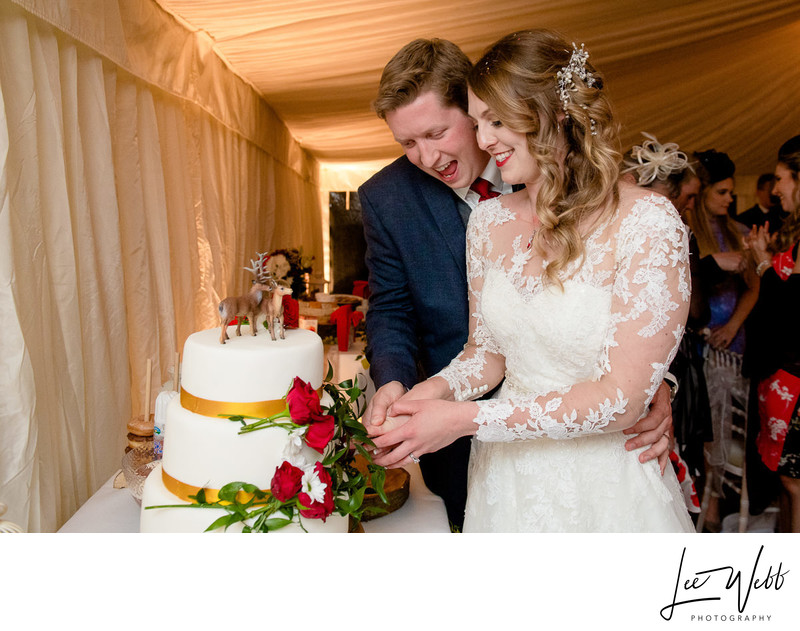 With the wedding breakfast eaten, the speeches spoken and the cake cut, it was time for the bride and groom to take their first dance together as husband and wife. For these images I used two off-camera flashes to really give the images that extra dimension. There was very little light in this end of the marquee and certainly not enough to photograph in. Whilst I don't always enjoy adding to a wedding scene, you have to admit that these first dance photos are epic!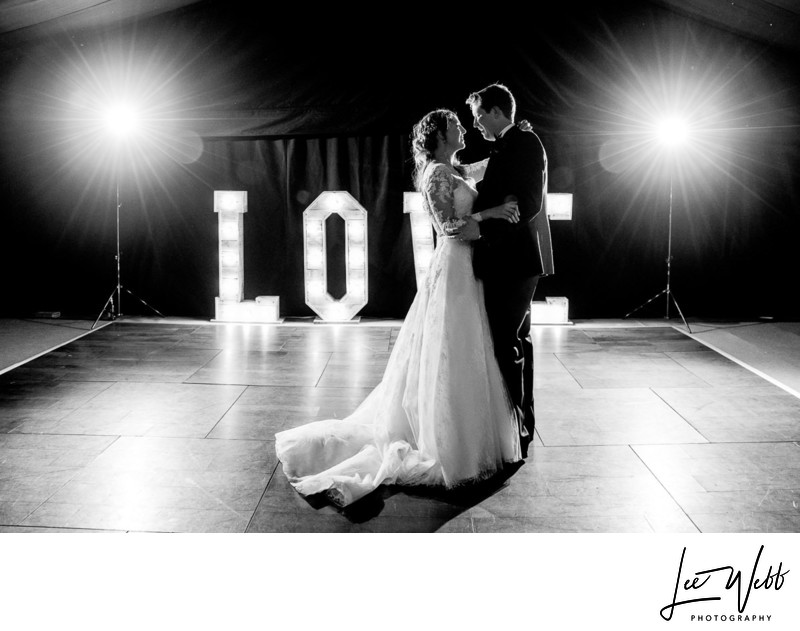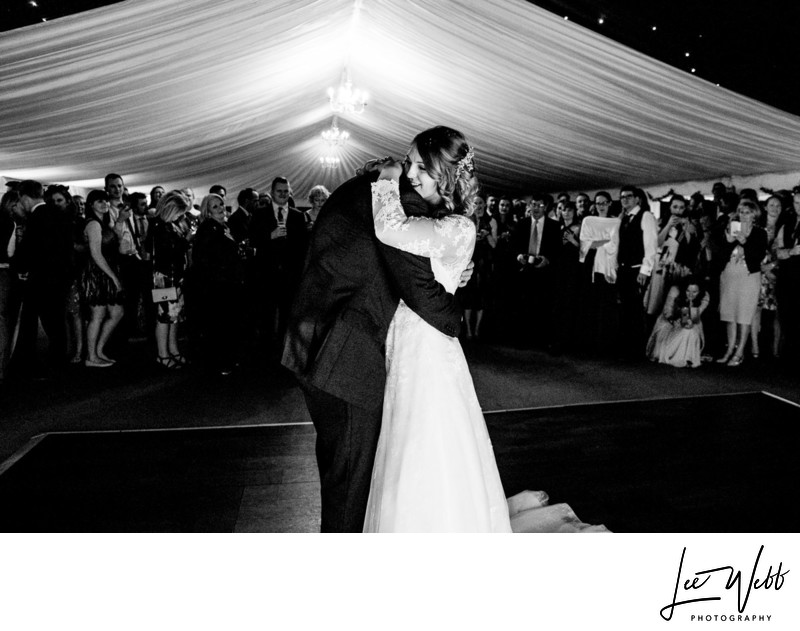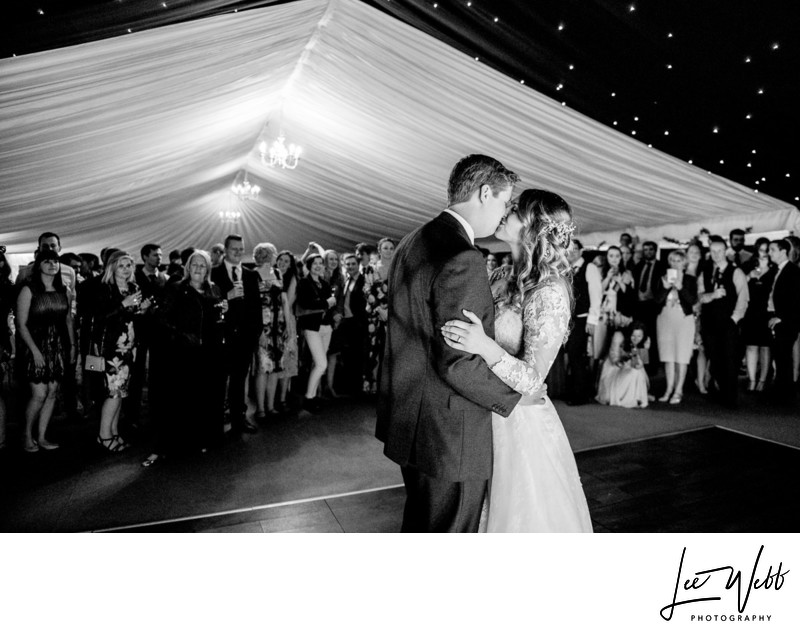 I absolutely love the starry-sky effect on the inside of the marquee lining. You would really be forgiven for thinking this was outside.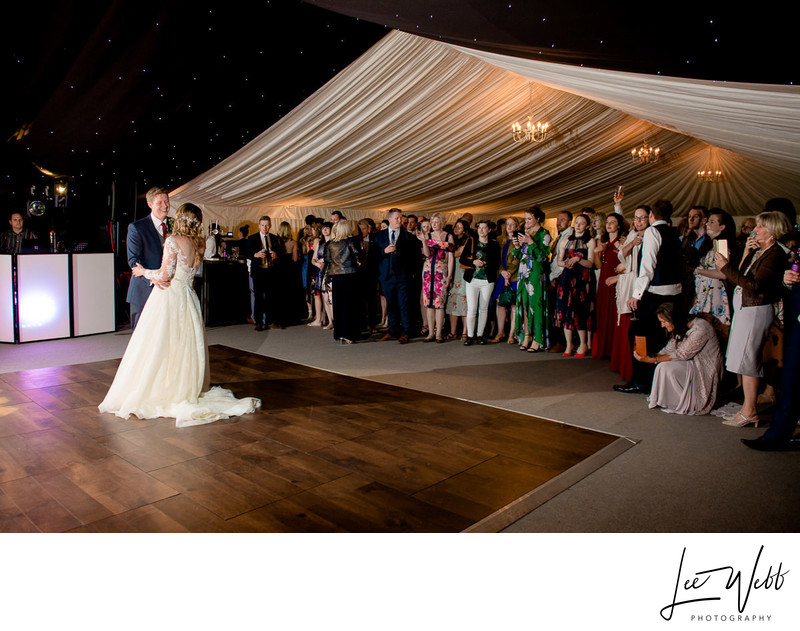 As the roads leading out of the Arboretum weren't lit, the bridesmaids and a few groomsmen lit the exit with candles in jam-jars. The most amazing thing is, they did this, with one candle for every metre of road, for almost a third of a mile!