Poppy & Harry's Rock Village Hall Wedding
Rock Village Hall Wedding Photography
Poppy & Harry
Poppy and Harry enjoyed getting married so much that they decided to do it twice! When I first met this adorable couple, they expressed how they'd always wanted to get married, outside and under a big oak tree. The trouble they found was that there was no where that offered exactly what they wanted. So, in order to have their dream wedding, the couple legally tied-the-knot in a small private wedding ceremony at Malvern Registry Office (which itself if a very beautiful wedding venue in Worcestershire) before getting married their own way a week later outside and under a big oak tree!
My morning started with Poppy and her bridesmaids at Worrells Grove Farmhouse, a beautiful luxury bed and breakfast just outside Bewdley. If the name, or the photos below look at all familiar to you, it might well be because Worrells Grove recently won Channel 4's 'Four In A Bed.'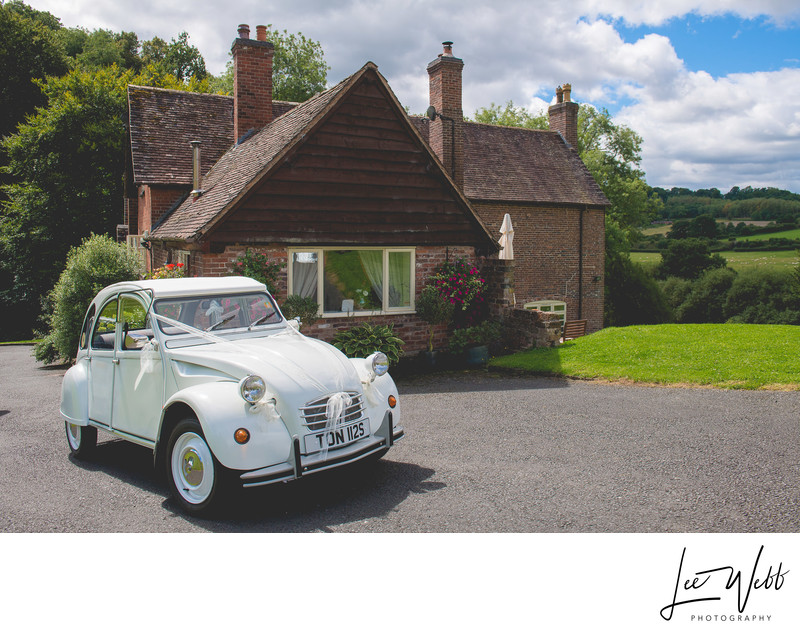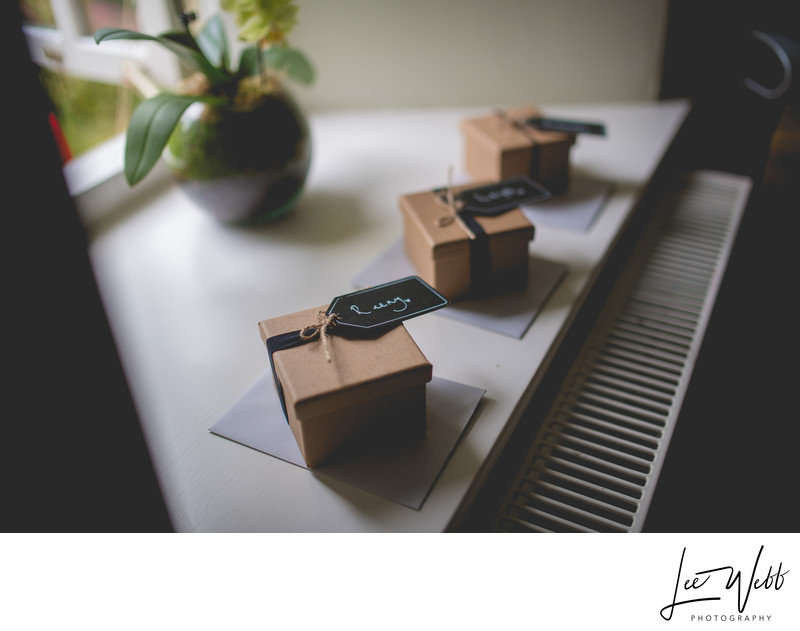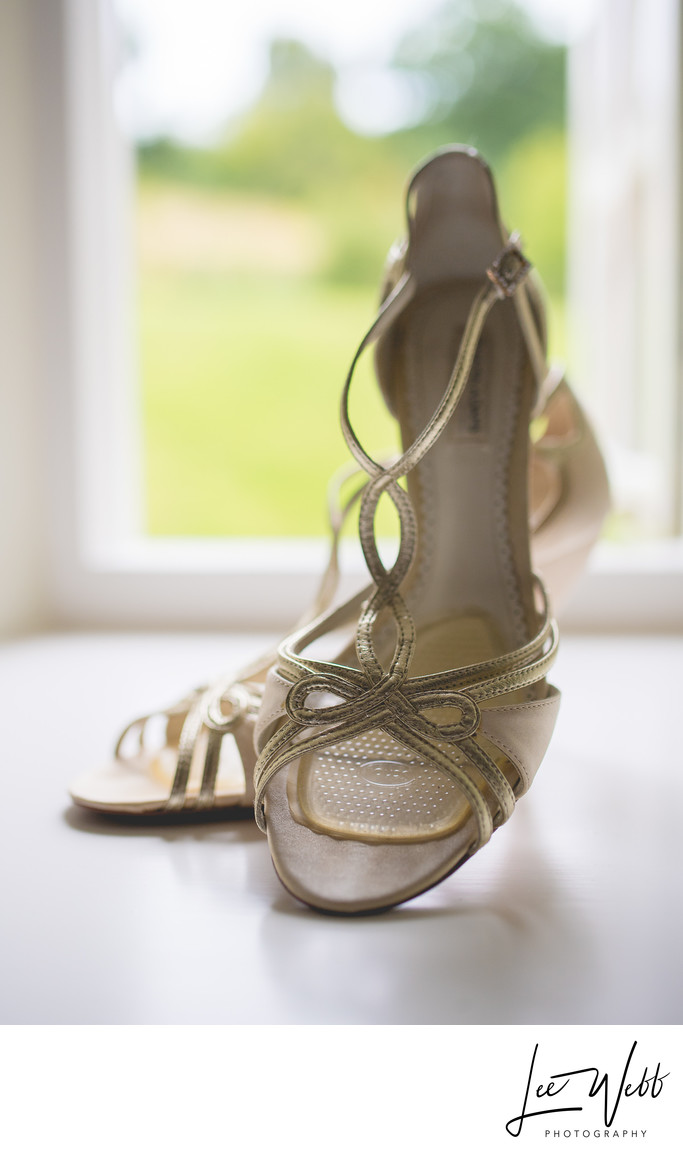 The entire day was fantastic and filled with laughter, which you'll see plenty of evidence for in later photos. Perhaps it was because there was less pressure on the people involved, knowing that the legal aspect of the ceremony had already been taken care of a week previous.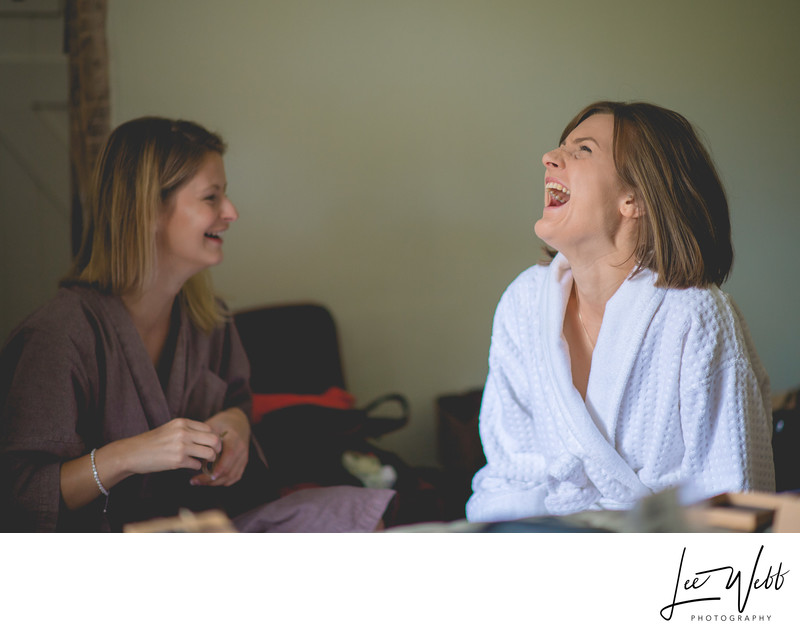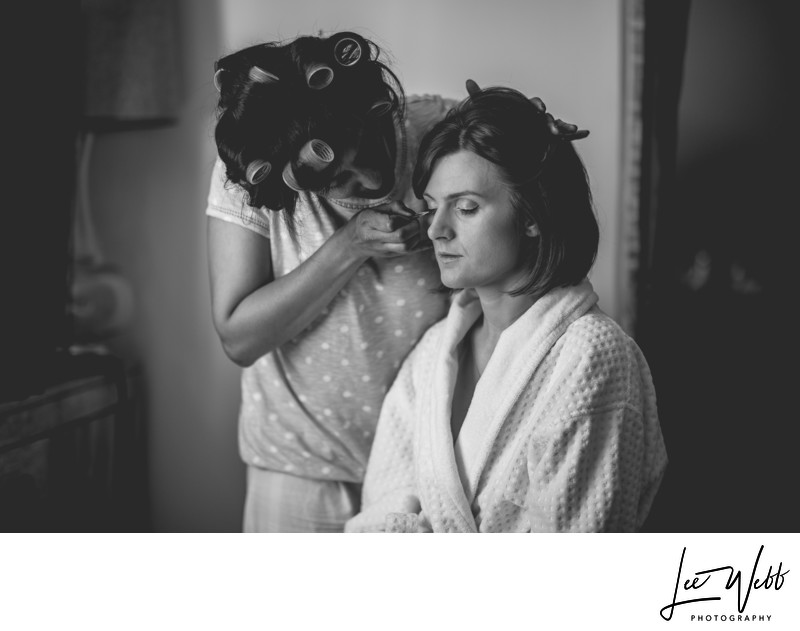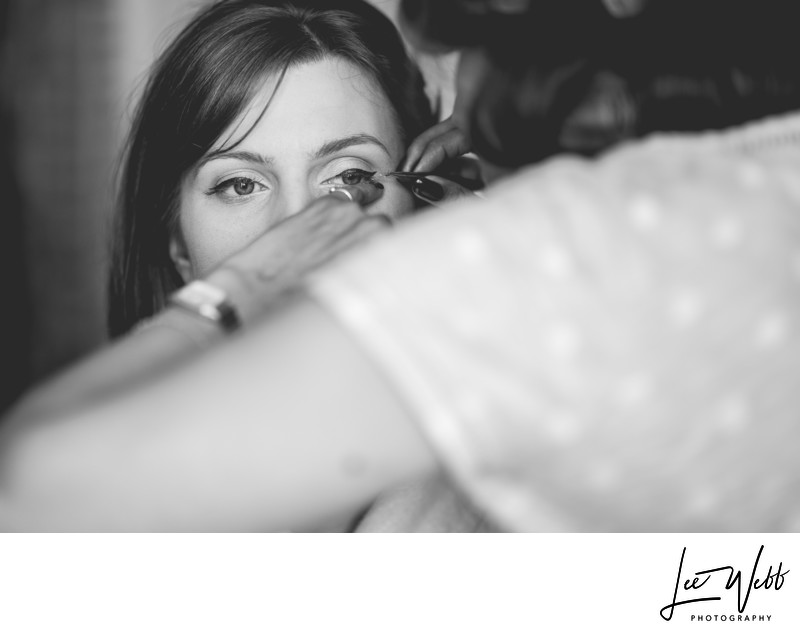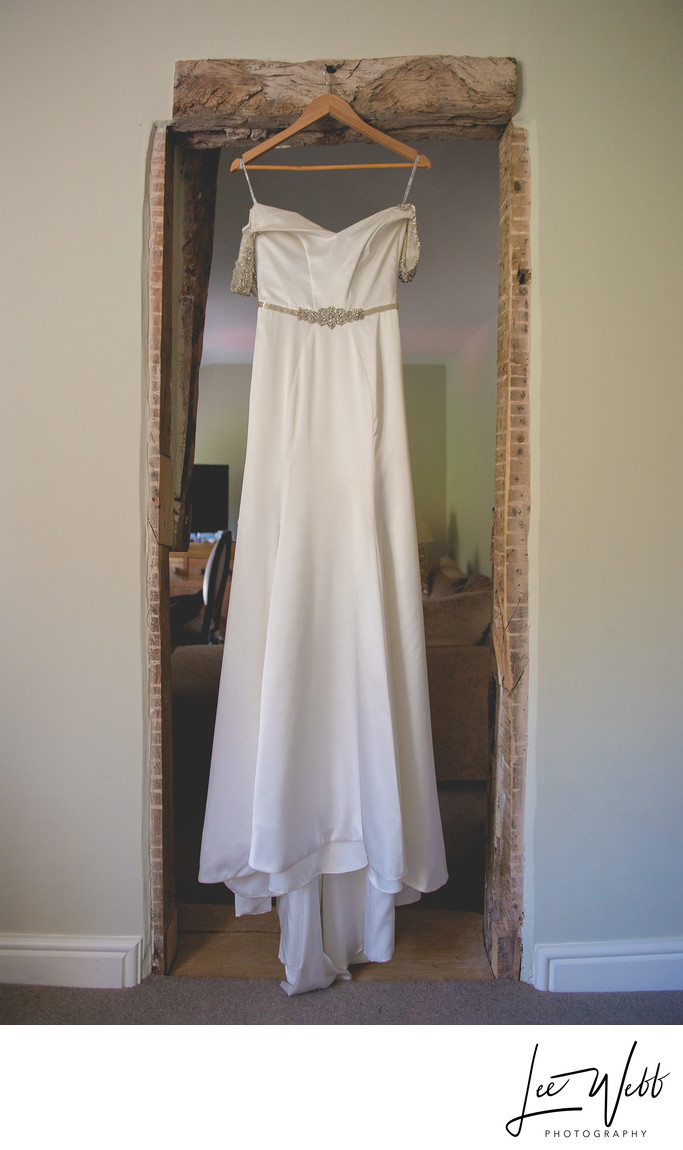 The farmhouse was beautifully decorated, with clean white walls and modern fitting but retaining much of it's heritage with exposed woodwork and beams in places.
Owing to the number of people getting ready in the bedroom (which was a decent size until you put the bride, 3 bridesmaids, the mother of the bride, a videographer and myself in there!) Poppy spent some time getting ready in the bathroom next door. The shower sat inside a glass cubicle which I used to get some artistic shots of Poppy sorting out her hair with the help of a bridesmaid. In this particular image, I love how she appears like an angle in the reflection.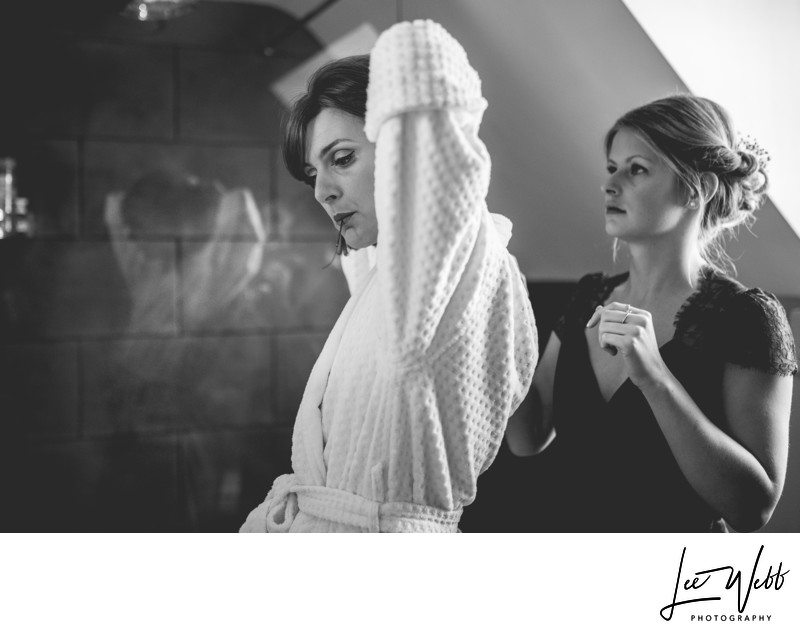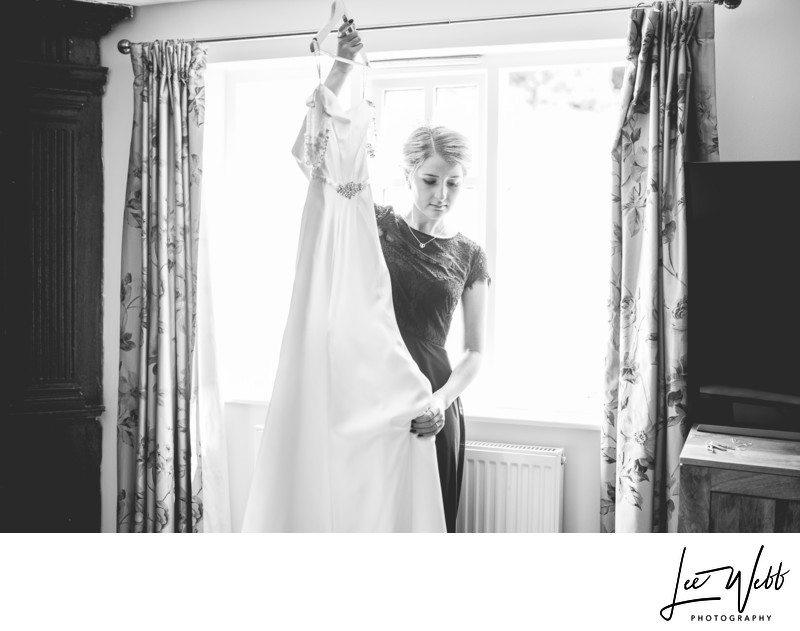 Another reason I enjoyed shooting in the bathroom so much (which is honestly not something I thought I'd ever be saying online) was the light was really good, and the dark background of the shower wall provided some nice contrast against the light colours worn by the bride and her mother.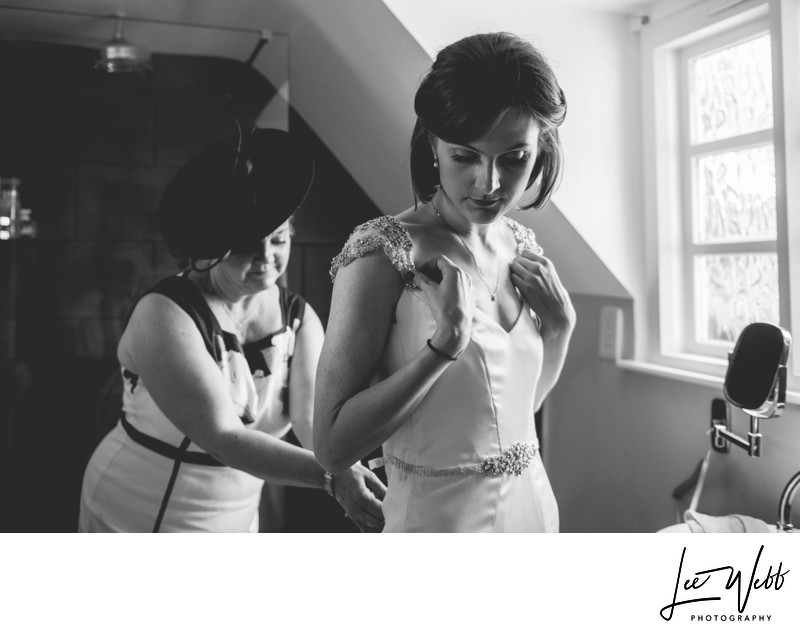 Some of my favourite ever black and white photos are coming up, starting with a chain of bridesmaids all helping each other get their dresses on and tied. The reason that these images work so well in black and white is how the bridesmaids, all wearing dark colours and standing against a light background whilst the bride, wearing white, is standing against a dark background. The girls were running short of time before they had to leave for the ceremony, and the only way of ensuring they'd all be ready together was to daisy-chain and help each other out like this.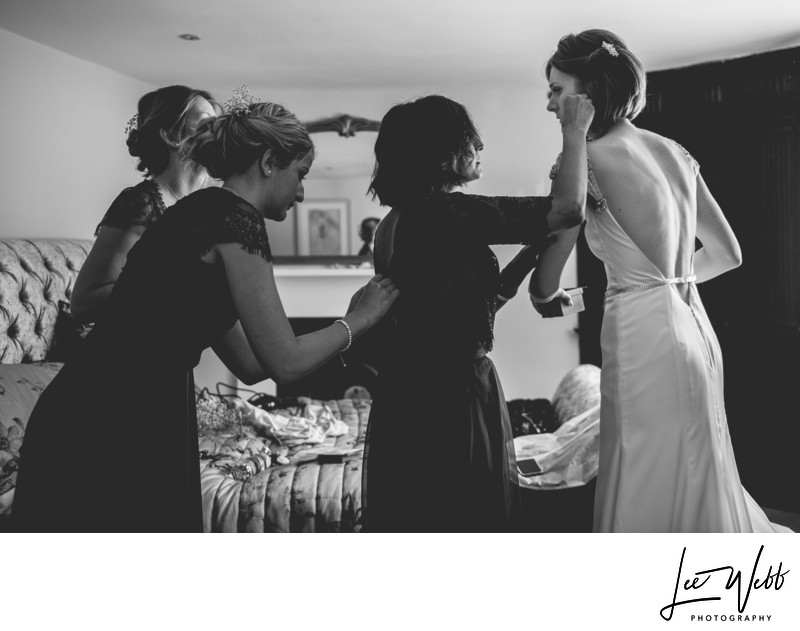 One particular moment that really stands out for me is shown in the image below: Poppy had bought presents for all of her bridal party but hadn't found time to give the maid of honour her gift. With time running short, she had no choice but to give her the present whilst the other two bridesmaids were still doing-up her dress! I love everything about this photo - the aforementioned dark/light background coming into effect, and especially the look on the faces of the bride and the maid of honour. There's so much emotion on the face of the maid of honour she seems totally oblivious to what's happening behind her.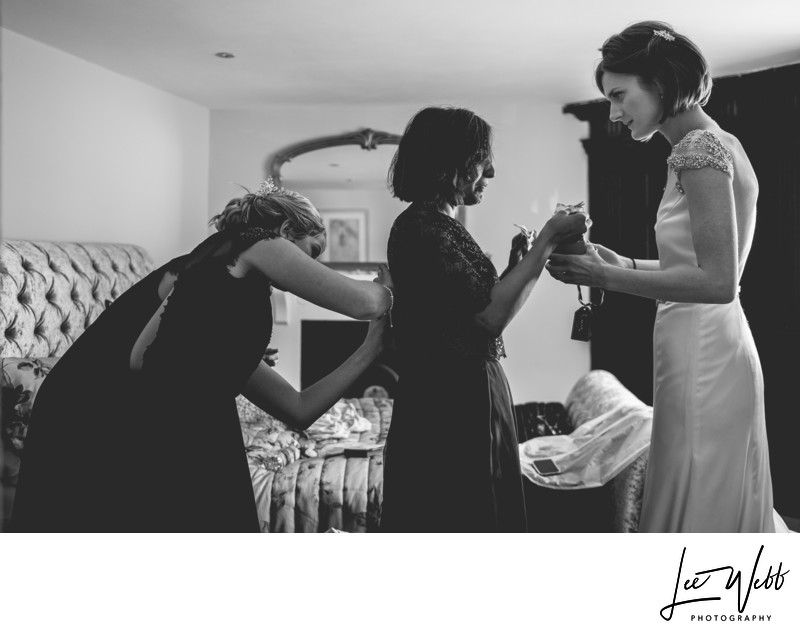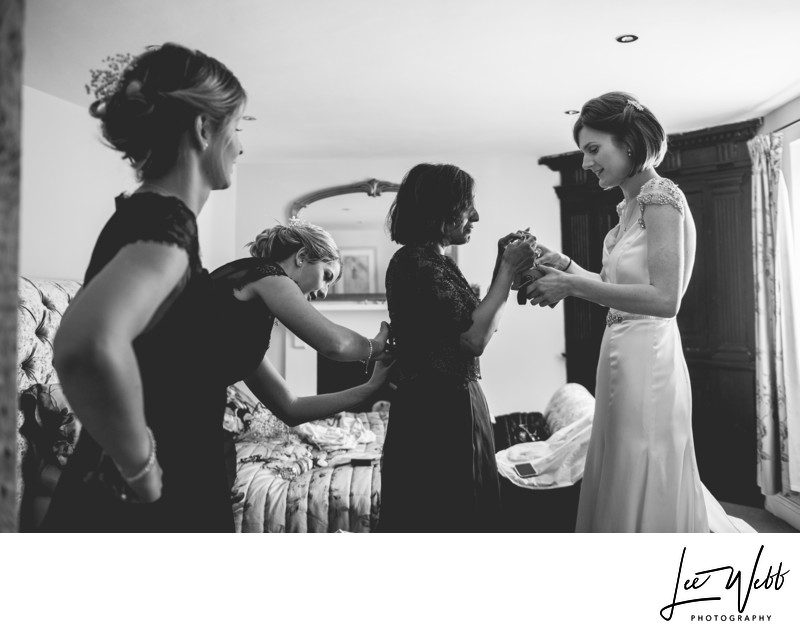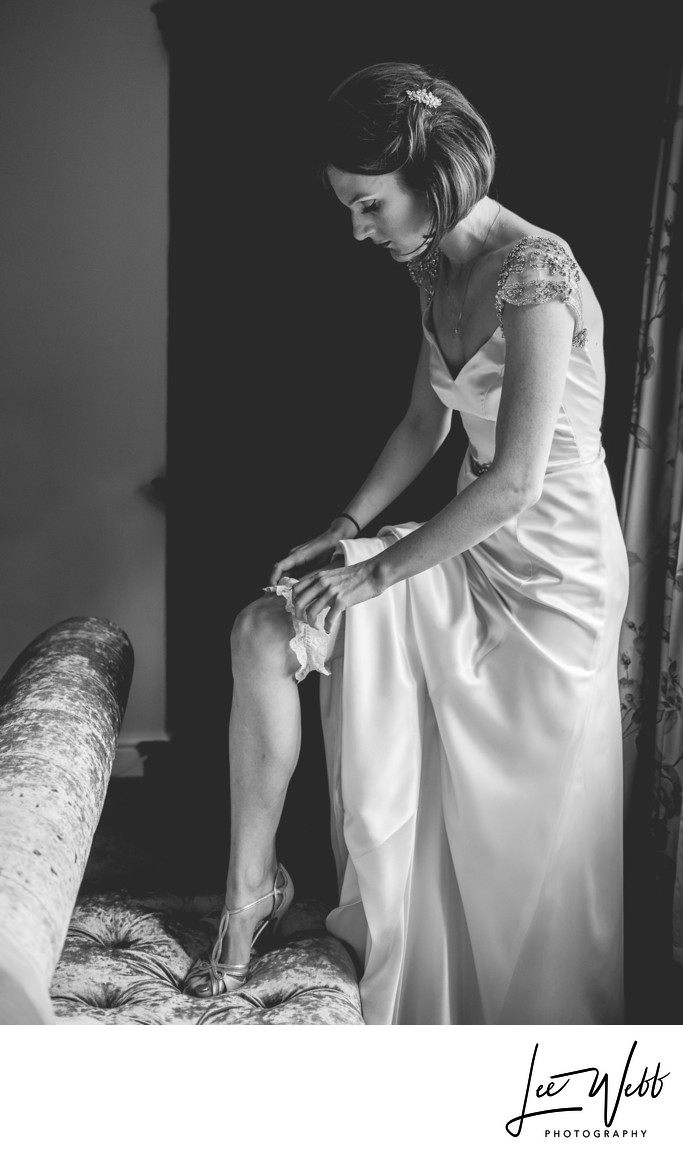 Before it was time to leave for the wedding, Poppy's father had arrived in the Citroen 2CV wedding car that Poppy and Harry had been restoring in the months before the wedding. Dad was anxiously waiting in the living room next door, so once Poppy was dressed, one of the bridesmaids went to fetch him for the big reveal. Poppy was standing in the sitting room, with her father walking in from the bedroom. I decided to hang back as much as I could - It's vitally important at times like these to make yourself, as a photographer, as small as you can. You risk altering how things happen and how things appear merely by being there. I want to tell the true story of a wedding day, after all, that's what good wedding photojournalism photography is.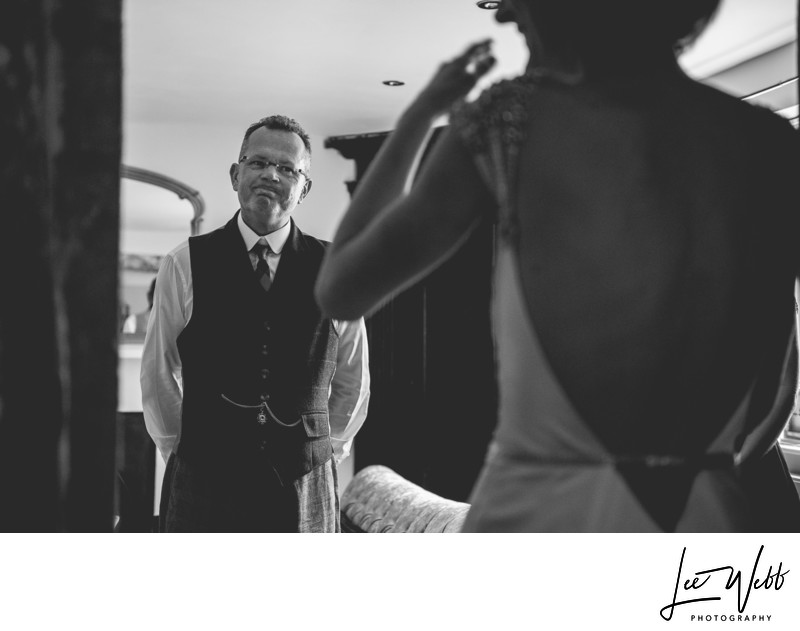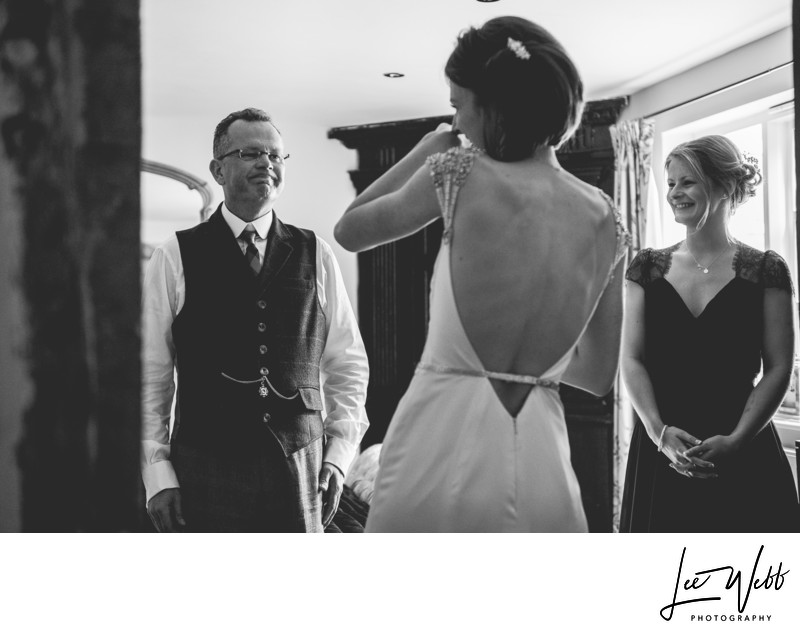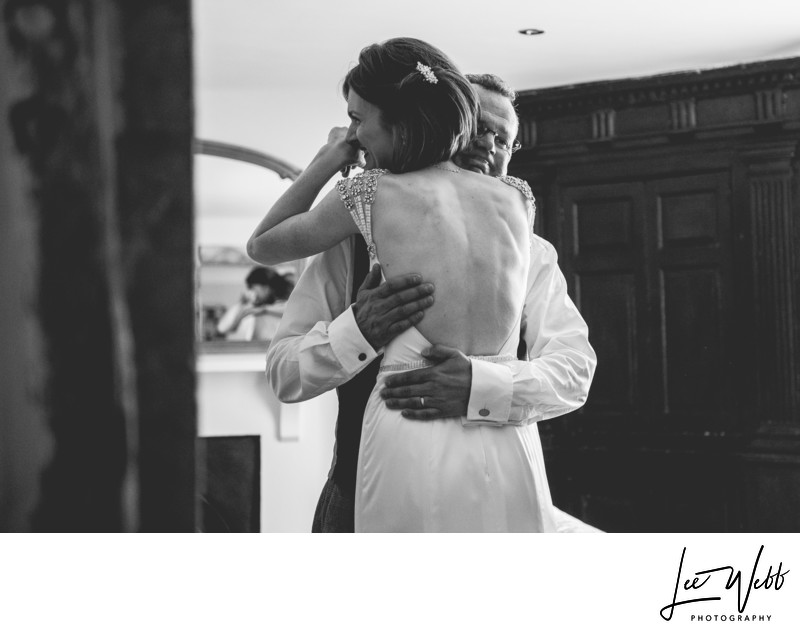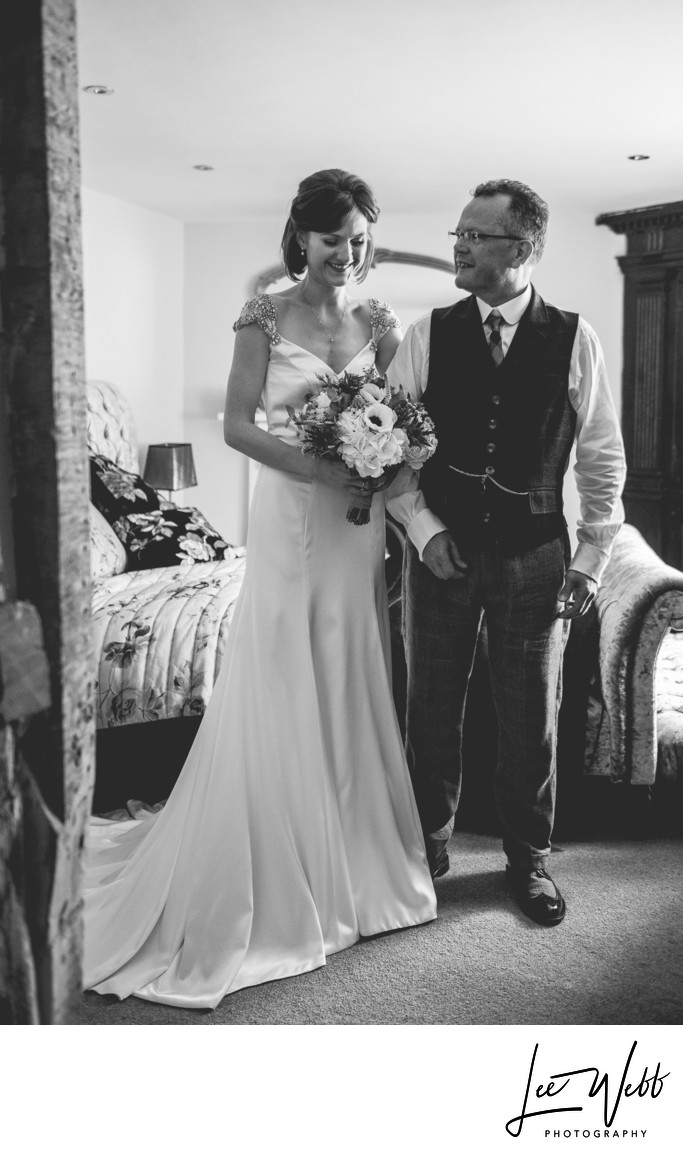 The look on the father of the bride's face in the photos above absolutely melt my heart every time I look at them.
With the big wedding dress reveal done, it was time for me to make my way to Rock Village Hall for the wedding ceremony. As you can see, the wedding was to take place exactly where the couple had always intended for it to happen - in the open, under a big oak tree.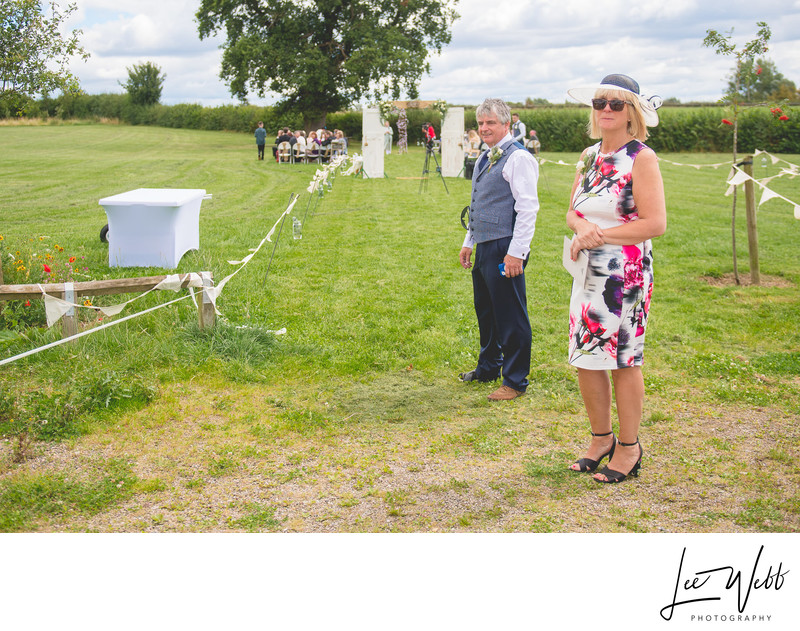 As the forecast was for very bright sunshine and little cloud cover, the mother of the bride, thinking ahead, purchased 40 pairs of high-UV protection, brightly coloured sunglasses for something like £2 each. Not only did they really help the wedding guests who were facing towards the sun during the ceremony, but they added a real splash of colour to the couple's wedding photos!
I was given a pink pair which I still have (and keep in my camera bag) to this day!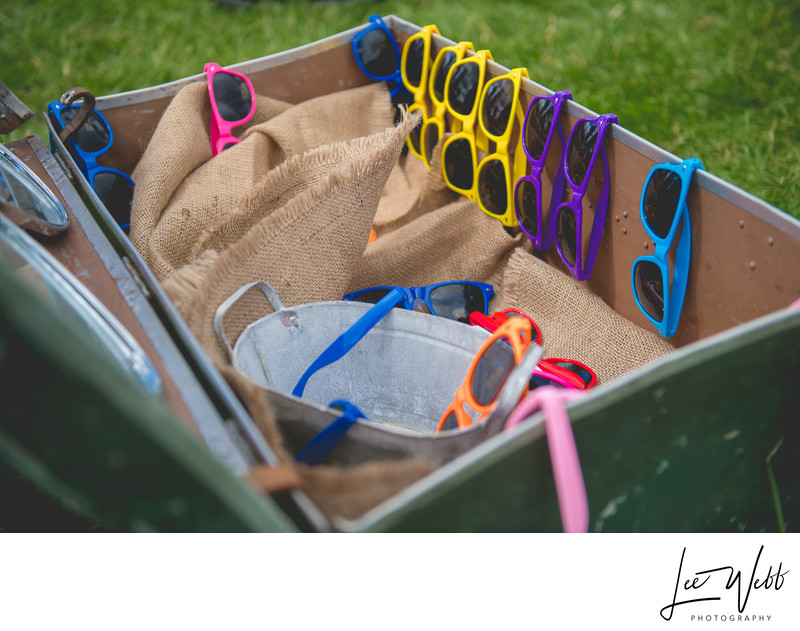 Poppy and Harry had made everything they could for the wedding. I always really like when couples take to making their own decorations, as it adds such a personal touch to the wedding, as well as saving loads of money by not having to buy or rent everything yourself - and you can even sell things you don't wish to keep on eBay and make some money back!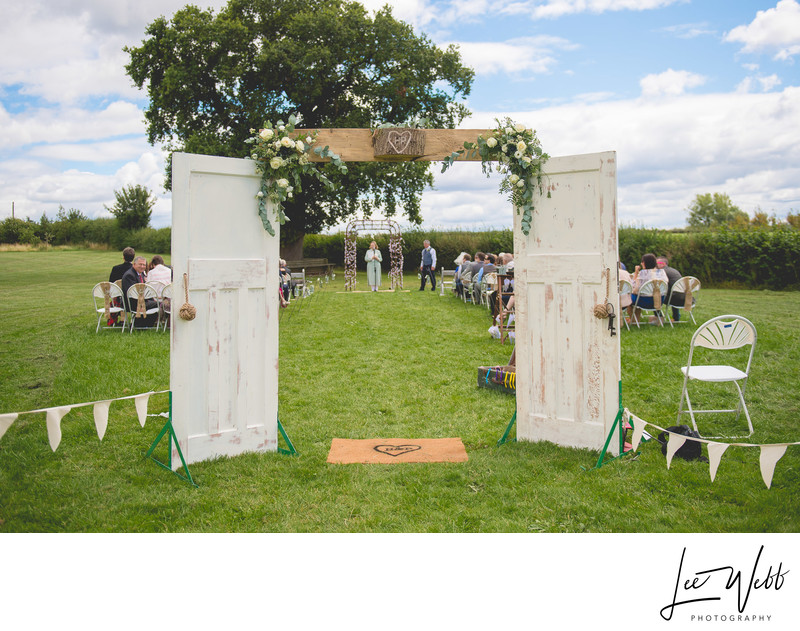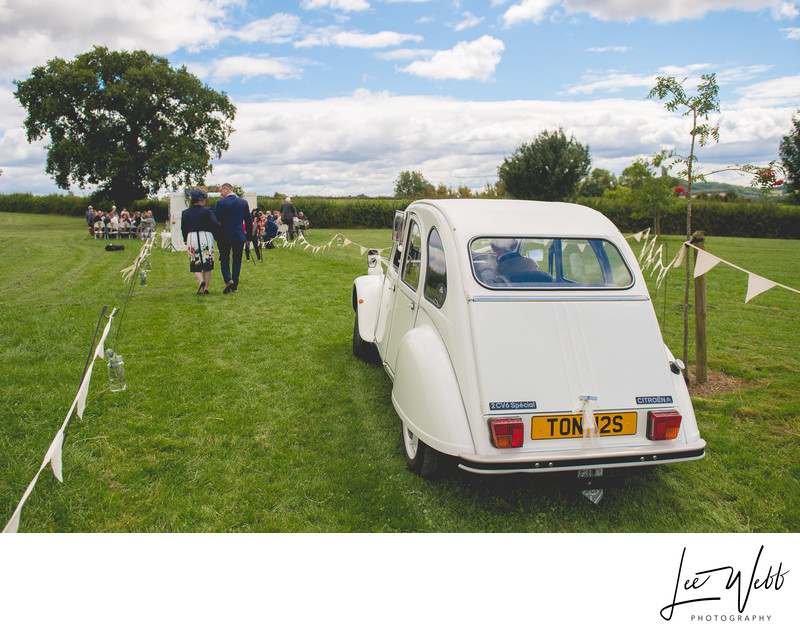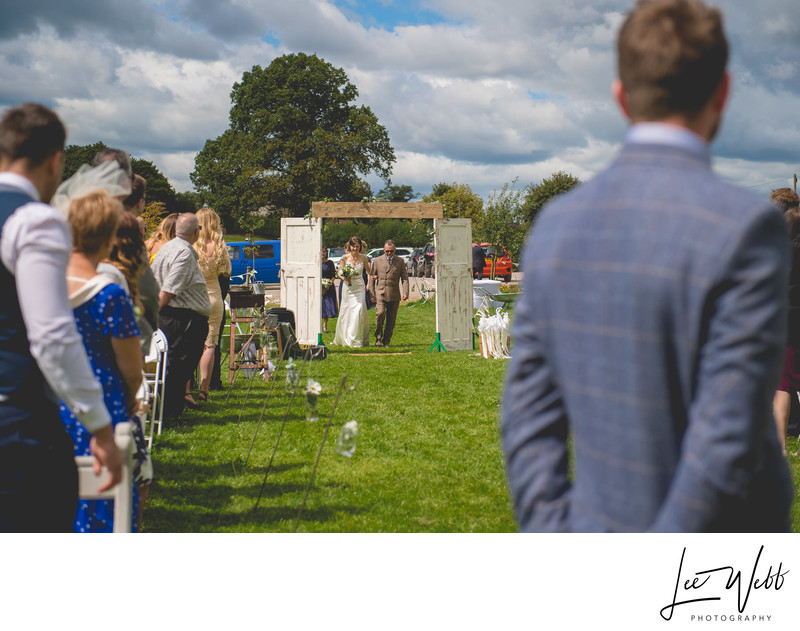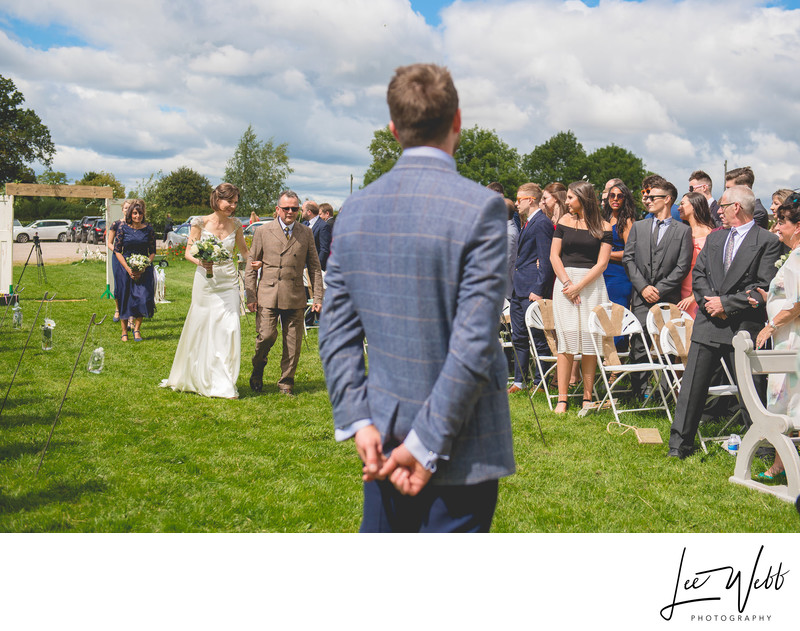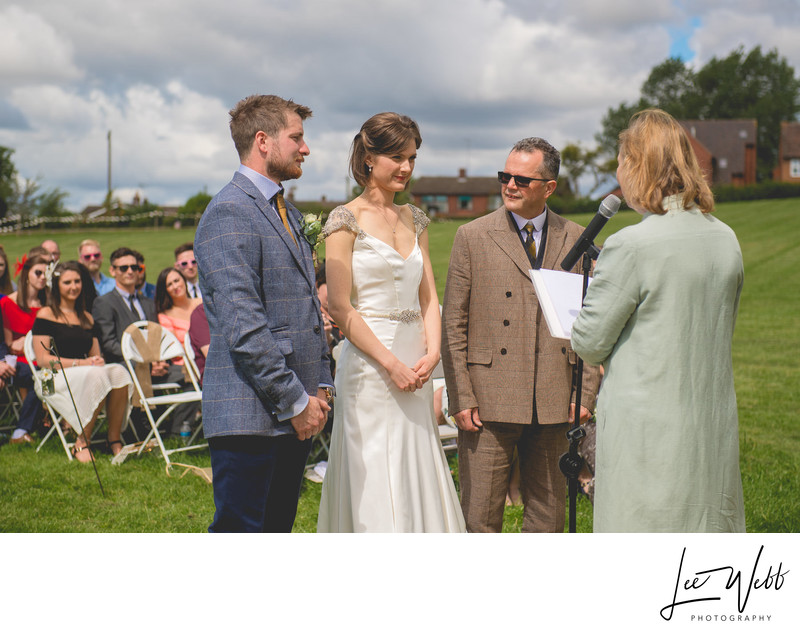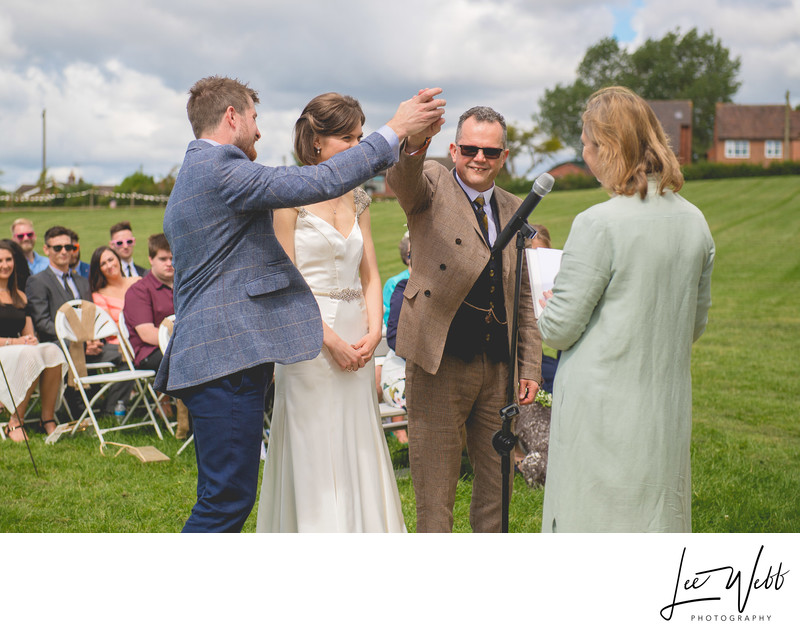 The weather for the ceremony was absolutely lovely and the novelty sunglasses really came in handy!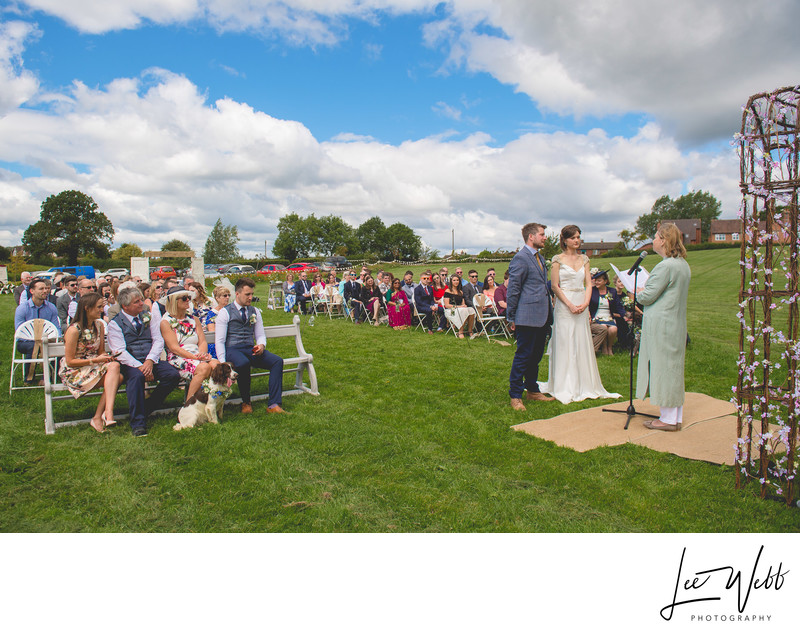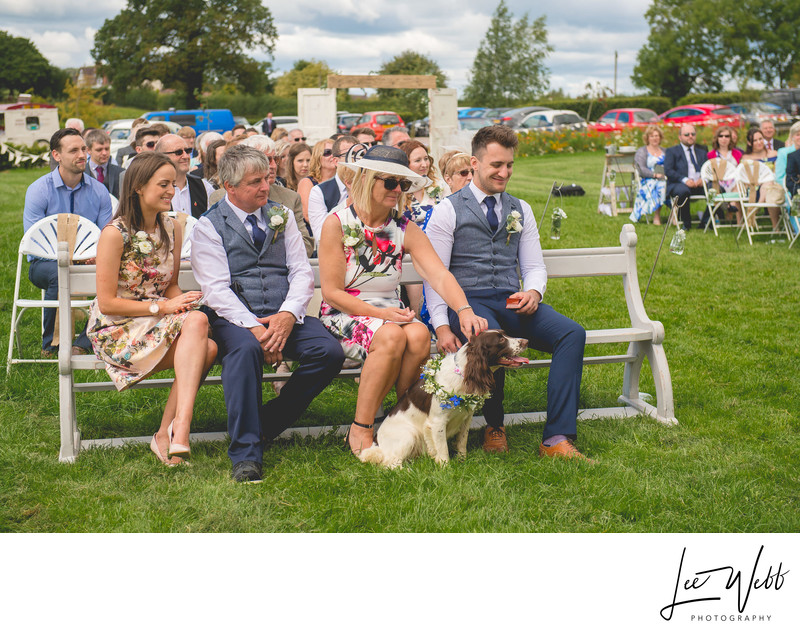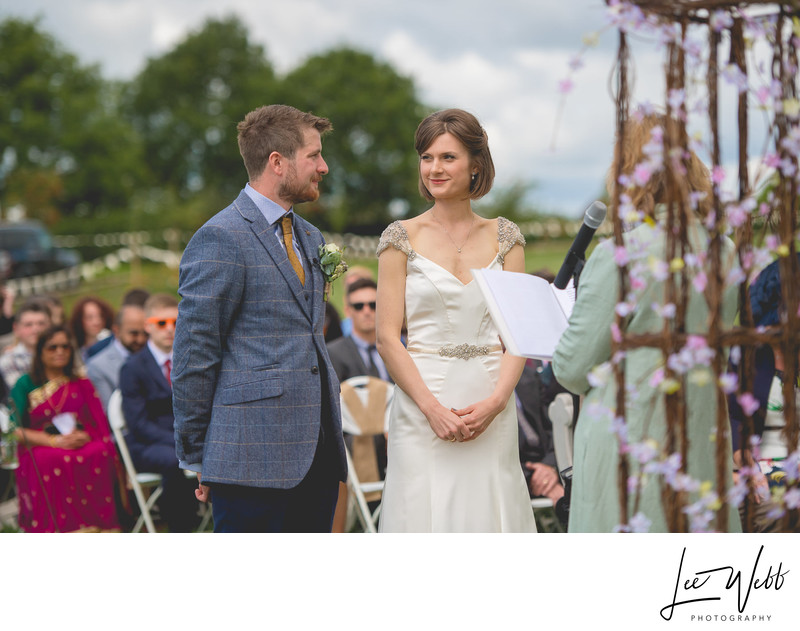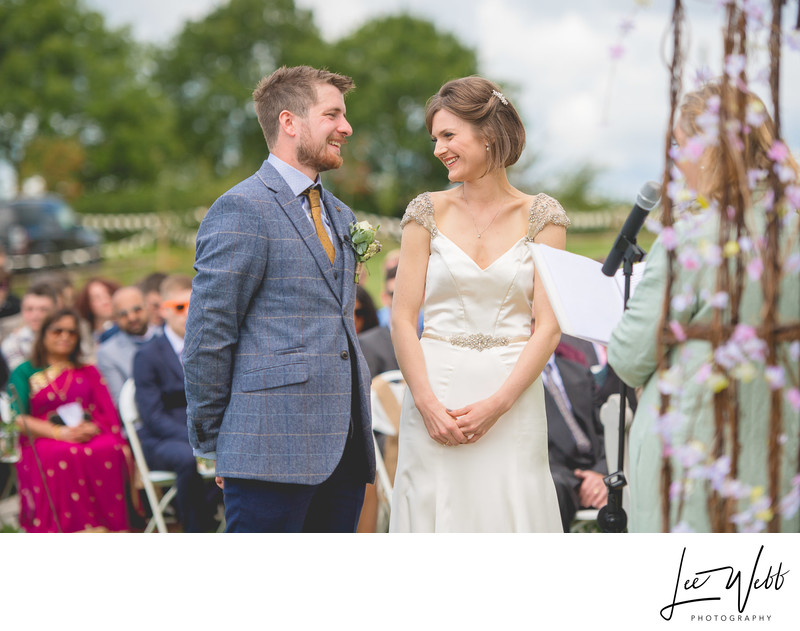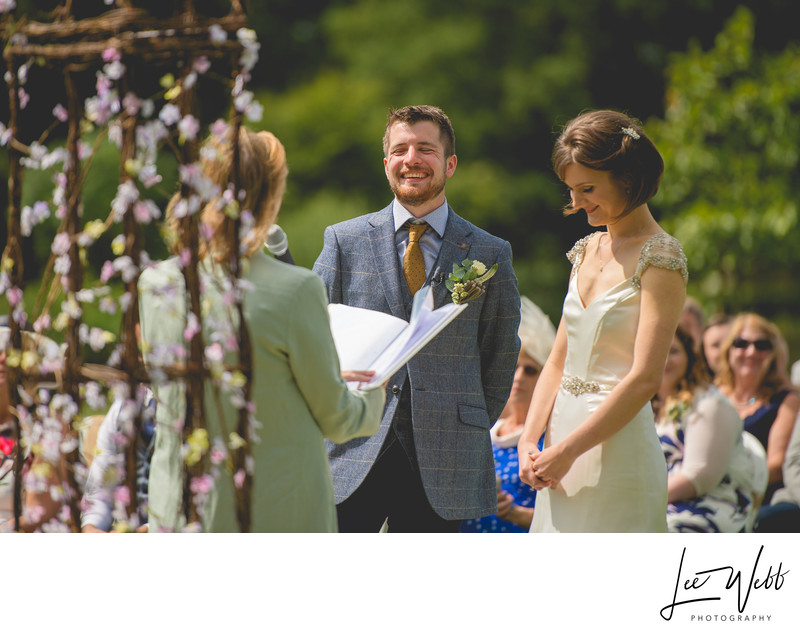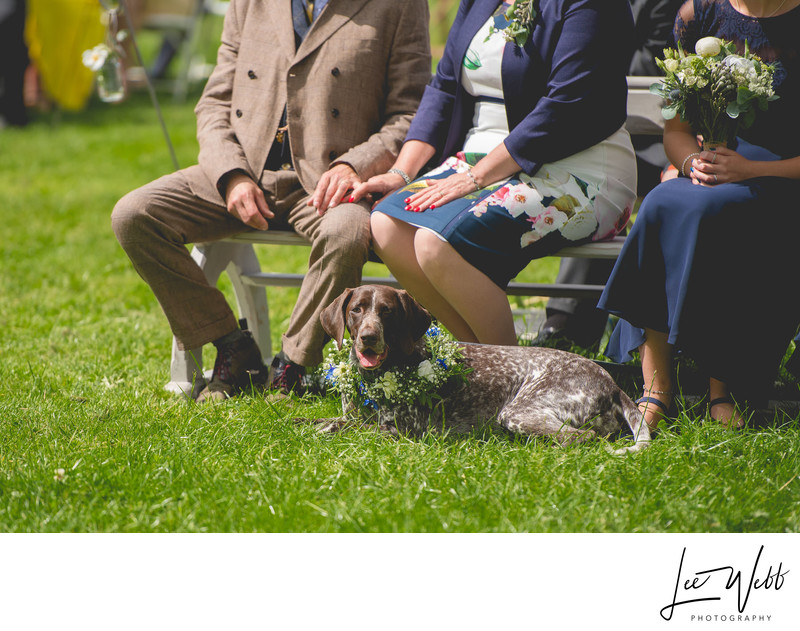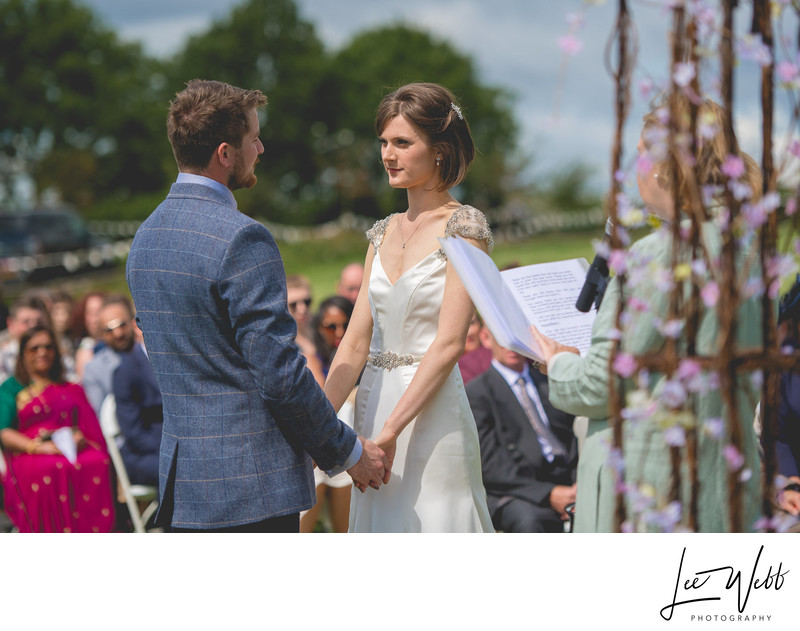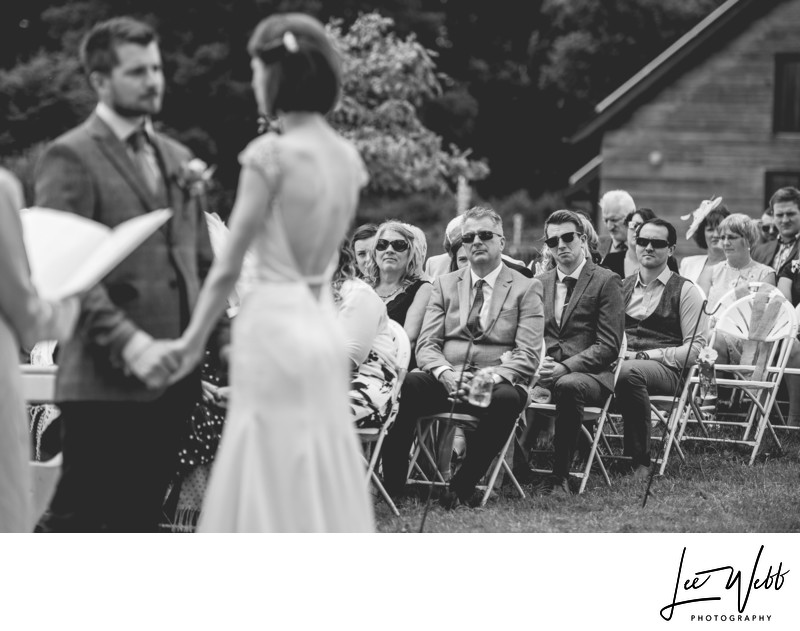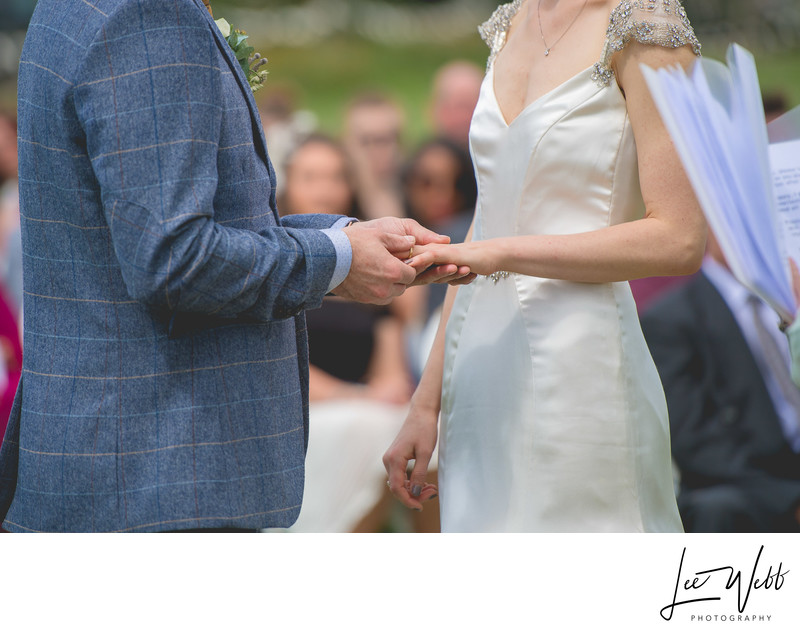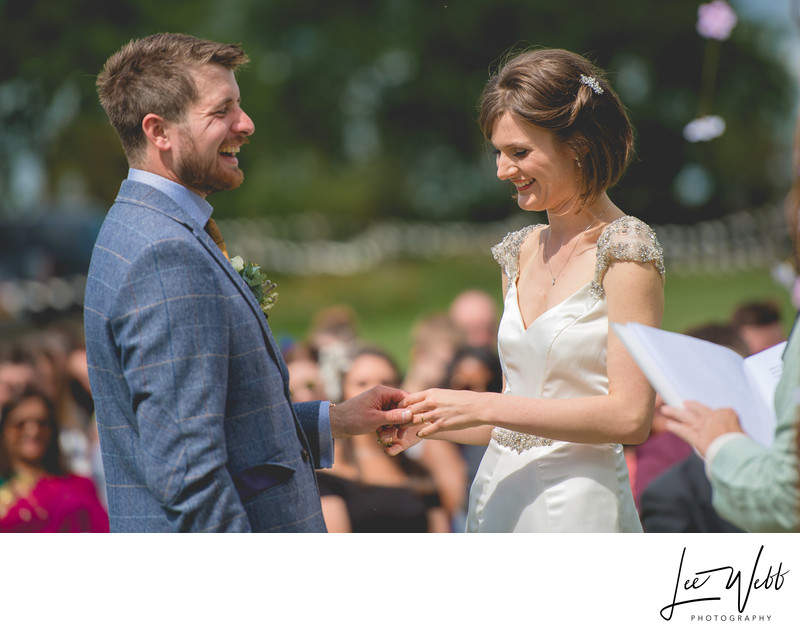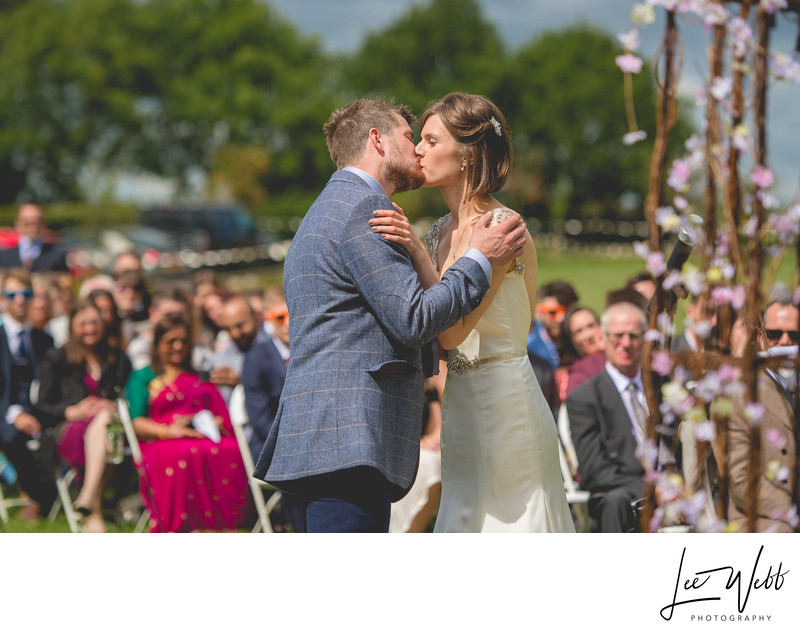 One thing I really appreciated was having the ability to move freely around the ceremony. In your normal wedding venue, whether it be a civil ceremony or one that takes place in a church, you're extremely limited in what you can and can't do. Moving is a big no-no, but here, outside and with the legal ceremony taking place a week ago, I had free-reign!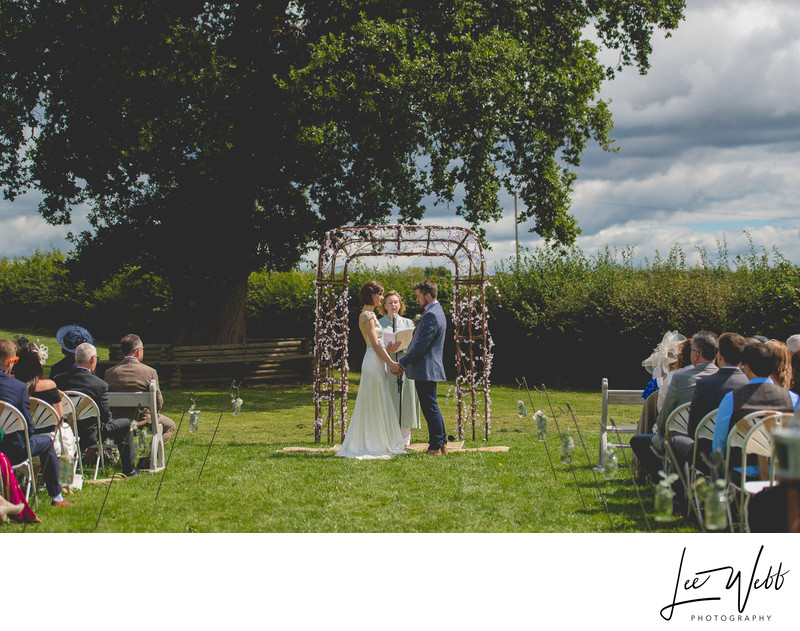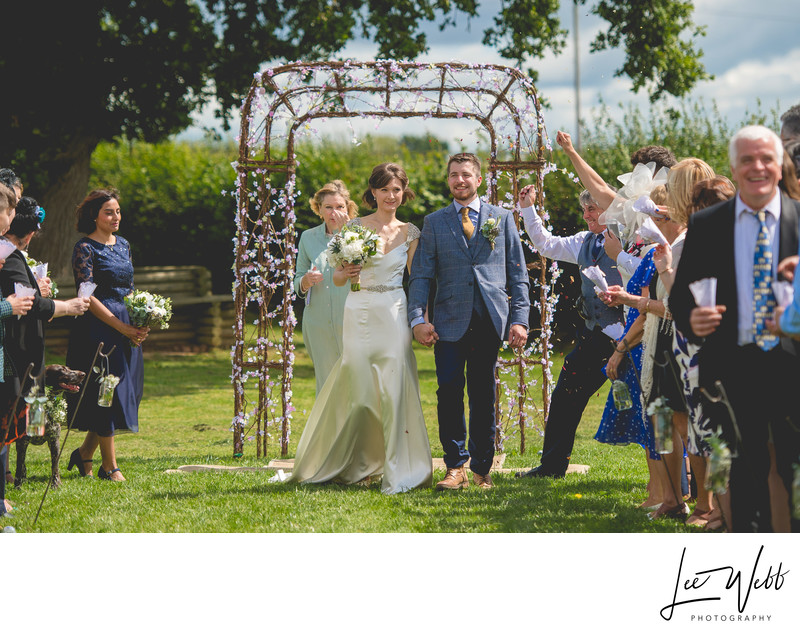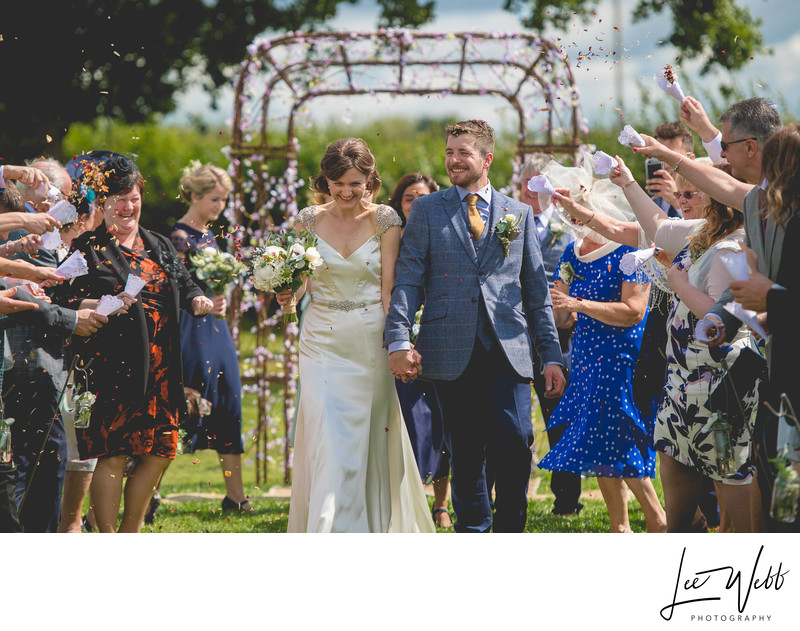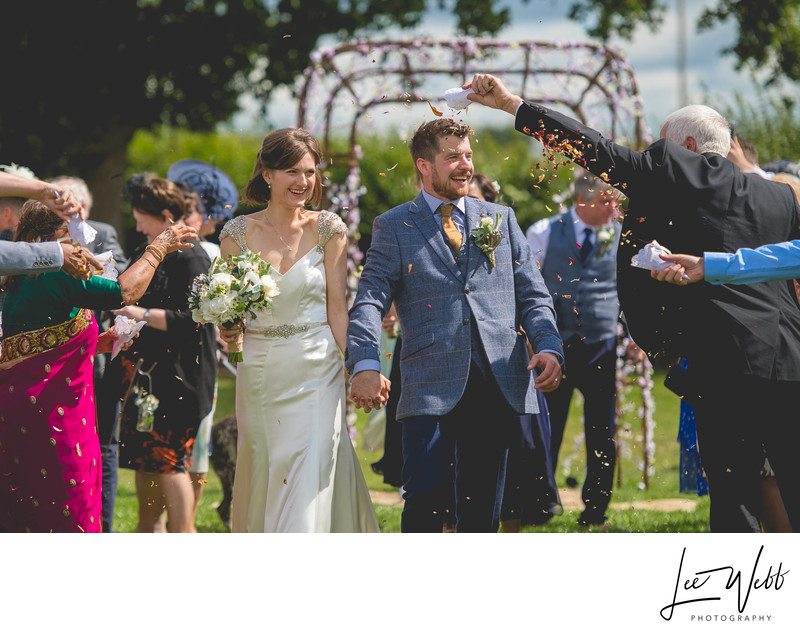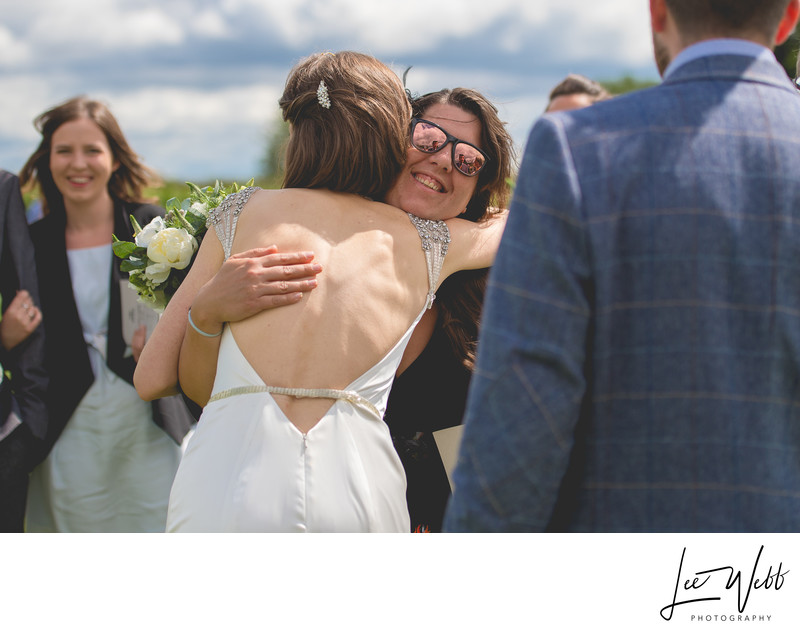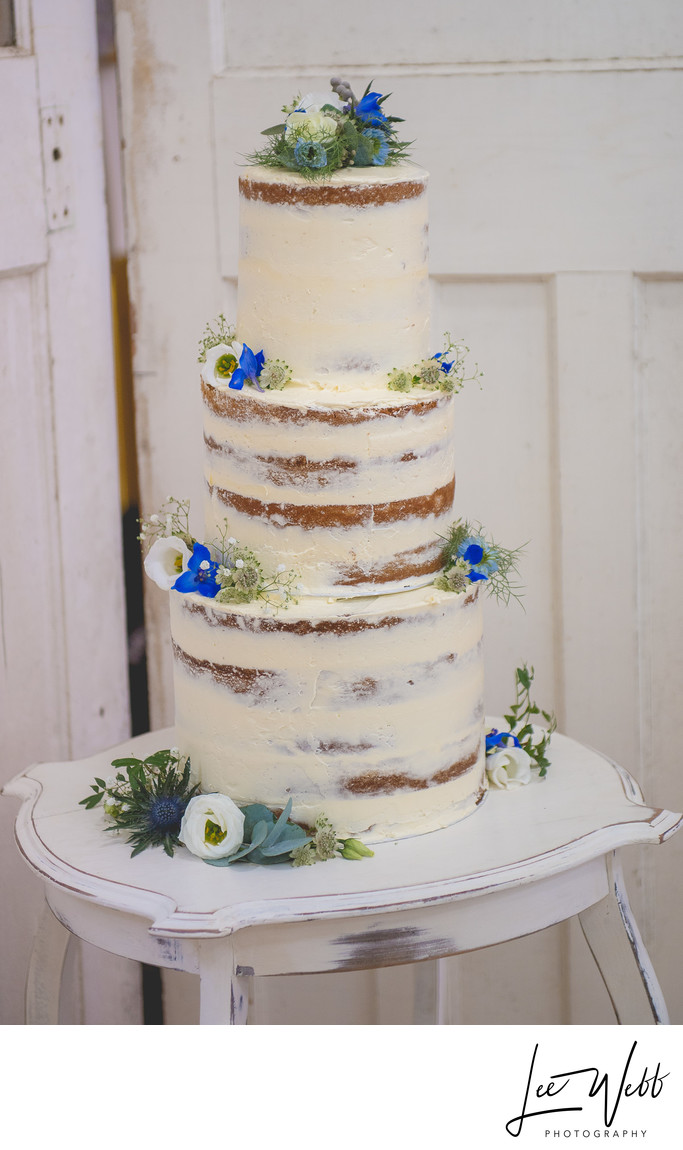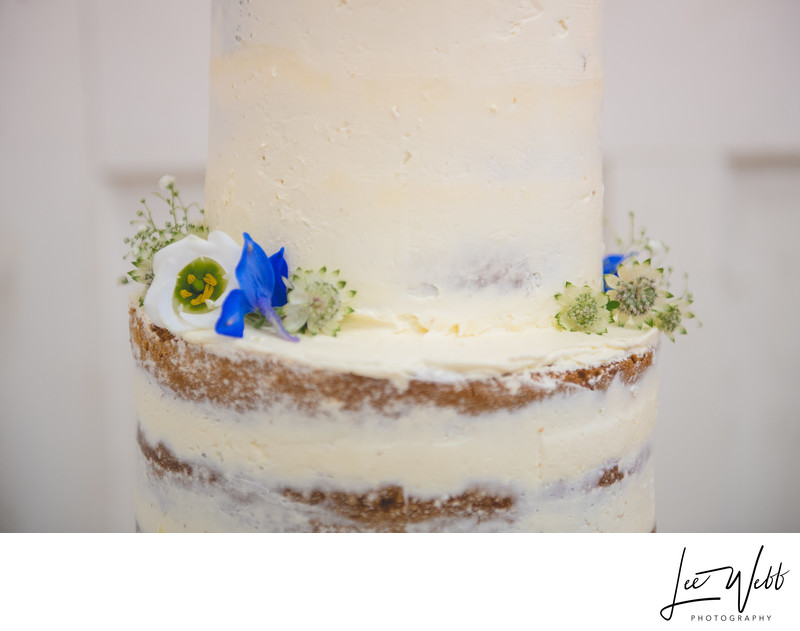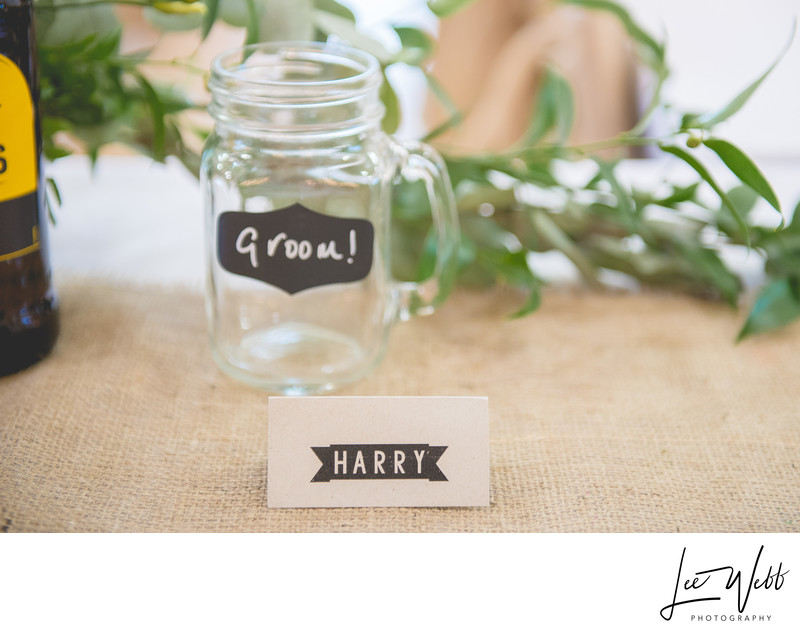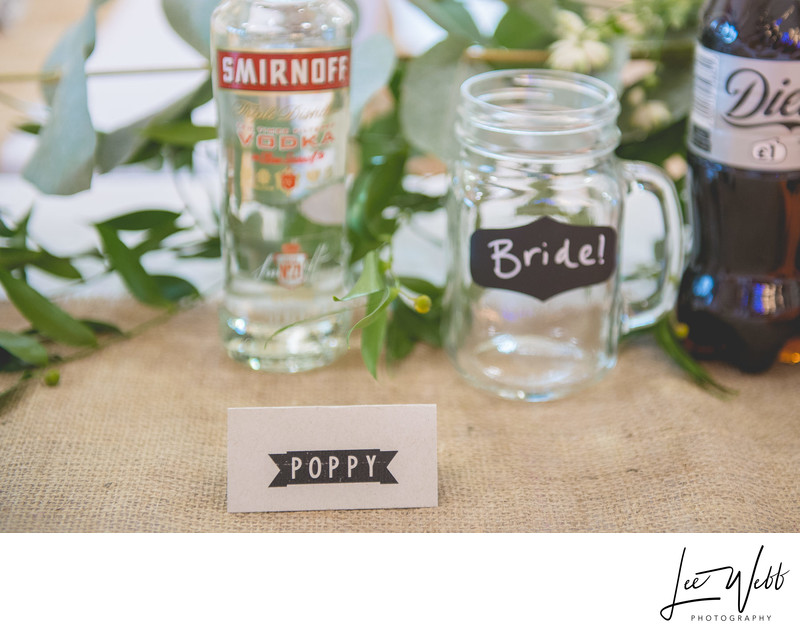 The inside of Rock Village Hall had been decorated by the bride and groom in the days before the wedding, and they did a fantastic job, even hanging the ceiling decorations themselves. When I visited the venue with the couple a few weeks before the wedding, I did secretly worry as to whether they could pull it off - but they really did!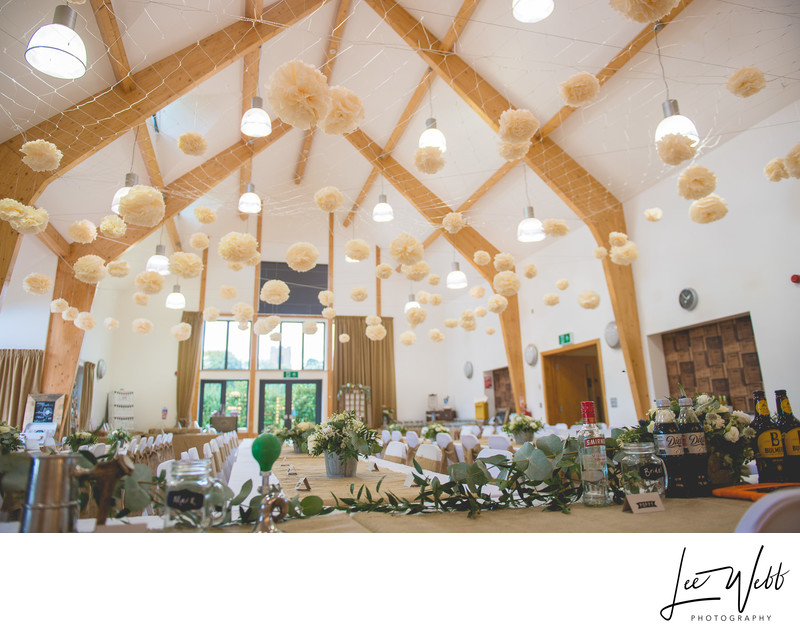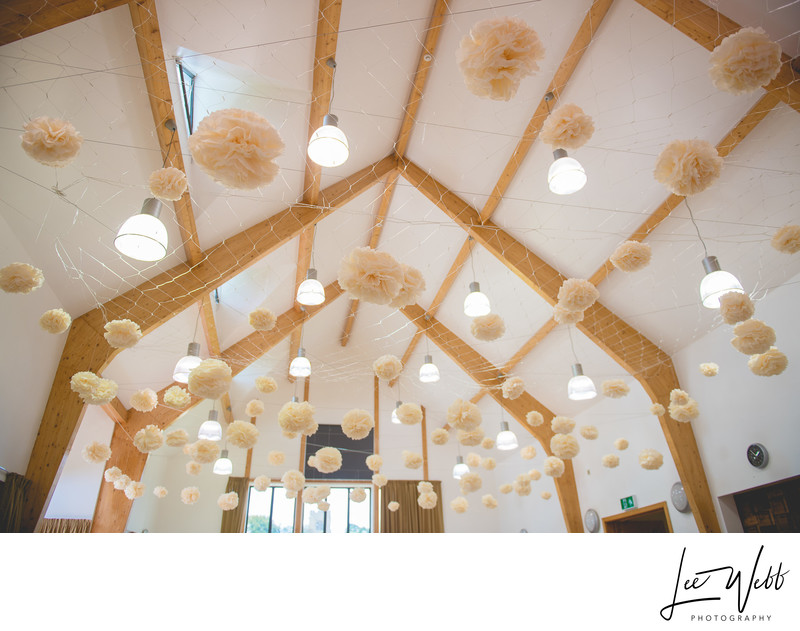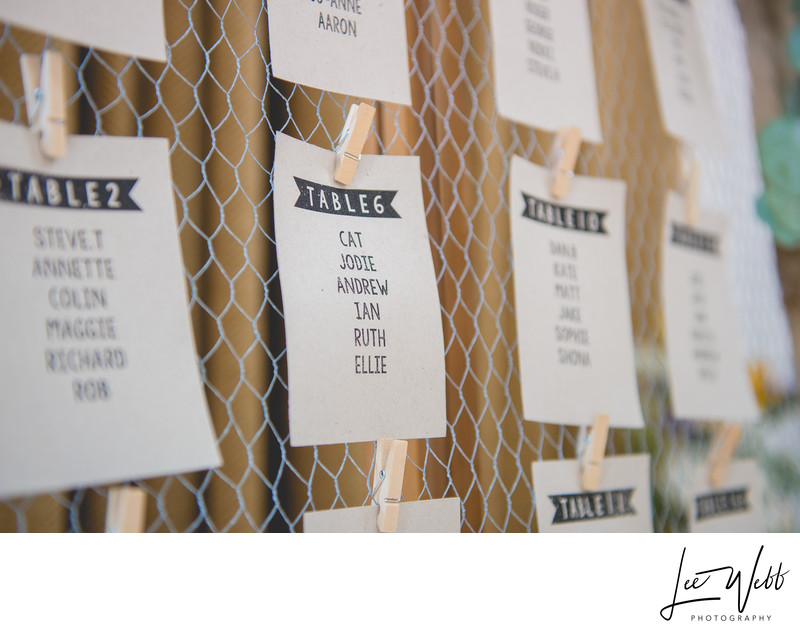 For wedding group photos it's always useful to get a higher vantage point as a photographer so you can look down at the wedding party and get everyone in. If not for the elevated position, you'd be forced to stand the guests in a long line which just looks bad and makes everyone in the frame rather small! I borrowed a very large step-ladder for this photo that Harry had been using to attach decorations to the ceiling of the hall.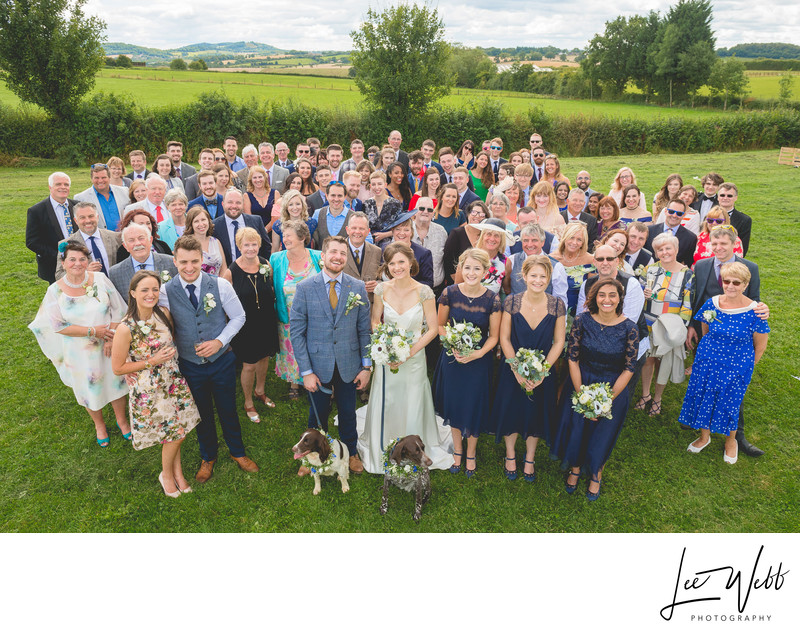 Poppy was very keen to have some slightly more unusual 'formal' photos taken in that she'd rather them not be too formal at all!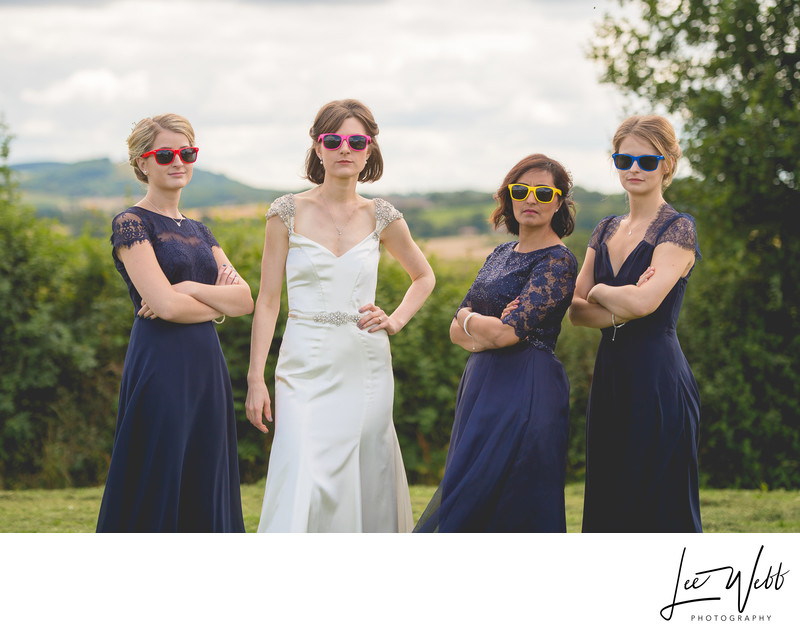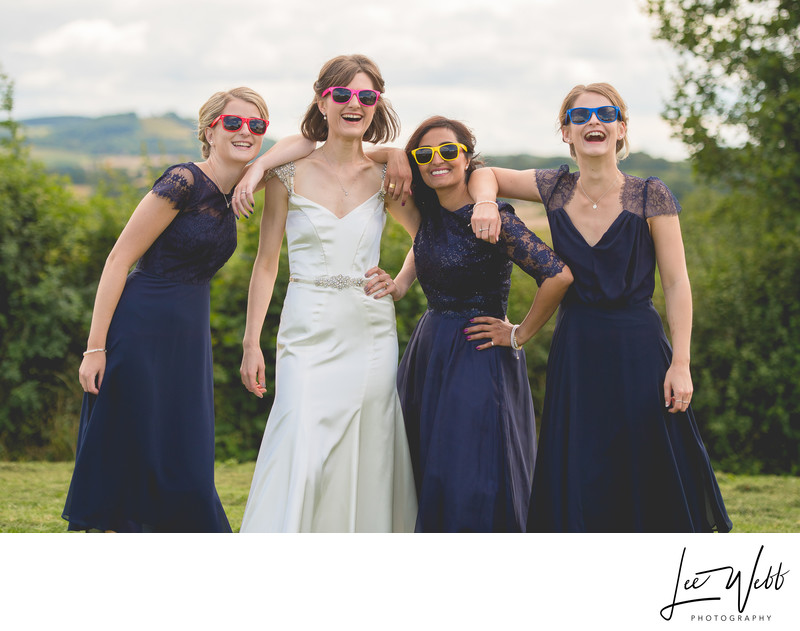 Everyone at the wedding was great and as I mentioned earlier, there were laughs-aplenty. In actual fact, the biggest problem I faced was getting people to stop laughing for long enough for me to get the more serious photos!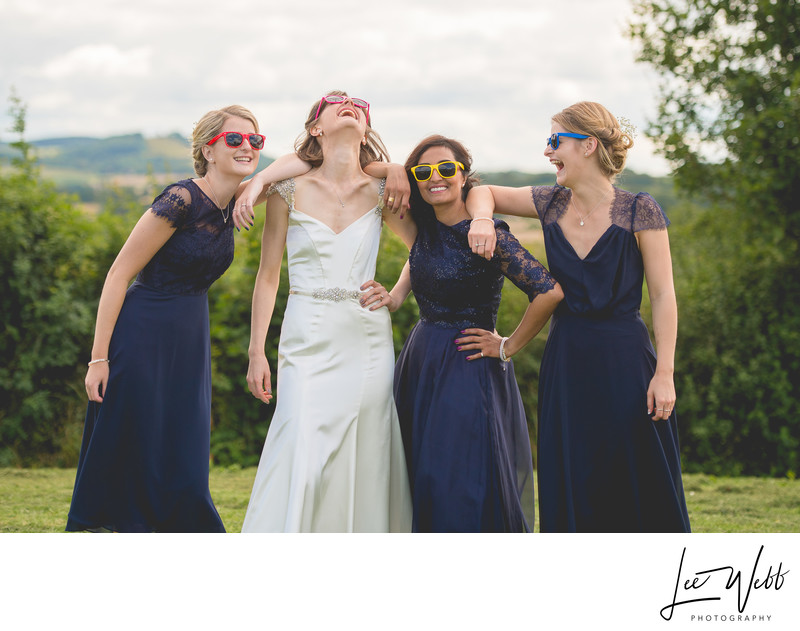 I love dogs, I make no secret of it - and I had the best time with these two! (and yes the spaniel is wearing my sunglasses)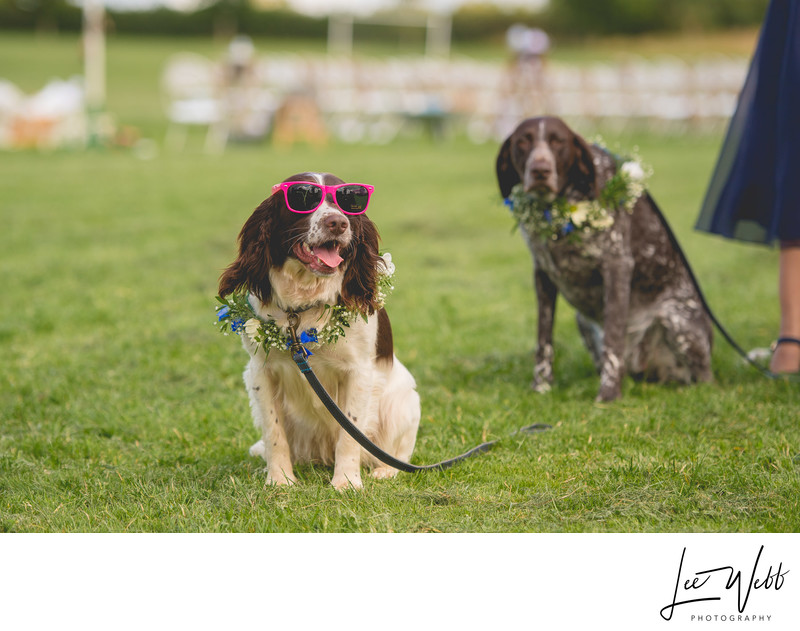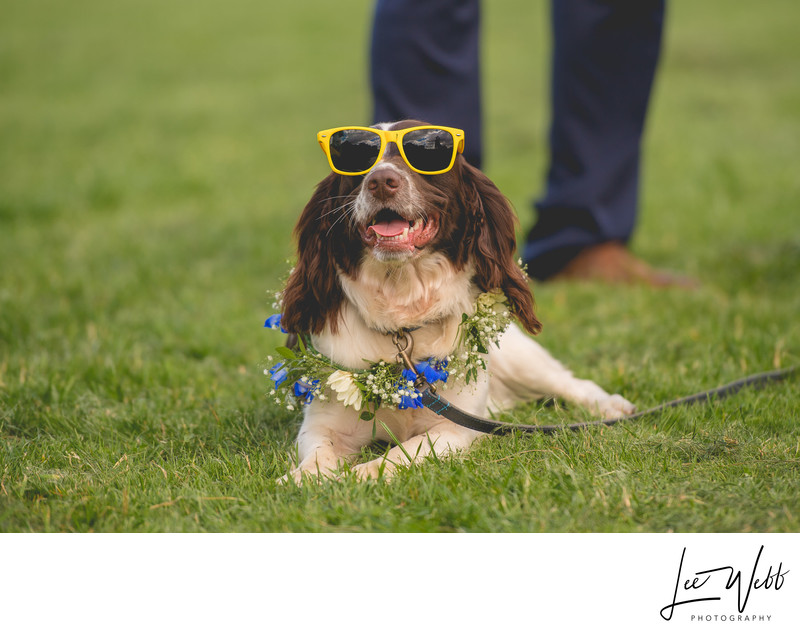 Poppy and Harry were also very keen to bust some gender stereotypes when it comes to weddings - the boys posed with the flowers, and both the bride and groom had fun during the couple's photos later in the day.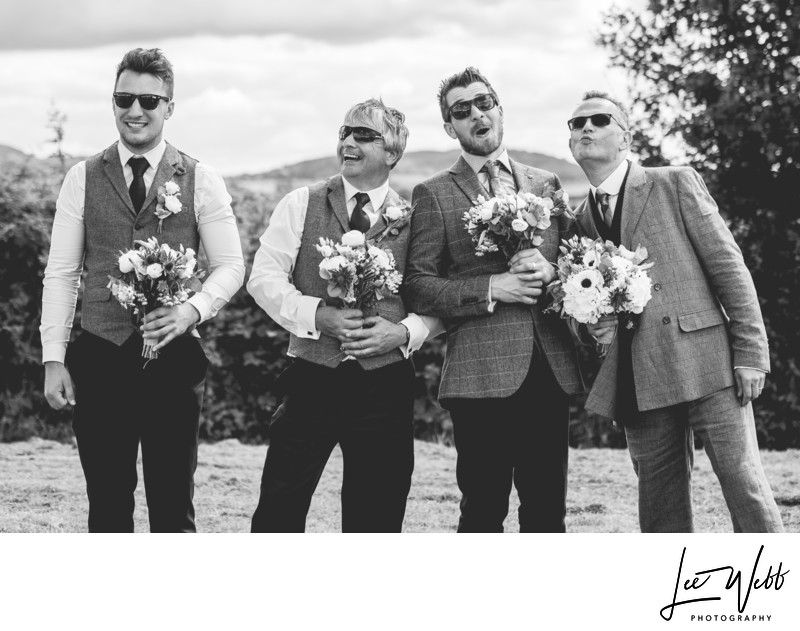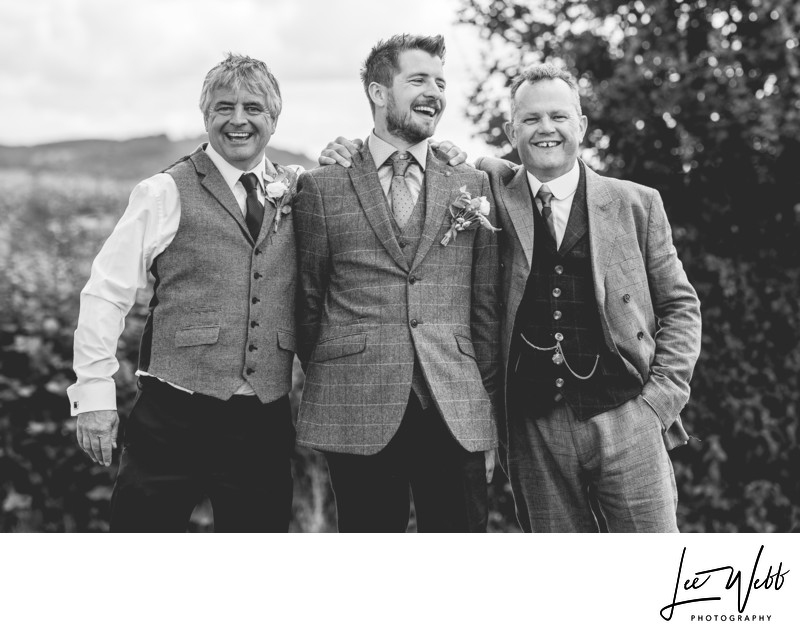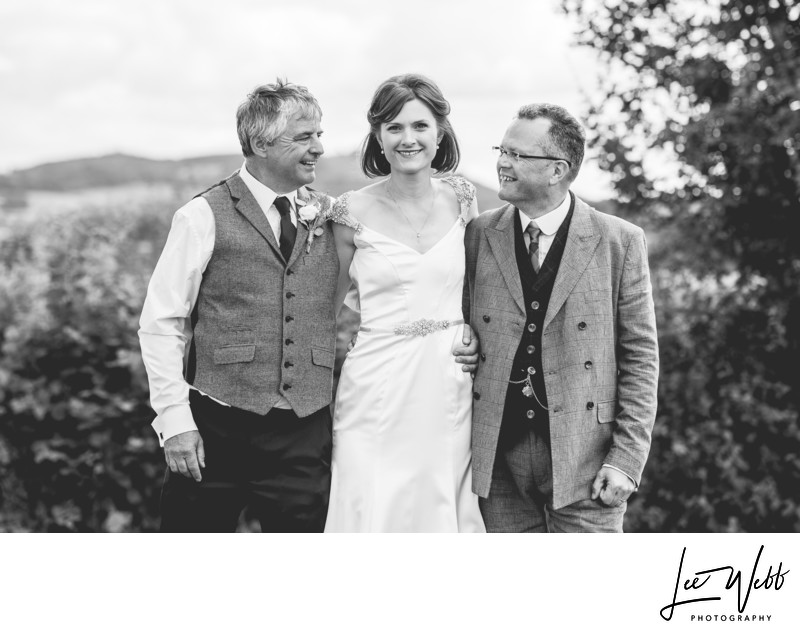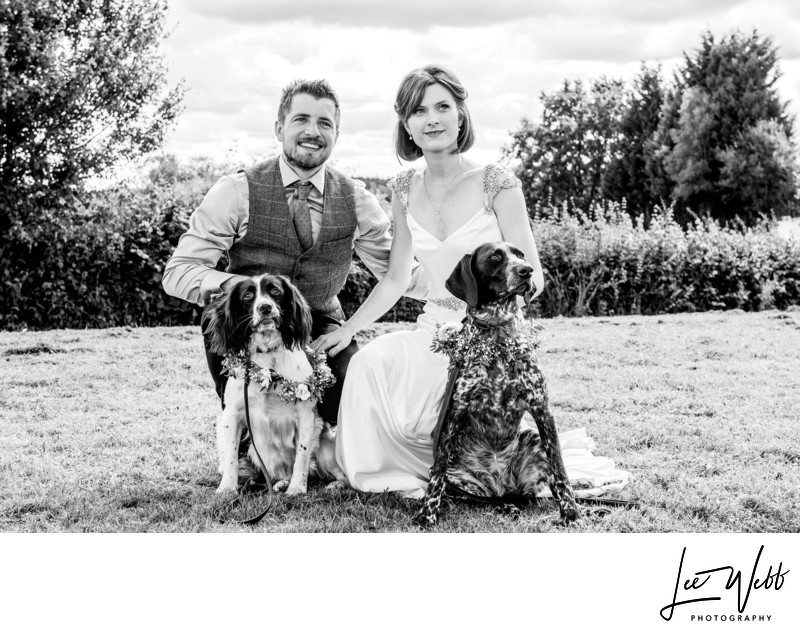 As you may be aware if you've read the about me section of my website, I photographed wildlife with great success before turning my hand (or lens) to photographing weddings. I still really enjoy photographing animals on wedding days but I have one rule - it still needs to be a wedding photo. A photo of a dog running with a ball is not a wedding photo - but a photo of a dog running with a ball whilst wearing a flower crown is!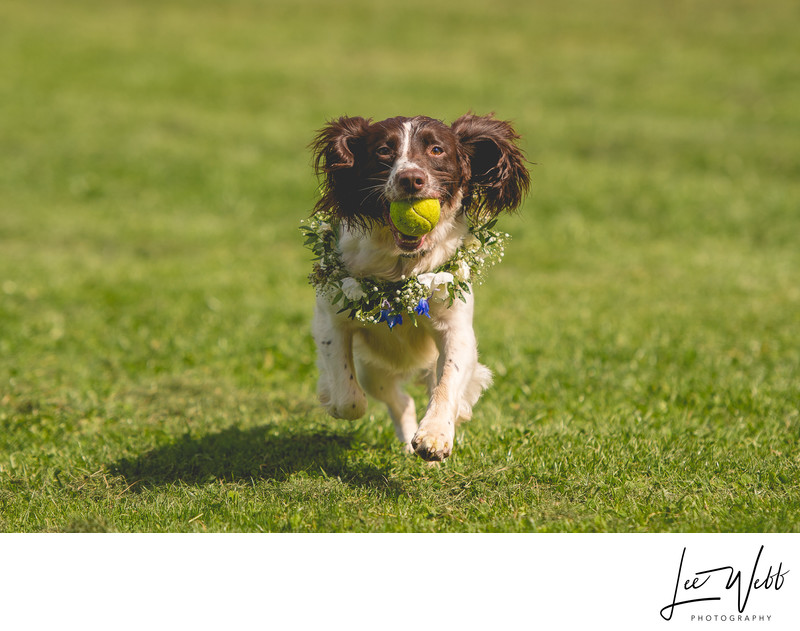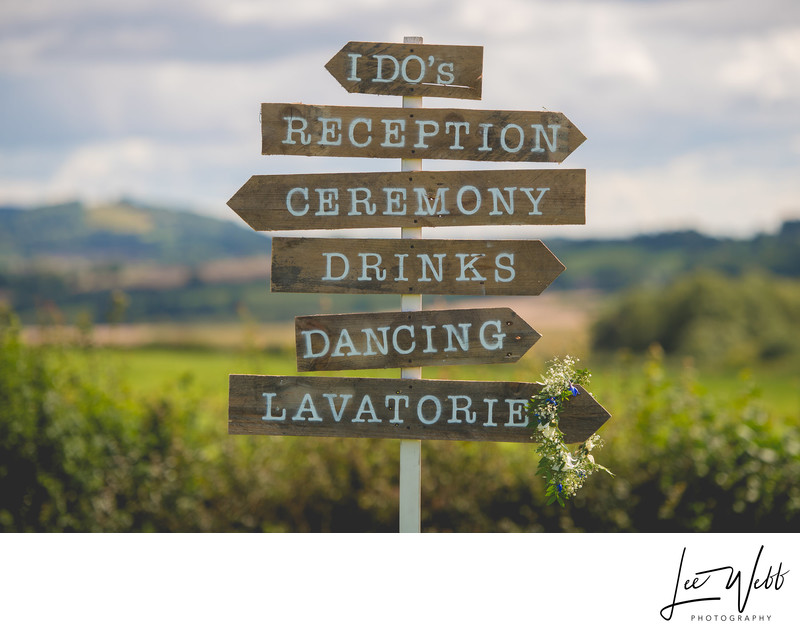 Again I can justify this being a wedding photo as there are guests in the background!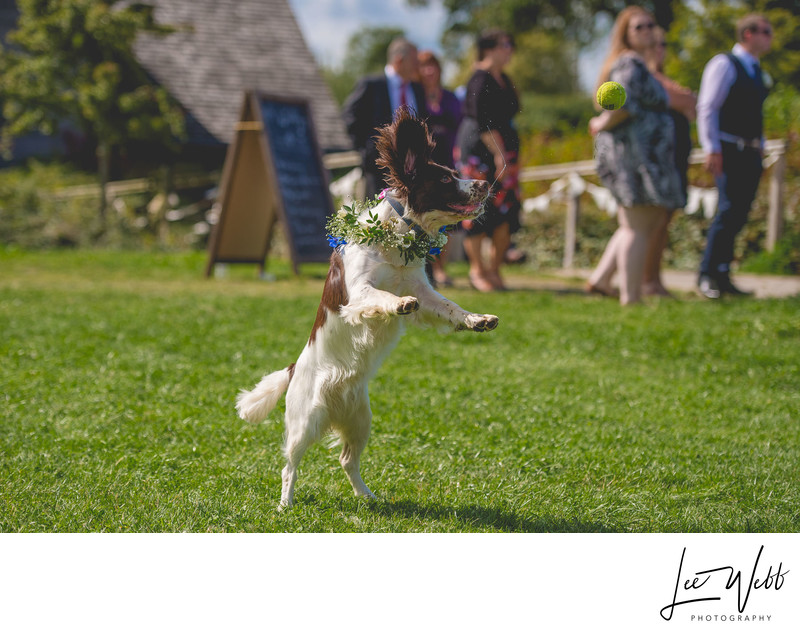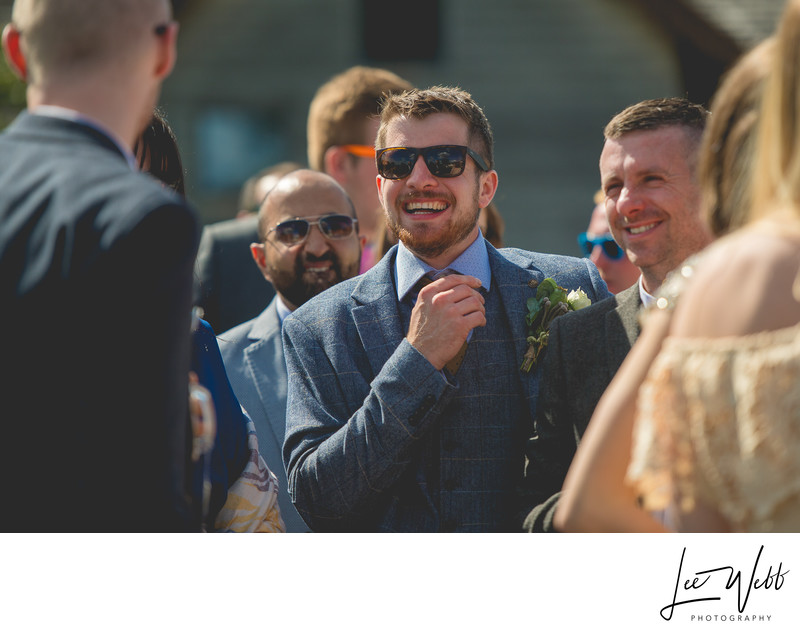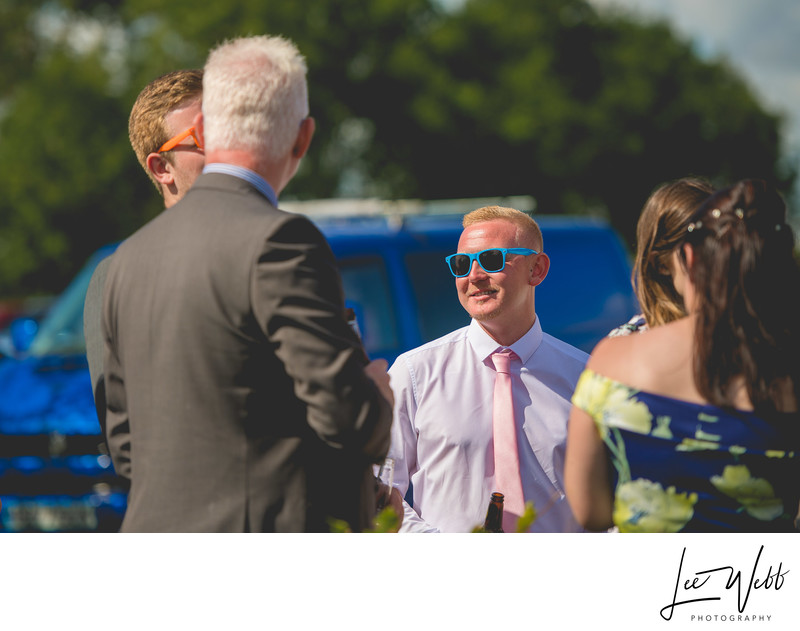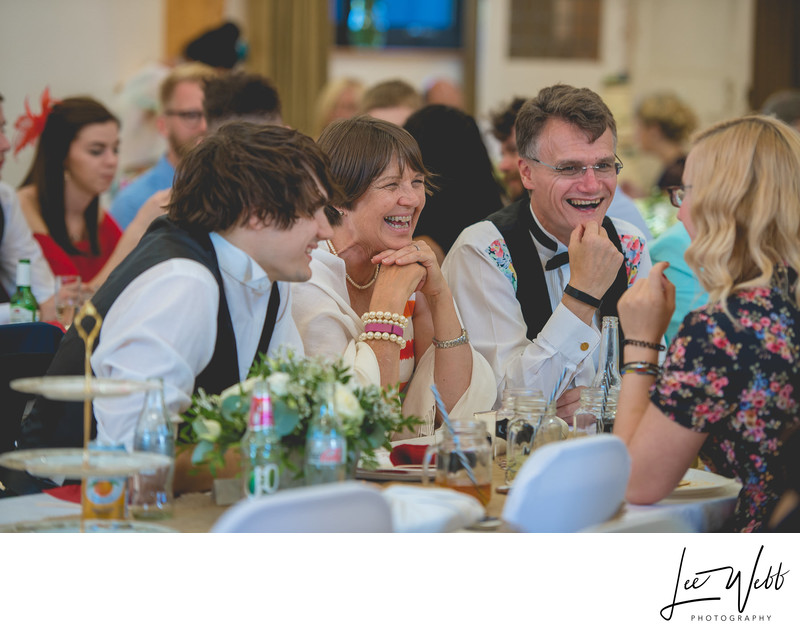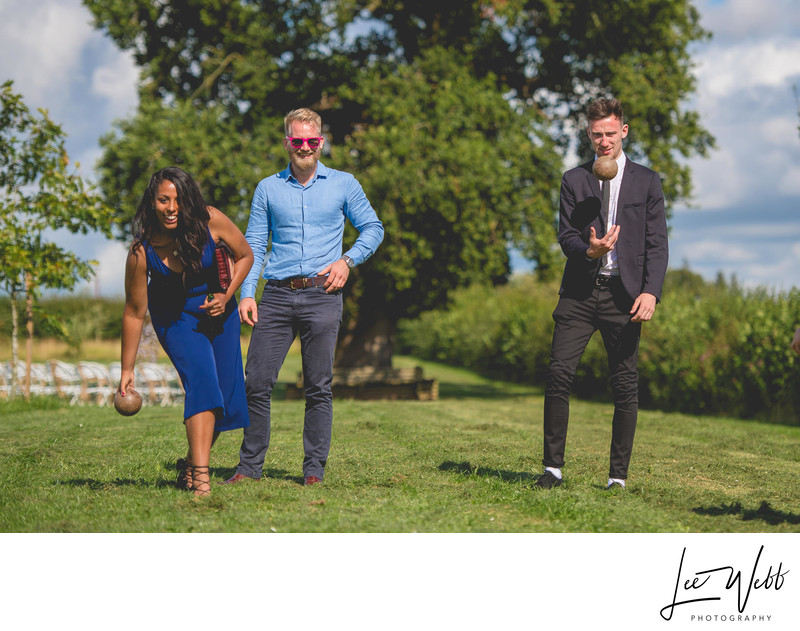 After a glorious amount of time outside enjoying the sunshine, the guests were invited to take a seat inside for the more formal part of the day, including the speeches, which the father of the bride kicked-off.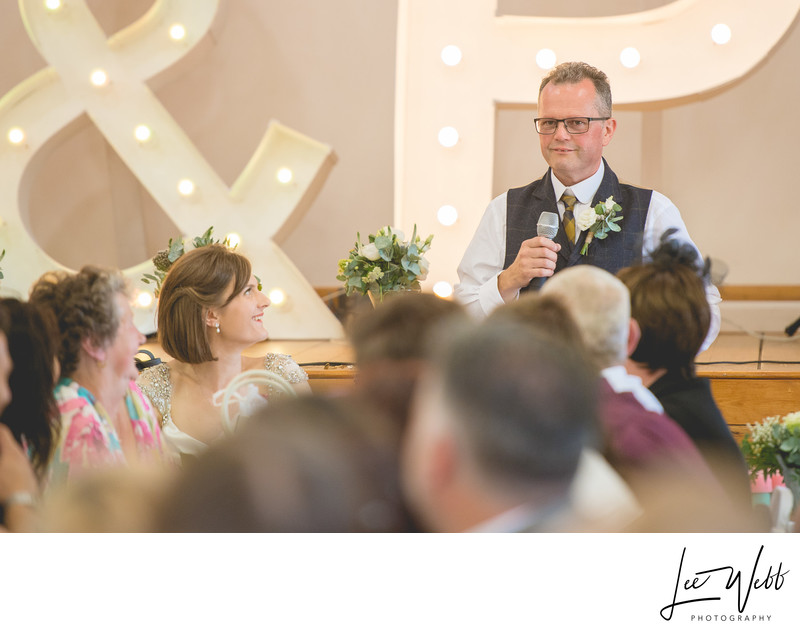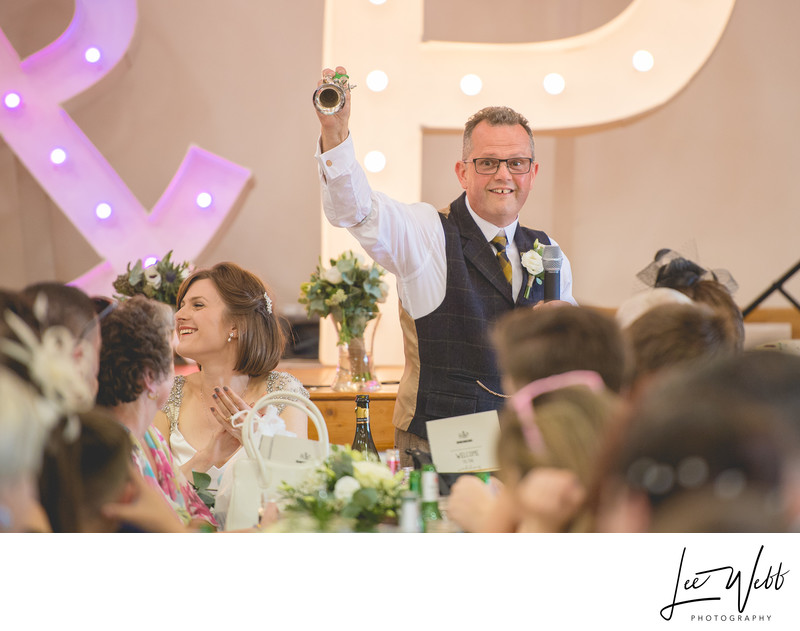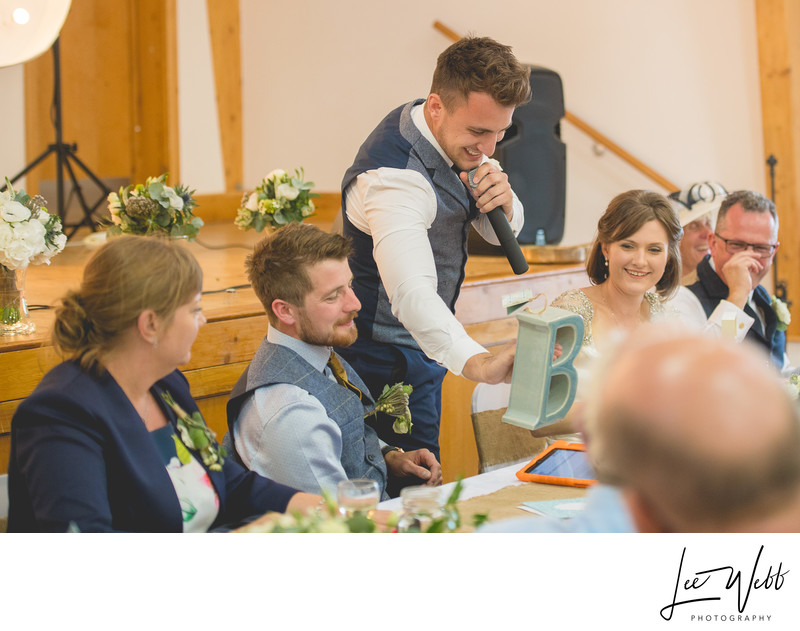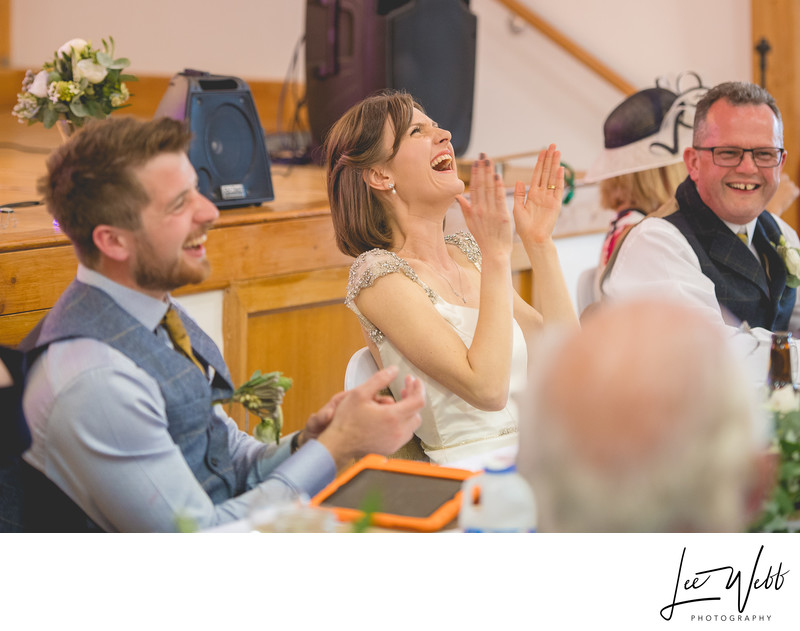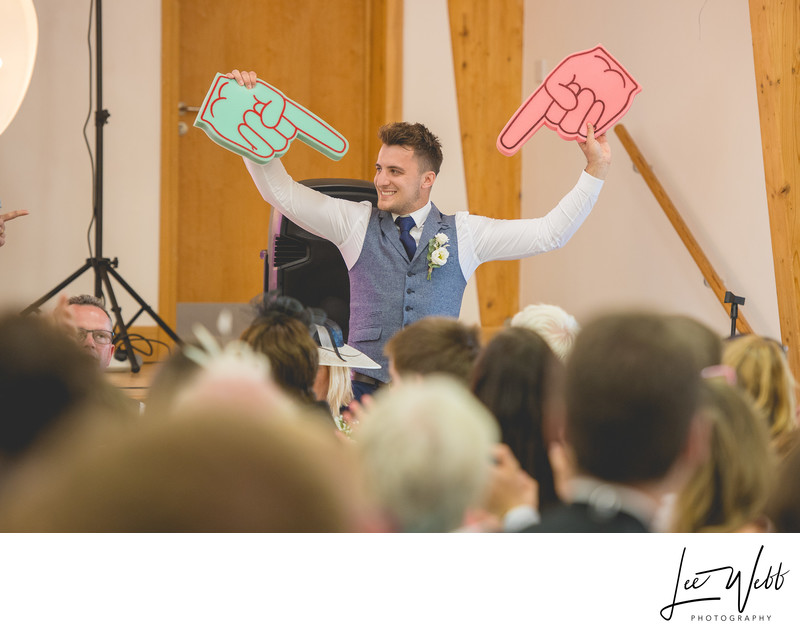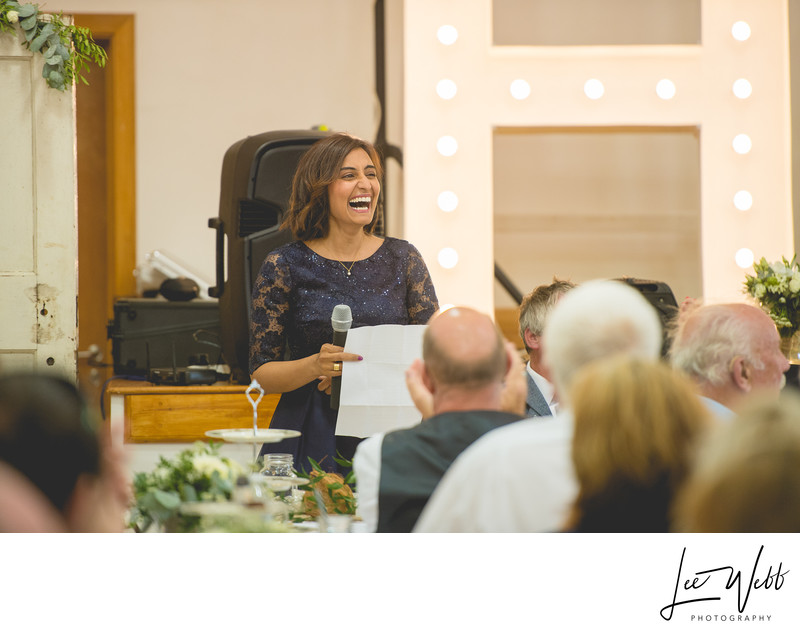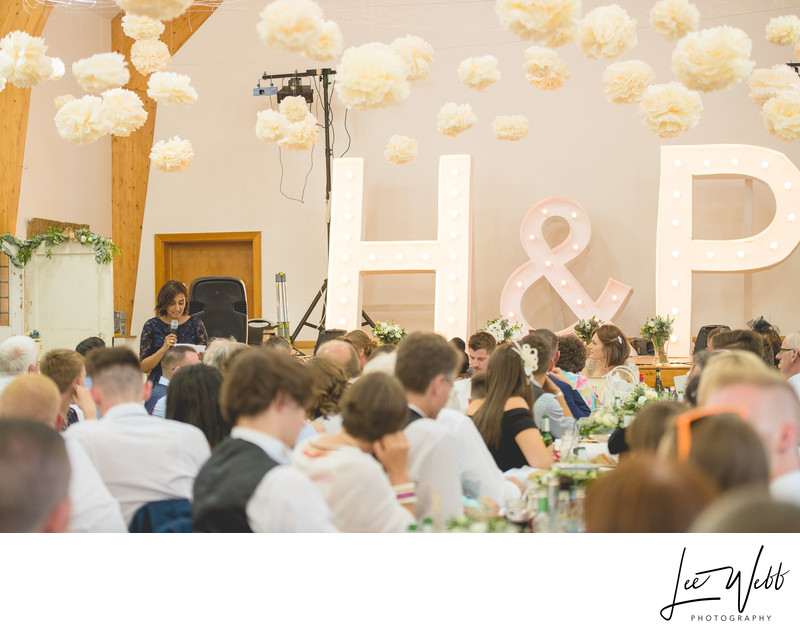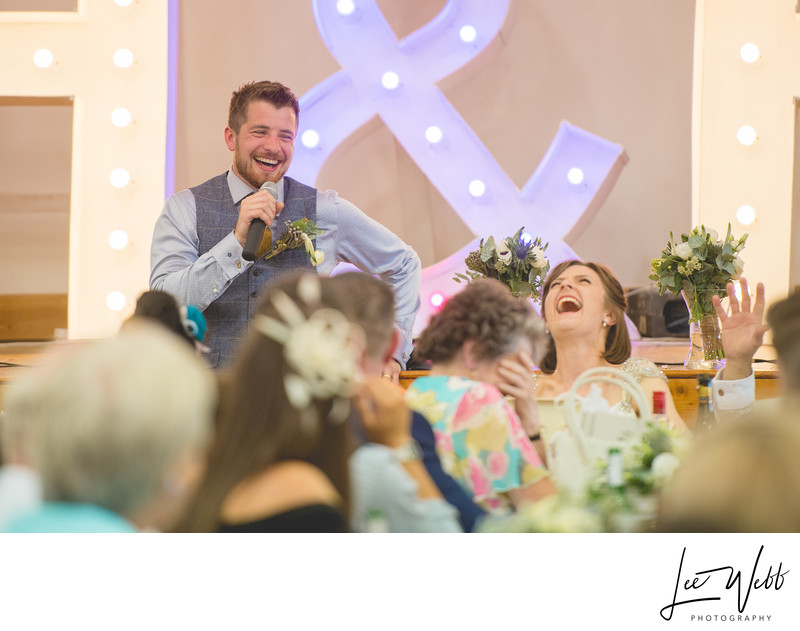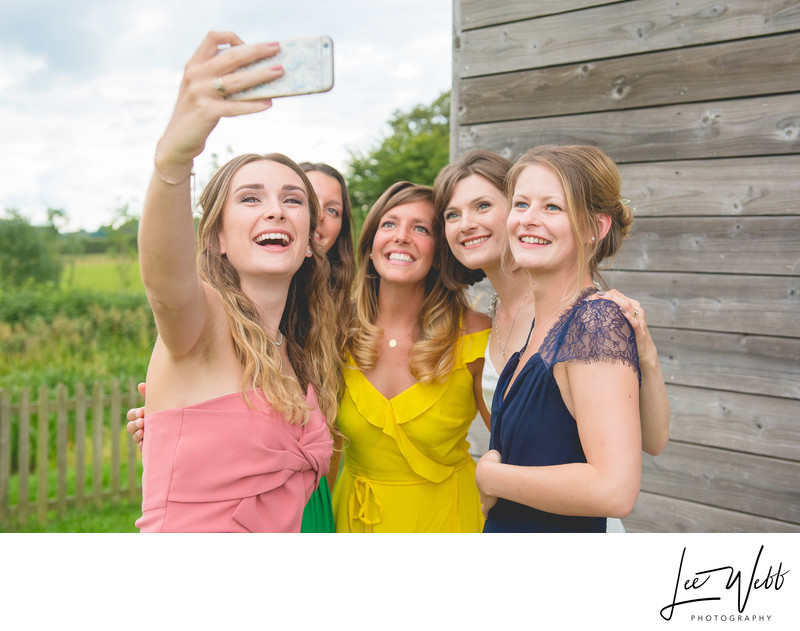 After the wedding breakfast it was time to take some photos of the bride and groom on their own. I specifically chose to take these photos later in the day as it was a lot cooler, meaning it was a more pleasant experience for the bride and groom, and the light was a lot nicer too.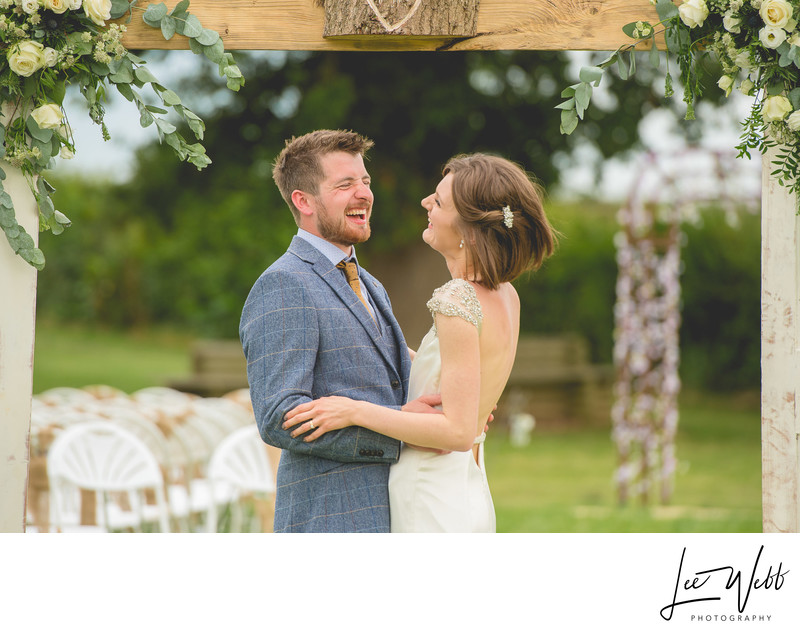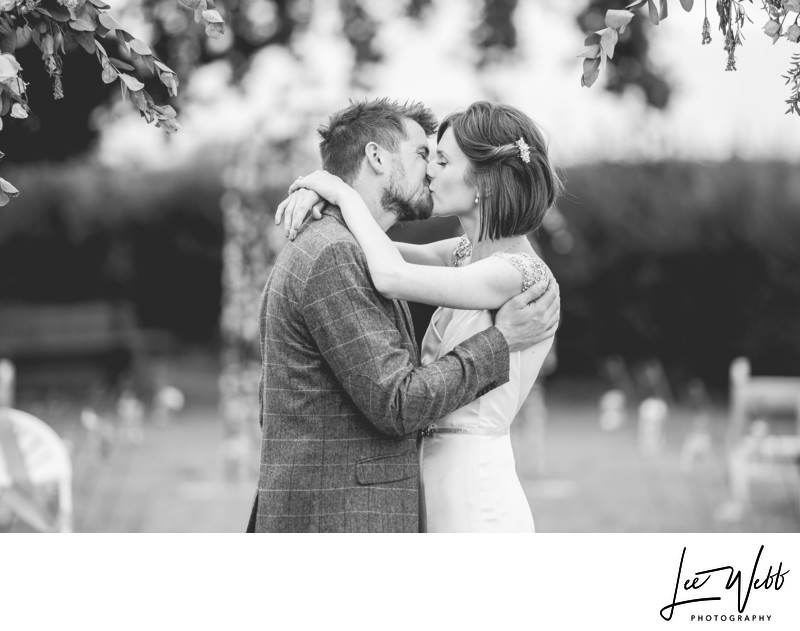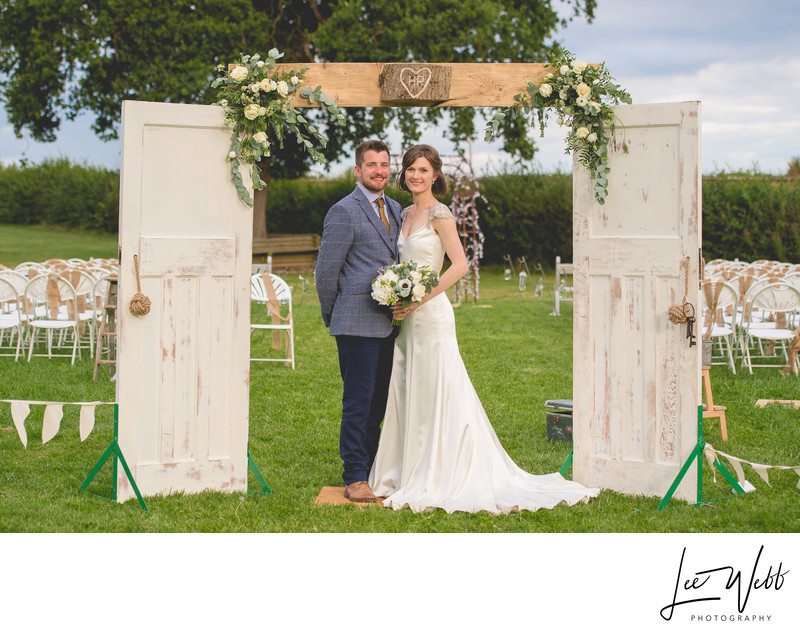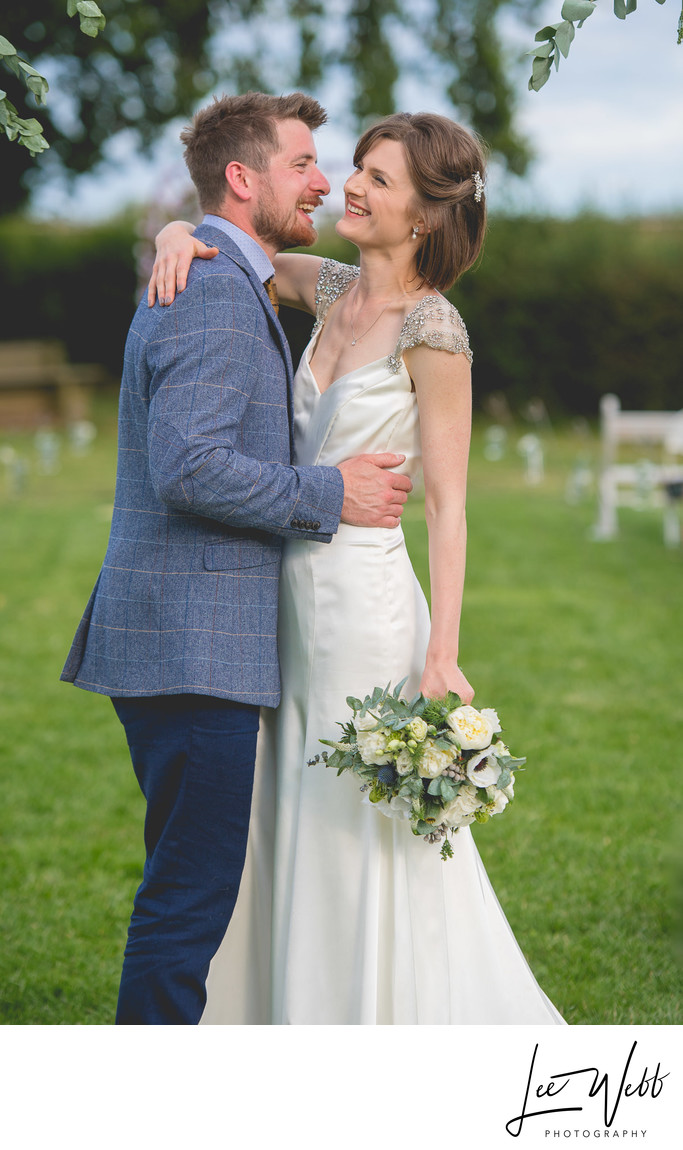 Poppy and Harry really wanted a thank-you photo including their two beloved dogs. Sadly, only one dog came on command leaving Harry to go and fetch the other dog in a less-than-conventional manner!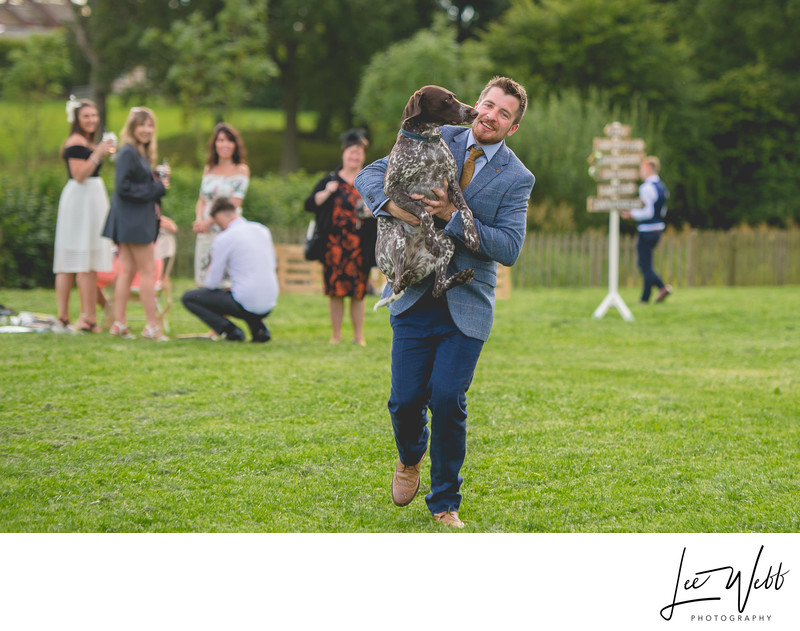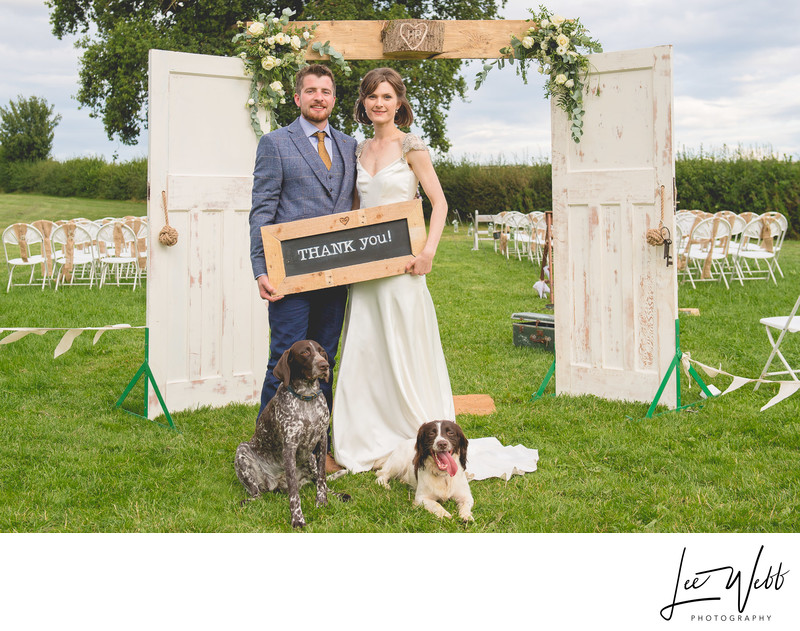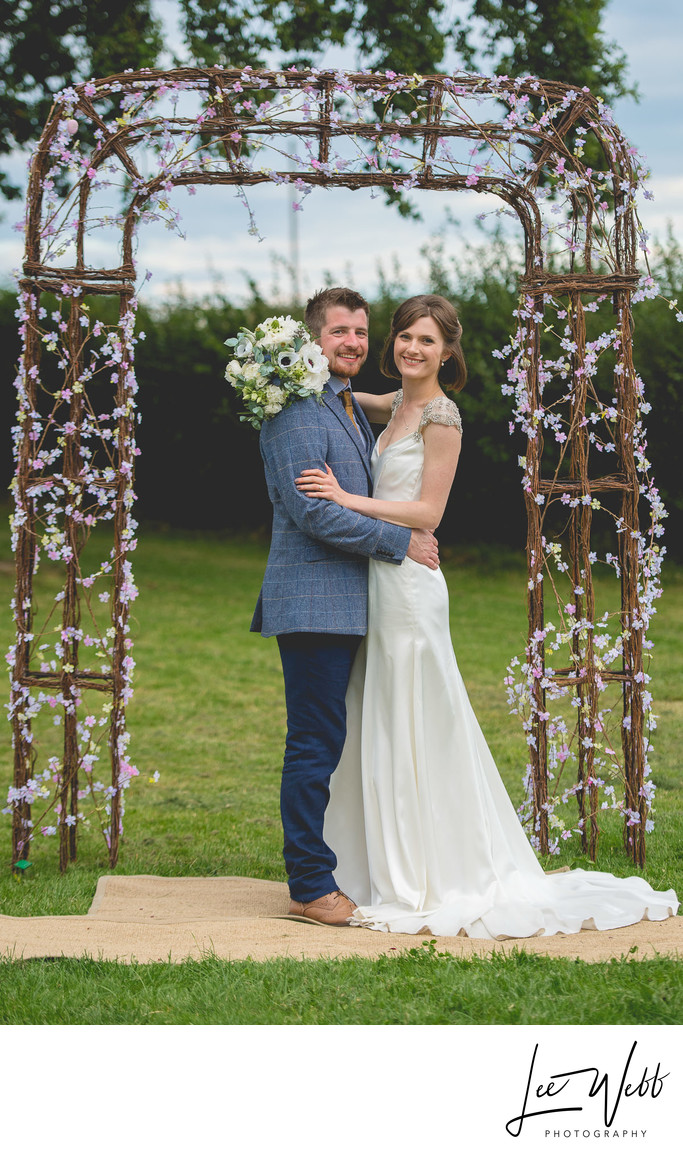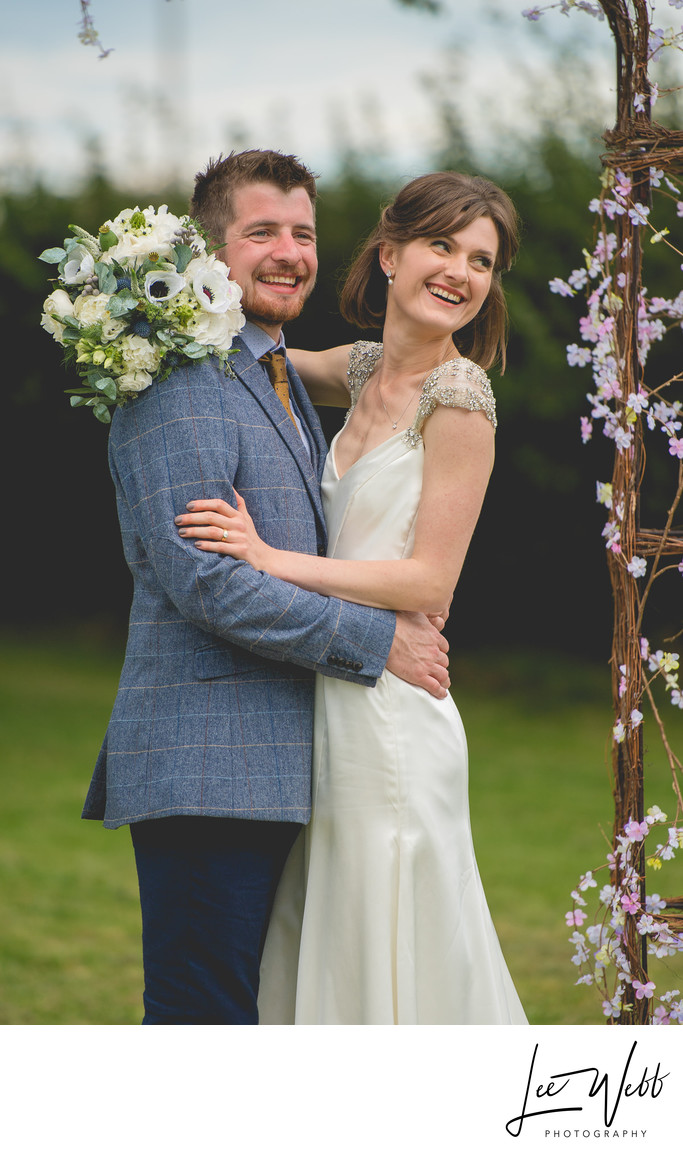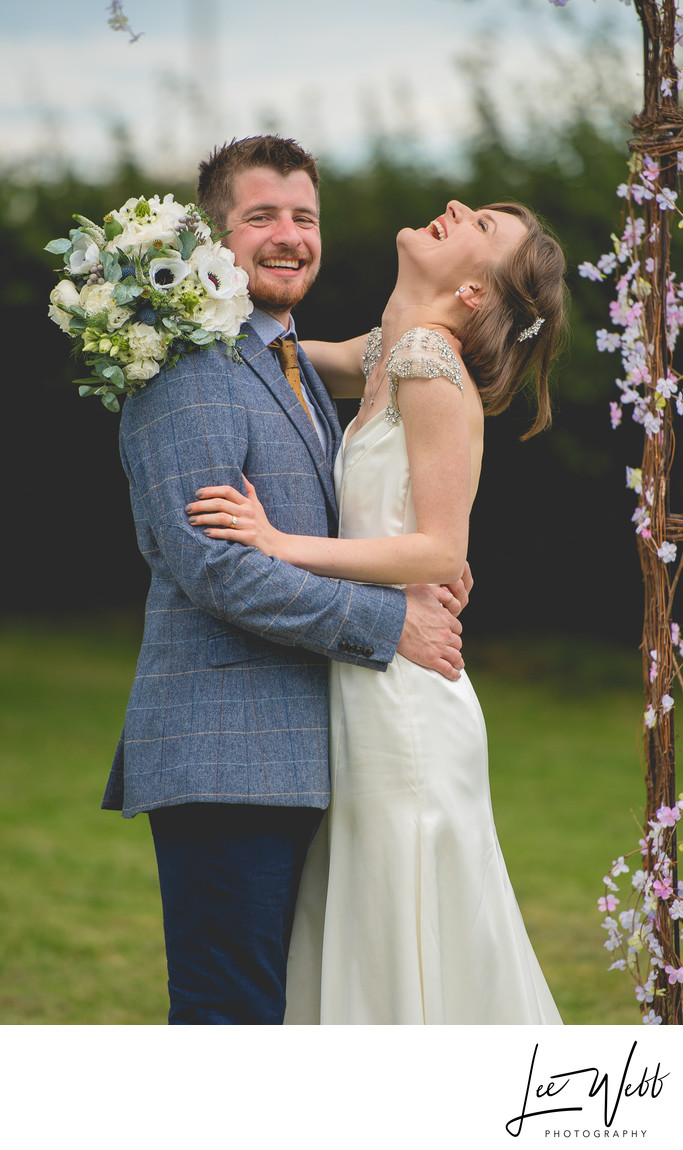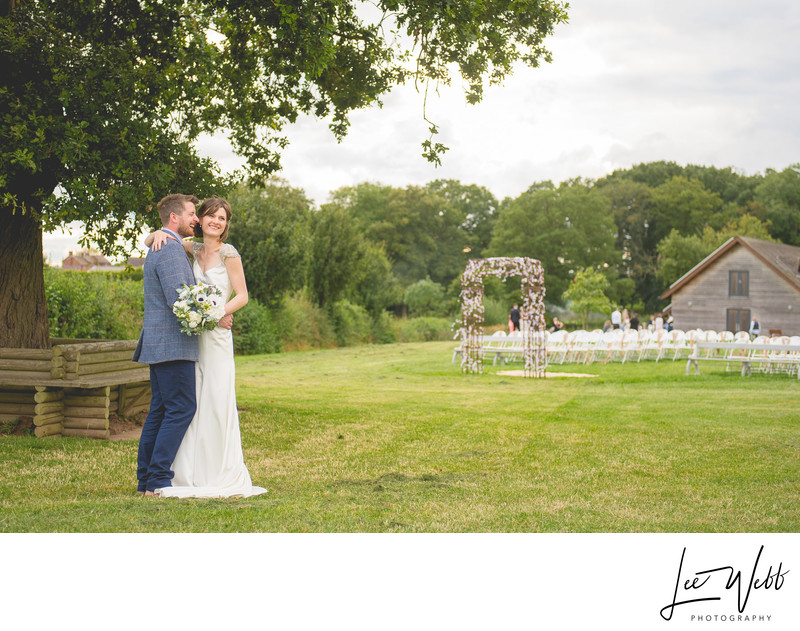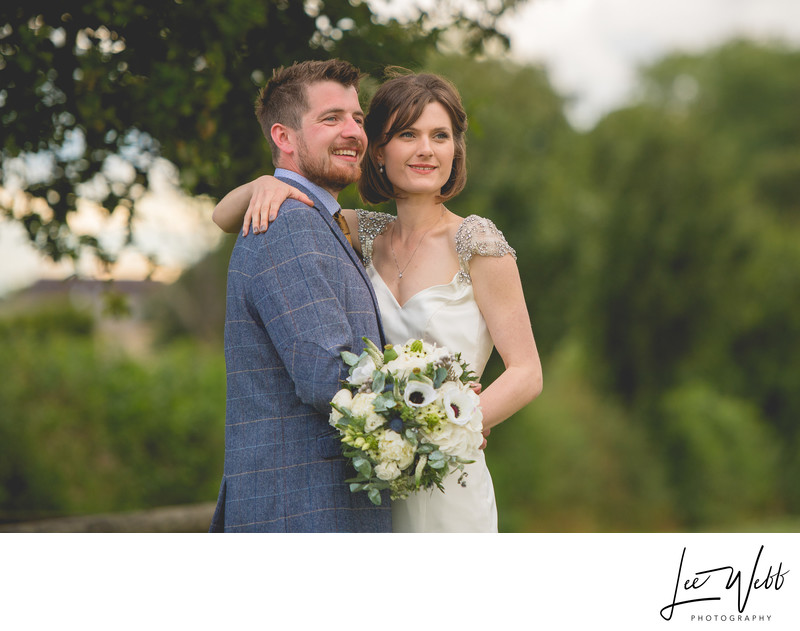 I've said it before but I'll say it again - you can photograph animals and it still be a wedding photo so long as there is context! I was attempting to photograph the bride and groom and their slightly better-behaved dog (all of whom you can see in the background) when the spaniel decided to take off and run right past the camera! Luckily I was using my fastest focusing lens which completely nailed the photo. It's still a favourite image of mine to this day.