Planning Your Wedding Photos
Planning your wedding photos
Throughout your wedding day you will experience many wonderful moments that you will want to cherish forever, and your wedding photos will mean those memories last a lifetime. To ensure you get the most out of your wedding photos, using my experience as a professional wedding photographer, I have compiled a list of 7 simple things to consider when planning your wedding with photos in mind.
Create a timeline
Create a timeline and let your photographer know your plans as soon as possible, before they're finalised. You might think that 45 minutes is enough time for 20 formal family photos, only to (later) find that your photographer knows, owing to their experience, that you'd be better off with 90 minutes for this number of images. Personally, at the time of writing I've photographed almost 300 weddings, so I have a really good idea of how they pan out. Clients phone me all the time and ask for my opinion on how their wedding timeline looks, and this is something I am more than happy to help with. After all, it's all part of the service.
Engagement sessions

An 'engagement session' or 'engagement shoot' is a great way of getting used to being in front of a camera if it's not something that comes all that naturally too you. It's also a fantastic time to get to know your photographer, as well as allowing them time to get to know you. Everyone has a character, and getting to know my clients better before the wedding makes the wedding day photography itself run a lot smoother. Your wedding photographer is the only supplier who will be with you all day and a close working relationship is key. Because of the bond I try to create with my clients, I'm very lucky to be able to say that I'm still in touch with many of my past clients, years after their weddings. It's really nice when I'm called upon to photograph the christening of a couple's child too, it really makes me feel like my photos are adding to the story of their life, whereas before they were only adding to the story of their wedding.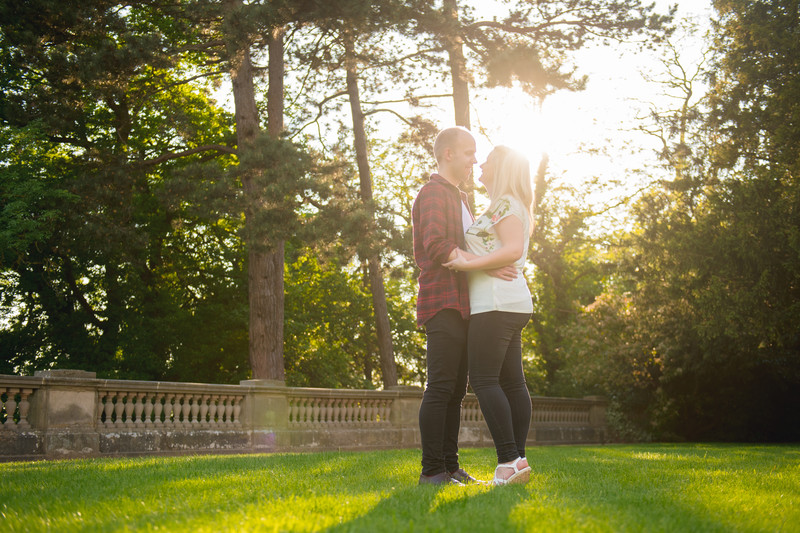 Getting ready
Brides - this one's for you! Give some thought as to where you're getting ready in the morning: Whilst it's often lovely to get ready at home (and you'll look beautiful anywhere) for the ultimate wow factor and gorgeous backdrops, consider using a room at your wedding venue such as the bridal suite, or hiring a cottage or somewhere special for truly spectacular getting ready photos! Being at your wedding venue the night before your wedding will usually afford you a better night's sleep, as there's no worry about having to leave on time in the morning, or the potential for being caught in traffic, or having a car that doesn't start! Many wedding venues have specialist rooms for bridal preparation, whether it's the bridal suite or a standalone room, that are set up especially for hosting bridal parties on the morning of a wedding. Even, natural lighting, wall mounted hooks in high places (for those extra long wedding dress trains) extra mirrors and table space all make life a little easier in what could potentially be a stressful time.
Wherever you are, neatness helps! Whenever I arrive where the bride is getting ready, one of the first things I try to do is make sure I have a clear background, which usually involves trying to move any clutter that's built up that morning (usually makeup and Champagne flutes!) but time I spend tidying is time I'm not behind the camera.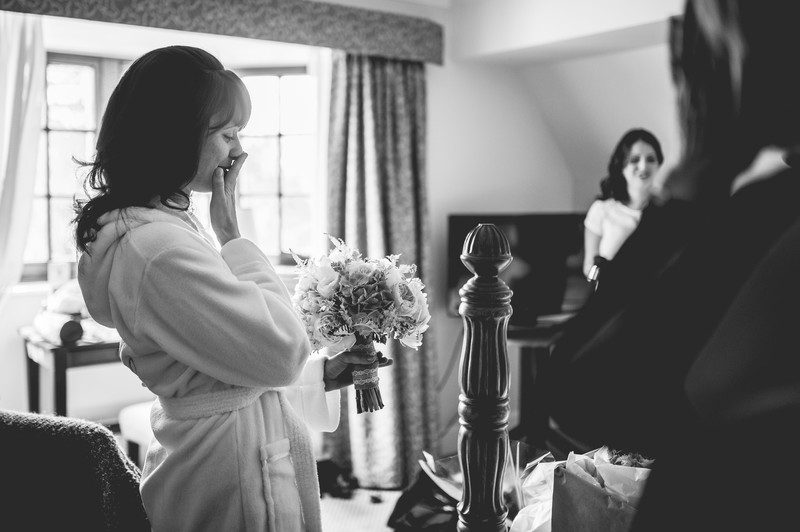 If you'd like some photos taken with your bridesmaids and parents before you need to leave for your wedding, build in a buffer, and a big one at that. In all my years photographing weddings, I can count on one hand the number of clients who have set aside time for photos and have actually managed it. Usually, at the back of everyone's mind is 'we don't need to leave until this time' so they continue to use the time to put finishing touches to hair and makeup instead. Before you know it, it is time to leave and your time for photos has been lost. My advice is aim to be ready 45 minutes before you need to leave/be interviewed by the registrars. That way if you eat 20 minutes into this time, you still have 25 minutes for photos. Of course if you don't eat into this time, not only can you have some lovely photos before the ceremony, but also a few minutes to sit down and relax!
Choose a wedding venue with enough outdoor space
It may sound an obvious one, but if you want to make the most of your wedding day when it comes to photos, choose a wedding venue with a lot of outdoor space. The more space you have, the more options you have for a wider variety of photos - Both of yourselves, and your guests.
If you have a particularly large family, or a vast family circle, make sure there's enough space to get them all together for at least one photo. A wedding venue with a balcony on an upper floor, or a window that opens wide are welcome features for wedding photographers. Getting a photo of 250 people is a lot easier when you're a floor or two above them and looking down.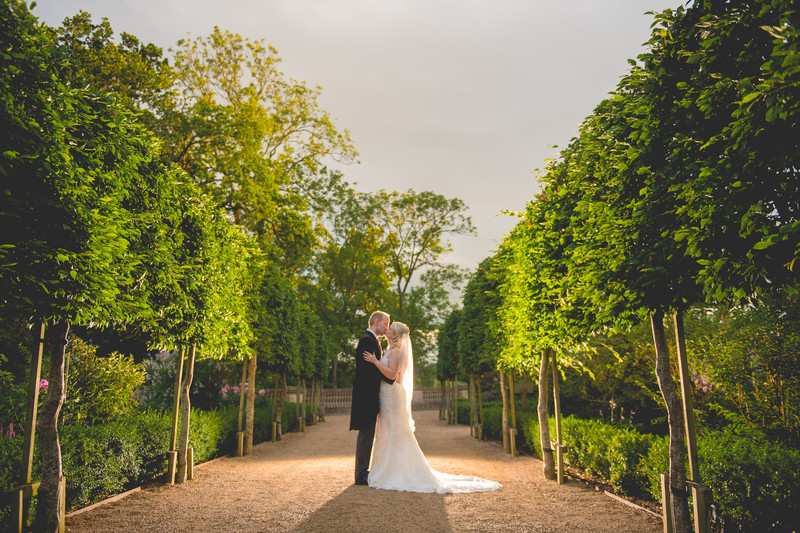 Choose a wedding with some indoor space should it rain
We all know that the British summer likes to throw a curve-ball once in a while when it comes to weather, so when choosing a wedding venue, try to choose somewhere that has enough indoor space for your group photos should the weather not be in your favour. A wide space with a plain or repetitive background is ideal! Your wedding may seem like it's a long way off when you're looking around wedding venues, but give a quick thought to the group photos you would like. If you have a large family and a family photo is a must-have, make sure your venue has at least one room big enough to take them all.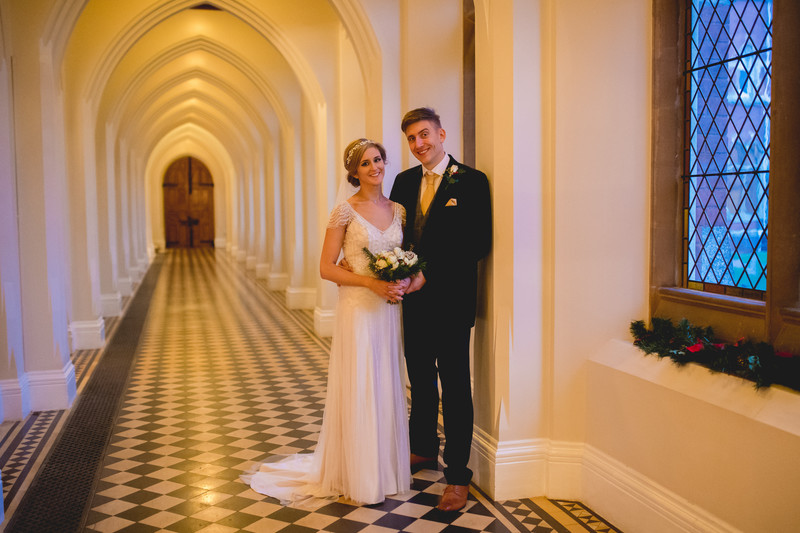 Write a list of formal photos

To help maximise the efficiency of the taking of your wedding photos, write a list of the formal pictures you would like. This means that when it's time to take your formal pictures, no time is wasted finding out who people are and getting them together! I usually ask my clients send me a list of formal photos two weeks before the wedding. I'll make sure that there aren't too many for the amount of time that we have, and restructure the list's order to take less time on the day. I would also suggest writing people's roles on the list, instead of their names - 'Bride and bridesmaids' for example, is ideal.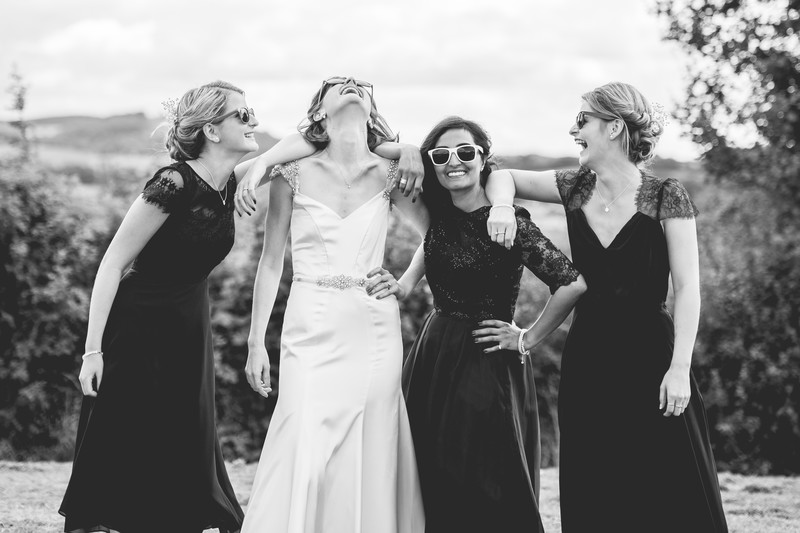 Leave enough time for family pictures
When you're planning your wedding, make sure you leave enough time for your formal photos. As a rule of thumb, you'll want to leave roughly 5 minutes for each formal photo - so if you've come up with 12 formal photos that you'd like, you're going to need about 60 minutes between the beginning of your drinks reception to the time you sit down for your wedding breakfast for photos. It's a rough guide, and there will always be some photos that take less time to organise (usually the smaller ones) and some that take more. It's always better to have too much time than too little. The more time you have left over after your family pictures, the more time you have to relax on your wedding day. It can be a hectic time, going from your ceremony, to your drinks reception and photographs and then straight into your wedding breakfast. A 20 minute breather here is usually well received by my brides and grooms!

Spare some time for couples photos
Once your formal photos have been completed, make sure you spare some time in your wedding schedule for some photographs of your new husband/wife and yourself!
25 minutes is a perfect amount of time for your photos but if you have a particularly large wedding venue, or different aspects of the venue are spread over a wide area, it's a good idea to leave a little extra time for the biggest variety of photos! It's always worth discussing the photos you'd like with your wedding photographer before the big day. I'm always available at the end of the phone or via email to have a chat about your wedding photo ideas and how long they may take. I've been to so many weddings now, I've seen it all and done it all before and hopefully I can guide you through the planning stages of your wedding so you get the very best out of your wedding photography.
Another thing to consider is the time of year that you'll be having your wedding. If you're getting married in December for example, you're going to run out of daylight just before 4pm. However if you're getting married at the end of June, you don't lose usable light until gone 9pm - If you don't have time in the middle of your day for your couples photos, at the right time of year, there might be time after your wedding breakfast where you can still get fantastic photos. If you're limited for time however, it's best to have 10 minutes too much than a minute too little.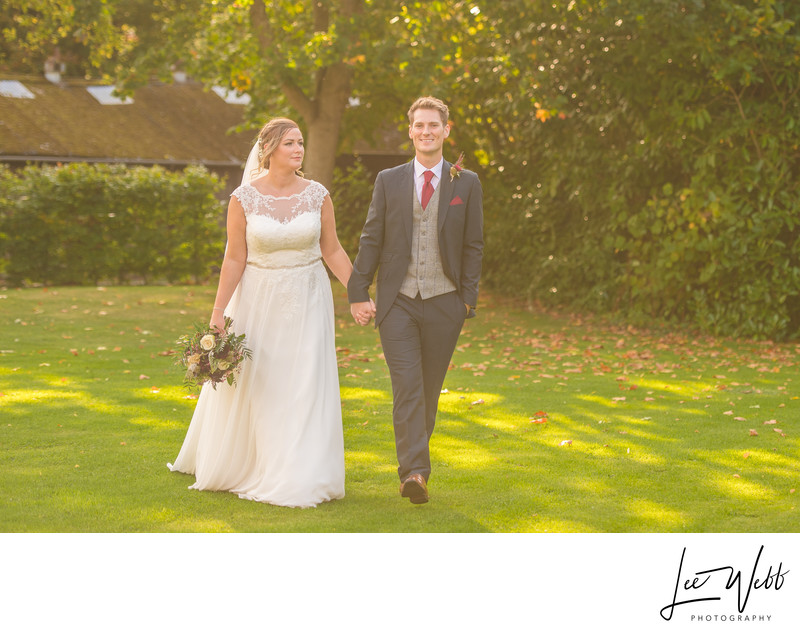 Time and light
When you're visiting wedding venues, try to plan your visits so that you're there roughly at the time you'll be getting married. This way you can see how the light falls on the various parts of the venue. Also, if you're getting married relatively early or late in the year, make sure you plan to have your wedding ceremony early enough that when you have your drinks reception, it's still light outside. Mentioning it now sounds obvious, but I know of people who have been caught out in the past.

Another useful tip is looking at when sunset will be for the day of your wedding. If a stunning sunset photo like the one below is of interest to you, try to build in a 15 minute gap around sunset time. Many of my clients in the past have snuck out between the main meal and dessert of their wedding breakfast, or immediately after their first dance, depending on the time of year.
Don't be a stranger!
I say this to all of my couples - If you have any questions, ever, about your wedding day timeline and/or photography, don't be afraid to pick up the phone or drop me an email with a question, no matter how small or trivial you think it might seem. I'd rather spend 5 minutes answering a question now than find something's not going to work out on the wedding day.
I'm not quite a wedding planner, but there's not a lot I don't know about weddings.
After your wedding...
Make prints, make a canvas or order a wedding album. Nothing on this earth makes me happier than going back to a client's house after their wedding for whatever reason and seeing prints from their wedding on the wall. We live in a digital age where it's all to easy to not do anything with your wedding photos, and just leave them on a computer or put them on facebook or twitter. Trust me on this one - your wedding photos need to be reproduced with the care and attention that went in to creating them. The wedding albums I use are simply stunning, and try as I might, I can never find the correct words to describe just how amazing they are. Ask any of my previous clients though, and they'll have no trouble telling you that they're probably their favourite things.
Would you like to know more?
If you'd like to arrange a meeting to have a chat about your wedding day or look over a wedding album, drop me a line by filling out the contact form
Planning Your Wedding Photos