Worcestershire Documentary Wedding Photographer
I am often asked how I would describe my style of photography, or how I go about capturing a wedding. I've been asked a hundred times and I still can't come up with anything that better describes the way I work other than '90% documentary wedding photography and 10% art.' That all sounds good and well on the face of it, but what actually is documentary wedding photography? Keep reading to find out. (Also please keep reading so I can justify the 'art' comment too, it's not nearly as pretentious as it sounds.)
Documentary Wedding Photography
'Documentary wedding photography' goes by many different names - photojournalism, reportage or candid wedding photography to name but a few. For the purposes of this article I shall be using the term 'documentary.'
For me, documentary wedding photography can be summed up thusly:
"The ability to tell the complete and authentic story of a wedding, from start to finish in the most genuine way, through photography alone."
It's my hope that I could shoot a wedding from start to finish, edit the photos and give them to a complete stranger who doesn't know me and doesn't know the couple, and have that stranger be able to fully understand what that wedding day was like. How the wedding looked but also, more importantly, how it felt.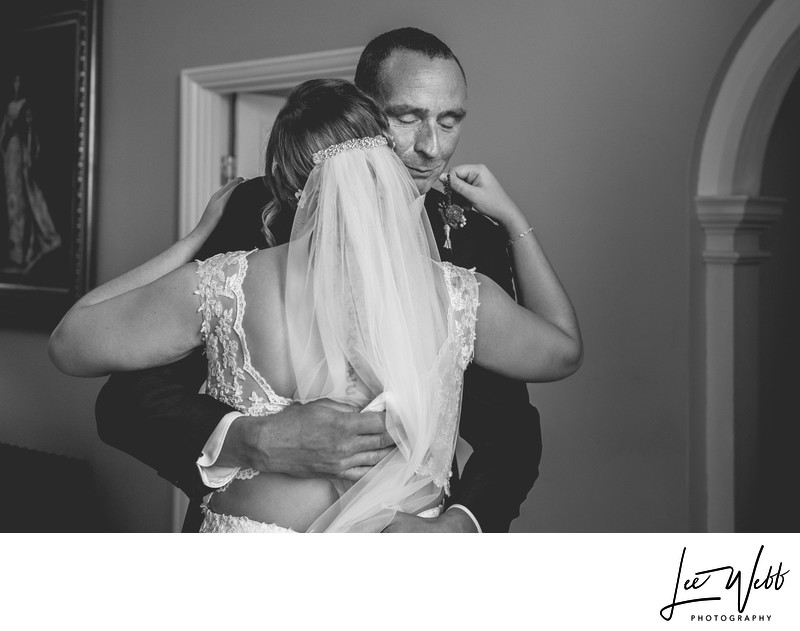 How it felt. How something feels is often very difficult to describe on paper with words, but you can capture so much emotion in a single image. However, the very essence of a photo is lost the minute you, as a photographer, intervene. Anyone that has a friend who enjoys photobombing you, or anyone that has ever tried to photograph children will tell you that you risk changing the portrayal of something through photography, merely by you being there. Your presence will determine the outcome of your photo. If you go unnoticed, you don't alter the thing you're trying to photograph, meaning you do get a genuine photo, on which you're able to reflect upon how the moment being shown felt for the people involved.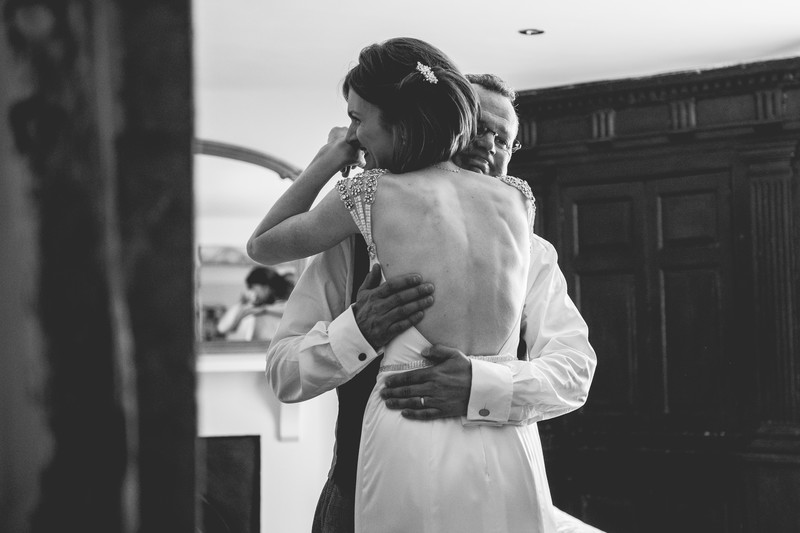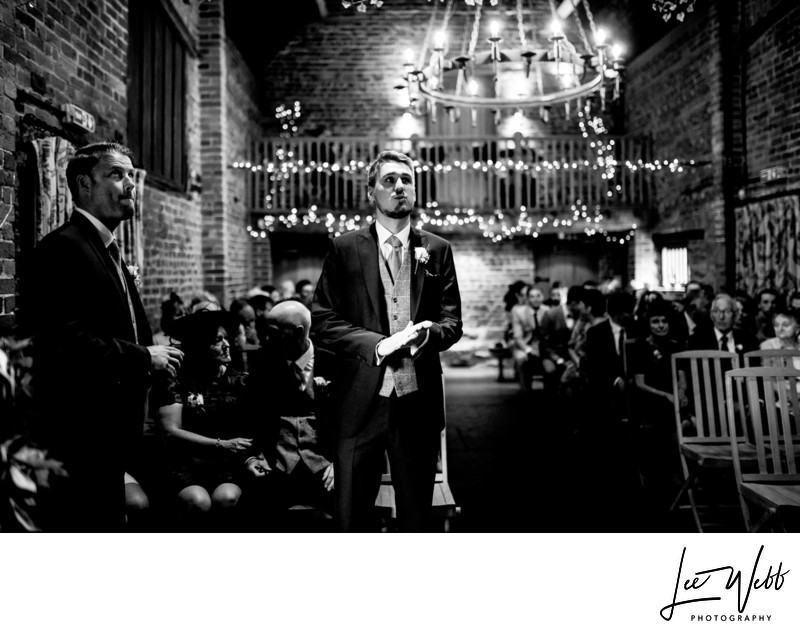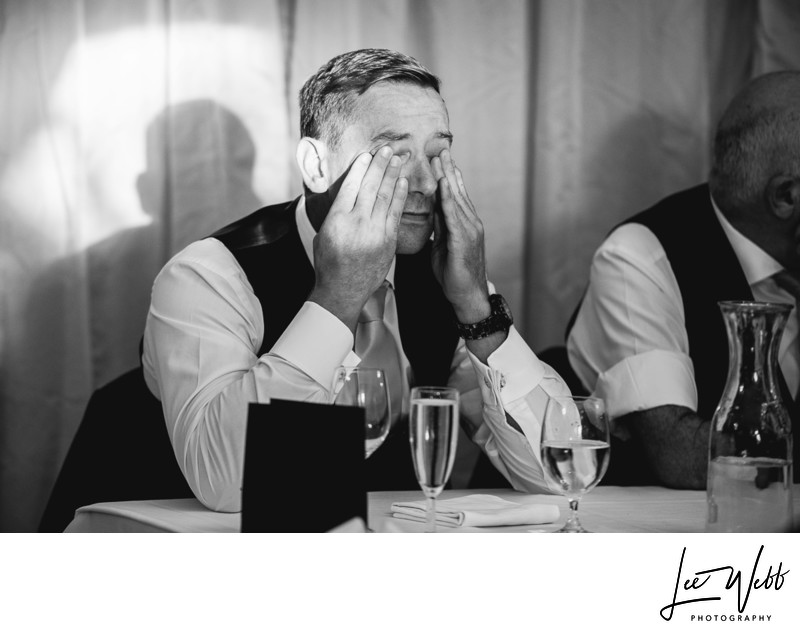 Showing people acting naturally is perhaps the best way to show the personality of that individual, and when you really capture someone's personality you often can't help but smile.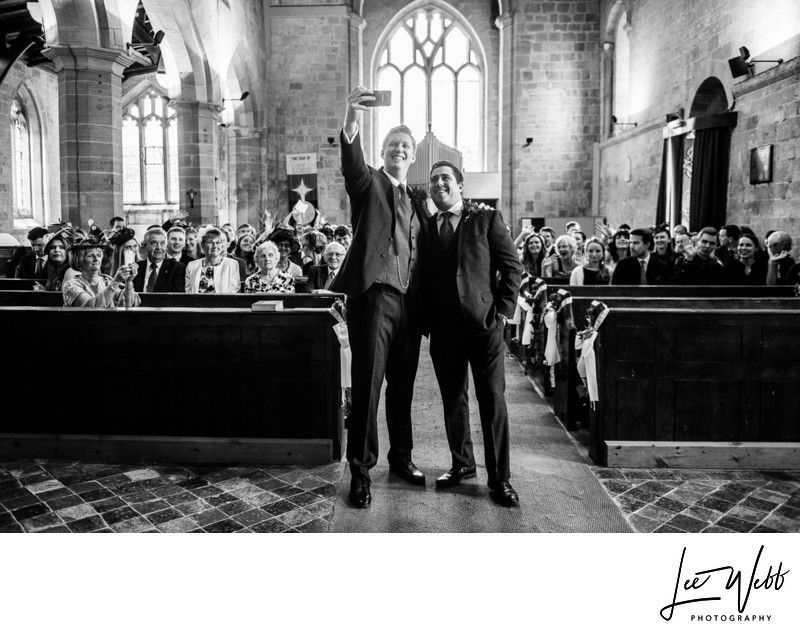 Whilst the entire collection of wedding photographs must combine to tell the complete story of the wedding day, each individual image must also contain enough context that it capably describes what was happening in that moment.
Good wedding photojournalism is hard work. It's much harder work that most new-to-the-industry photographers imagine it is. It is for this reason that a huge number of wedding photographers will advertise themselves as being documentary wedding photographers, only to show a portfolio that contains little but photos that are posed to appear to be natural and upstaged. You can capture the moment but you'll never truly capture the feelings associated with that images, because they won't be there. In a staged photo you can't capture spontaneous moments that happen from nowhere.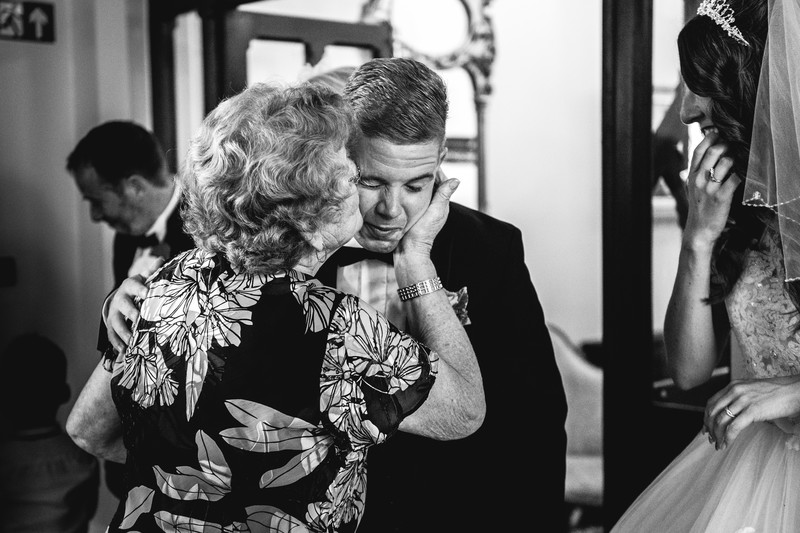 The moments between moments.
It's a phrase coined by a famous documentary photographer and it's the perfect analogy to sum-up good wedding photojournalism. Weddings are made from a collection of big moments: The bride getting in the dress. The wedding ceremony. The confetti photo. The photos of the bride and groom. The wedding breakfast, the cutting of the cake, first dance and so on. It's very easy to cover these big moments, as they largely happen to some degree at every single wedding. Capturing the tiny little individual moments that happen between the big ones is hard, as they usually come without any warning at all. Being successful at capturing these little moments well is something I pride myself on. You need to be constantly ready to shoot, and in the right place at the right time. It gets easier with experience but I still love the challenge.
Take the image below as an example: The bride and groom had finished the wedding breakfast but the wedding guests were still seated and chatting merrily. The light in the famous cloisters at Worcestershire's Stanbrook Abbey was absolutely perfect, so I asked the bride and groom whether they'd mind having a quick few photographs taken. (I know I'm talking about posing a photo with the bride and groom, but more on that later.) As we were walking, out of nowhere a wedding guest walks up to the bride and asked to see her garter. With no warning, and without the bride having time to give an answer, the lady on the left lifted the bride's wedding dress to take a look. It's possible to tell that story with this single image. Could you pose it? Yes, you could, but the image would be without feeling. Look at the shocked reaction on the groom's face, and the laughter on the brides. This is what's instantly lost when you intervene.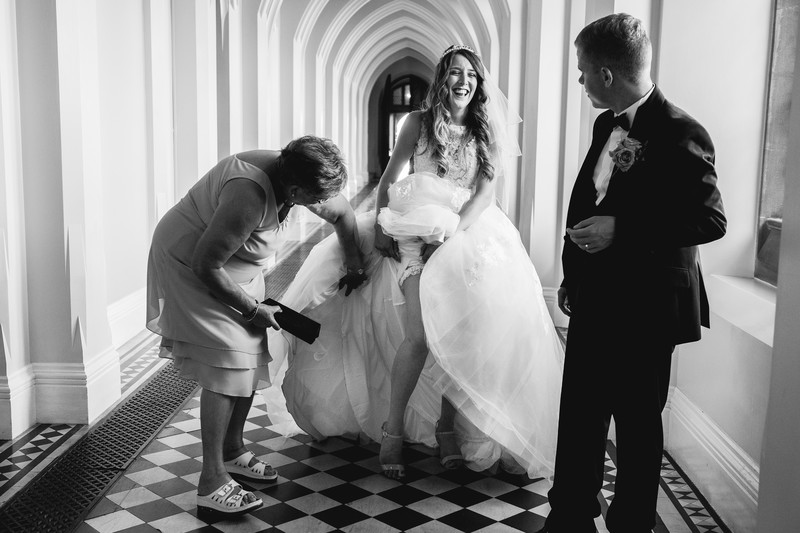 As a documentary wedding photographer, I work best in the moments between moments. Capturing unplanned moments, and people's reaction to them, as they happen.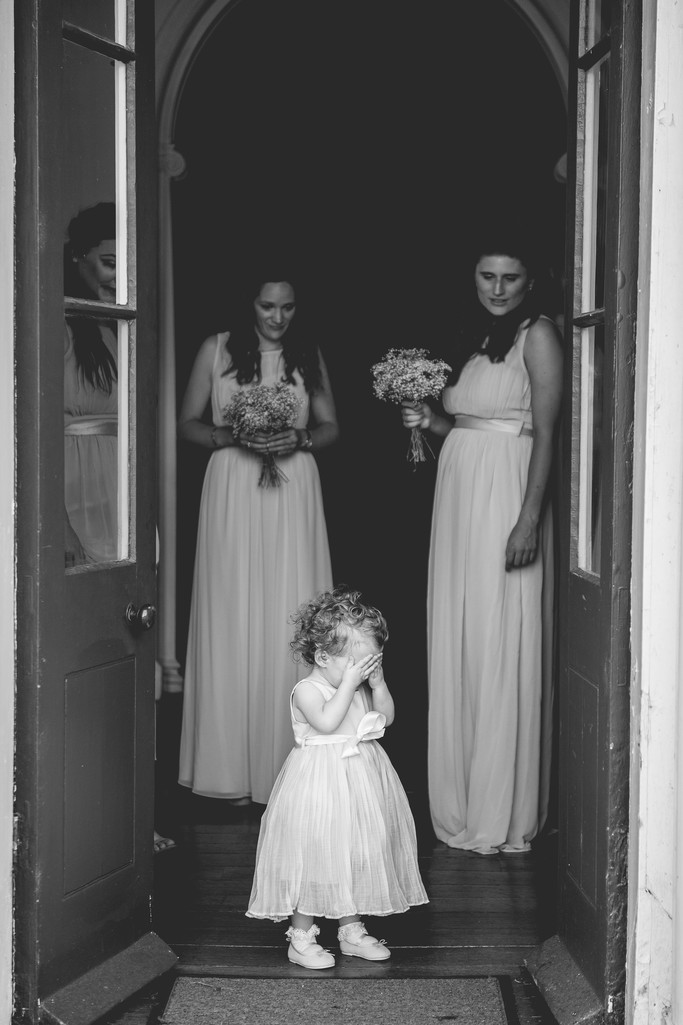 How do you do it?
Being in the right place at the right time is only half of the battle. My main goal is to go unnoticed by wedding guests. In order to effect this, I dress like a wedding guest, wearing a suit, with shirt and tie. Yes, the cameras are still a give-away but out of the corner of your eye, someone wearing a suit stands out a lot less than someone wearing jeans and a t-shirt (which unfortunately is becoming all to common with wedding photographers these days)
Wedding photojournalism is story-telling, and to do any good story justice, you have to feel like you were there at the time. Using a long telephoto lens means you can shoot from further away whilst remaining hidden, but people don't see with eyes that are capable of zooming in on things. To really make the viewer feel like a part of the story, you need to shoot up-close, but at the same time making sure you don't influence the thing you're photographing.
To get the best results, I stand back and let you get on with your day. There are still things that need to be posed because they can't be photographed any other way (the signing of the register for example, where you're not allowed to photograph the actual register) but usually I allow things to unfold, much as they would if I weren't there.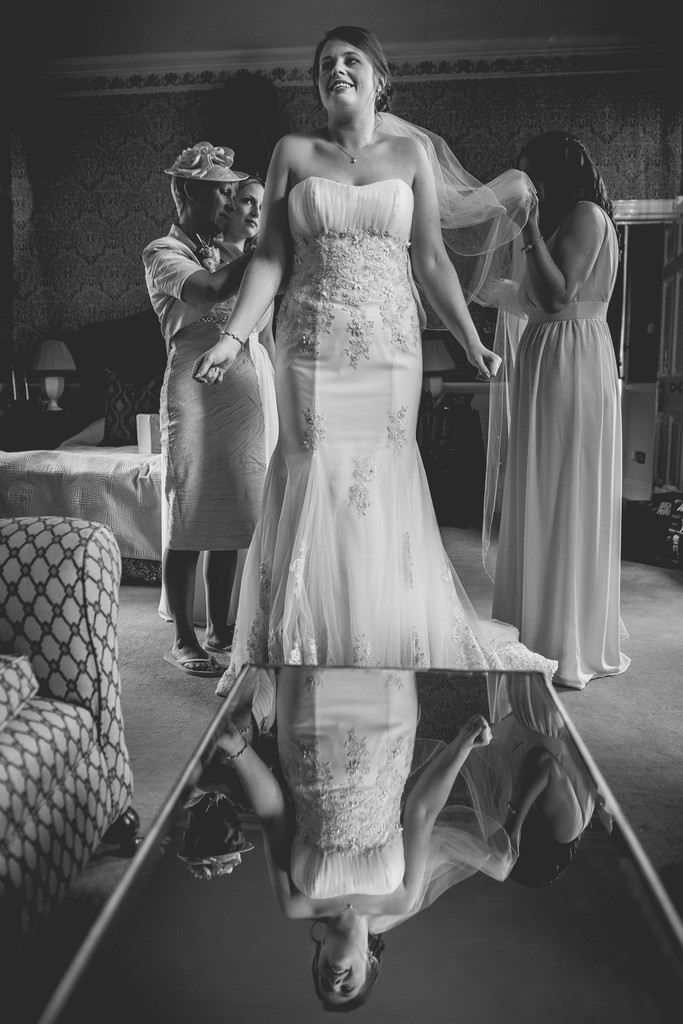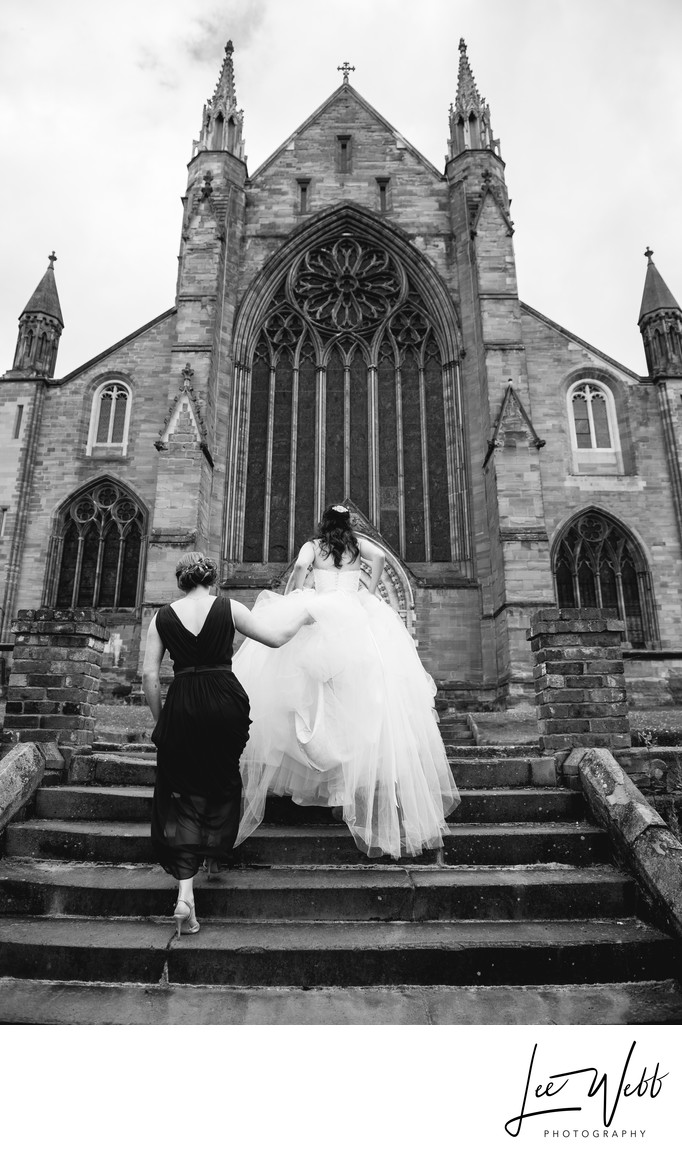 Advantages
Documentary wedding photography has many advantages: No awkward posing, no doing totally unnatural things, no bossy photographer telling you what to do or how to act on your wedding day and nothing that doesn't feel 'you' in nature. Brides and grooms take months or years planning a wedding, from the big things such as the venue and the wedding dress down to the very little things, like the font to be used on the table plan. Because of this, a person's wedding is a reflection of them, so why shouldn't the wedding photos be too?
Disadvantages
I honestly can't think of any.
Why are so many documentary wedding photographs in black and white?
Every photo in this article so far has been in black and white, and for good reason.
People used to photograph weddings on black and white film because it was the only medium available to them, leaving them with no other choice. Now, with colour photography being the standard, black and white, when used carefully, is still a very powerful tool.
It's obvious that black and white photography takes colour away from you, but because of that you're free to concentrate more on the things left behind. The light in the image, the composition and the very moment itself. Don't get me wrong, there is absolutely a place for colour wedding photography, and in truth, 90% of the end images I deliver to my couples are in colour, but the most dramatic always work best in black and white. The lack of colour in a photo means there are less distractions to take away from the very thing you're trying to capture or portray.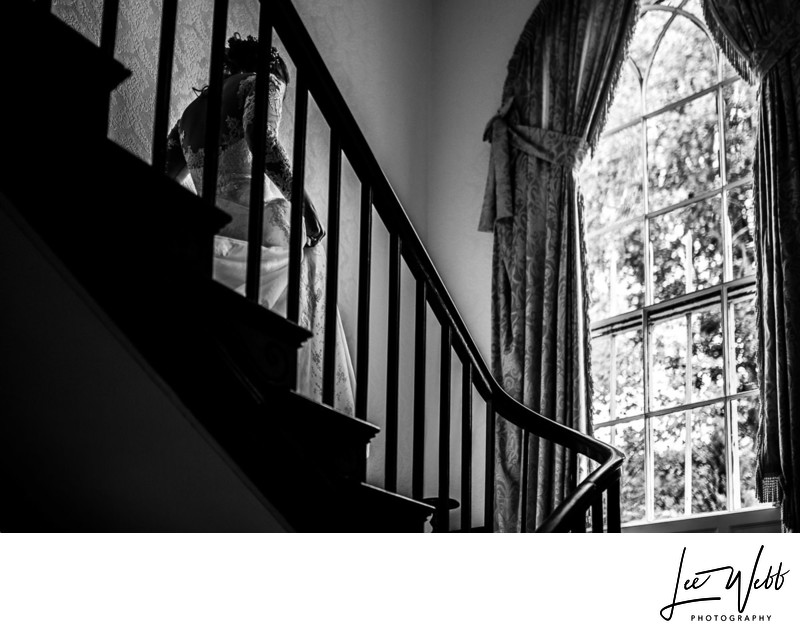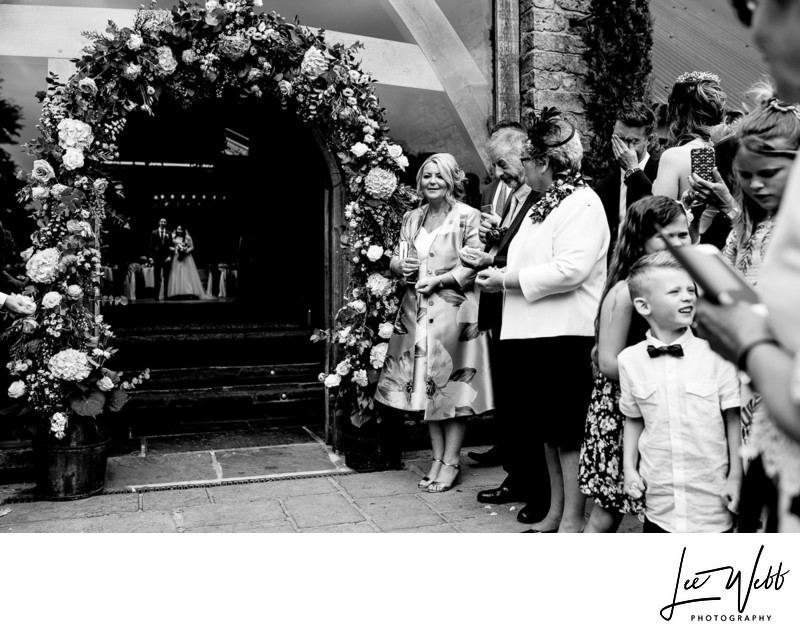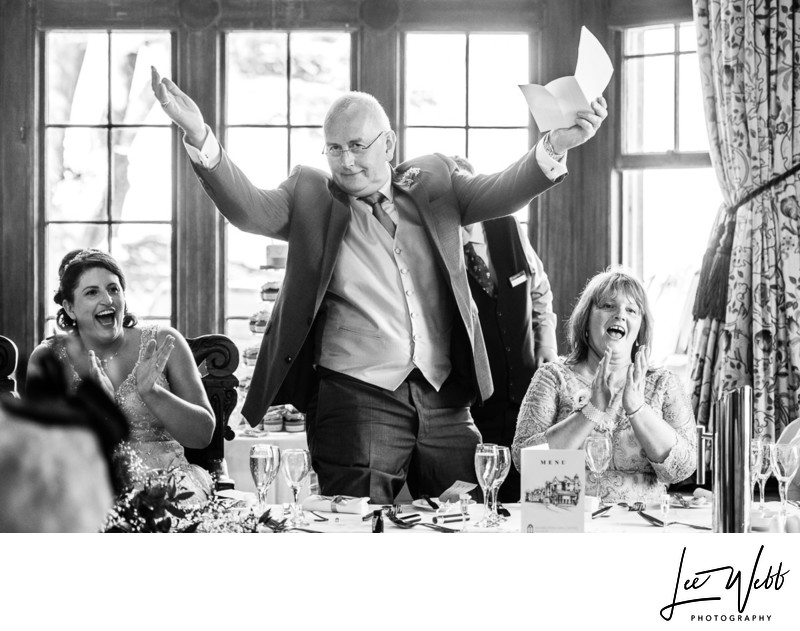 Colour photography isn't dead though - far from it in fact. Whilst black and white is, as I said, a very powerful tool to be used wisely, there are many photos that just don't work with the colour taken out. Photos that help set the scene for the wedding day, be it photos of the venue or images of the smaller details.
Telling the story of a wedding can't be done with photos of people alone, and whilst all of my personal favourite photos usually contain people, photos of the decorations for example go a long way towards illustrating what the wedding was actually like.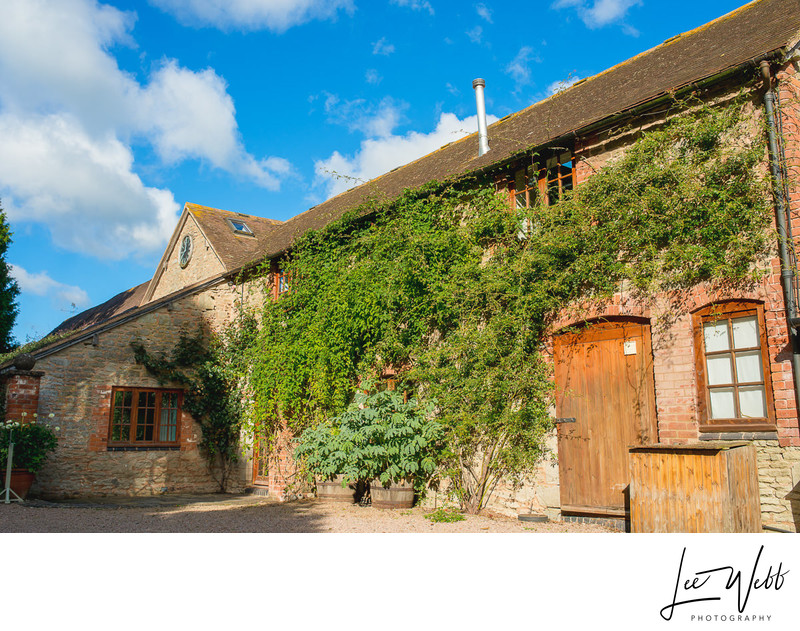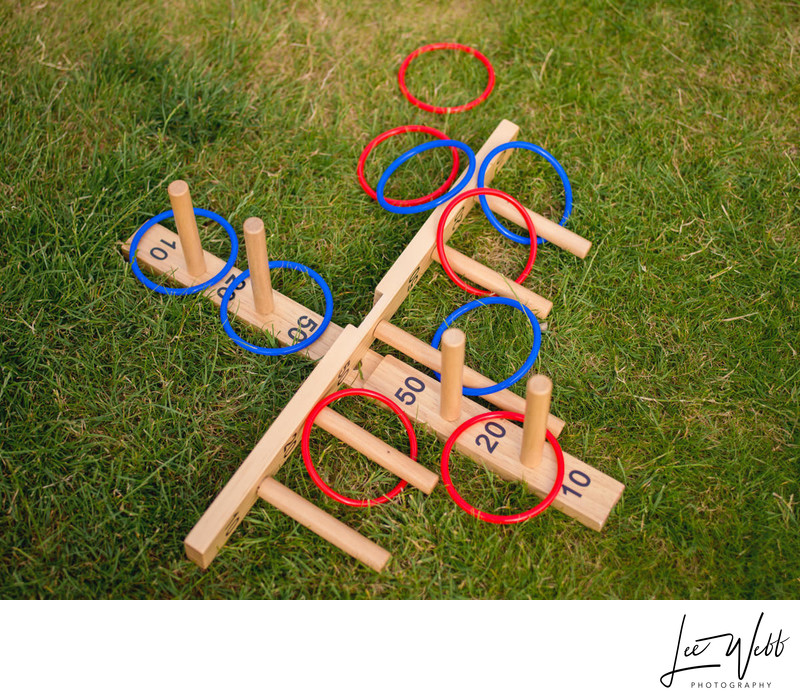 And of course you really have to use colour when the one thing you're trying to show in a photo is just how colourful something is! During the editing process, it's easy for me to see whether an image should be in colour or in black and white. Many photographers will deliver a complete set of images in colour and in black and white - But not only does this give you some images that don't work in black and white, it's also lazy on behalf of the photographer. Photography is still an art, and the artist should be the one who decides who his or her work is portrayed.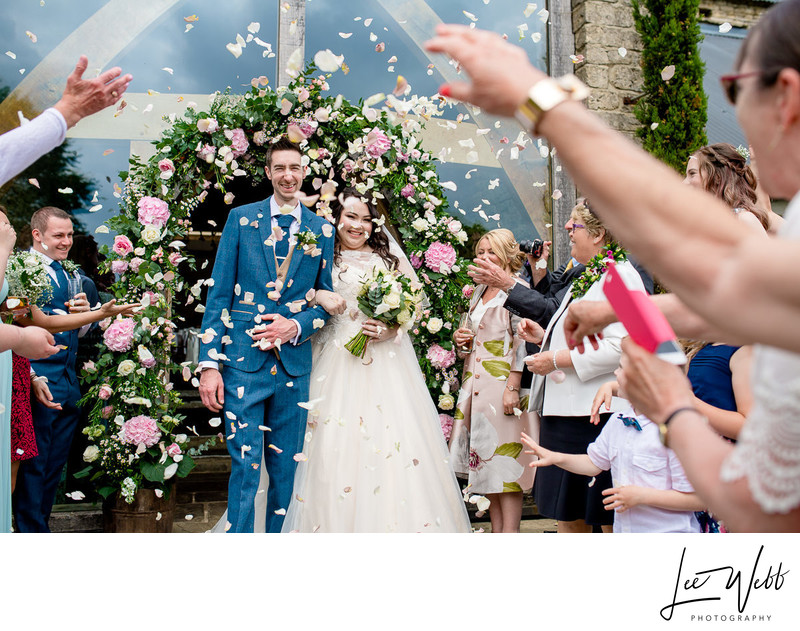 Explain the whole 'art' comment
I have spent the vast majority of this article explaining how I don't like to direct images, how I don't pose people and generally how I let the day just work itself out.
However:
Some of my client's most cherished wedding photographs are images that had to be made. I call these the 'big picture moments,' usually because they're the images that end up being printed at a huge size and displayed in the couple's homes. Documentary wedding photography enables me to perfectly tell the story of a wedding day. Capturing the real moments, the real emotion and the true essence of your big day. But those really big 'wow' photos don't happen on their own, and this is when the 'art' comment I made earlier comes back into play. I love creating wedding photos that you might consider art. It's a big claim that's likely to sound overtly pretentious but let me explain: I try to create at least one image at every wedding that the client can hang on their walls. A single image of their wedding day that they keep going back to. The image needs to be big, and dramatic, but needs to also be so pleasing to the eye that it's almost inconsequential to the couple that they appear in the image. There are wedding photos that I've taken that I could print and hang in my own house. It doesn't matter than I'm not the subject or that the people in the photo I didn't really know before the wedding, but I enjoy looking at them because they're so aesthetically pleasing.
There's a fine line. I spend most of the day being undetected and unobtrusive, but unless you're going to find yourself in the middle of a field, alone, at sunset, in the perfect light you might still need a little direction from me.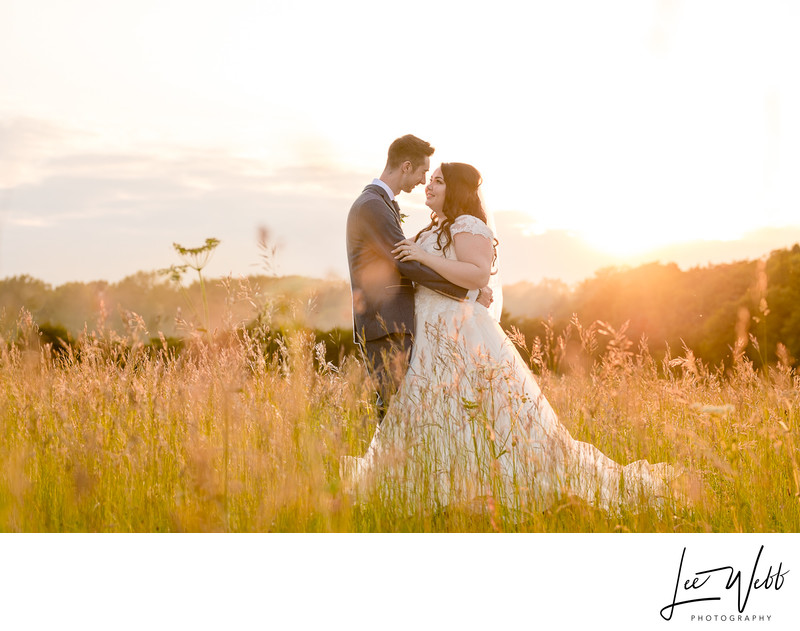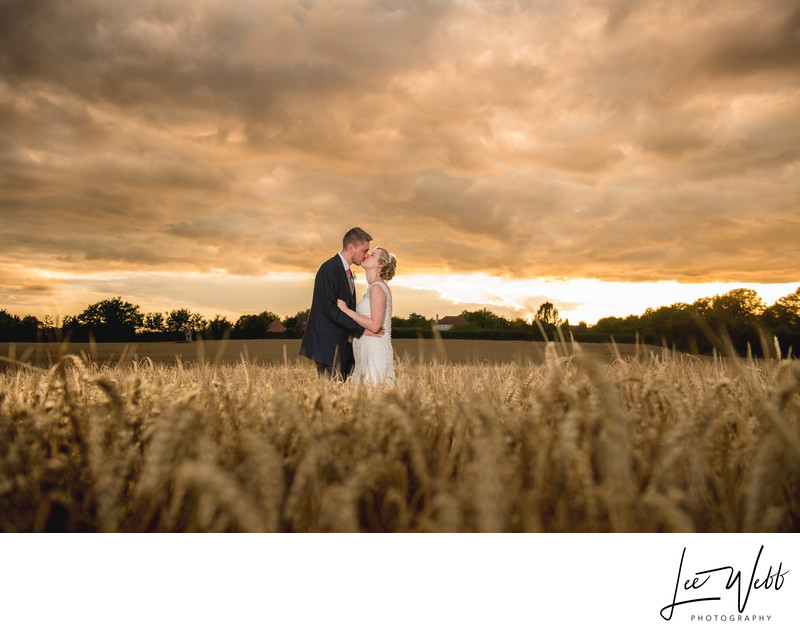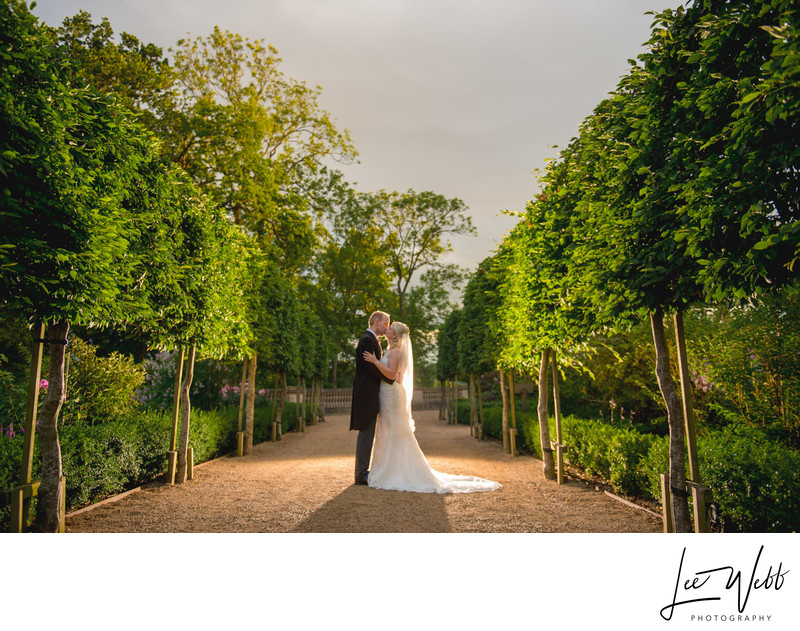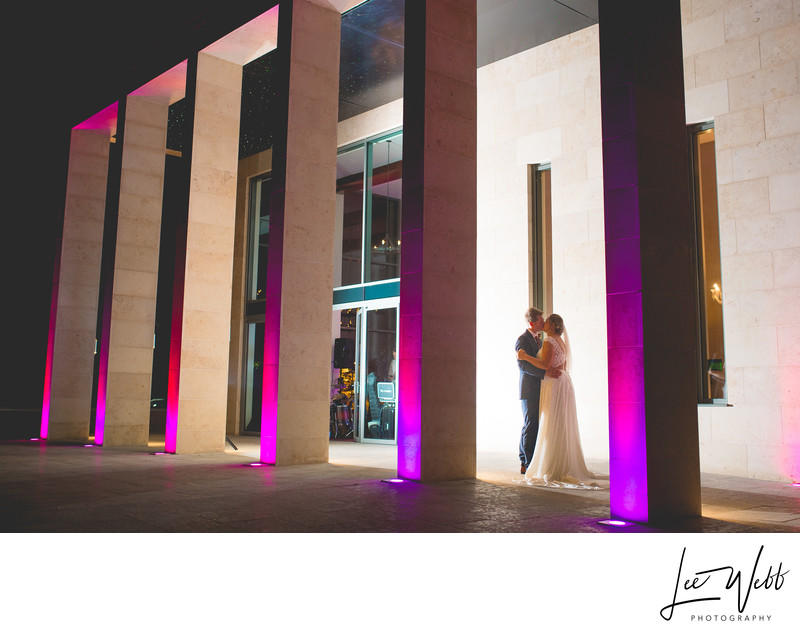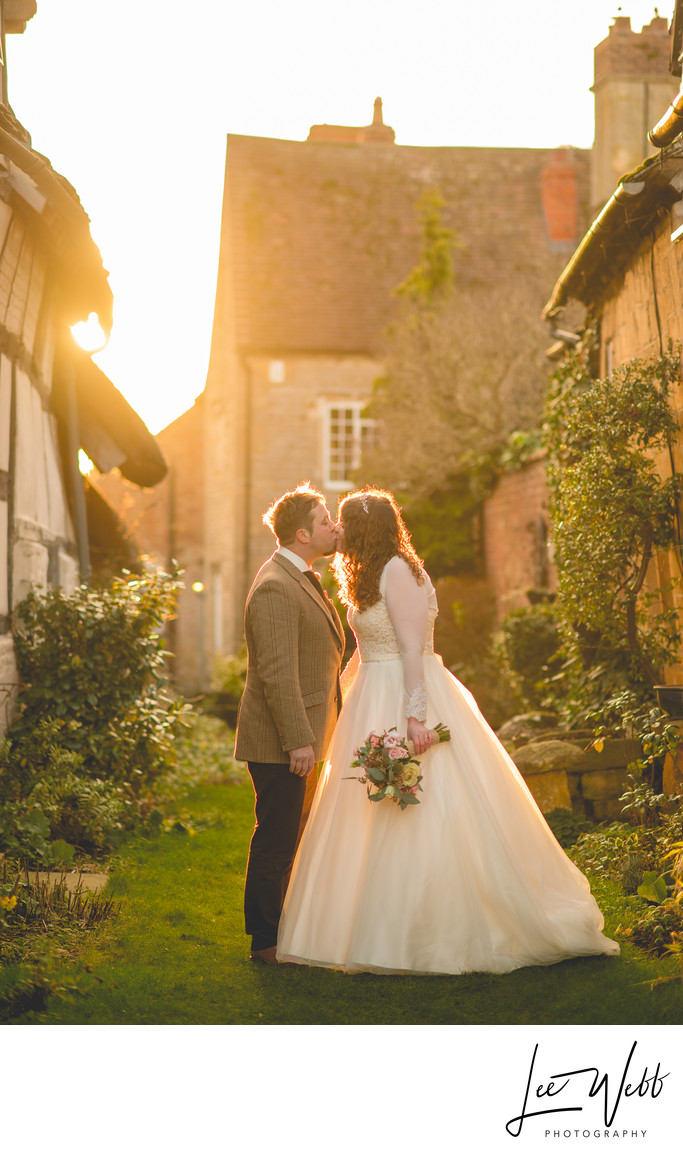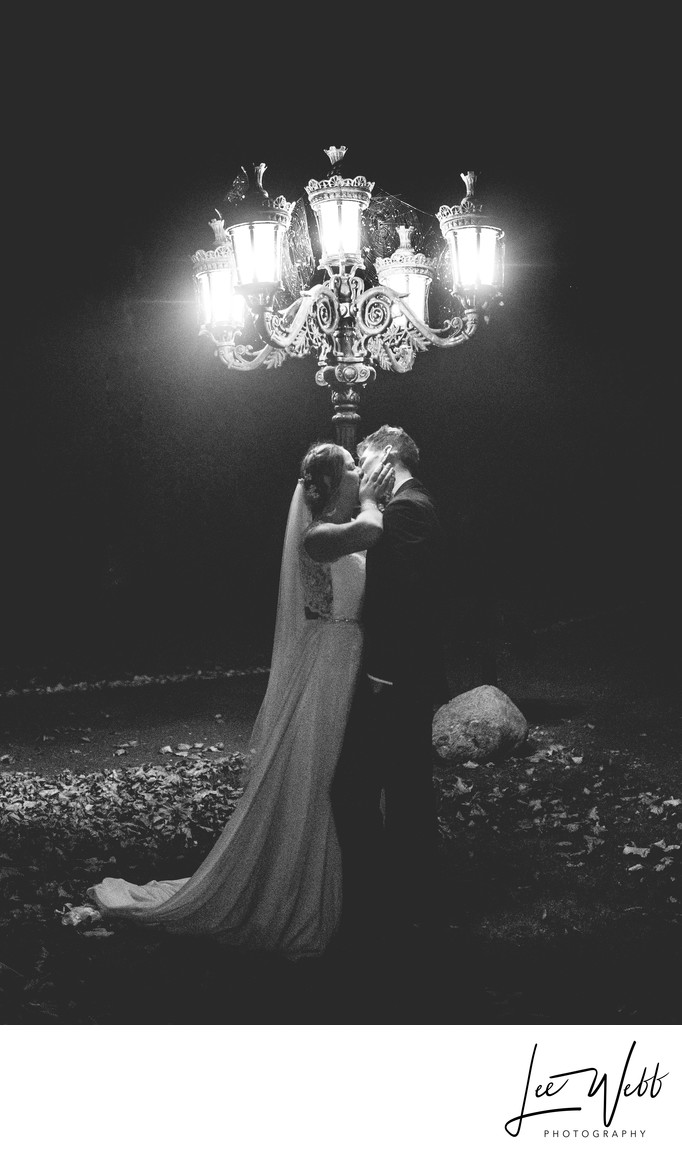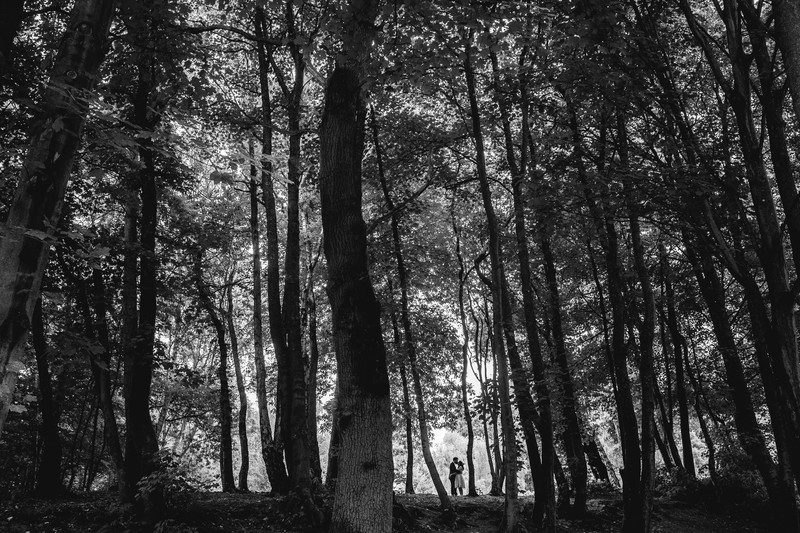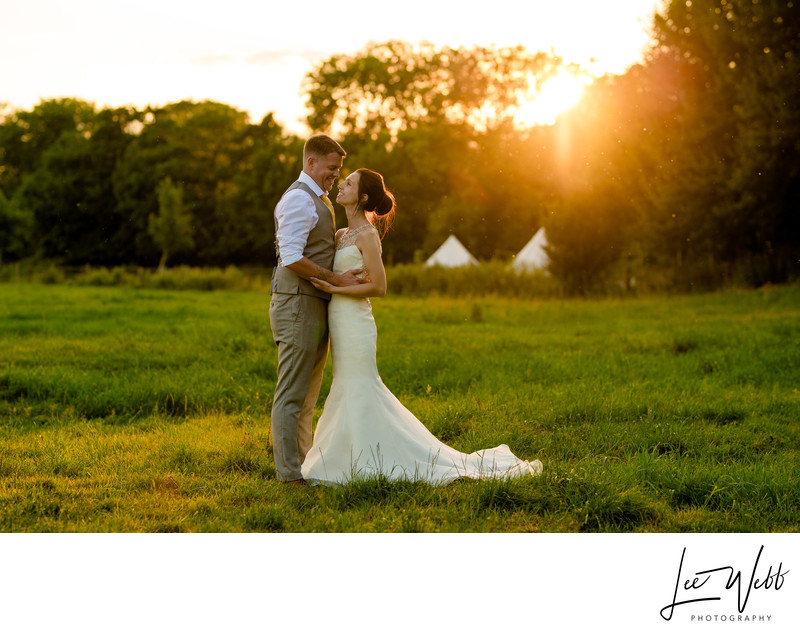 Hopefully this article has gone some way to explaining what wedding documentary photography is and my approach to shooting a wedding.
"In the nicest possible way, it's like you weren't even there"
If you like my style and my photos, and would like to discuss you wedding with me please don't hesitate to get in touch by filling out the contact form by clicking here.
What is Documentary Wedding Photography?